Have you ever played 36 holes of golf, or even just 18 and your muscles were aching, or you felt like you weren't performing to your fullest abilities because your body felt fatigued? Well we were recently introduced to a company called 110% Compression + Ice, Play Harder, and they may just have the perfect solution for your aching body. This product is designed for all athletic activities, including golf.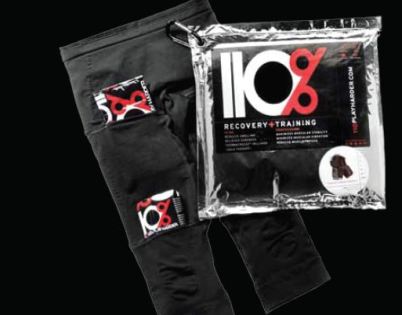 From the company, Info for golf:
Tennis players and golfers know that power on the court or off the tee box involves the whole body. Why not give it the attention it deserves, with 110% Compression+. Zoned gradient design increases blood flow while reducing vibration. Seamless construction adds comfort and performance. Unique pocket architecture allows for immediate post-training icing; reusable ice sheets and insulated thermal bag allow you to start recovery instantly, no matter what court or course you're on. See what pushing to 110% can add to your game.
Features common to the entire Compression + Ice Product Line :
Zoned Compression: 110% Compression + Ice products feature high compression zones that stabilize muscles and reduce vibration, and lower compression zones that allow muscles to expand.

Gradient Compression: 110% Compression + Ice products feature gradient compression of 15 mmgh to 24 mmgh forcing blood flow back to the heart for improved circulation.

Built in pockets for icing: 110% Compression + Ice products feature strategically placed icing pockets that target the main muscles without compromising the fit (or the look-they blend right in!).

Seamless Design: 110% Compression + Ice products are constructed as double layered single garments and the seamless design is what gives them that 'ultimate comfort' without the chafing.

Technical Fabric: 110% Compression + Ice products are made from two layers of 360-degree 4 way stretch knit polypropylene. Our performance fabric provides ultimate flexibility while keeping its strength and shape and is spun using moisture wicking antimicrobial Silver Tech fibers shown to destroy 99.9% of odor causing bacteria.

Reusable Fabric: 110% Compression + Ice products come with reusable, flexible, non-toxic ice inserts. 100% Ice Inserts can be cut to any size for customized fit, and double as heat therapy when needed.

Thermal Bag: 110% Compression + Ice products are packaged in a reusable thermal bag that keeps ice inserts cold for up to 6 hours, creating a completely mobile compression + ice recovery system.

Benefits: Reduced swelling and increasing circulation, faster active recovery, and faster healing.
After using the 110% Compression + Ice after several range sessions, rounds of golf and gym workouts we walked away very impressed. It seems to work just as advertised. Our testers all felt less muscle fatigue and joint stiffness. For those who used it for intense gym workouts, they said that the following day they felt a lot better than they normally did, leading us to believe that it does aid in quicker recovery time.
I think this is a great product for people with achy muscles and it's especially helpful for people with issues such as tendonitis, tennis elbow, and other muscle and joint issues. Anyone who has ever run a marathon knows that compression clothing can be a life saver for shin splints. The 110% Compression + Ice is like getting the benefits of an Icy Hot or Bengay, but without the awful smell and much better results. If you feel you are a person who could benefit from what this product has to offer I highly recommend giving it a try. This is a product that is great for men or women and people of all ages. For more technical information on 110% Compression + Ice you can visit their website here.