I've been an equipment tester for THP for almost 2 years now. Each item that comes my way for review is always announced first with an email from the boss letting me know what to expect. Those emails are always pretty cool, but none of them can compare to the last one. "2012 Bettinardi Review" was in the subject line and immediately my heart skipped a beat. I was waiting for the other shoe to drop when I opened it, maybe I'd be asked to proofread a review they had already written for some odd reason. My excitement was soon confirmed as I read the message with eyes that look a lot like a child's on Christmas morning. The next couple of days waiting for delivery seemed like months but finally it arrived and I was able to start a review that I've been secretly hoping for since the first day I started working for THP.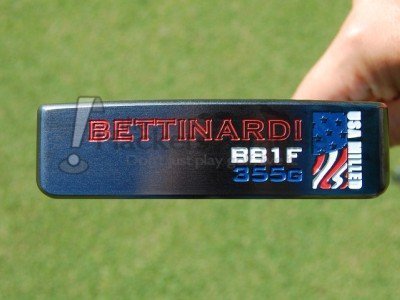 Have you ever wondered how famous musicians like Bruce Springsteen continue to stay motivated to keep their material fresh and new yet still maintain that classic sound that got him to where he is in the first place? I think like this when I think of Bettinardi putters too. How can a company with so much success with the products they've produced not get a little bit content and just keep rolling out the same great product each and every year? Lucky for all of us the folks behind the great products at Bettinardi Golf aren't content with what has already been done and they strive to continue to produce great products each year. Let's take a closer look at the 2012 line from Bettinardi Golf and see for ourselves.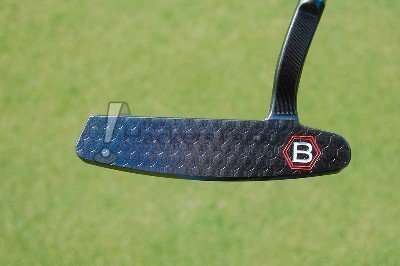 BB Series
First up let's take a look at the BB Series. Across the BB Series you'll see some classic shapes and styles as well as some that are a little different and new to some. Take the BB8 which is a classic plumber's neck blade putter or the BB1F where we see a classic heel-toe design with a flow neck (more on this putter later). Also present in the BB Series is the BB53 which is the popular "Half Moon" design in a belly putter and is available in both heel shafted and center shafted models.
All the BB Series putters have a Silver Mercury finish that is dark and simply stunning in person. The finish of the BB Series is complemented nicely by a dark red Winn grip that pulls the look together perfectly. The face of the BB Series is the patented Honeycomb face that ensures the flattest surface possible. On the sole of each putter in the BB series is a great looking American flag logo and the Bettinardi name inscribed to pull together a classic American look.
Studio Stock Series
So you like the classic heel-toe weighted blade with a plumber neck, the SS5 is what you're looking for. Are you looking or a mallet putter instead? Take a look at the SS10. Like the BB Series you'll find something for just about everyone in the Studio Stock Series as well. The Studio Stock line has a couple of putters that may look like something you've seen or used before but have some subtle differences. The SS9 for example has the look of a heel-toe weighted blade but the wide body and double bend shaft makes it unique. The aforementioned SS10 is a semi-mallet putter with a plumber neck that gives it a look and feel of its own.
The putters in the Studio Stock Series sport a Black Iris finish with some very nice looking yellow graphics on the sole. The face of the SS Series features Bettinardi's patented tour F.I.T. face. The tour F.I.T. face provides a soft, yet firm feel at impact. People who have rolled the Studio Stock series putters say the putters feel and perform like no other putters they've used before. This seems to be a common thing heard after many people roll a Bettinardi putter.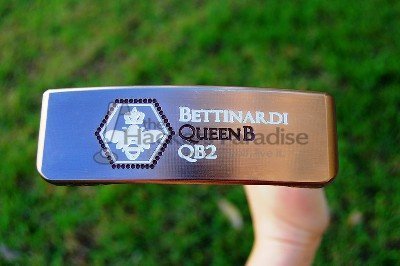 Queen B Series
With the Queen B Series Bettinardi decided to do something they've never done before and that is design a putter specifically for the lady golfers. The funny thing about that is that when the 2012 line was first showed to our members in the THP forum everyone loved the Queen B and wanted one, males and females alike. This proves that a great looking putter can merge gender gaps and appeal to both sexes. There are two different models of Queen B's. Queen B Model I is a pear shaped mallet and Queen B Model II is a classic heel-toe weighted blade. Both feature the gorgeous look of a Cashmere Bronze finish. The face of the Queen B is similar to the honeycomb face of the BB Series putters. I don't care if you're male or female, the Queen B is a great looking putter and will definitely get lots of attention from jealous playing partners.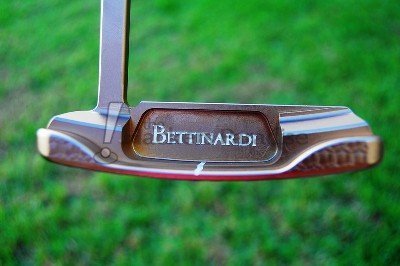 Signature Series
For those of you who simply demand more than the best from the best there is Bettinardi's Signature Series. These 3 putters are in limited production and if you can get your hands on one you can be sure that you have a piece of classic American art. Milled from Bettinardi's premier D.A.S.S. (Double Aged Stainless Steel), putters like the Signature Series aren't your everyday mass produced putters. Both Models One and Two of the series are heel-toe weighted classic blade putters. Model One features the flat surface of the honeycomb face while Model Two features that tour F.I.T. face similar to the Studio Stock series. The last model in this series (Model Three) has a heel shaped flanged design and the patented honeycomb face. The putters in the Bettinardi Signature Series are bucket list putters that every true golf equipment fan has on their must own list.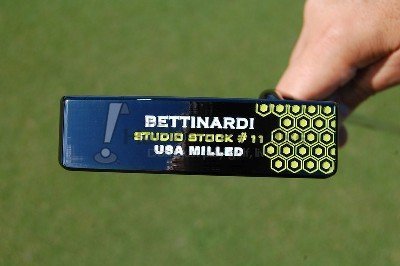 Testing
The model I chose to test extensively for this review is the BB1F from the BB series. This putter absolutely redefines the marriage of beauty and function. The BB1F has the classic look of a blade putter but there's more to it than that. From the flow neck to the tapered flange the setup of this particular putter just feels different than other blade putter I've compared it to side by side. The way it sits at address gives you the feeling of the putter simply being an extension of your arms all the way to the ball. The tapered flange makes the BB1F seem like it sits a little closer to the ground and also gives this putter a little added width which really set it apart from the rest to me. The BB1F with Bettinardi's patented honeycomb face and soft carbon steel complete the total package while delivering a smooth feel that literally becomes addicting to putt with. Every time I would plan to roll a few putts for testing I ended up sticking around putting much longer than I had planned because of this putter.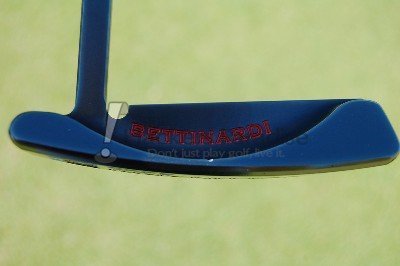 Overall
Few names in the golf industry carry the kind of respect for their craftsmanship than Bettinardi does and every putter across each line are designed and crafted with the best material available. The 2012 line literally has a putter (or two or three) for everyone. Going into this review I knew I had liked the Bettinardi putters I've tried before but never really got a close look at one until now. These putters are more than just a piece of golf equipment, they are works of art. A lot of people have a hard time justifying the purchase of a high end putter like these, in fact, it wasn't too long ago that I was one of those people myself. The differences in the quality and performance, however, make you realize just what you're missing. With the release of the 2012 line it just might be the right time for everyone to take a closer look at what Bettinardi Golf has to offer.