As you may or may not know I think socks are an important part of my golf game. Not just in the fashion sense but also in the functional sense as well. I've had the pleasure of reviewing and wearing a certain line of socks for a few seasons from a company called Kentwool. For those of you who do not know about this 168 year old family owned company, you know that they put out a quality product that they truly stand behind. For those of you that don't, let this update serve as an introduction of sorts and hopefully change the way you think or feel about something so basic yet so important to you golfing experience, your golf socks. Check it out.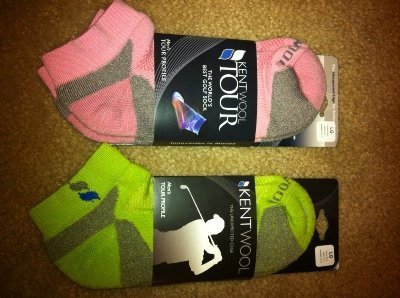 Did You Know?
Many more Tour players choose to wear the World's Best Golf Sock during competition then what is listed on Kentwool's website? They simply can't endorse the socks due to other contractual obligations with major "head-to-toe" brands.
Key Features, Technology & Functionality
61% Wool, 27% Polyester, 10% Nylon, 2% Spandex

Maximizes foot comfort, increase energy levels and boost on-course performance by combining Innovative, micro-climate system for superior moisture management and wicking, as well as odor control.

Enhanced cushioning at strategic micro-stress points along the foot result in abrasion-proof comfort

Heel, toe and bridge elements designed with advanced reinforcement provide maximum support and protection against injury
Thoughts & Information
When you first get your hands on Kentwool socks you immediately notice that these are some of the softest socks you'll ever feel. They have some of the softest yet strongest material you'll find in clothing let alone in a pair of socks. This is from the special blend of all weather super-fine merino wool that these socks have. They still feel like you're not even putting your feet into a pair of socks but more like a pair of comfortable slippers that have already been broken in. They feel amazing just to walk around in and you barely notice that you have these socks on compared to traditional socks.
You see that there are different areas on the sock each with a job to do. The top of the sock has a thinner, almost mesh-like construction to it which allows your foot to breathe. The bottom is slightly thicker which is where the padding is for your feet (specifically the balls of your feet and the heel) which also provides great support in your arches. My typical shoe size is 11.5 US and I've found that the 'Size L' Men's Tour Socks run true to size just fine.

Kentwool has four main reasons why you should wear (or 'rock' as they say) their socks. They call them the 4 W's and they are Weather, Wear, Wicking, and Wallet. Here's a brief summary of what they each refer to:
Weather- Wool's ability to absorb moisture from humid environments and redirect it to dry areas makes it an ideal all-weather, year-round fiber. How does dry, odor free feet in the summer and warm feet sound in the winter sound?
Wear- The Superfine Merino Wool is lightweight, durable, and requires minimal care. Wool's makeup is like a 'spring' allowing it to stretch and snap back to form much better than other materials.
Wicking- Superfine Merino Wool is a natural performance fiber which takes moisture in its vapor form and redirects it away from the skin. Wool can absorb 30% of its weight in moisture without feeling damp or clammy. See if your cotton socks can do that!
Wallet- Kentwool socks are designed to be longer-lasting, higher-performing socks than others. One pair of Kentwool socks can outlast multiple pairs of other socks which means less money spent on socks in the long run.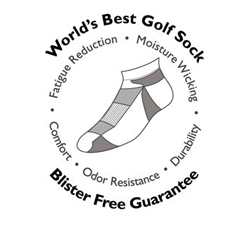 Overall
Kentwool continues to maintain and deliver a high level of quality. These socks are a little on the pricey side at $19.95 per pair ($24.95 for the longer Tour Standard for Men) but like anything, especially in golf, it's an investment. If you're a golfer who likes to walk, has issues with foot fatigue, or just feel like your feet are dead at the end of every round then why would you not want to give these a try? Kentwool is so sure that you'll love these socks as much as me that they offer a 30 day money back guarantee. If you're not satisfied for any reason with your purchase of Kentwool socks just return them for a full refund. Yep, a full refund. They also have a 'blister free guarantee' which is something that most other socks in the market, if any at all, claim. Their socks are available for men and women in a wide array of colors and styles ranging from natural, black, lime green, light blue, purple, and still one of my favorites, pink. These can be delivered to your door via free standard shipping to anywhere in the USA too.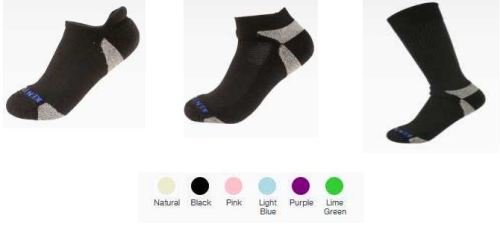 Still not convinced? Here's some familiar faces who currently wear Kentwool socks: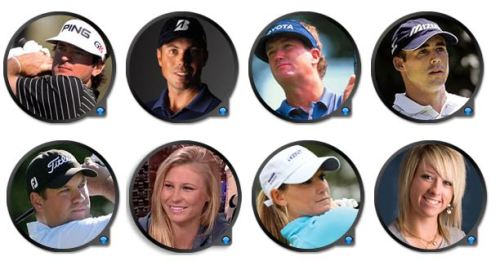 Bubba Watson, Matt Kuchar, Peter Jacobsen, Jonathan Byrd, Brandon DeJonge, Ryan O'Toole, Kristy McPherson, Jodi Ewart
Need a little more convincing? Here are some testimonials from those that wear these great socks:
"Either I'm wearing KENTWOOL socks, or I'm not wearing socks at all. These socks rock!"
Bubba Watson
"KENTWOOL socks are like an adrenaline shot to my feet."
Kristy McPherson
Just received the socks you sent me! By far the best socks I have ever worn! Love the fact that they have a blister free guarantee. I have struggled with blisters my entire career and I'm so excited to have some top notch socks to protect my poor little toes!!!! Thank you so much for sending me some! They are exceptional!
Jodi Ewart
"Even though my golf game is terrible, my feet always feel great in my KENTWOOL socks."
Charles Barkley
But don't take their word for it. Or even mine for that matter. Do yourself a favor and click on over to www.kentwoolsocks.com and see what the buss is about these socks. These socks continue to be my 'go-to' socks whenever I play or practice. This may not mean I shoot better but my feet sure do feel better.
T. Hanks