Recently, Lamkin Grips sent over samples of their 2012 line for a THP review and I was asked to give my thoughts on them. There is quite a bit of variety in the line, including some new items that Lamkin is pretty excited about. One thing that they are focusing on in 2012 is customization, which is evidenced in a few of their offerings. There has been a big push towards personalization of golf equipment recently, so it just seems fitting that grips would follow suit. In the interest of keeping this from getting overly long, I am going to jump right in and go through the items I tried out.
Performance Plus 3GEN Wedge Grip
This is a pretty unique grip that impressed me greatly. It was designed solely with wedges in mind and is purported to aid in shot control and precision. A natural question would be, "How can a grip do that?" The answer is that the PP 3GEN is an inch longer than standard grips, allowing the golfer to choke down a little farther without gripping the shaft. It also has two small circles towards the tip of the grip that are designed as guides for precise hand placement. Both are pretty simple ideas, but are really just genius in my opinion. I quickly found myself more comfortable with gripping down on the wedge with the added length. I also was able to utilize the dots quite effectively to take off or add yards to my touch shots. I found the PP 3GEN to have some pretty aggressive feeling surface pattern. I wouldn't call it rough, but it was surprisingly tacky. This grip retails for a MSRP of $9.99 and comes in white or black. One last note is that the white grip did collect dirt quite easily, but it washed up pretty well.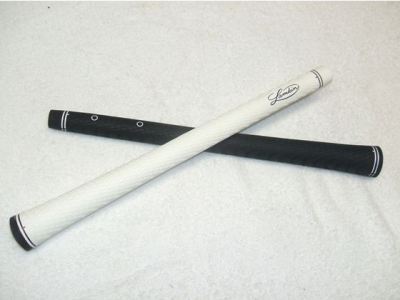 R.E.L 3GEN
The R.E.L 3GEN appears to be Lamkin's flagship grip for 2012. For those of you not familiar with the 3GEN material, Lamkin says it is a "synthetic rubber compound designed to provide golfers with the highest level of shock absorption while still maintaining critical shot feedback." Those folks with joint issues may take interest in these claims. Lamkin also says that the 3GEN material offers "a vastly improved resistance to environmental aging and weathering, making them some of the most durable golf grips on the market today." My personal feeling is that this is a tacky, fairly soft feeling material that is very comfortable on my hands.
I think the most attractive feature these grips are offering is an impressive selection of 12 different colors, including a couple undersize ladies offerings in neon pink and purple. This truly allows the consumer to add his or her own touch of style to a set of clubs. I found the colors to be vibrant and they are accentuated nicely with white caps on the butt end of the grip. I was getting some interest almost immediately after taking a club out of my bag. This line of grips does come in four different sizes, though the larger grips are only available in standard black. The R.E.L 3GEN grip has a MSRP of $6.49.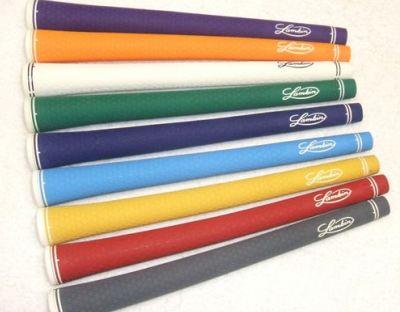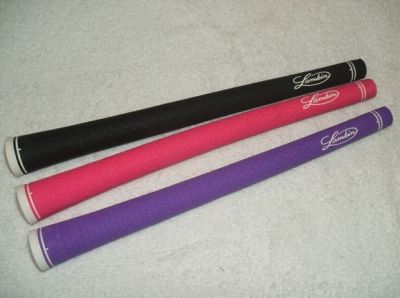 R.E.L 3GEN 360°
This takes Lamkin's idea of adding customization to their line. It was designed with adjustable drivers in mind. In a nutshell, this is a R.E.L grip with no logos, lines, or designs. It is completely plain, and was designed that way so those folks using adjustable drivers would see no difference in their grip's appearance or feeling after an adjustment. Again, this is another simple, yet effective, design. I installed it on a Taylormade R9 and found it worked just as advertised. It was very similar in feel to the normal R.E.L. grip and the appearance stayed the same after a change of face angle. The R.E.L 3GEN 360° carries an MSRP of $6.49, is available in black, and comes in both standard and midsize.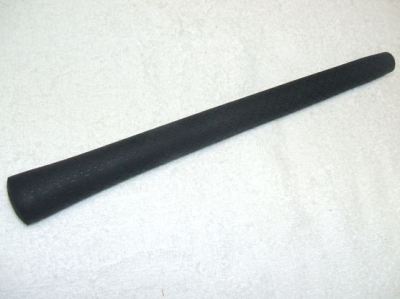 X10
Lamkin designed the X10 with the budget golfer in mind. It is a no-frills grip that comes in as the lowest priced offering in the 2012 line – MSRP of $4.49. It is designed to be very durable, features hand positioning guides, and a well-spaced surface pattern. Again, this comes in four different sizes to accommodate the smallest and largest of hands.
I can't say I was crazy about the design of the X10 after seeing the other 2012 Lamkin offerings, but it was made to give people a high-quality grip at a lower price. I do think that Lamkin succeeded in that sense. I found it to be sufficiently tacky and quite nice, especially for the price.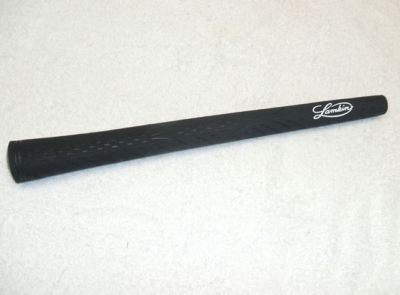 E.B.L Smooth Pistol with 3GEN
This is a classic style of putter grip and one that I use regularly. The addition of the 3GEN definitely added a little softness and tackiness to something I was already comfortable with. Importantly, I was still able to sense the same feel from my putter as I did before the review. That is one of the selling points of the 3GEN material and I did find it to be the case. The cursive Lamkin logo adds a bit of class to it as well. In all, you have a simple and classic putter grip that is quite affordable with an MSRP of $7.99.
Crossline
The Crossline has been Lamkin's most popular grip for over 15 years. It's classic look and feel appeal to a wide variety of players and it's one of my personal favorites. Lamkin didn't make any substantial changes to the grip in 2012, but they are offering a new color and size – undersized ladies pink. This is in addition to the three other size and color options that were already offered. The MSRP is $4.99, making them quite affordable as well.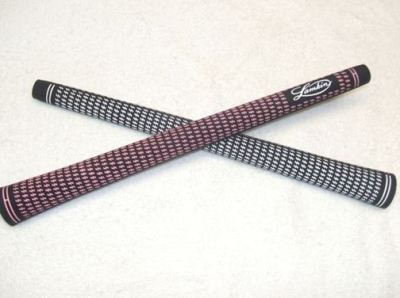 Final Thoughts
I came away impressed with just about everything I saw from the 2012 Lamkin line. I was most smitten by the Performance Plus 3GEN Wedge Grips and the R.E.L. 3GEN's. I can't say enough just how much I liked the wedge grip and the addition of color options on the R.E.L. is bound to attract some people looking to add a little spice to their clubs. There isn't a better way to spice up your clubs than popping some new grips on them and I'd definitely recommend giving these a look if you are in the market. For more information, you can head over to www.lamkingrips.com. As always, thanks for reading and best of luck out on the course this year.
Ryan H.