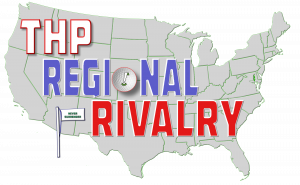 Last year gave birth to a new series of THP Events called Regional Rivalry, pitting select regions and areas against each other to do battle on the golf course to settle the score once and for all. This year, the series will continue and three events have been announced.
NorCal vs SoCal – The battle for the state of California
Show Me Prairie vs Juicy Lucy – Il and MO taking on MN and WI with Iowa as host
SEC West vs SEC East – The big conference divided
Each of these rivalries will take place in 2017 and something special is on the line for the participants. The MVP of the winning team in each event will win an all expenses paid trip to Memphis, TN, where the unrivaled leader on tour in shafts are located. Each winner will be flown to True Temper HQ where they will learn about shafts, the construction and even get to see the R and D robot in action before taking to the course.
As always, you can follow along on the THP Forum for the discussions and how to sign up for these incredible THP Events as they come up and don't forget to download the THP Mobile App to stay up to date on the contests, events and the fun happening every day.