Callaway has always been known for its equipment but it has a lesser-known apparel line that bears Callaway branding and is designed with golfers in mind.  Although it has Callaway branding, Perry Ellis, a known commodity in the apparel world that puts out quality pieces, makes the apparel.  To give you a better insight into the latest Callaway offerings, THP acquired several pieces for a review.  Specifically, I received two "Cooling" polos, one pair of "Flex Fabric" shorts, a "Weather Series" Thermal quarter-zip, and a cotton webbed "Chev" belt.
Right out of the packaging it was obvious that each piece was designed with function in mind.  Further, each piece was immediately familiar in its design and was similar to other offerings on the market, albeit with Callaway badging.  Put another way, the pieces I received for review were not on the cutting edge of golf fashion nor were they outdated.  Instead, they were Callaway's take on popular golf apparel today.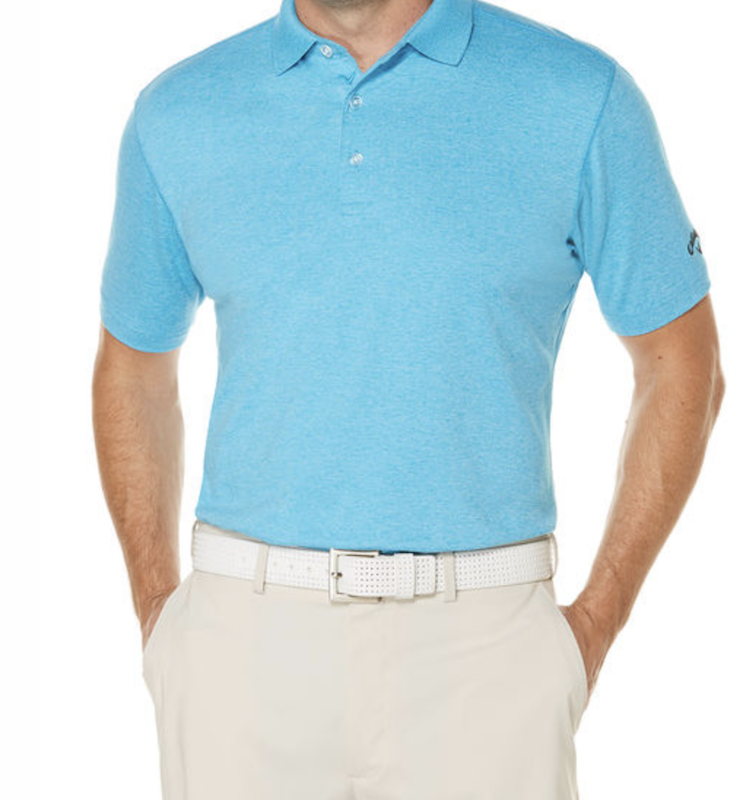 Callaway Cooling Polos
Both Callaway Cooling polos sent for review shared the same features, namely the Cooling technology meant to transfer heat away from your body, the Opti-Dri moisture wicking technology designed to pull sweat away from your body to keep you cool in the heat, stretchable fabric for full range of motion, and UPF 50 sun protection. These features, however, did not come at the expense of quality or soft materials – the fabric is exactly what you would expect.
Based on my several weeks with the Cooling polos, the fabrics perform as advertised in typical conditions and will certainly keep you comfortable.  One minor issue I noticed with the polos was that the Opti-Dri and Cooling technology seem to become overwhelmed in extreme heat paired with high humidity.  For example, the Cooling polos performed slightly below average on a day with 96°F heat paired with 70% humidity, as compared to other brands I have worn this year. Outside of this extreme outlier, the Cooling polos performed admirably and were very comfortable from the first tee to the last green.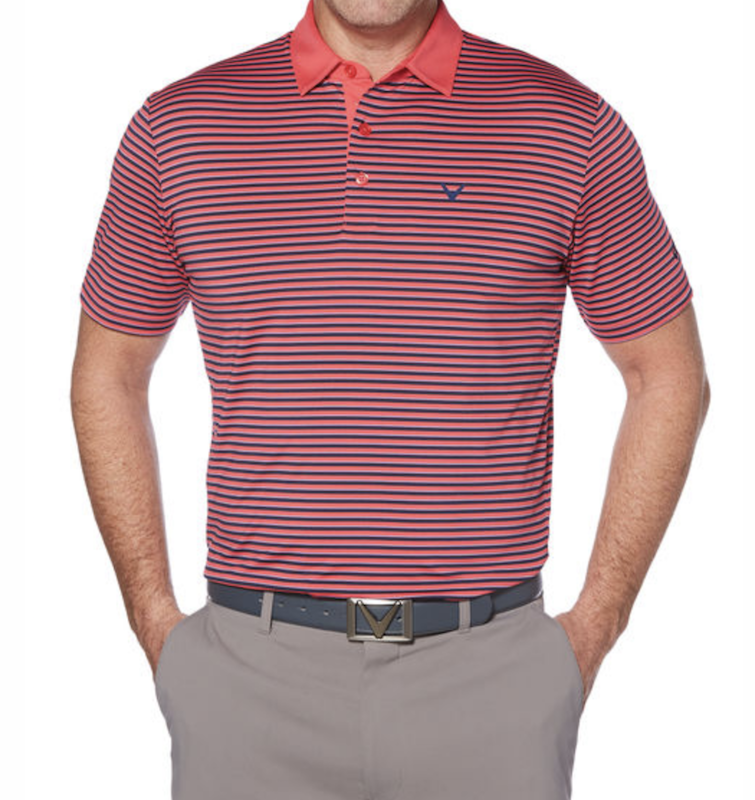 A common complaint with past Callaway offerings has been sizing issues, typically with the Callaway apparel running large. I kept my eye out for this issue and compared with other brands but the Cooling polos fit essentially as I would expect based on the size provided.  Both shirts also fit the same, so there is uniformity between the various offerings.  If anything, I thought that the shirts were typical American-style sizes but if you are coming from a traditionally European cut you will want to adjust your sizes accordingly.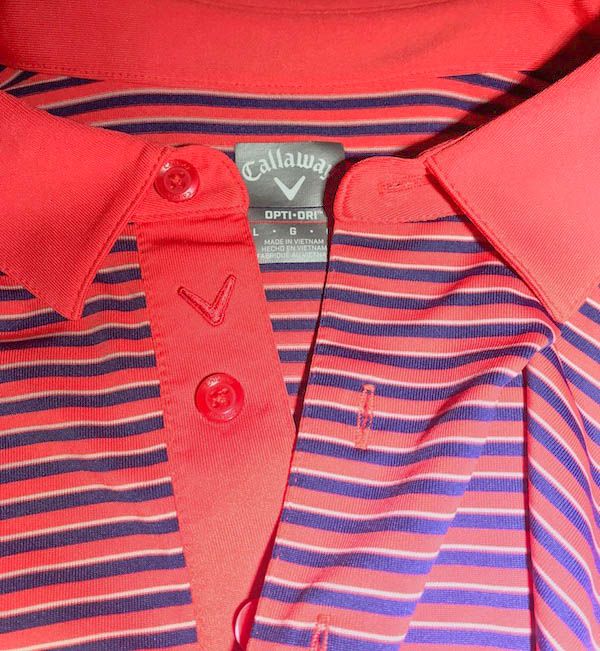 One other little piece of flare that I really enjoyed was the somewhat hidden chevron that is nicely placed between the buttons.  I thought it was a nice, minimalistic place to include some badging that showed some creativity, as shown below.  Overall, the Cooling polos met my expectations and were clearly designed to function how a golfer needs – cooling, stretching, and sun protecting.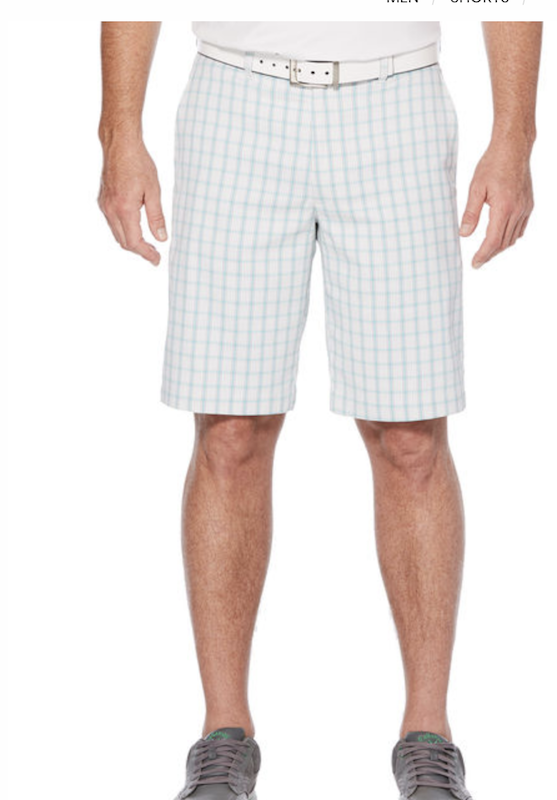 Flex Fabric Shorts
Continuing with the theme of designing for function and performance, the Callaway Flex Fabric shorts have nearly everything you would typically want from golf shorts. Made of a 95% Polyester / 5% Spandex blend material, they provide for a good amount of stretch in the fabric and in the waistband.  The waistband also includes a rubberlike "waistband gripper" that keeps your shirt tucked in as you move around the course.  These little things are a welcome addition on the course – not having to fuss with your clothing lets you focus on the round even if it does take away one excuse for pumping a tee shot into the woods (i.e., I came out of my swing when my shirt came untucked.  Admit it, you know someone who said it).   After several rounds of testing, the Callaway Flex Fabric shorts are great, functional golf shorts well designed for what you will encounter on the course.
I refer to the Flex Fabric shorts as being great golf shorts purposefully.  While the 95% Polyester / 5% Spandex blend material is excellent on the course, it is a bit noisy when you walk in quiet settings.  The constant "swish-swish-swish" as you walk could limit the off-course potential of them for some.  Personally, I'll keep the Callaway Flex Fabric shorts on the course where they truly shine.
The Flex Fabric shorts did run a bit large to size as confirmed by direct comparison with a few other brands in my closet.  However, running a bit large to size didn't have much impact on their function because the Chev belt brought them right back to size and the waistband grabber kept my shirt tucked in the whole time.  At worst, I had minor bunching near the belt loops due to the extra fabric.  If you have the chance to try the shorts on before buying, I would recommend doing so just to ensure you get the right fit.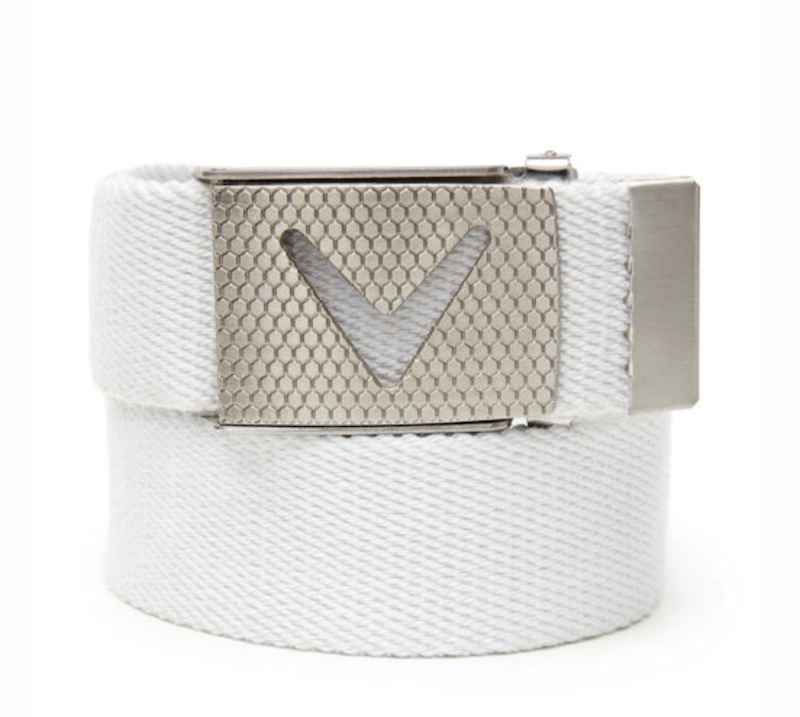 Chev Belt
Callaway advertises, quite tongue-in-cheek, that the Webbed Chev Belt will allow you to "[g]ain ball speed while keeping your waist snug through your backswing . . . ." Although I didn't gain any ball speed, the Webbed Chev Belt kept my shorts in place and snug through all 18 holes.  The Chev Belt comes as a one-size offering that requires sizing but sizing the belt was as easy as taking the buckle off and trimming the strap to the correct size.  The whole process took less than three minutes.
The Chev Belt will give your attire a bit of flare and displays the iconic chevron prominently.  While it may not give you belt-game of the greats like Anthony Kim, the white really makes the chevron pop against dark colors.  Callaway offers the Webbed Chev Belt in 13 colors, which is a relief because I don't have the game required to wear a bright white belt.
Merino Wool Thermal ¼ Zip
Saving the best for last, the Weather Series Thermal ¼ zip absolutely stole the show.  This outerwear piece is 100% merino wool and, as expected, is very soft to the touch.  It is fairly lightweight and I can imagine that it will be perfect for autumn rounds.
Unfortunately, I couldn't find a perfect autumn morning in the dog days of summer so I settled for using the thermal during a few early-morning holes.  The 100% merino wool was soft, comfortable, and lightweight.  Best of all, it was unrestrictive so it should not steal those extra miles per hour off your swing speed as the temperatures drop.  Although the summer heat limited my on-course time to only a few holes, I look forward to wearing it as the leaves change colors and the temperatures drop.
The Thermal ¼ zip also looks great off the course.  The minimal badging – only a single chevron on the back of the neck – allowed for it to be dressed up with slacks or dressed down with jeans. The Callaway Thermal ¼ zip was perfect for business casual environments, which allowed me to wear comfortable golf gear without raising any suspicions that I was actually wearing very comfortable golf wear.  Versatile apparel like this is hard to find but proves nearly priceless for me.  And for those concerned with the materials, the merino wool is machine washable and proper care prevents most stretching and wrinkles.  It might be a little work but it looks darn good because of it.
Callaway has a full offering of men's and woman's apparel, including standard and big and tall sizing.  In addition, those true Callaway fans can also check out the Tour Authentic apparel that is offered to keep you looking like a pro.  Check out https://www.callawayapparel.com for more information.