Few names in golf and fashion are as iconic as Original Penguin.  The Original Penguin by Munsingwear name has survived for more than half a century, even if it has had an interesting and twisting path to where it is today.  Honestly, how many brands can you name that have been featured in GQ and have had the likes of Arnold Palmer, Gary Player, and Jack Nicklaus wear the apparel? While the name Original Penguin will mean something different to people, we got pieces from their 2018 golf line marching in for review and it did not disappoint.
Presently, Original Penguin is a Perry Ellis International (PEI) brand and for those who have been following along with the apparel reviews over the past six months will recognize that Perry Ellis has several quality lines and brands.  Despite PEI being behind several big golf apparel brands, the offerings from Original Penguin are presented quite differently from what I have seen in the other lines.  In sum, this line implores customers to "Be an Original" and it has the product offerings to truly allow your personal sense of style to shine through, possibly shining brighter than your golf game if you are like me.
After digging deep into everything Original Penguin, it is clear that it is a quintessential lifestyle brand that has something for nearly everyone, including a great golf line.  Although let's be honest, you came here for the golf gear so lets jump in.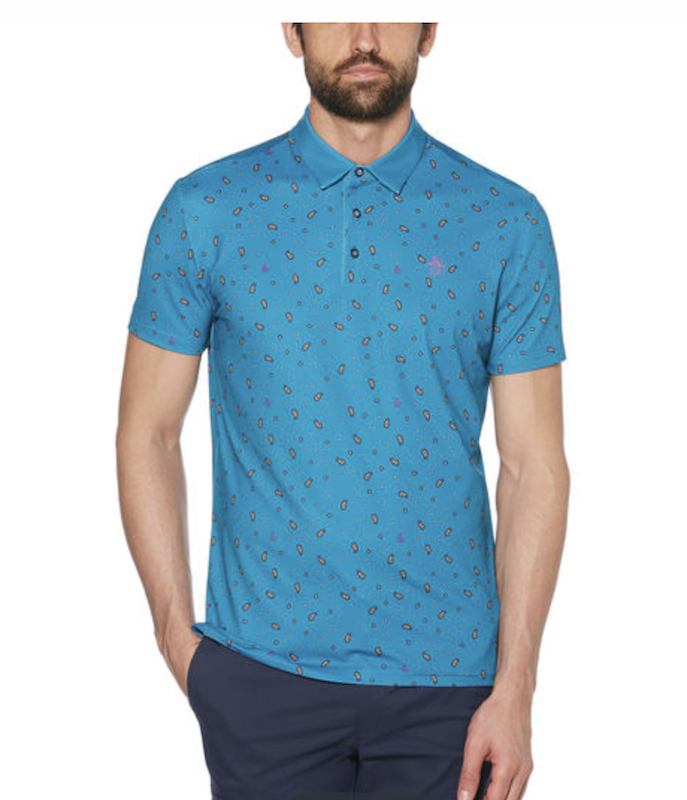 The Polo Shirts
First thing out of the box was the "Crystal Teal" colored Roadmap Paisley polo, complete with its paisley design that worked the iconic penguin logo into the paisley pattern.  Without question, it was immediately the most unique item I had in my closet and I was both terrified to wear it out and oddly excited to do the same.  Rather than overthink things, I wore it out immediately and I loved it – it easily garnered the most compliments I've received on a golf shirt bar none.  The 86% polyester / 14% spandex fabric was soft and moisture wicking while being formed into a slim fit European cut polo shirt.  Being an Original certainly can be eye-catching and generally well received by others.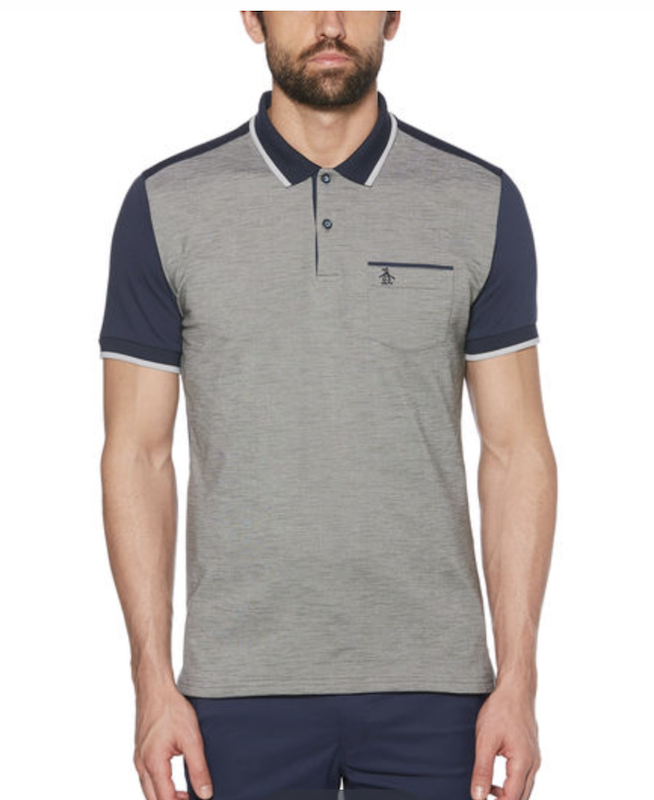 Immediately juxtaposed from the eye-catching paisley design is this two-toned color block 56 Blocked Golf Polo with muted tones of navy and grey (or as Original Penguin calls it "Black Iris").  Not only is the design much more conventional, the fabric is also drastically different.  The 56 Blocked Golf Polo is composed of a 60% Pima Cotton / 34% Polyester / 6% Spandex fabric that is unbelievably soft and comfortable, as would be expected from pima cotton.  The versatility of this polo was on full display one summer afternoon where it transitioned flawlessly from a late lunch into a quick nine – classic enough to fit in with the lunch crowd and breathable and comfortable to perform on the course.  This European cut polo shirt is a soft, stylish, and functional winner.
Both polo shirts have a common cut and sizing, a tapered and slim European cut with a slimmer (but not constricting) waist and sleeves.  If you like the European cut, Original Penguin will keep you looking svelte. And because the fabrics were quite different, each had its pro and cons when it came to the golf course but one thing was clear after playing golf in both, the polyester/spandex fabric would work its way untucked and needs shorts with a gripper waistband.  And as luck would have it …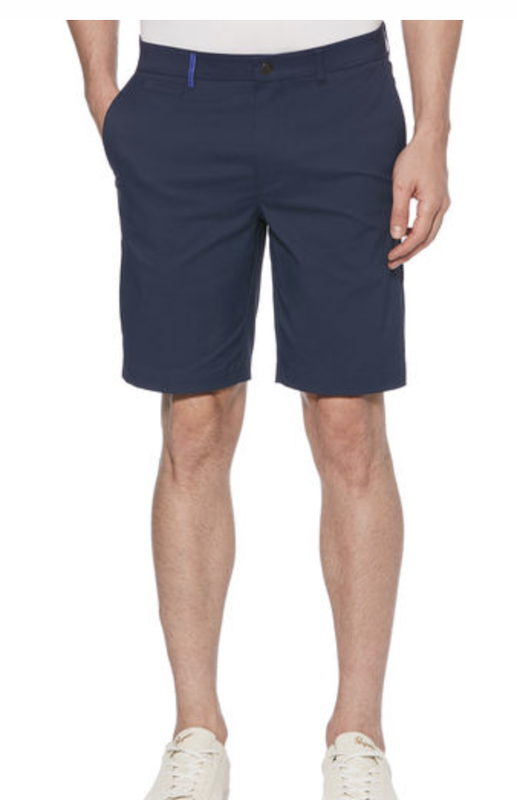 The shorts
. . . Original Penguin sent a pair of golf shorts along for review that feature a grabber waistband.  The all day every day golf short is a solid navy color, which was perfect.  The solid color is the perfect compliment to the original and fun design choices that the polo shirts offer and ensure you look great on the course without clashing.  The fabric of the shorts, a 97% Nylon / 3% Elastane fabric, is a lot like other offerings by many different companies on the market but the cut is fairly unique.  Much like the polo shirts, the shorts are much more tailored and tapered than nearly anything on the market.  While the waistband is true to size to other Perry Ellis offerings, the inseam is much shorter and the legs are a tapered slim fit that doesn't provide much cover to the uninitiated.  Once I got past the initial adjustment period to get used to the fit, I found the shorts to be quite nice albeit not my ideal fit.  If you like a shorter inseam and a slim fit and tapered short, check out the Original Penguin shorts – I think you will love them.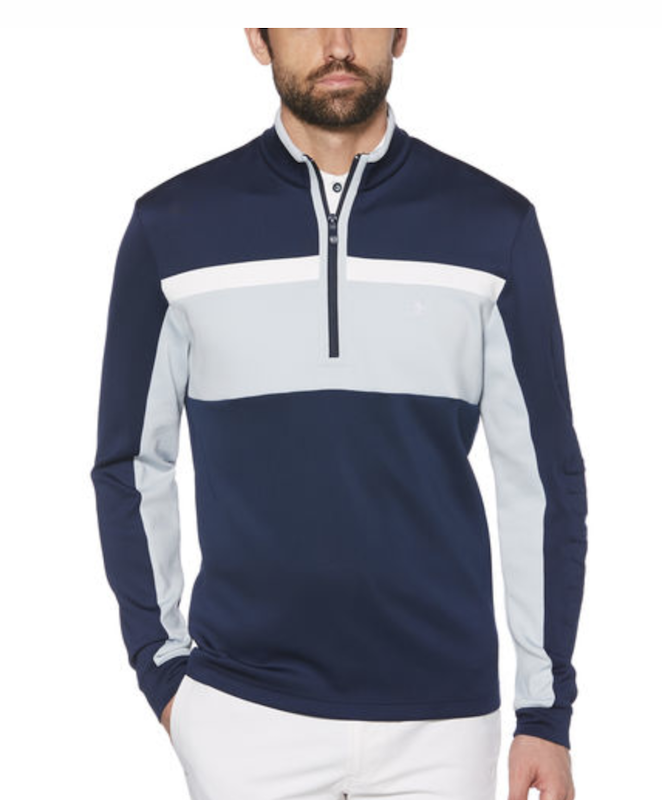 The outerwear
Finally, the color block golf pullover is a great complement to the entire Original Penguin golf line. The very stretchy ¼-zip is ideal for those chilly rounds while not sacrificing the freedom to swing your swing without restriction.  The design is both conservative, lacking the loud designs of other Original Penguin offerings, and fun with the light blue stripes on the chest and sleeves.  In short, the color block pullover is perfect for every occasion, on or off the course and it will keep you warm and stylish exactly as Original Penguin promises.
Original Penguin – the Lifestyle Brand
In closing, being a lifestyle brand with a great golf line makes Original Penguin well positioned to take over a large portion of your closet.  The diversity of fabrics, classic design choices, and fun and flashy aesthetics offered is frankly largely unmatched by most companies.  From a basic color blocked design to a flashy and colorful paisley, Original Penguin has plenty of options for your personal style and will allow you to be as original as you chose. Check out more at about the brand at www.originalpenguin.com or the golf line at www.originalpenguin.com/golf/.