Callaway continues to create great equipment and has recently been turning its keen eye for quality toward making improvements in its apparel line.  Their decision to incorporate its apparel line into its massive PGA Merchandise Show booth really underscored their commitment.  Rather than bury Callaway apparel in the typical apparel locations at the show, it was front and center, and was one of very few in the high traffic areas. Clearly, they are proud of the direction their apparel line is headed.
Getting the gear in hand shows why they are so proud.  By nearly any metric, the improvements and refinements made over the past few years are noticeable and meaningful.  The 2019 Callaway line continues this trend of keeping what works, adjusting what needs attention, and putting out a quality, functional product.
This year's new technology comes with the catchy name "Swing Tech."  Swing Tech is Callaway's take on functional and modern golf gear – an evolution in athletic fabric that is designed for less restriction and more stretch to maximize range of motion.  Far from visual technology, Swing Tech is not something you will notice in casual situations, but each piece certainly does provide all the comfort and stretch I wanted during my swings.  During testing I was able to try a complete outfit.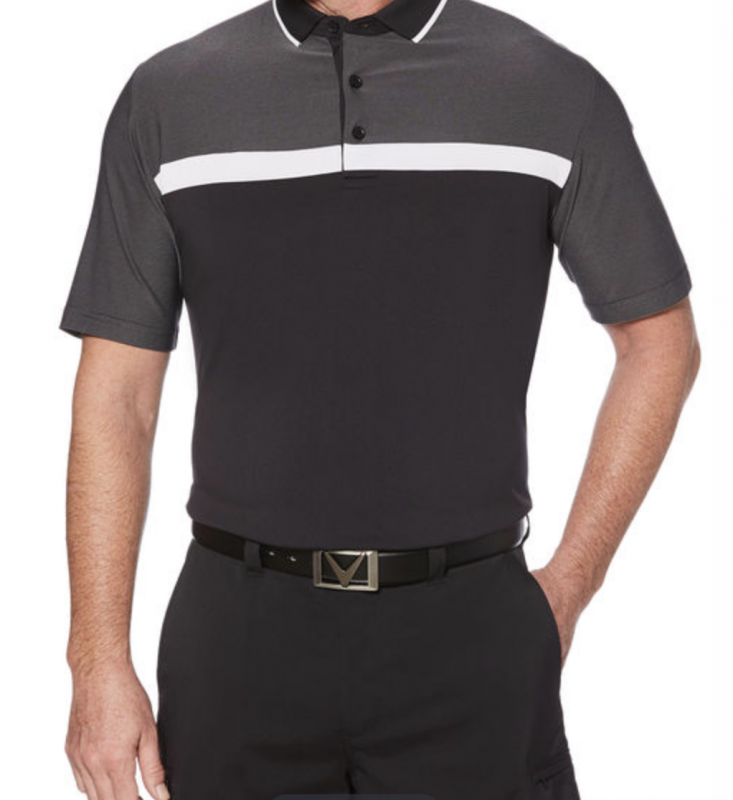 Polo
Having reviewed the 2018 line, my first impression was that the fabric was a vast improvement in both feel and quality.  It feels much lighter, durable, soft, and with more stretch, albeit sacrificing any "natural" fabric feel.  The new composition, a 92% polyester / 8% spandex mix, really underscores the leaps that Callaway apparel has taken in a short period of time to improve on its already quality shirts.
Of course, fabric is only half of the equation.  Fit, on the other hand, has long been a bit inconsistent for them.  Thankfully, they have taken another positive step forward with resolving these issues.  The polos are largely true to size through the shoulders and chest but remain a little large through the waist/stomach area.  Depending on what brand you are coming from, you may or may not have issues with the fit.
As far as designs go, Callaway has an extensive collection of options to choose from in its 2019 line.  Unquestionably, there is something that will appeal to nearly every golfer.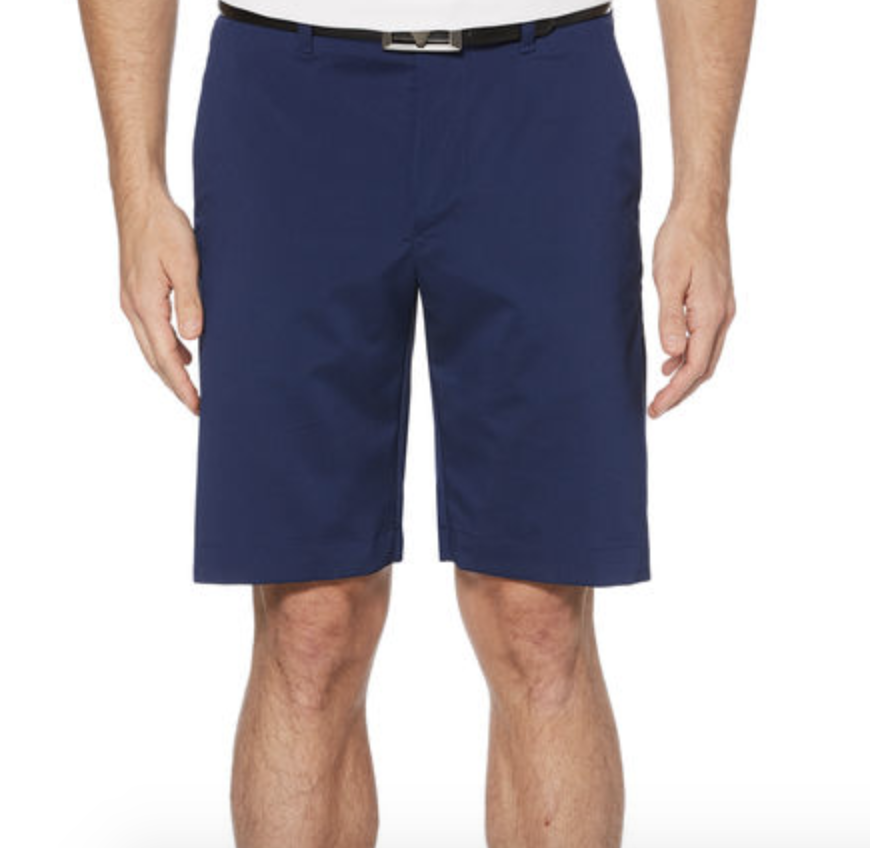 Shorts
Much like the 2018 collection, Callaway put performance and function first but without sacrificing comfort or fit.  And the addition of Swing Tech mobility adds an extra bit of comfort to already great shorts.
This year's collection features a small change in fabric, moving to a 96% polyester / 4% elastane mix that breathes, is lightweight, and most importantly stretches well as you move.  And the attention to detail in the design is nothing short of impressive.  For example, gone is the old-fashioned rubberized gripper waistband and in its place is a series of rubberized chevrons.  It serves the same purpose but with very on-brand flare.  Another nice touch is the addition of a small, largely hidden zipper pocket right next to the right-front pocket.  If you are anything like me, this single addition has drastically reduced the chance of losing a ball marker mid-round.
One curious design choice is the uneven button placement on the back of the shorts.  The 2019 shorts feature a button closure on the left-back pocket but omit a matching button on the right-back pocket.  It seems like a strange choice and looks a bit strange to my eye but doesn't distract from the shorts as a whole.  Finally, the fabric remains a little loud compared to others on the market, but it does not detract from the quality and function of the shorts.
The 2019 Swing Tech shorts also pair well with the new belts for 2019.  The polyurethane leather belt has a durable feel and incorporates a little extra forgiveness for those mid-round meals by adding a patch of webbing between the buckle and leather.  The belt is a great companion to the Swing Tech philosophy; subtle technology that makes sure you never notice your apparel while playing.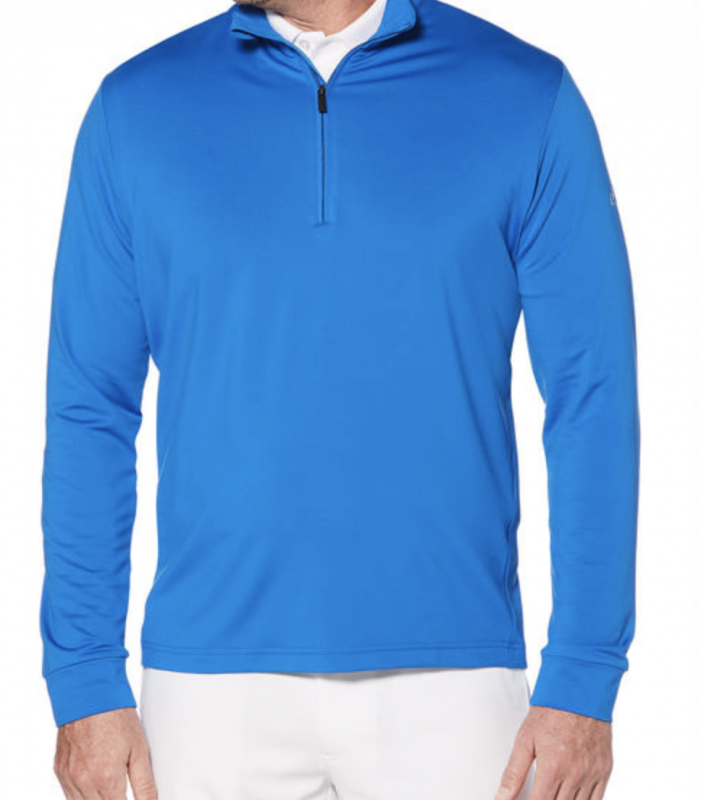 Pullover
Finally, the Swing Tech Cooling ¼ Zip is a perfect compliment to the rest of the 2019 line for when the temperatures drop during your round.  The 86% polyester / 14% elastane fabric is certainly on the lighter side but provides a lot of breathability and moisture wicking.
Much like the polos, the fabric has been improved and I found it very comfortable and functional casually and while swinging.  The fit is also very similar to the polos.  The Swing Tech Cooling ¼ Zip is mostly true to size through the shoulders and chest, but has some additional fabric as it terminates at the waist.
All told, it is clear that Callaway apparel continues to make fantastic strides in its year-over-year improvements.  If you were a fan previously, you are likely to love the new line of gear and if you haven't given Callaway apparel a try in the past few years, I would recommend you give it a second look.  You can find out more information on Callaway apparel and Swing Tech a www.callawayapparel.com.