Original Penguin continues to blend modern, flashy designs with its iconic past but with a little extra focus on the details.  The result is clothing designs that really stand out in a crowded marketplace.  Seriously, there aren't many other brands that have the storied history of being worn by the likes of Palmer and Nicklaus AND are still being worn by characters in currently popular television shows like Silicon Valley on HBO (I see you, Dinesh).  The Original Penguin logo is the perfect combination of fun, iconic, and immediately recognizable, which sums up the brand pretty well – a versatile lifestyle brand with a solid golf line.  Original Penguin sent four items in for review – three polos and their performance golf jacket.
2019 Polos
When the Original Penguin shirts arrived in the mail, I was excited after my positive experience with the 2018 line . I remembered the fun designs from my last review and how they turned into some of my favorite shirts to wear when I wanted to add a little pizzazz into the wardrobe.  This year's selection is no different and I've never had so many comments (mostly positive) about my shirts at work and around the course.  When Original Penguin tells you to #BeAnOriginal, they certainly give you every opportunity to do just that (and for those of you that are social media savvy, use that hashtag with your Original Penguin gear for a chance to be featured by the brand).  If you want to stand out, you can certainly stand out.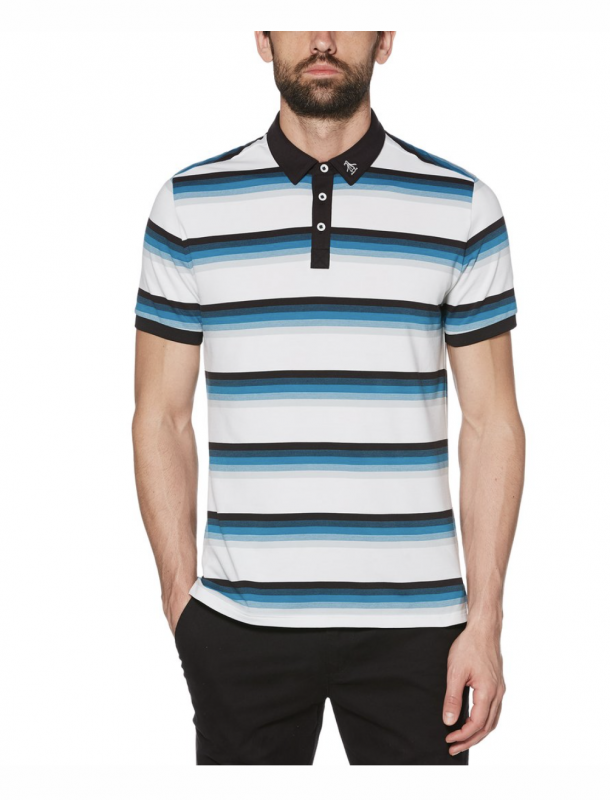 The 1955 Clubhouse Stripe polo, which I received in "Bright White," is a fantastic shirt,  and I truly mean fantastic.  The nearly 50% cotton blend is comfortable, breathable, stretches a bit and looks great.  The gradient style colored horizontal stripes are eye-catching but without being over the top.  The black collar and cuffs are complemented with white accent buttons and a white penguin logo.  As is the case with nearly everything Original Penguin, the polo is closer to a European cut but it was still plenty forgiving in the right places.  Without question, this will be heavily featured in my polo rotation and I highly suggest you consider the Original Penguin polos with the 49% Cotton / 47% Polyester / 4% Elastane fabric.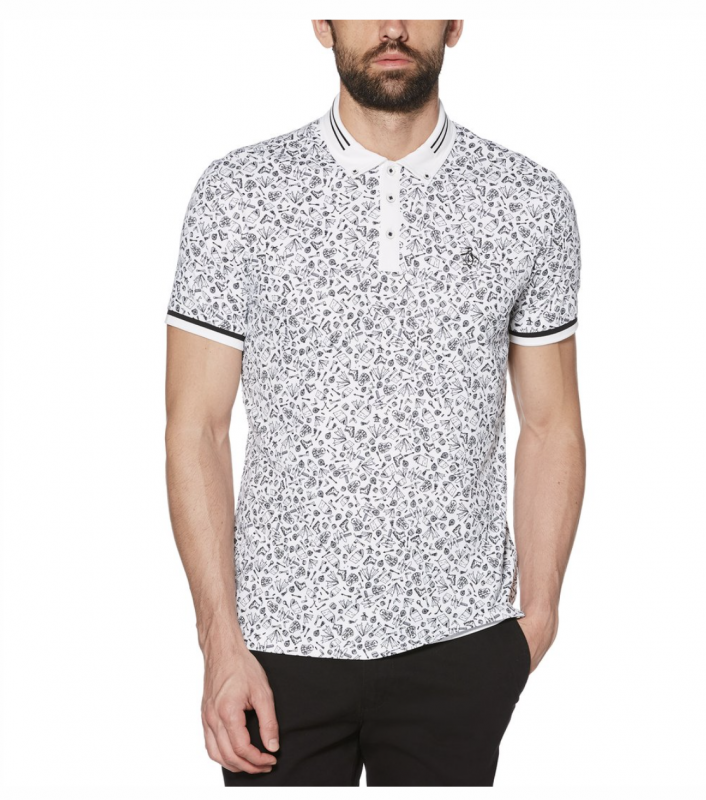 The Hiking Print Golf Polo and Atomic Pete Printed Polo on the other hand are flashy, busy, and just plain fun.  If you are looking to draw some attention, these shirts will be right up your alley.  I have received a LOT of comments on these shirts, ranging from "fun" to "crazy" and a lot of choice adjectives in between.  Not only are the designs more eccentric than most, the accents on the cuffs and collar on the Hiking Print Golf Polo add stripes and multicolor buttons to the mix.  There is a lot going on but without being overly busy.  Of course, they certainly aren't for everyone, but I'm a fan of the designs and the near-Euro cut.  Unfortunately, the 86% Polyester / 14% Elastane fabric is not my favorite.  It moves well throughout the day and in your swing, but it just doesn't seem to breathe as well as many on the market which, in my opinion, limits its place in the rotation in the dead of summer.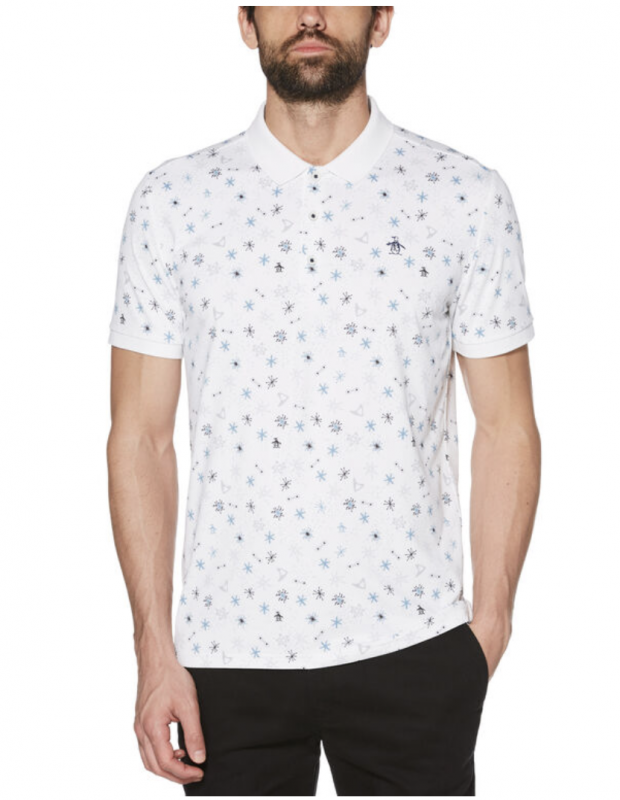 The Performance Golf Jacket
On the other end of the spectrum, the performance golf jacket is the most muted design of the bunch.  Although the jacket is tame by Original Penguin standards, it does have little pieces of flare that make it stand out and unique.  For example, it has the white accent strips on the hem and cuffs and, of course, the white Penguin logo on the chest.  Also adding a little flare is the double pocket – a button closure and flap give the appearance and function of a slightly secured pocket but with a more typical jacket pocket hidden behind the first pocket.  I've never seen this design before and it proved quite useful, as it allowed me to put objects (phone, wallet, etc) in the button pocket and still had a place to put my hands to keep them out of the weather.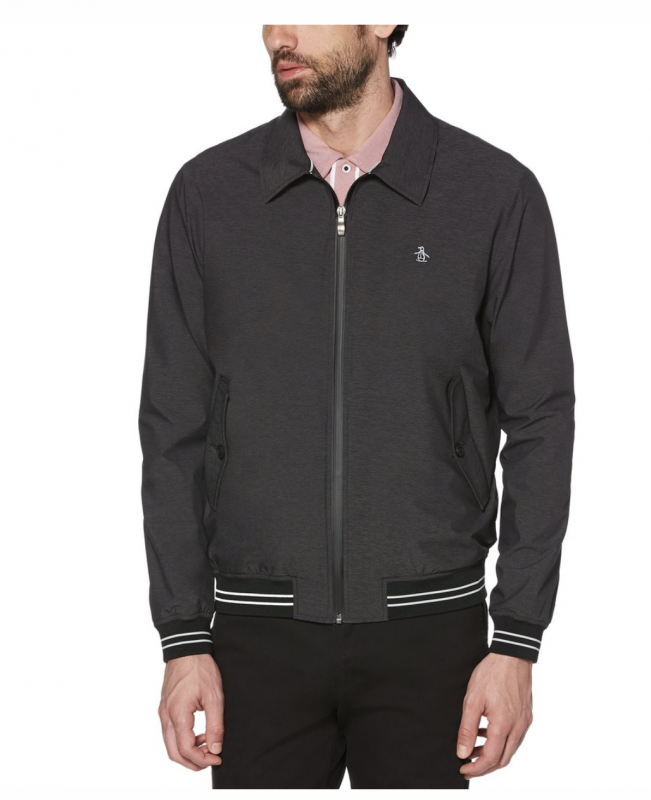 In use, the performance golf jacket is a great fall jacket that cuts the wind and is surprisingly warm.  In fact, it was far warmer than I expected when I first received it and felt the fabric.  I'd guess this jacket could even see a lot of use during in the more mild winters in the south.
Of course, this is a performance GOLF jacket so I cannot go without saying how it fared with some swings.  Although it is designed to have some stretch, it didn't have enough stretch to keep me and my long arms covered in my swing.  The sleeves and bottom would continually creep up and require adjustment nearly every shot.  You may have better luck, but my long and quasi-lean frame gave the performance golf jacket a real test trying to stay in place.  In sum, the performance golf jacket is a great looking, warm, and well-constructed jacket that will certainly get plenty of use on the way to and from the course, but I may need to go up a size before it sees a full 18 holes.
All told, I said something similar last year and I completely stand by it – Original Penguin is a great lifestyle brand with a solid golf line that should find its way into your heart and your closet.  The fun, modern colors and designs paired with the more subtle options let you truly be yourself regardless of how adventurous you decide to be. Check out more at about the brand at www.originalpenguin.com or the golf line at www.originalpenguin/golf.com.
The Details
Price: The polos all retain for $89. The Performance Golf Jacket retails for $149
Available: Now