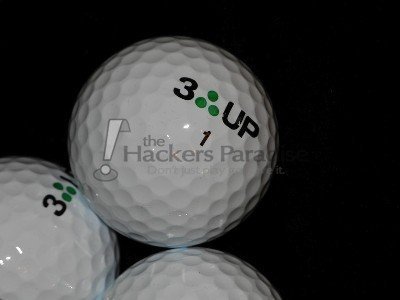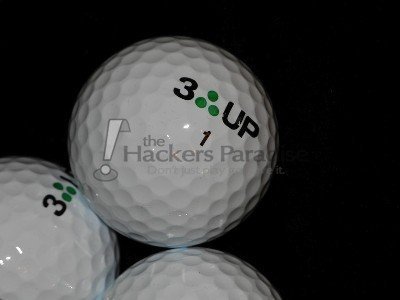 3 Up Golf is a name you likely haven't heard before today. In a market that is dominated by major companies, 3 Up is refreshingly different. It's owned by a three person partnership and is the brainchild of married partners Rob and Danielle Zimmerman. They've come together to offer a golf ball called the 3F12 that I've been testing over the last month.
3 Up offers a charming personal level of service that is quite unlike what we are used to seeing today. The main themes that the company is promoting are 1) a quality product at a fair price, 2) a commitment to charitable donation, and 3) an almost family-like approach to service (consumers are asked to contact the Rob Zimmerman directly with concerns).
3 UP is committed to donating a portion of their proceeds from sales of the 3F12 to charitable organizations. According to their website, "Every dozen of balls sold will equate to $3 going directly to a charity (we've built this into our cost structure). Every time we reach the 333rd dozen we will write out a check for $1,000 to the current charity that's on our radar." You can learn information about this program on their website.
The 3F12 Golf Ball – Information from the Company
The 3F12 is a premium 3 piece golf ball that you're going to truly love playing. It was born out of a need for a truly remarkable 3 piece cast urethane ball at an equally remarkable price point. At 3 Up, we're passionate about golf at all levels and the 3F12 will benefit your game regardless of handicap.
By utilizing cast urethane for the cover, the 3F12 will feel softer than any other ball you've ever played before. Don't worry though, the durability is still off the charts (trust me, I hit plenty of 'obstacles' while testing the prototypes).
The 3F12 spins more than you're used to as compared to other balls off of your wedges and short irons. Worried about too much spin on your driver? Don't be. The 3-piece design ensures that the massive spin characteristics are only employed when you hit the ball with lofted clubs. You can actually feel the spin technology with your hands. The 3F12 has a much more tacky feel on its cover than other golf balls.
All that spin and feel is worth nothing if you can't hit the long ball! Thankfully, our core technology transfers the energy from your club into maximum C.O.R. (Coefficient of Restitution) and consistent ball flight. You'll even notice that our core feels better off of the driver head that the leading brands!
Simply put, the 3F12 offers the best feel and green-side control of any ball on the market today; all while not losing a single yard off the tee. 
Aesthetics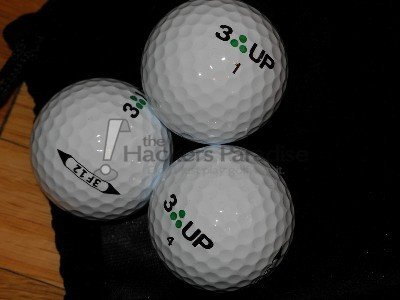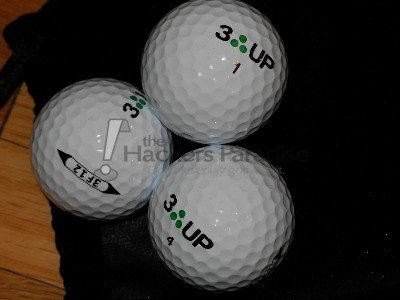 The 3F12 offers a unique, even playful, look that I enjoyed. Their logo is boldly displayed on one side of the ball, while a large and noticeable alignment aid resides on the other side. I personally enjoyed the logo, as it differentiates the ball from the many competitors on the market. I think I'd pick a slightly smaller alignment aid if I was designing the ball, though it certainly works well for its intended purpose. Another unique feature is the packaging that the 3F12 balls come in. Rather than the standard box-and-sleeve combination, the balls came in a soft velvety bag.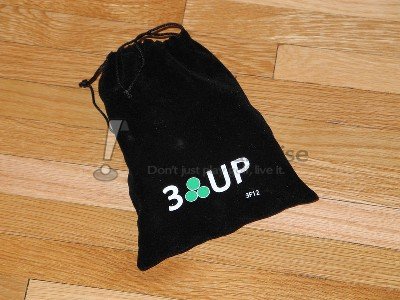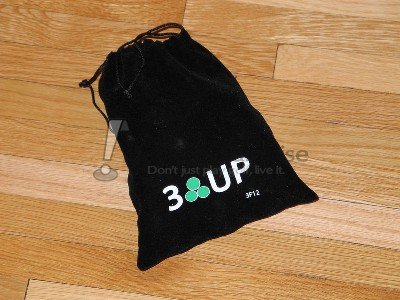 The 3F12 has a glossy white appearance and feels very much like a premium Tour ball in-hand, which is something I'd expect in a urethane covered golf ball. It's got an almost sticky feeling to it that is reminiscent of other balls in its class. The cover promotes a softer sound from those delicate wedge shots and putts that many will find pleasing to the ear. In general, I felt like the 3F12 offered a softer feel on full shots as well.
Performance
The 3F12 was tested both on the golf course and using a Vector X launch monitor. The stats below reflect well struck balls and are averages of five shots. The purpose of showing the included data is to reflect how the ball performs with a good swing. Launch monitor testing was done over the course of the review, which is why you may notice varying shot shapes. Like many of us, my swing is always a work in progress.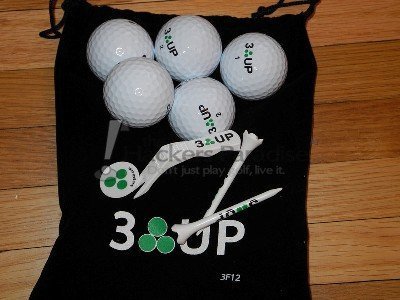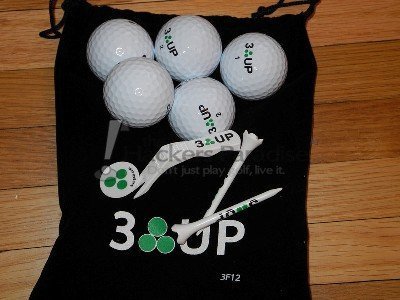 Greenside
Similar to many soft-covered golf balls, the 3F12 provided a higher than average amount of spin around the green. Short wedge shots produced enough bite to allow for a good level of distance control. While I typically don't rely on spin for chip shots, I was able to produce it as needed for the review. I can't say that I noticed a significant difference in greenside spin when comparing the 3F12 to other Tour level balls on the market.
100 Yard Wedge Shot
Again, I noticed spin rates that were almost identical to what I've seen from other premium golf balls in the 100 yard range – a shot I usually take with a partial swing pitching wedge. My expectation here is a shot that releases a small amount and stops within a matter of feet, which is what I saw on the course. As I moved into higher lofted clubs, the 3F12 stopped even quicker, to the point that some mid-range wedge shots stopped almost dead in their tracks.
| | |
| --- | --- |
| Carry | 96 yards |
| Ball Speed | 79 mph |
| Vertical Launch | 26.7° |
| Back Spin | 6,527 rpm |
Full Swing – 9 Iron
Scoring iron shots with the 3F12 flew very high and produced quite a bit of spin. On the course this resulted in hop-and-stop performance that I'd expect to see. These shots did balloon a bit for me in the wind, which seems to be an ever-present fixture with early spring in the Midwest.
| | |
| --- | --- |
| Carry | 134 yards |
| Ball Speed | 102 mph |
| Vertical Launch | 25.8° |
| Back Spin | 6,864 rpm |
| Side Spin | 335 rpm (draw) |
| Horizontal Launch | .6° (right) |
| Offline | 1 yards (left) |
Full Swing – 7 Iron
I actually lost a bit of yardage (compared to my other golf ball) with the 3F12 in my mid irons. While my ball speeds were good, and typical of what I'd expect, my launch and spin numbers were quite a bit higher than I'd seen in a while. On course results mirrored the scoring irons in that I hit the ball very high and it stopped very quickly.
| | |
| --- | --- |
| Carry | 163 yards |
| Ball Speed | 117 mph |
| Vertical Launch | 22.2° |
| Back Spin | 6,061 rpm |
| Side Spin | 284 rpm (fade) |
| Horizontal Launch | STRT |
| Offline | 5 yards (right) |
Full Swing – 19° Hybrid
As much as I saw higher than normal spin in the mid-irons, I saw very normal performance from the longer clubs. Shots from the hybrid in particular provided the ball height and spin that I am used to seeing.
| | |
| --- | --- |
| Carry | 211 yards |
| Ball Speed | 132 mph |
| Vertical Launch | 16.9° |
| Back Spin | 3,386 rpm |
| Side Spin | 507 rpm (fade) |
| Horizontal Launch | 2.8° (left) |
| Offline | 3 yards (right) |
Full Swing – Driver
First, I'd like to include a small note. 3F12 driver testing was performed with a different driver than I've used in the past for launch monitor testing. The driver used was a Callaway X-Hot in 11.5° of loft. This driver gives me a little more spin.
As is usual for me, I launched the 3F12 high off the driver, though my spin remained quite manageable, even on mishits. I saw what I'd characterize as average spin rates, especially considering the high launch numbers. Side spin was a little on the high side, though that's a product of my swing more than anything.
On the course I noticed a very high ball flight with the driver and carry distance was quite good. I didn't experience spinny ballooning shots, though distance was obviously affected when playing in the wind. I thought the 3F12 felt quite nice off the driver and gave me generally positive results while playing.
| | |
| --- | --- |
| Carry | 240 yards |
| Ball Speed | 144 mph |
| Vertical Launch | 16.9° |
| Back Spin | 2,908 rpm |
| Side Spin | 461 (fade) |
| Horizontal Launch | 4.4° (left) |
| Offline | 3 yards (left) |
Overall
In short, the 3F12 performed very similarly to the premium balls I've tested from other brands. In fact, other than the mid-irons, I'd say that I saw almost no quantifiable difference at all. I believe that's a very positive statement for the 3F12. There is a certain level of performance that I expect from a premium ball, which is where I believe the 3F12 fits in, and I wasn't disappointed. I saw a solid mixture of long-game distance and short game spin in a soft feeling golf ball. At $40, it is competitively priced – right in the middle of the pack for today's Tour ball offerings.
What differentiates the 3F12 from its competition isn't necessarily the ball's performance. It's the small size of the company, its personalized service, and the unique looks of the product. Those of you looking for something a little different, but not willing to sacrifice performance, may find just what you are looking with the 3 Up Golf. For more information, including ordering instructions, head to www.3upgolf.com.