As has been mentioned hundreds of times, the rangefinder is one of the priciest pieces of equipment out there for golfers and because of that it is no wonder we are seeing more and more affordable options work their way into the marketplace. One such option that THP was able to take a closer look at is the DLX 1000S rangefinder from a company called TecTecTec! The company claims to be the top-selling rangefinder on Amazon and they have six different models available. The DLX 1000S is their slope version and has a price-tag of $249.99.
.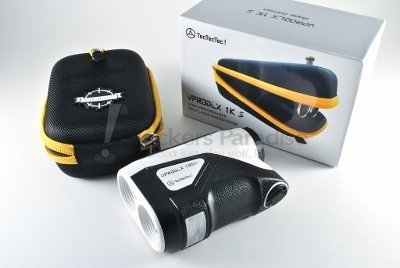 About the TecTecTec! VPRO DLX 1000S Rangefinder:
PinSlope Technology, Angle-Compensated Distance
Our patent pending PinSlope technology allows for slope compensation which calculates the elevation (uphill or downhill) adjusted distance to the target.  By using the latest in rangefinder technology, you can be confident that you'll have an accurate adjusted distance to your target ensuring you select the right golf club for the shot.
+/- 1 Yard Accuracy, Up to 600 Yard Measurement, Waterproof Body
Distance control is covered with the VPRO DLX 1KS.  Our waterproof laser rangefinder measures up to 600 yards within +/- 1 yard, helping you find the right distance every time.  After one look through our premium, ultra-clear, multilayered optical lens, you'll have a complete picture so you can take your golf game to the next level.
Fast-Measuring Rangefinder Technology, 6x Magnification, Diopter Adjustment
The VPRO DLX 1KS uses the latest in rangefinder technology making it more accurate and flexible than any other golf rangefinder on the market.  Distance is measured perfectly thanks to its clear 6x magnification and multilayer coating.  The diopter adjustment functionality will always guarantee you a clear view.
Pin Sensor Technology, Continuous Scan Mode, First Target Priority
With three different scanning modes, the VPRO DLX 1KS, will give you confidence for every situation.  Pinseeker mode lets you accurately measure overlapping targets, perfect for measuring the distance to the pin and wooded areas giving you confidence in your distance.  First Target Priority mode displays the distance of the closest subject, helpful when measuring the distance to the golf flag on a green with woods in the background.  And Scan mode, useful when checking the distance of hazards, which hopefully you'll stay out of!
Lightweight, Portable, Rainproof and Fully Equipped Rangefinder
The VPRO DLX 1KS is extremely lightweight weighing at 0.41lbs and measures 4.1w x 2.8h x 1.6d inches making it very portable.  The waterproof body gives you peace of mind should you get stuck in a rain storm and the shock-resistant case safe guards your rangefinder against impact.  The rangefinder comes with a premium case, free CR2 battery, wrist strap, microfiber cleaning cloth and a quick start guide for easy setup.
Ergonomics and Design:
The TecTecTec! DLX 1000S rangefinder is on the compact side of the size spectrum, this means it will fit comfortably into the hands of a wider range of golfers than some of the larger devices out there.  However, if you do have larger hands like this reviewer, then the more slight stature of the device will be something you take notice of immediately. With that though, the two buttons (mode and power) are easily accessible while in use and offer enough resistance to prevent accidental mode changes but still make a quick switch while using the device no problem. Additionally, the eyepiece adjusts easily with a wide range to it making it useable for a variety of vision types. Overall, the quality is nicer than one might expect given the price and it's got a nice amount of heft to it in hand which instills confidence in the build, plus it is also available in three different color options (Black, White, and Red) which is fun. The package is rounded out with a high quality case that is of the exact same design as some "big name" rangefinders, simply in a black and yellow color scheme.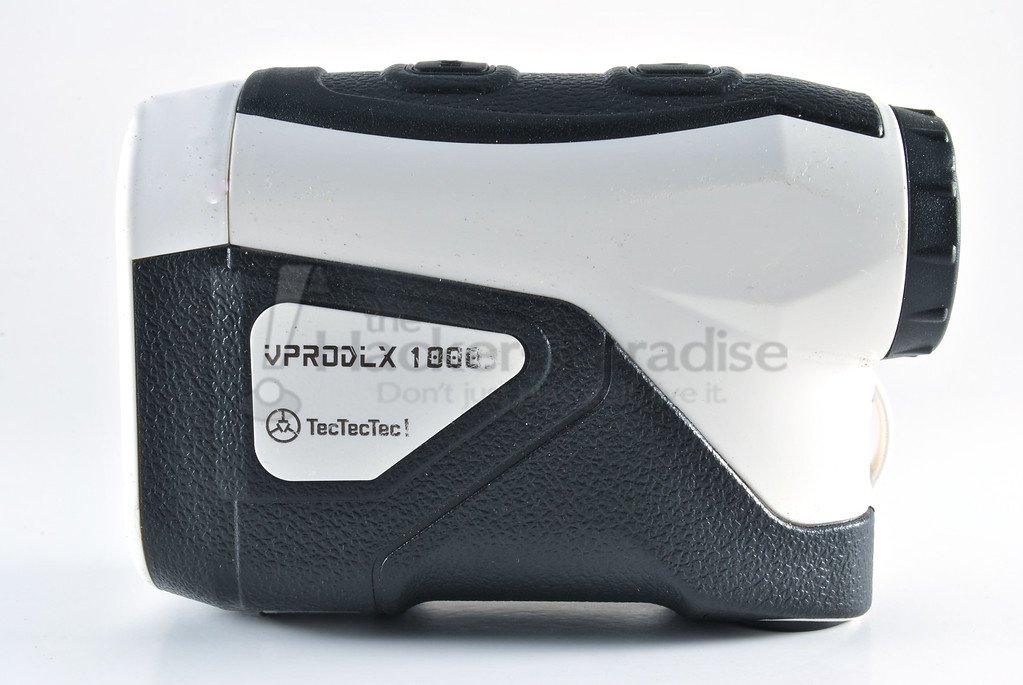 Performance:
Looks and ergonomics are great, but with any rangefinder performance is what matters most. The DLX 1000S was put into play over fifteen rounds of golf and over that time showed average stability in hand.  There was some noticeable shakiness there, but nothing that was a turn-off. The device does lack any vibration feature or option, but as such it is the opinion of this reviewer that this allowed it to keep the speed up and though not the fastest we have used, it was good overall. Additionally, such an absence is going to aid the overall battery life which might be important to some given the cost of replacement batteries, personally, this reviewer would sacrifice some battery life for a tactile vibrational feedback, but that could simply be because it is what the user is accustomed to.
It was nice to see that TecTecTec's DLX 1000S offers three different shooting modes when it comes to acquiring distances with the standard "priority" setting along with continuous scan and pin sensor options. This reviewer saw the best results when using the pin mode but even then it sometimes took some extra time and patience to get the device to lock on, particularly in wooded areas. There was never an issue with it not locking on, but it did take more focus at times compared to the other units it was tested against.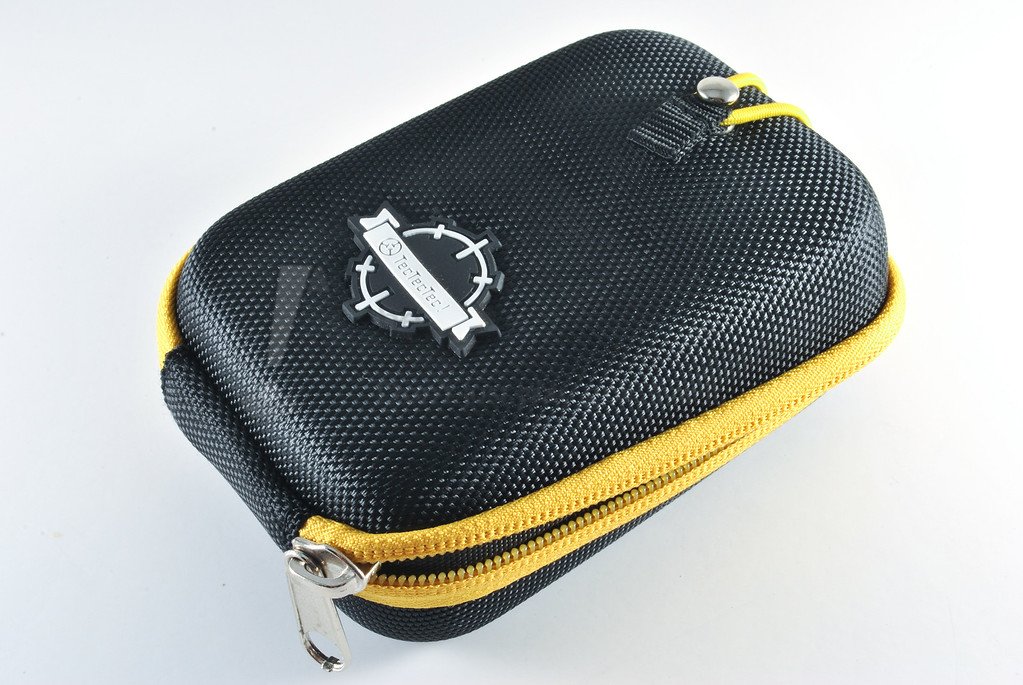 A feature that for the price will make many happy is the slope mode being offered. As has become standard for several rangefinder companies out there, there is no external visual differentiation to indicate when the slope is engaged, but thanks to USGA rules there does not need to be, the mode simply needs to be off when in USGA events and tournaments, it is a game of honor after-all. The slope works well compared to other units and as with the non-slope measurements were within 2 yards of the other three units used in the review. The DLX 1000S not only shows the slope adjustment in this mode, but also the standard measurement and the actual slope (in degrees) on the screen making it a bit busy, but still decipherable and effective.  
Parting Thoughts:
TecTecTec uses the claim on their website that the DLX 1000S is "More accurate and flexible than any rangefinder on the market", a lofty claim indeed. For this reviewer, that was not the case as the DLX 1000S was certainly within the accuracy realm of other units it was tried against.  Price point seemed to be the main factor separating it from others. With that said, it is a quality build that is affordable to a much wider range of golfers than the high-end offerings on the market, even at $249.99 it is competing in a price range where there is still competition out there, but options are definitely good for everyone, particularly when they do the job well enough.
More information on the DLX 1000S and everything else that TecTecTec offers can be found on their website at www.US.TecTecTec.com.