Ever since I became addicted to the sport, I've been an avid walker of golf courses. When given the choice, as well as conducive weather, I'm walking and soaking in every second of it. My first few years playing I always carried when walking, until I had the way too late realization that a good push cart could make life a lot more enjoyable. Since then, I've put hundreds and hundreds of rounds on my two push carts and am always on the lookout for the next big thing in that realm.
Enter Big Max and their Blade IP push cart. Some of you are saying to yourselves, "What's a Big Max?" and it's OK to admit. Well, while ClicGear and Sun Mountain may be the big names in push carts here in the United States, Big Max has been top-tier in for more than a decade…in Europe. The company is formally making their push into the U.S. market and have the uniqueness to make their mark.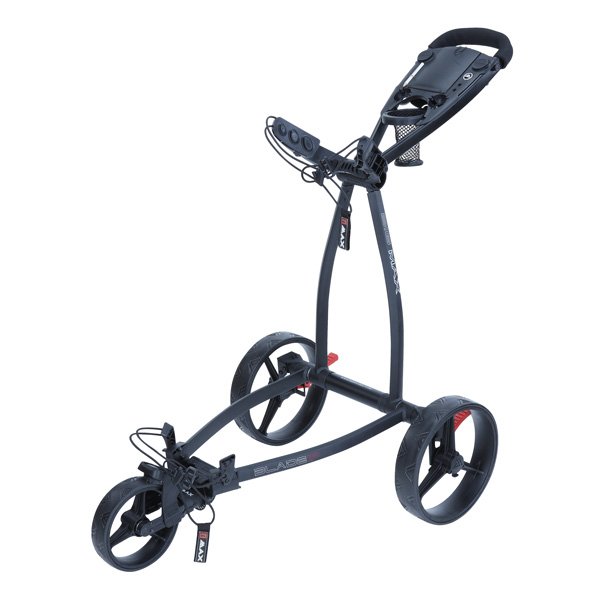 Big Max on the Blade IP Push Cart
Blade IP – designed to suit your game.

Thanks to the new faster and easier One-Fold mechanism and ultra-flat design the Blade IP fits into the tightest spaces and is easy for travel use. The push cart features a double brake system and two scorecard holders of which one is easily visible while you push the cart.

The cart has a stable design that is suitable for all bag sizes, so you can not only use cart bags but also stand bags. The adjustable upper bag brackets help you to position your bag perfectly and feature Quick Attach points for handy accessories like the Drop-Stop Rainsystem.
Design Thoughts
As a ClicGear user, I only thought I knew what a compact push cart had to look like, after all, everyone in the U.S. market essentially mimics their design. Big Max isn't playing that game though, not for a second.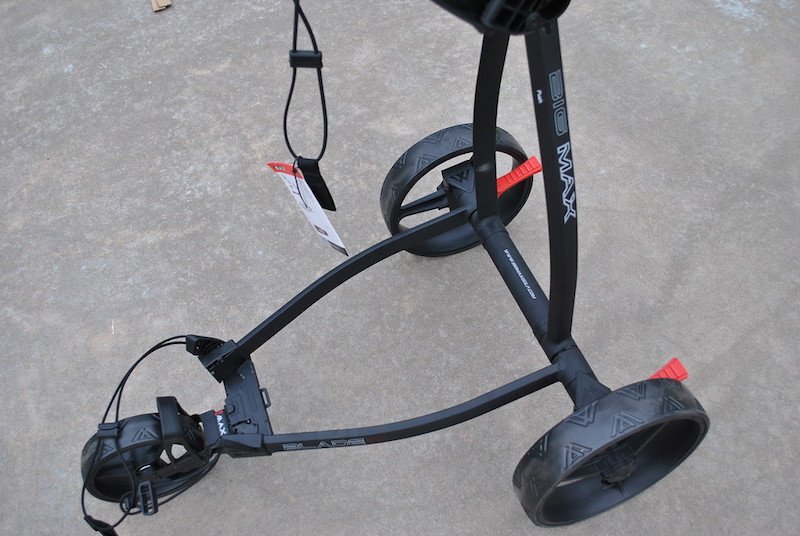 The unfolded design is simple and visually pleasing. A dual-fork design hinging at the rear axle with two large rear tires and a single smaller front tire. The Blade IP fastens the bag using the same bungee system any current model push cart user will recognize, but with the cool twist that the brackets adjust to fit either a stand bag or a full staff bag, without the need for an aftermarket kit.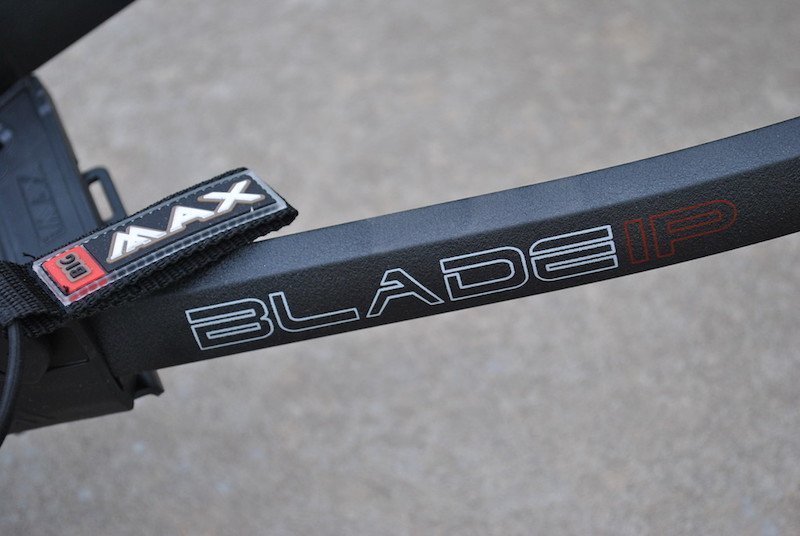 Additionally, the console is a good size, sturdy, and offers some good stock features with a plethora of additional add-ons available via their Quick-Fix and Quick-Lok systems. The inner compartment of the console fit my LG G6 perfectly, closed securely, and there is a cool flip out score-card holder as well. Beyond that there is room for all the goodies one would hope for, and a single net drink holder that will fit several sizes, or in my case make for the perfect speaker holder.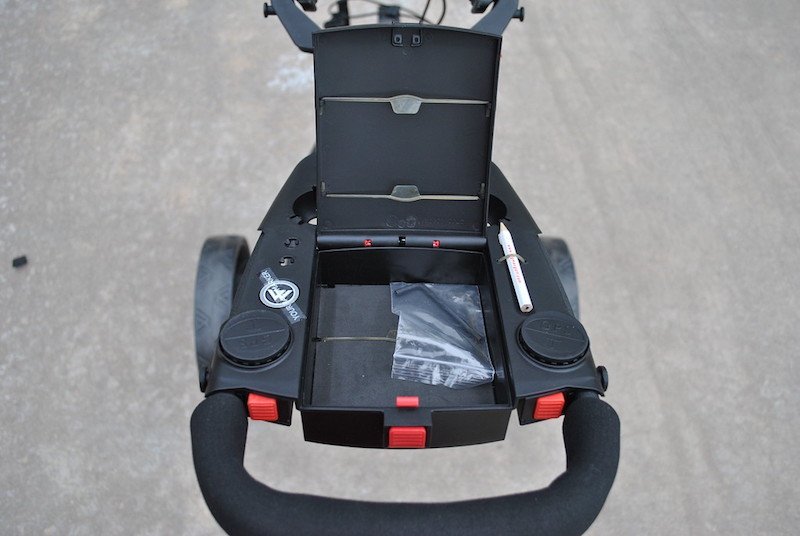 Beyond what you get, as mentioned, there are a lot of addons available that make use of the frame design and in my opinion do so better than the ClicGear 3.5 I currently use.
Performance
Bells and whistles are always fun, but they're more fun when they are part of a bigger working package because with a price point of $349.99, the Blade IP had better perform.
First and foremost, the cart when folded is flat, it is literally 5" in depth, and the rest of the measurables are equally as impressive at just under 25"x35". This was a revelation to me as I only thought I had been maximizing space with my cart, the Blade IP though takes it to a completely different level with the slim profile. While the storage ergonomics are nice, folding and unfolding the cart is just as streamlined. After the initial learning curve of any new item (though expedited by the nice video explanation on the Big Max website) the simplicity of the folding mechanics here is spectacular. It is literally a matter of lifting or pushing down, sounds simple because it is, and better is the rear wheels fold and unfold on their own. It's intuitive, and it has made me rethink what I believed to be easy assembly all these years.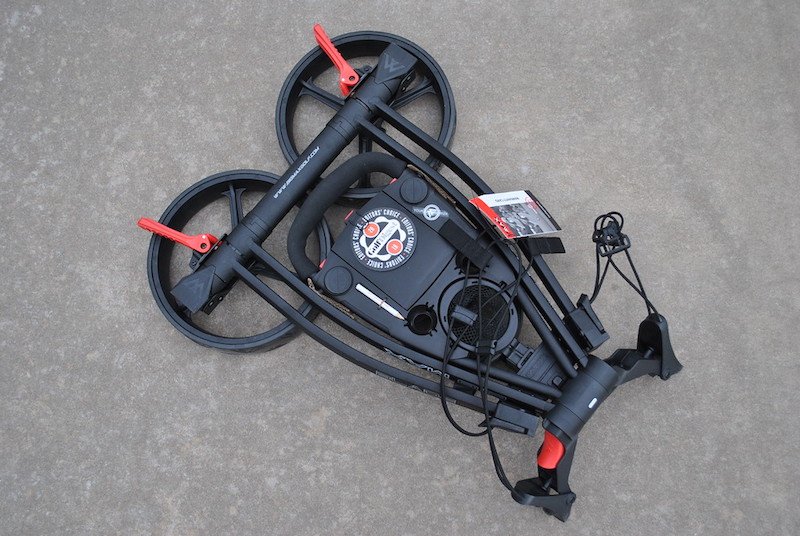 On the course the Big Max Blade IP also holds it own. The matte finish is durable and should hold up well when pushing the cart through all sorts of places, and there are enough color options to keep it interesting. The cart showed solid stability with the only hiccups coming on some side hill situations and to me some of that comes back to the smaller front wheel (about half the size of the rear two). Additionally, if you are coming from a cart with a cable run hand brake, the foot brakes take some getting used to. That said, neither of those things are killers to the bigger picture.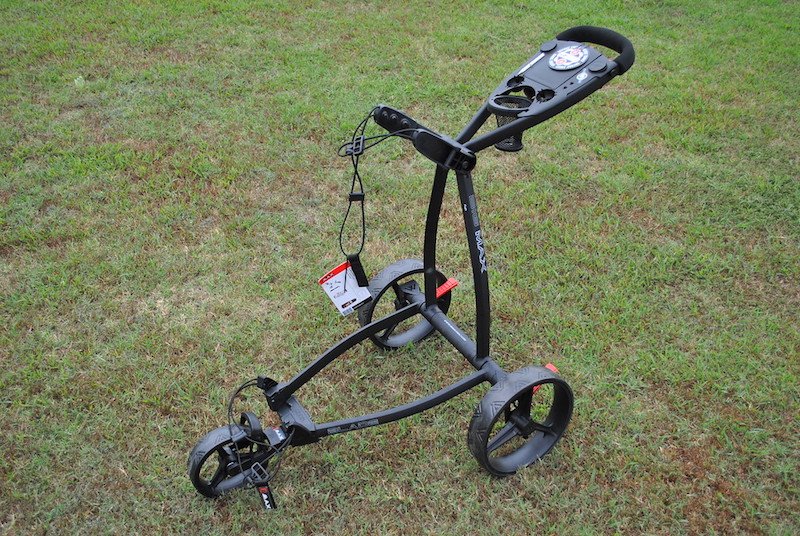 Parting Thoughts:
The Blade IP is a very good cart, the design is a breath of fresh air compared to what we here in the states have considered "top tier" for so long now. Yes, the price tag ($349.99) is in line with the top of the line offerings from the likes of Sun Mountain and ClicGear, but I truly believe if Big Max can get their distribution situation established and put their carts side by side with the others in stores they will win some of those battles. If anything, this has made me even more curious of just what the companies other carts offer.
More information and videos on the Blade IP and all of Big Max's other push carts can be found on their website at www.us.bigmaxgolf.com.