The thought of being given a shopping cart and told you can run around a store and take anything you want has been something of a pipe dream for anybody. There was even a game show of sorts years ago called Supermarket Sweep that featured people doing that very thing. The idea that as a golfer, you could be given a shopping cart and told to go nuts for 60 seconds in a massive warehouse could never become a reality…UNTIL NOW!
THP Sweep is officially here and we have teamed up with Budget Golf to give two golfers the chance at the most incredible dream come true possible. A shopping cart, a stop watch, a competition and a chance at the grandest of prizes! ANYTHING YOU ARE ABLE TO GRAB!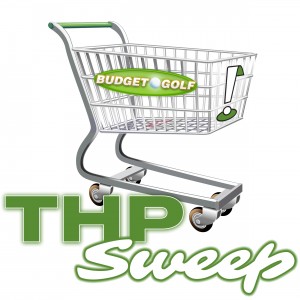 When & Where
July 10th-11th
Chicago, IL
The Itinerary
You will be whisked away to the Chicago area where you will be picked up at the airport by the THP Staff and brought to the Wilson Innovation Center for an iron fitting. Why? More on that later, but it will play a role in the outcome and your success.
Monday: Wilson Staff Iron Fitting
Monday Evening: Dinner with Group
Tuesday Morning: Semifinal Run (more below)
Tuesday Afternoon: The Grand Finale
Tuesday Evening: Dinner with Group
Wednesday Morning: Depart Home
After the fitting and learning more about the current line of Wilson Staff equipment, the trip will take you to Budget Golf where you will meet the team and learn a little bit about the company, and then share dinner with a small group including the "competition". Remember, this is taking place for two lucky THPers, but only one grand prize winner.
The Semifinal Run
Each participant will be armed with a shopping cart complete with a camera attached and they will have a specific task to complete, and the first one to do so will move on to the grand finale. The task will be to put together an entire Wilson Staff golf bag, from driver to putter of equipment in their current lineup and all of which can be found throughout the Budget Golf Warehouse. The first of the two participants to complete the task and make it back to the finish line is the winner and moves on to their 60 seconds of championship glory. The runner up will not be sent home empty handed as they will receive a brand new set of Wilson Staff irons that they were fit for the day before.
The Championship Run
You will be armed with a shopping cart with some cameras. A stop watch will be set to 60 seconds and when the horn sounds, your job will be to take off and grab anything you want. If it is in your cart when you finish the run, you get to keep it. One thing to remember is you can only take one of a specific item. You will not be able to just grab 20 dozen of the same golf balls, 6 of the same drivers, but you could grab 6 different drivers, or sets of irons or anything of the sort. After all, this is your championship run and to the victor goes the spoils.
Costs
Zero! There are none.
Airfare, hotel and everything else is included to TWO lucky THPers that win and get the opportunity of a lifetime.
Rules
1 Entry per person
You must be a THP Forum Member to enter (if you are not, its fast and free to sign up)
There will be an injury waiver signed by each participant before run takes place
You must be 18 years of age to signup
Entries Must be in by May 12th, 2017
Signing Up
Signup is as easy as sending in an email, however below you can see how to get a bonus entry.
Your email gets sent to admin@thehackersparadise.com
In it you will include
Your Full Name
Your Shipping Address
RH or LH
Your THP Forum Handle/Name
Social Media Handle if bonus entry is used
Bonus Entry
You can get a bonus entry by sharing this post on social media.
Twitter, Facebook and Instagram can all be used.
Just include a description, a link to this article and #THPSweep on your platform of choice and earn a bonus entry.
Make sure to include your social media handle in your email or a screen shot of your bonus entry in your email.
Want to see what the warehouse looks like and get a tour of what you could be running around to grab your equipment? Head over to the THP Forum and see Staff Writer James give you a video tour on THP TV.
Have you downloaded the THP Mobile App for your iOS device yet? If not, it's completely free and you can do so from iTunes here.