Once again, it's the time of year when the leaves are changing and the golf season is winding down for many around the world. Apparel companies are launching their winter lines and many of us are making selections on fashion that will keep us bundled up in layers, all the while hoping that our new choices will not hinder the golf swing. When THP first heard about a heated jacket design to keep us warm, dry, and playing golf, we honestly thought little about it…until it arrived.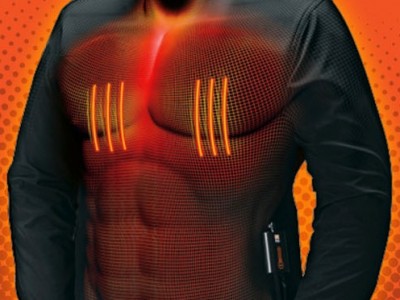 Company Information
Developed to extend your playing season, Mobile Warming Gear features breakthrough technology that provides unprecedented warmth at the touch of a button. Ideal for colder weather, its golf-specific collection includes waterproof jackets and windproof vests and jackets for men and women. Designed by PGA Professionals, the garments showcase micro-alloy heating elements built into the chest and back areas. Completely unobtrusive and powered by a small, rechargeable lithium ion battery, the system ensures a player's core stays warm. This helps enhance comfort and flexibility for up to 10 hours.
Precisely crafted from breathable, washable performance materials, Mobile Warming pieces are USGA conforming. Providing complete freedom of movement via a golf-specific cut and four-way stretch fabric, they eliminate the need for bulky layers and offer four adjustable heat settings.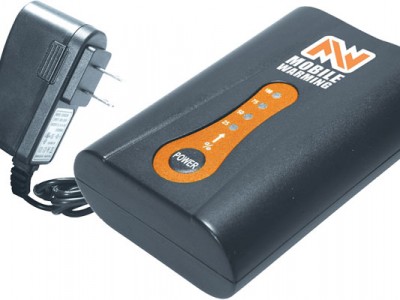 Technical
Each seam-sealed garment is USGA conforming and crafted from ultra-lightweight and breathable technical polyester that's waterproof rated at 7,000 mm. Featuring four-way stretch, the jackets provide exceptional freedom of movement through a golf-specific construction. This is further enhanced by the system of micro-alloy heating elements built into the back and chest area. These completely eliminate the need for extra layers while keeping muscles loose in all conditions.
100% – 135 Degrees – 2.5 Hours
75& – 120 Degrees – 3 Hours
50% – 105 Degrees – 5 Hours
25% – 90 Degrees – 10 Hours
Heating Up
The jacket comes with a small battery pack that fits nicely in the front left pocket. There is actually a pocket within a pocket made of fleece-like material that is sealed and houses the battery pack. The battery itself connects with a single cable and features one button that acts as the mechanism to turn the jacket on and off as well as shuffle through the settings from 25% to 100%. When the jacket needs to be recharged, you simply unplug the battery from the cable, remove it from the pocket and plug it into the wall charger that comes with the original package. It is a very easy system to use and one that works incredibly well in its design.
Once on, it takes less than a minute to feel the effects of the heat, as your chest, stomach and areas of your back start to warm up. Depending on your build, the warmth generates rather quickly and is noticeable in key areas that are designed to keep your core warm as you play. During THP testing outside in the elements, the chest area got warm rather quickly and helped keep us comfortable.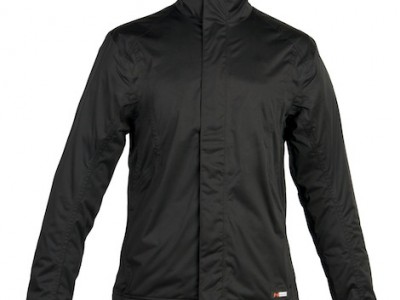 Golfing In It
Despite all of the technology out there, playing golf in layers or with jackets on is something that is still loathed by many. The preference of feeling "free" throughout the swing is a characteristic that is cherished and makes golfing in colder climates rather difficult for some. The Mobile Warming Gear jacket effectively eliminated the need for multiple layers of apparel. During our last testing, the jacket was worn in sub-40 conditions on the course with nothing under it but a short sleeve golf shirt. By reducing the amount of bundling up, golfers should feel freer during play and effectively play better because of it.
The jacket is fairly lightweight, is about as obstructive as normal rain gear, and is not all that heavy while on. Playing golf while wearing the Mobile Warming Gear jacket was no different than those times we throw on our favorite piece of waterproof apparel. Although, that is where the comparisons end, because this item did in fact keep us warm throughout the entire round while also keeping any moisture away.
Is It Warm Enough
Whether or not the jacket will keep a golfer warm enough will of course be completely dependent on the golfer wearing it. During THP testing, the Mobile Warming Gear delivered in providing warmth to the core and allowing continued golf in weather that might have been skipped in year's past. One thing we thought could provide even more comfort would have been the addition of some sort of heat through the arm areas, because swinging a golf club on a cold day can make certain areas of the body (shoulder, elbow and wrist) feel quite chilly. Outside of that, the lightweight jacket delivered in every facet of living up to the specs provided by the company.
Overall
Not many items that get reviewed by THP can completely alter one's outlook on playing golf, yet the Mobile Warming Gear jacket did just that. No longer passing on colder conditions or being completely uncomfortable during play is something that, for many, is worth its weight in gold. When it comes to pricing, the rain jacket tested has a street price of around $220, which falls right in line with other high end rain gear. The company has golf specific heated outerwear products starting at $159 as well. For more information on the company or their complete line of products, check out their website at www.mobilewarminggear.com.
Till Next Time
Josh B.