It should be apparent that we are finally seeing the simulator segment hit its stride in golf, but it should be crystal clear now that it is here to stay. While many of us have been clamoring for years that things would evolve and the reality of fully functioning simulator setups in the comfort of your own home was coming sooner rather than later, I'm not sure anyone saw it progressing just this quickly.
However, what is lost in translation is that although the technological hardware is the cornerstone of such things, it is not the only thing. That very reality is understood by few better than Ace Indoor Golf and was a major reason for them recently streamlining operations between Gimme Golf Simulators and Ace Indoor Golf to the new www.aceindoorgolf.com website.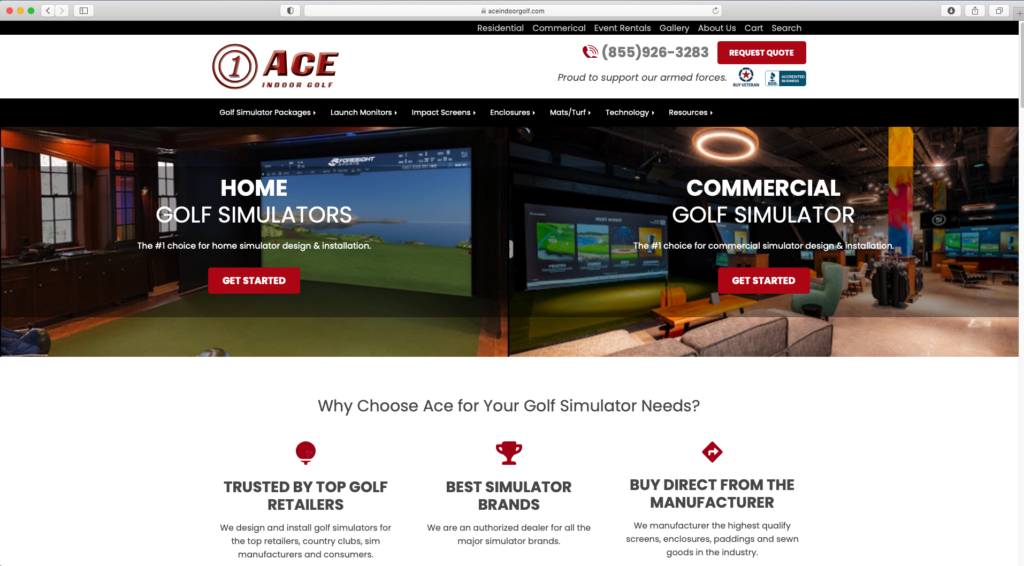 Ace Indoor Golf
Sure, some of you might question who Ace Indoor Golf is, but I can almost guarantee you that if you have played in a commercial golf simulator, you have experienced a company that is among the biggest installer of sim setups out here.
More than that, Ace Indoor designs, builds, and installs golf simulators both commercially and residentially, with access to all major brands within the segment to ensure the best options possible for each individual entities unique needs. Previously this was done through both Gimme Golf Simulators and Ace Indoor Golf portals, but the company is streamlining with the new singular site.
Jay Hubbard, Ace Indoor Golf's Marketing and E-commerce Director, stated, "The combination of the two sites will minimize customer confusion, improve internal efficiency, and ultimately increase organic search traffic. Launching the new website will help Ace start a new chapter, maximizing opportunities in e-commerce while building on our core golf simulator design and installation business."
With clear access to either commercial or residential designs and equipment under one roof and even a personal financing partner, the company believes their speed and reliability will increase exponentially to match with the booming golf simulator market.
For more on just what Ace Indoor Golf has available or can do for you, be sure to check out the new website at www.aceindoorgolf.com