Love it or hate it, the FedEx Cup playoffs is here to stay on the PGA Tour and one thing it does do, is bring big names to the end of the season for some compelling story lines.  The first event is the Barclay's at Liberty National Golf Club in Jersey City, New Jersey and it came down to the wire.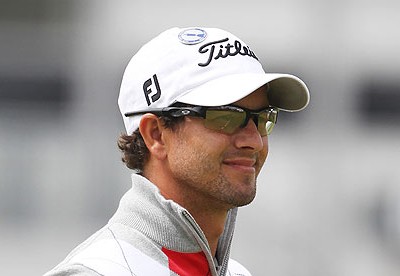 With just 7 holes remaining on Sunday, 6 golfers were with in 1 shot of the lead held by Adam Scott and Justin Rose at -11 and that pack included Tiger Woods. Woods, continued to battle a bad back and at one point, after a snap hooked 5 wood into the water, dropped to the ground grimacing in pain.
As the players reached the final stretch, viewers were treated with what looked to be a phenomenal finish as Adam Scott was in the club house with the lead at -11 and a group was still chasing. The 2013 Masters champion got in early with a solid round 66 and got to watch as player after player seemed to fall off with missed putts. Justin Rose who appeared to have the best shot of forcing the playoff, three-putted the 18th to finish a single stroke back of the Aussie super star.
With just one hole remaining for a handful of players, both Tiger Woods and Gary Woodland were on the course and only one back of Adam Scott. Woods went long on the approach and that left the long hitting Woodland with a chance to force the playoff. On the final approach Woodland puts it to with in 10 feet but failed to convert the birdie to send the tournament to extra holes.
Adam Scott, the 2013 Masters Champion, wins the first round of the FedEx Cup.