Adams Golf has released a new set of irons today and only on THP will you find hundreds of reviews that have already been done. These irons were available pre-release at the THP Golf Outing and Demo Day last month and were very much a surprise hit for those that tried them. Below you will find a link to read all of the reviews of this iron set done by regular golfers that were attendees in the THP Ultimate Weekend of Golf.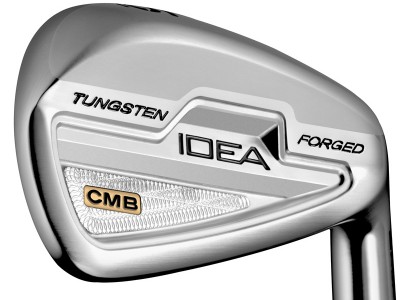 From the Company
By combining incredible looks and feel with a multi-material construction to provide forgiveness never before seen in a players iron, Adams Golf has raised the bar for the future of the players iron category with the introduction of the Idea CMB irons.
"With the CMBs we have created an iron that appeals to the best players in the world, but also has technology to make them playable for a wide range of players," said Tim Reed, VP of R&D for Adams Golf. "The look and feel of the CMB irons meets the demands of tour players and low handicap amateurs, but the unique tungsten weighting in each iron makes them great for aspiring players as well."
Stock Offerings and Fitting Options
The Idea CMB Irons will be offered with exceptional premium shafts and grips: KBS C-Taper (steel) or the Matrix Ozik Program 8.1 (graphite) as the stock shaft options, and the new Golf Pride New Decade MultiCompound White Out. Retailers will also have a CMB Fitting Kit to allow them to help consumers get a properly fit set of CMB irons.
Models, Pricing and Availability
The Idea CMB irons will have a suggested retail price (MSRP) for $1099.99 (steel) and $1199.99 (graphite), and will be offered in right hand only in regular, stiff and extra stiff flexes. The irons will be shipping beginning June 15th.
Available Models:
Idea CMB Standard Set Makeup: 4-GW
Also available through custom order: 3-iron
Idea CMB Stock Shaft Options: Steel – KBS C-Taper
Graphite – Matrix Ozik Program 8.1
Idea CMB Custom Steel Shaft Options: True Temper Dynamic Gold
Project X
Project X Flighted
KBS Tour
KBS Tour Smoke
KBS Tour 90
THP Reviews
THP Adams Demo Day Review