Guest Article by Freddie Kong:
In January of 2015, Adams Golf introduced the world to the all new Red hybrid at the PGA Merchandise Show. This past week, Adams held an event in South Florida for eight members of the golfing media to reintroduce this hybrid. The launch was coupled with not just an appearance, but an entire day with HOF golfer, Bernhard Langer.
Bernhard had never done anything like this, so his reaction was going to be new to all of us – and his reaction was the stuff of legend. Bernhard arrived on the range for a small private clinic and some one-on-one tips for the eight of us. He took his time, after a quick clinic and Q&A, to work with each of us on our various swings, and various they were, but he took his time and offered up tips related to each swing. This was after he dropped countless pearls of knowledge about his game and how he goes about being the Hall of Fame golfer he is.

One tip that has stuck with me was how he works the ball: not by changing his swing, but by manipulating the face of the club and the direction his body is aimed. He doesn't believe in changing the swing, saying that golf is hard enough as it is and to keep it simple.
After he showed us a few moves that would help us, he took some swings with his new Red Hybrid. As you would expect, he flushed it, smiled and said 'this one is mine'. We all laughed, but he was dead serious. I asked him later how long it would take for him to place a new club in the bag and what he looks for in a hybrid. He explained his method of testing clubs and made it clear that he needed to feel comfortable with the club. He also shared that in a hybrid he wants consistency in distance. He is not looking for a hybrid that can smash it 230 one time and come back with a 210 shot. He wants a consistent distance, launch and trajectory in his hybrid. He is also looking for consistency in the miss. The results of a miss on the toe or heel need to resemble that of a solid strike.
Adams Golf, #1 hybrid in golf, has created an adjustable weighted hybrid. The Red, as they are calling it, is a compact, aerodynamic golf club, designed to aid golfers in launching the golf ball easily and accurately.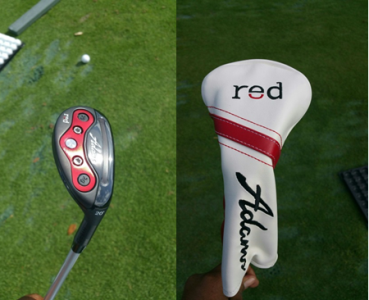 The recipe for Red is simple:
Engineers placed the focus on versatility, utilizing a smaller head (95cc) that can handle a wider variety of difficult shots and make them easier to hit from all conditions.
Adams' patented upside-down head design brings the CG lower, promoting easier launch and greater demand from all lies, increasing playability and inspiring player confidence.
To keep ball speed fast, even on off-center hits, Red utilizes Adams' trusted and proven Velocity Slot Technology TM on the sole and Ghost Slot Technology TM on the crown.
As an extra benefit to those seeking maximum shot-shape options, three transferrable weights on the sole (one 25g & two 2g) can be configured to promote the flight that works best.
The result of these ingredients is Red: an aesthetically pleasing hybrid that will work for the golfer to make the game's difficult shots easier.
Looks
The Red is the smallest hybrid I have tested/gamed in my career. The compact head with its dark steel-gray matte finish frames the ball quite well. It has the shape of an Adams hybrid with its squared toe, slight offset and deepish face. When I look down at it I feel like I can work the ball just as easily as I can hit a stock shot down the fairway or on the green. This may be cliché, but it looks like a true rescue club and not a flat-out bomber that so many hybrids have become.
Performance
Based on the looks I expected a lot from the club and soon found out that it would deliver what was asked of it. I started out with an easy swing and just hit balls into the 20 mph wind down range. I have no clue how far the ball was traveling, but I saw the same ball flight with each ball. I soon started turning the ball to the left with a slightly lower trajectory, but each shot moved on the same path as if I had worn a tunnel of sorts around the palms that fronted the left of the driving range.
Using Bernhard's tip, not changing the swing but adjusting the face, I proceeded to hit high fades. Each was the same, moving center to right and falling well short of the draws I had just been hitting. It was nice to see these three shots with the current weight setting (pictured above).
Final Thoughts
I am very picky about the hybrid(s) I have in my bag. I like a compact head, distance, playability and workability. The Red offers me all of that and more. It exceeded all of my preconceived ideas of what I was going to see at this launch. I felt very comfortable standing over the club and I knew I was going to get out of it what I put in. It is a great 14th club for my bag and really and truly has filled a hole.
After our range session we headed out on the course for a 9-hole round with Bernhard and it was one of the highlights of my golfing career. He was one of the guys, which sounds funny, but he was truly just part of the group. Not to diminish his 98 worldwide wins, two Masters and world domination of the over-50 set, but I truly felt like I had known him for years. We all laughed, hit shots and moved onto the next hole. Bernhard dropped pearls all over the place as he hit solid shot after solid shot on the well-manicured fairways of Delaire CC. It was a treat to say the least.
After golf, Bernhard joined us for a fabulous meal at a local steak joint and told some of the best golf stories one man could tell. Listening to him talk about being the first man to use the Lord's name in vain on national TV after both Masters wins had all of us laughing. The explanation about the missed putt on the 18th hole at Kiawah Island had jaws open. Let's just say nerves had nothing to do with the miss. His Simon Hobday (South African PGA Pro) stories had us holding our sides. It was truly a memorable day with Adams and the Red Hybrid, not to mention a memorable meal with a look into the life of a great man with a great level of faith and conviction. Bernhard Langer is a true gentleman in every sense of the word. He and Adams Golf make the golf landscape that much better.