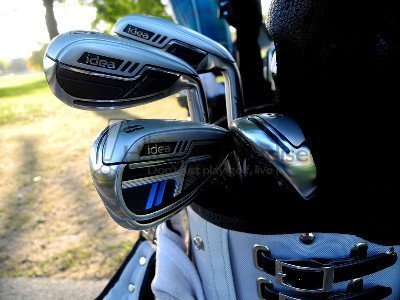 Adams Golf knows hybrids. Beyond that, they know hybrid irons. Well enough, in fact, that they can lay claim as the number one hybrid iron in golf. While not the flashiest category of golf equipment, hybrid irons are very popular with a large segment of golfers and have offered help to many. Some readers may recall a successful forum testing THP facilitated with Adams a120S irons in 2011, where we saw many average golfers enjoy the benefits the set had to offer. The 2014 iteration of this line, the Idea Hybrid Iron set, features some of the same technology we've seen elsewhere under the TaylorMade/Adams umbrella, and even expands on it. Adams is calling this the most forgiving and playable set they've released.
About Idea Hybrid Irons                                                                                                                            
It's a hard game. Our idea, make it easier.
Our research over the many years that we've led the golf world in hybrid iron sets clearly shows that most golfers typically hit the ball away from the center of the clubface (close to 80% of the time). We're here to help that with the new idea. These are more forgiving and easier to hit where you need it most – across the entire clubface.
The average impact for 15+ handicap golfers is ½ inch towards the toe. Our wrap-around slots make those mis-hits better. It's a new idea.
Key Technology
New Cut-Thru Slot™ design in the hybrids makes ball speed and launch higher and adds extra distance on off-center shots.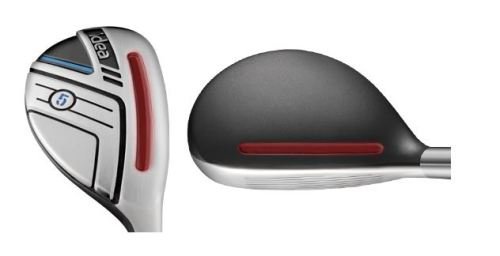 There's an actual wrap-around slot – never seen before in golf clubs – that expands the sweet spot for up to 44% more speed on off-center shots and 23% more speed on center shots compared to our industry-leading Idea a12OS.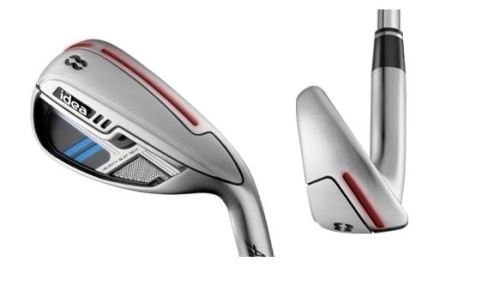 With our ABC set configuration patent, the traditional long iron is replaced by easy to hit hybrids (A), while the transitional hybrid irons (B) bridge the distance gap perfectly into the cavity-back scoring clubs (C) that are designed for precision and feel around the green.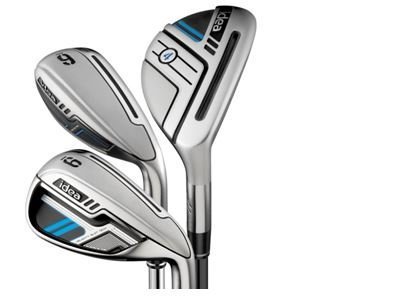 Specifications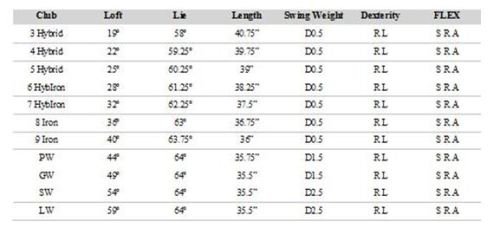 Stock Shafts: Mitsubishi Bassara Eagle Series & True Temper Dynalite 85g

Aesthetics
Some will immediately notice that it appears Adams sought to match their parent company's current color du jour (blue) in the Idea irons. From a continuity standpoint, this just makes sense, especially since both companies also feature the unmistakable slot technology in their irons. The color scheme and badge design conveniently serve to give the Idea's a modern and techy look, though in ways that look doesn't exactly jive with the company's new script logo. Still, this set lacks some of the 'old' feel that previous generations have imparted on the consumer, which should help make them more attractive to a wider group.
As with previous generations of this line, the Idea set is mixed and features three different types of clubs – true hybrids, hybrid irons, and cavity back irons. The specific configuration of the set tested by THP was 3, 4, 5 hybrids, 6 and 7 hybrid irons, and 8, 9, PW cavity backs. In years past, Adams has allowed some set customization, but there isn't any indication at this time that is the case with the Ideas.
The hybrids (3-5) are wider soled, sport a medium depth face, and have the previously noted Cut-Thru Slot design. The crowns have a smart looking matte black finish that is accented nicely with the blue and black Bassara shaft.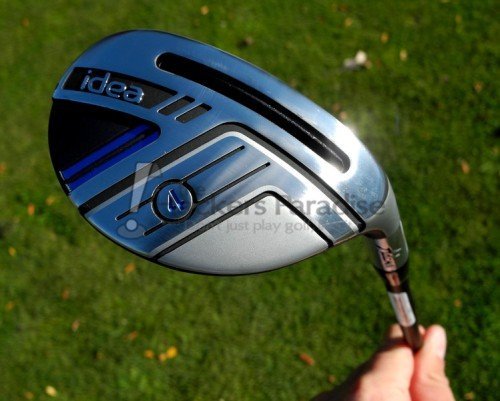 The hybrid irons (6-7), in many ways the ugly ducklings of the set, are essentially wide-soled hollow-body irons. They have a decidedly rounded appearance, longer blade length, and a multitude of filled in slots.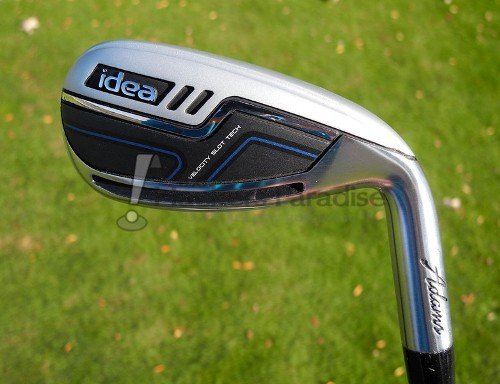 The cavity backs (8-PW) are on the larger side of the spectrum, but not far removed from most of typical game improvement irons. Here we see slightly shorter and taller head shapes, still appearing quite rounded and with soft edges.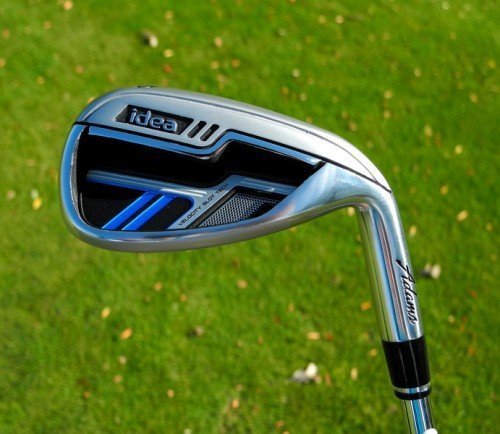 At address, the hybrid irons and cavity backs flow together remarkably well, even though they feature noticeably different builds. Testing showed that moving from one to the other didn't bring up any reason to pause and consider the differences, which should be appreciated by many.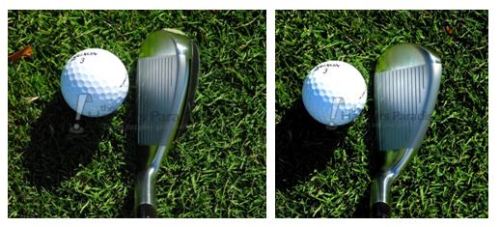 The hybrids of course are quite different and one item of improvement that THP would like to see would be the option to customize the set makeup. While a 5 hybrid may be a great choice for many, we would have preferred a 5 hybrid iron instead, especially after seeing how easy the hybrid irons were to work with.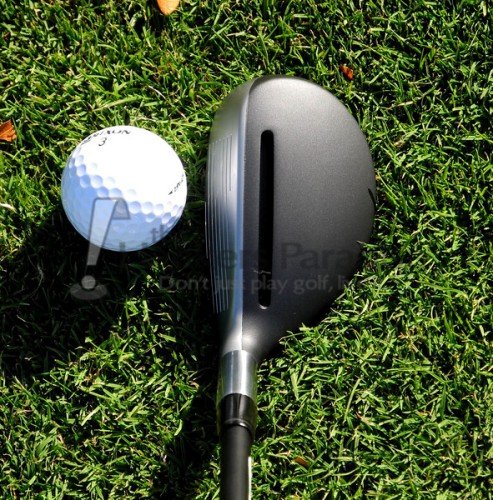 Feel was more than acceptable throughout the set, varying with different ball choices. Softer balls provided a surprisingly pleasing level of softness that wasn't entirely expected. There weren't any hints of hollow sounds or high pitch tones that can occur with these types of irons and the trademark "crack" of the other popular slotted iron on the market was shockingly absent.
Both shafts (steel in the hybrid irons and irons, graphite in the hybrids) were acceptable, but mostly forgettable. Those that are familiar with the very prolific 85-90g steel shafts in many game improvement irons will notice many similarities in weight and feel. It should be noted that the Idea set is very light in the head as a rule, which isn't always the case with other irons featuring these very light shafts.             
Performance
Adams Idea Hybrid Iron testing took place on the course, driving range, and using a Vector X launch monitor. The set tested was in the stock configuration, with stiff shafts (graphite in the hybrids, steel in the irons).
Playability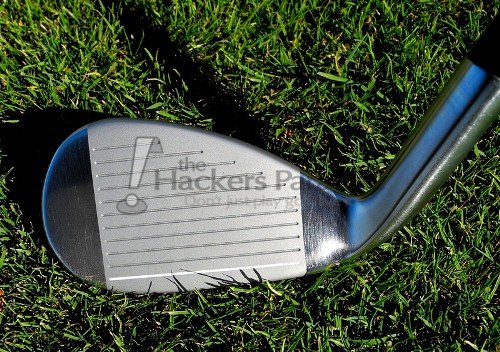 One of the primary selling points of hybrid sets like the Ideas is ease of use and they did deliver here. Throughout the set we found them extremely easy to hit high and straight. The light shafts and generally low swing weight made them quite effortless to swing, while the larger, rounded profile gave confidence that good contact would be easy to come by.
Though some players will instinctively think that the cavity back irons are the most demanding in the set, testing showed they were both easy to use and accurate. The wider soles gave some help on slightly heavy misses and they easily launched the ball.
The hybrid irons (6 and 7) proved to be the smash hit of the set, producing excellent results from what can be a common used, but often fear portion of the set. They offered what can best be described as scoring iron confidence in a mid iron.
The hybrids, while not our favorite portion of the set, were still very playable. At address, they weren't extremely oversized. Again, the wider sole will be popular with many for both its forgiveness on slightly heavy misses and its positive effect on launch (via weight movement). The face is shallow enough to give confidence on tighter lies.
Forgiveness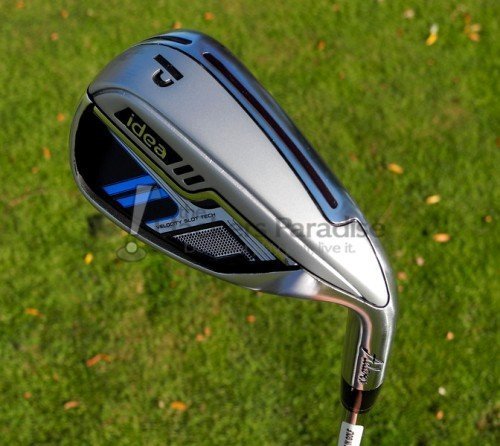 It goes without saying that the Idea Hybrid Irons are massively forgiving. They are built to protect against many common misses, with an emphasis on shots towards the toe. While unable to verify Adams' claims of increased forgiveness over the a120S set, it was plain to see that they offered exceptional performance off the center of the face. While no iron will provide 100% efficiency without center contact, the Ideas did overachieve in this department. One thing mentioned earlier, but worth mentioning again, is the way in which the sole functions to temper slight heavy misses. Rather than digging, the soles showed a strong tendency to slide into the ball, which helped retain distance and direction on this common, but frustrating miss.
Distance and Gapping
While not as explosively long as their slotted cousin the SpeedBlade has proven to be, the Ideas did provide more than adequate yardage throughout the set. Vector X testing showed they compared to most game improvement irons and hybrids tested recently. Compared to the SpeedBlade, they showed very slightly lower ball speeds, similar launch and higher spin, which equated to slightly less distance. However, it should be emphasized that distances were certainly on par with what would be expected.
An issue that can occur when blending hybrids and irons is the tendency for large gaps to appear. That proved to mostly be a non-issue while testing the Ideas, with the gap between the highest hybrid and lowest iron sitting right around fifteen yards, while the gaps from iron to iron were closer to ten. This was certainly acceptable considering the large differences between the two types of clubs.
Ball Flight and Workability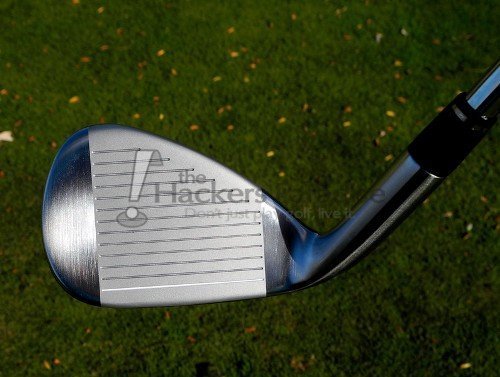 Ball flight with all clubs in the Idea set, but especially the irons, was very high. As mentioned earlier, launch angles were mostly in-line with other game improvement irons, but higher spin rates contributed to the exceptional height. Those players looking for increased trajectory should find what they are looking for with the Ideas.
Fall conditions did result in a great deal of testing in windy conditions and the irons did perform fine here. While distance losses are inevitable in such conditions, clubbing up did work well, except in the most extreme circumstances.
While a set like the Ideas will never be (nor should they be) known for workability, it did allow for some trajectory manipulation, mostly through ball position and shorter swings. In addition, the irons performed adequately for punch shots when needed. While not the easiest clubs to flight lower, it was certainly doable with the right technique.
Final Thoughts
The Idea Hybrid Irons performed as advertised, with outstanding playability, excellent forgiveness, and ample distance. This is a set that should be very popular with mid to higher handicaps, though using them could be enjoyable for many different skill sets. A more modern look helps them shed some of the old image that often follows these types of sets, which was valued during the review. The biggest improvement we could suggest would be giving the consumer the ability to customize the set (which has been an option with previous generations of the line), since many will find themselves gravitating towards certain club types. However, in terms of performance, there was little to complain about. For more information on the Idea Hybrid Irons, you can check out the Adams Golf website at www.adamsgolf.com.