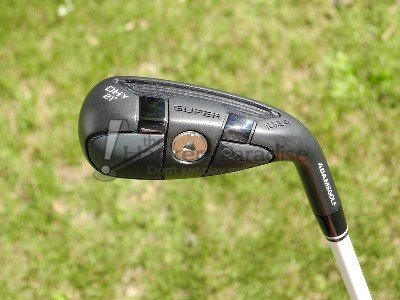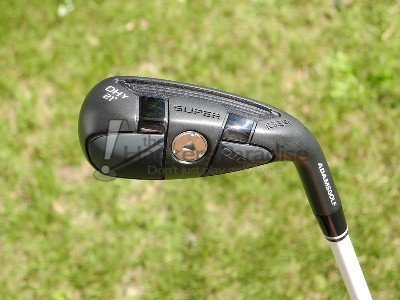 Adams Golf, the undisputed leader in the world of hybrids, has put together a stable of offerings in 2013 that offers something for just about every type of player. THP reviewed both the Super S and Super LS hybrids earlier in the year, with the Super LS quickly becoming one of my personal favorites. As strong as those two offerings were, it did leave a hole that Adams usually has filled, the hybrid for the guy that doesn't like hybrids. Enter the Super DHy, "a true long iron replacement uniquely designed for tour pros and low to mid-handicap players."
Product Information and Technical Specs from Adams
Long irons have been dead for many years and the new SUPER DHy™ Driving Hybrid is the nail in the coffin.
It's low launching, extremely workable and very forgiving. It gives you the extra distance and forgiveness of a hybrid with the shot-shaping control and workability of a long iron. A true long iron replacement uniquely designed for tour pros and low to mid-handicap players
VST™ cut-thru sole slot combined with an ultra-thin, maraging steel face creates incredible ball speeds.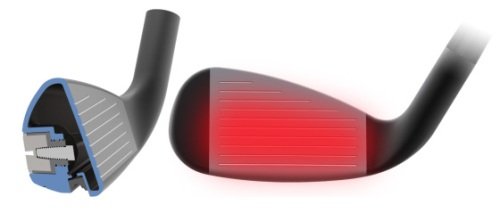 Compact, iron-like shape, requested by tour pros, allows for better workability and control.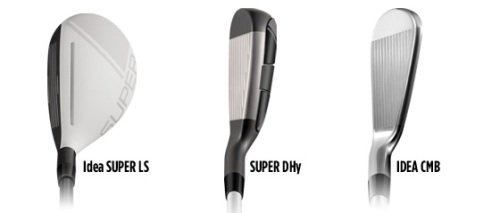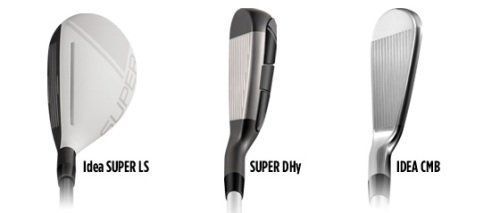 Unique bulge and roll face technology (not found in any other utility clubs or driving irons) improves forgiveness and shot dispersion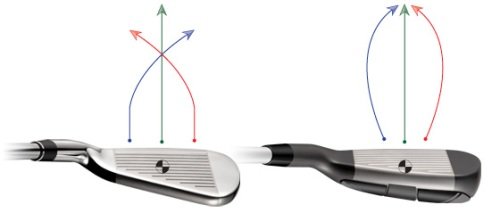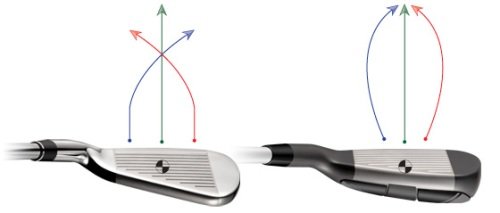 Low and fade bias ball flight preferred by better players.
| | | | | | |
| --- | --- | --- | --- | --- | --- |
| Loft | Lie | Length | Swing Weight | Dexterity | Flex |
| 18° | 59° | 40.25" | D2 | R L | R S X |
| 21° | 59.5° | 39.5" | D2 | R L | R S X |
| 24° | 60° | 38.75" | D2 | R | R S X |
| 27° | 60.5° | 38" | D2 | R | R S X |
Shaft – Matrix OZIK hX3 White Tie

Grip – Golf Pride New Decade Multicompound Whiteout

MSRP – $199.99
Aesthetics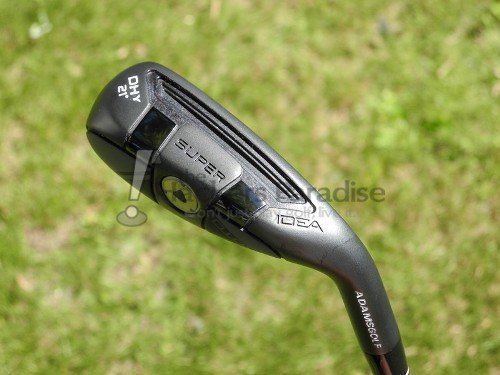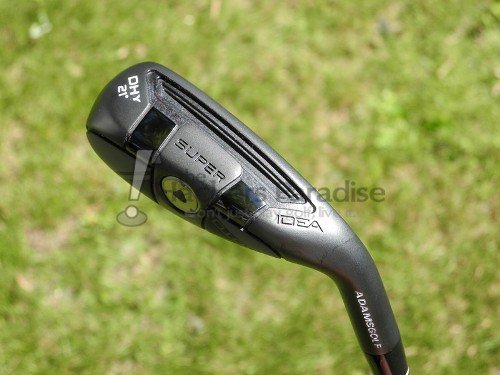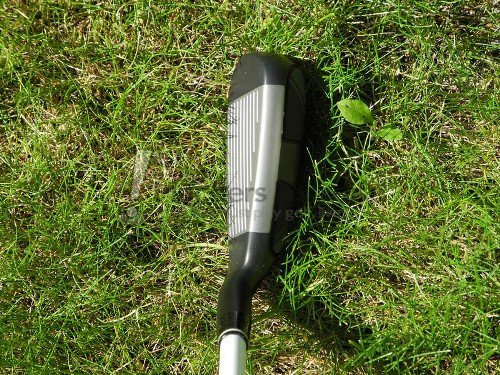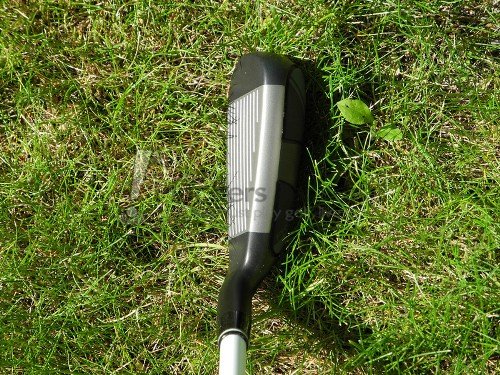 Labeled a hybrid by Adams, my opinion is that the DHy falls instead into the 'utility iron' category. Almost everything about the club head makes me think of an iron rather than a hybrid. In fact, its shape and size are starkly similar to most game improvement long irons on the market today. It features a similar topline, comparable sole width, and modest offset, all strong reminders of the irons I carry in my bag. Of course, there are a few notable differences in comparison to long irons. First, the blacked out head and futuristic looking, closed-off cavity make the DHy unique among its competitors. In addition, the bright white Matrix hX3 shaft stands out as something completely different. Finally, the face area is slightly smaller and more rounded off than the irons I am currently using (TaylorMade RocketBladez).
To my senses, the DHy offers a distinctive feel and sound with shots in the center of the face. I would describe the sounds and feedback up into the hands as extremely soft, which I wasn't quite expecting at first glance. Well struck shots were incredibly satisfying from a feel perspective, very unlike the metallic resonance of a hybrid and not quite as solid or blunt as a long iron. However, that pleasant sensation does lessen quickly as contact moves away from the center of the face, all the more incentive to make good swings.
Performance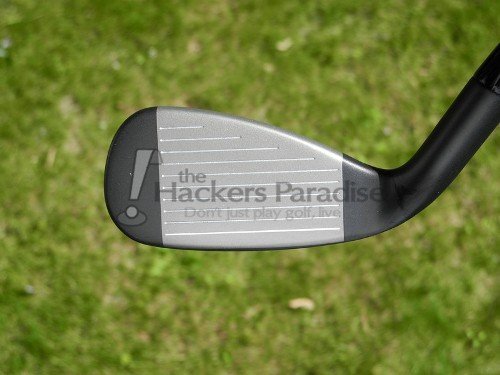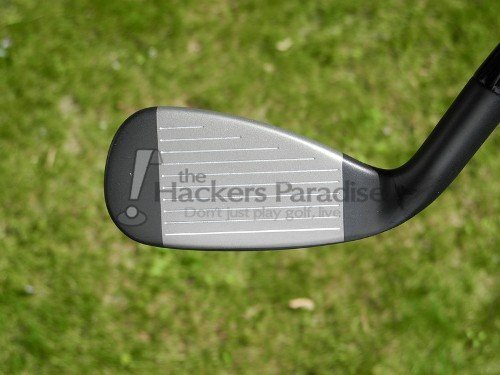 As a compliment to a full line of hybrids, the DHy is very much designed for a certain type of player. Adams does make that point in the description of the club by saying it is, "A true long iron replacement uniquely designed for tour pros and low to mid-handicap players." I think that's an extremely important point to make. When trying to find a hybrid match in the prolific Adams stable, I think that taking an honest assessment of your abilities will lead you in the right direction.
The bottom line is that the DHy can be either a very explosive or very demanding golf club, and I think much of that is determined by the user's ability to hit a long iron, possibly more so than handicap. As I mentioned, I lean towards classifying it at a utility iron rather than a hybrid, and I think that its performance backs up that opinion.
At address, the DHy looks nothing like a hybrid, but instead brings to mind the same feeling one would have standing over a long iron. For some, especially those that typically don't find success with hybrids, this could be a look that inspires extreme confidence. For others, like those that find comfort in the larger profile of a traditional hybrid, it may be more daunting. Whichever category you fall in, there is great value in having options, and the DHy offers one that many will find useful.
Trajectory and Shot Shape
My first impression was that I'd struggle to get the ball into the air with the DHy, but that wasn't the case at all. In fact, I found it quite easy to elevate, especially with above average contact. I typically hit a high ball as it is, and found that my trajectory with the DHy, while lower than similarly lofted hybrids I've recently tested, was firmly in the mid to mid-high range.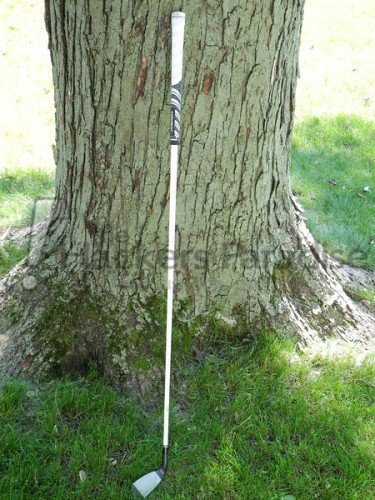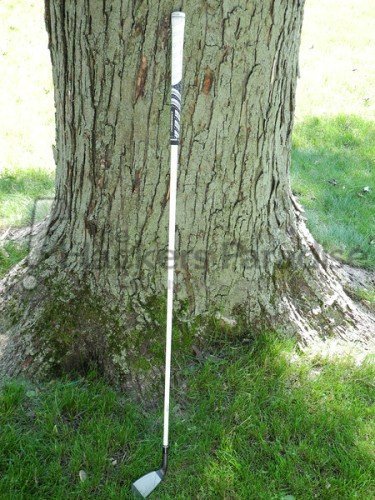 The DHy is weighted to promote a fade, something that many players like out of their utility clubs. Testing, conducted both on the course and the range, showed me that it was very difficult to lose balls to the left. In fact, I think the first 20 balls I hit had a left to right ball flight, which is not at all common for me. In time, I was able to hit balls that ranged from straight to gentle fades, with the occasional ball drawing.
To get some added perspective, I asked my instructor to take some swings with the DHy. He's obviously a more accomplished golfer than I am and he found a trajectory that he absolute loved, even without being warmed up, with the 21° DHy launching in the 13-14° range with spin rates around 4,000 rpm or lower at ball speeds in the mid 130's.
Distance and Forgiveness
I found the DHy to function more as a gapping club than a 'distance' hybrid. In other words, I didn't find it exceptionally long. A good example to contrast it against would be the Super LS, which is a club I use to get the most possible distance from the 3 hybrid slot. Instead, I felt like the 21° DHy performed best as a true 4 iron replacement for my set of irons, though the longer shaft did result in a few more yards at times. Depending on the irons you use, that same club could become more of a 3 iron alternative, but the only way to know that would be a fitting or through demoing.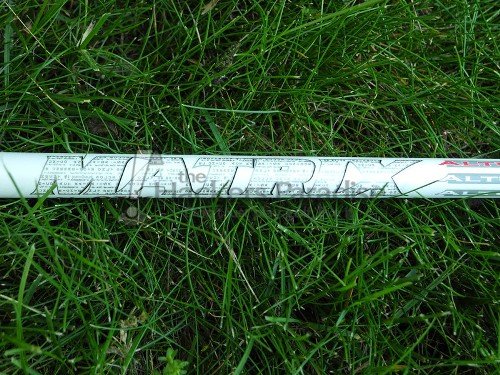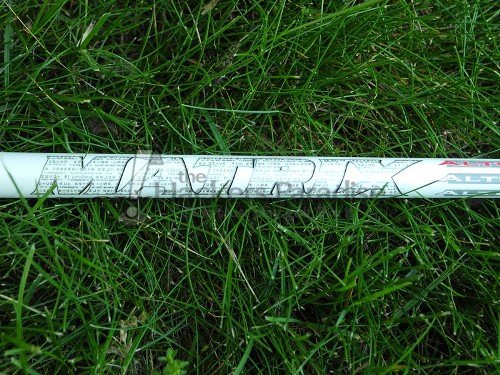 Regarding forgiveness, I think my explanation needs a little perspective. It truth, it depends on what you currently have in your golf bag. For me, a player that uses a traditional (larger) hybrid, the DHy proved to be substantially less forgiving. That's just physics at work, as the DHy lacks the mass, weighting, and wider sole that many hybrids gain forgiveness from. I felt that I lost a good amount of distance on off-center shots in comparison to my normal hybrid and heavy misses were punished quite a bit more. I hate to sound like a broken record, but I'd characterize the forgiveness as similar to a game improvement long iron in both forgiveness and playability.
 At the same time, if we look at a player like my instructor that I mentioned before, the DHy offers quite a bit more forgiveness than the long irons he plays – small profile player's irons. For him, the added mass, weighting, wider sole, and offset provide a great deal of added forgiveness.
Final Thoughts
What the DHy does exceptionally well is serve as a gap-stopper for Adams Golf. They've been able to produce four brand new, performance oriented hybrids this year, all of which appeal to a different segment of golfers. The DHy is probably the most demanding from a forgiveness standpoint. Those players that would characterize their long iron game as good to strong, yet would still enjoy some of the benefits that a hybrid offers, may find great success with it. In the last week, I've heard two players tell me they'd put it in the bag after just a short time demoing it, both of whom struggle with regular hybrids. The Super DHy retails for $199.99. For more information, you can head to www.adamsgolf.com.