I was excited to hear I would be reviewing apparel from Adidas Golf for my first review at THP. Recently, adidas has really been focusing on the designs of their golf shirts and it seems that they understand where style is heading in the golf industry. No longer is golf a sport where you grab a pair of shorts, any polo hanging in the closet and your favorite hat. It's not only about playing good golf, but also about making sure you look good and feel good while doing it. Needless to say, I couldn't wait for the shipment to arrive.
Upon arrival, I was very excited to see what adidas had picked for me to review. They have a good number of new and colorful designs available in their new line. I was asked to share my thoughts on two shirts. The first is the Fashion Performance (FP) Climalite Pocket Polo and the other is the FP Climalite Block Stripe Polo. Both shirts are pictured below.
Fashion Performance Climalite Block Stripe Polo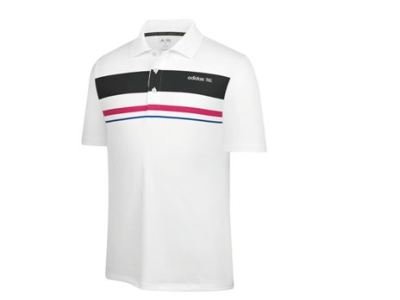 Features and Info from the Company:
Play bold and confident in this fashion-forward performance polo featuring ClimaLite technology to keep you cool, and distinct color-blocking designed to complement your style. The adidas Men's ClimaLite Fashion Performance Blocked Stripe Polo comes equipped with ClimaLite technology that wicks moisture away from the skin for quicker evaporation, leaving you dry and comfortable.
Additional features:
100% polyester performance fabrication

Fine gauge rib-knit collar keeps its shape wear after wear

Three-button placket with embossed adidas Golf buttons

Open-hem sleeves for less restriction

Relaxed, modern fit for comfort and freedom of movement

Screened FP logo on left chest
Overall:
I was instantly attracted to the FP Block Stripe Polo. I love shirts with horizontal stripes, mainly because I don't have broad shoulders or a broad chest, and they give the appearance that I do. Also, I really like the colors that Adidas chose to marry together with this offering. If I was designing a shirt I don't know if I would have thought to match the black, pink, and blue.
I picked a size large to review because it featured a tailored-fit, which I prefer. That being said, I think that I could wear a medium and it would look just fine on me. If you normally wear a large then I think it would fit you just fine. I also like that I could pair the Block Stripe Polo with a variety of different colored shorts. Sure, black may look the best, but I feel like you could easily pair it with a grey, pink, or even white shorts. On the course I had no issues with the shirt clinging to my body from sweat and I was quite surprised at how quickly it dried. That's the worst thing a shirt can do while on the course. It's just something else to take you off your game. I also didn't notice any "sticking" of the sleeves. That is one aspect of a shirt that I cannot handle. There is nothing like taking a back swing and feeling your sleeves tighten on your arms. Another positive I saw was that the collar held up great after two washes.
The FP Block Stripe Polo comes with a price tag of $55. If the color I reviewed isn't your style, there are a few others that you can see on the adidas Golf website.
Fashion Performance ClimaLite Pocket Polo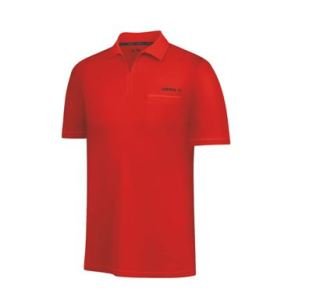 From the Company:
Clean, classic and fashionable, this performance pocket polo fits every occasion. Incorporating ClimaLite technology to keep you cool and dry, modern-design, and left-chest pocket with FP logo, it's the perfect expression of style for any day of the week.

Made with 100% Polyester performance fabrication

Equipped with ClimaLite Technology to wick moisture away from the skin for quick evaporation

Self-collar keeps its shape wear after wear

Modern-designed button-less placket

Relaxed, modern fit for comfort and freedom of movement

Open-hem sleeves for less restriction

Screened FP logo above left-chest pocket
Overall:
At first, I wasn't a huge fan of the Pocket Polo for one reason alone: there aren't any buttons on the collar, which means there is no way of adjusting the neck opening. I have never found the need to show off any part of my chest on a golf course. The one thing I really liked about the pocket polo was the pocket. Some may say it looks like a bowling shirt, but I have to disagree after seeing it in person. The two occasions I wore it on the course, my playing partners had nothing but compliments for the Pocket Polo.
My biggest concern with this shirt was the neckline. This is the first golf shirt that I've worn that didn't have buttons on the collar, so I was very skeptical when I first received the package. I like to keep my shirts buttoned pretty high for a cleaner look. Once I put the shirt on, the 'V' sat perfectly on my neck. It wasn't too low for my liking, which was a relief. One small issue I noticed was that it was kind of difficult to get the shirt off and on, and I do have a smaller head. If you have a large head, then I think you will need to try this shirt on in the store before making a decision. On the course, the shirt felt and looked great. One of the days I played was extremely hot even with the Climalite fabric working hard to help me out. I think the bright red color of the shirt may have caused me to feel a little bit hotter than normal, but there are other color options available. I never did find a use for the pocket on my chest, so any ideas would be appreciated! Although I was skeptical at first, I walked away really liking the looks of this shirt. I also really like some of the other colors available. You can find them by visiting this page on the adidas Golf website. The FP Pocket Polo sells for a very fair price of $50.