The adidas Samba really doesn't need much of an introduction. It's truly an iconic shoe that has become a very recognizable part of our culture. In fact, according to Adidas Group, it's been around since the 1950's! Recently, this popular style was made available to golfers and aptly named Samba Golf. I've been reviewing these shoes for some time now and will be sharing my thoughts on them in this article.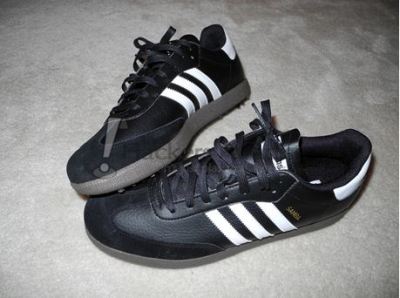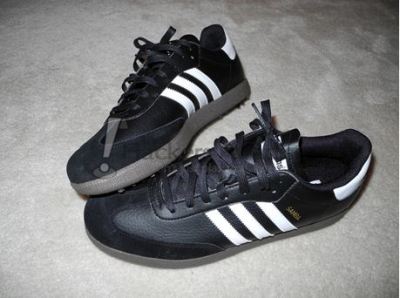 Looks
In many ways, I almost want to characterize the Sambas as a bit of a niche product. They certainly don't possess what most would consider a traditional golf-shoe style. However, we've seen quite a shift in golf footwear over the last few years. This is a style that has been loved for many years by a huge number of people, and adidas is probably wise in bringing it into their golf line-up. My initial reaction upon seeing them was to place them in the growing 'casual' class of shoes, but I think that they'd be better described as an 'athletic' style. While they are casual in appearance compared to some others, they are basically an ode to what is essentially the most popular soccer shoe of my time. I suspect that they will greatly appeal to a number of people, but many others won't really appreciate them in the same way. The great thing about this era in golf fashion is that we have choices like this to make.
Features of the Samba Golf from Adidas
Fashion-Infused Performance. Golf footwear inspired by classic Adidas styles and colors.

Water-resistant, synthetic leather and textile upper provide soft, lightweight and durable performance
Classic SAMBA inspired design
6-Spike configuration with THINTECH low-profile technology for improved traction and stability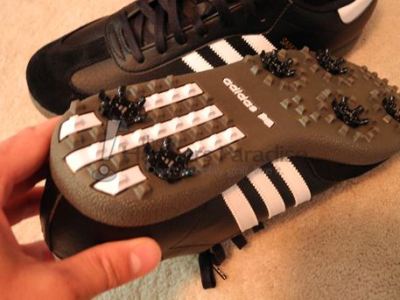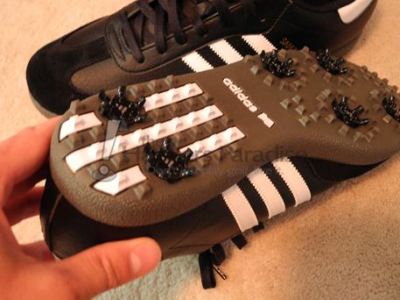 Sizing
When I first unboxed the Sambas I was under the impression that I'd been sent a pair in a size that was too small for me. At first glance they do appear to have a smaller profile, especially in the toe region. This was a bit of a misperception on my part, as they actually were my 'normal' size. However, I do think they run a bit narrower than some other shoes, and I wouldn't consider myself a person that typically requires a wide size. The narrowness was evident in a few ways for me. First, I had to loosen the laces quite a bit to get a comfortable fit when I first put them on. Also, I didn't have much room to wiggle my toes, which I usually want to be able to do. Lastly, the outer portion of my smallest toe did experience a little pain after a long range session and an 18-hole walking round. The point I'm really trying to make here is that you should probably try before you buy. I think I would have been more comfortable in a size larger than I normally wear, so it might be worth your time to see how they fit you rather than buying blindly.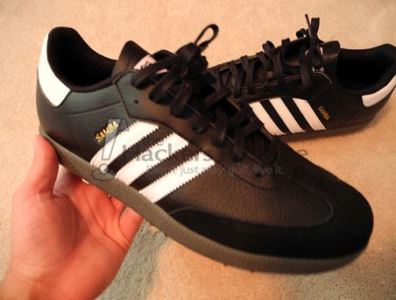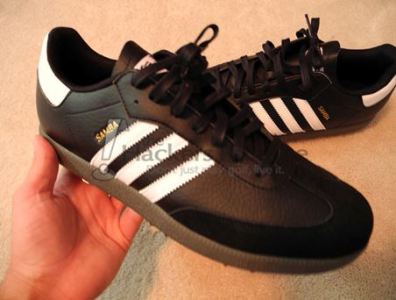 Grip, Performance, and Comfort on the Course
The Samba Golf shoe has a mixture of fairly aggressive rubber nubs and traditional soft spikes. This did surprise me a bit at first. For some reason, I expected the Samba Golf to be like many of today's casual shoes that feature a spikeless sole. I've actually been wearing a spikeless shoe for three months now, so it was a little different golfing in the Sambas at first. Fortunately, they do maintain a fairly low profile and they are very lightweight. After a number of rounds, many in the early morning dew or light rain, I found the traction to be above average. I didn't experience any slipping to speak of. Also, wearing them in wet conditions showed me they are waterproof as advertised. The foot bed itself was very comfortable, even while walking a hilly course, though the narrowness in the toe area was a little uncomfortable after a few hours. One other small criticism is the tongue is sort of flimsy and sort of gravitated towards one side of my foot rather than staying planted in the middle. Nothing terribly annoying, but I found it worth mentioning.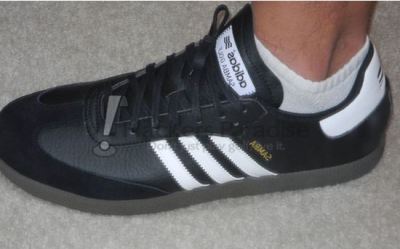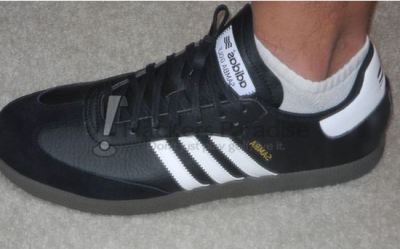 Final Thoughts
I grew to really enjoy the traction that the Samba Golf shoes offered. While my spikeless shoes are very comfortable, I do slip in them once a round or so. As an added bonus, this exceptional traction came in a very light-weight, low-profile package. The most glaring negative I found was that they ran a little narrower than I'd prefer, which resulted in some discomfort when wearing my normal size. The bright side to that criticism is that the Samba Golf shoes come with a 90 Day Comfort Guarantee. My advice would be to make sure you find a size that fits you before purchasing them, but you'll have some added assurance courtesy of this offer from adidas. For more information, including pictures of the different colors that are available, you can head to the Adidas Golf website. As always, thanks for reading and best of luck out on the course.
Ryan H.