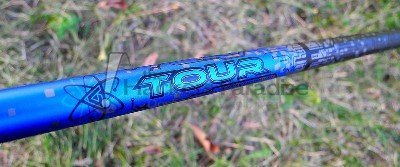 At the 2013 Shriners Open at TPC Summerlin, the PGA Tour tournament being held at the time of this writing, Aldila had 110 shafts in play, with their nearest competitor at 75. In fact, they've been the number one graphite shaft on Tour for the last four seasons according to the Darrell Survey.  Earlier this year, their newest offerings, the Tour Blue and Tour Green, became the fastest growing shafts on professional tours and quickly started racking up wins. Both are finally now available for purchase by golfers worldwide.
About the Aldila Tour Series

"The Tour Blue is moderate stiff tip shaft and very low torque designed for a slightly higher ball flight with low to moderate spin rate," said John Oldenburg, Aldila's Vice President of Engineering and Product Development. "The Tour Green is a stiff tip shaft with moderate torque designed for lower/penetrating ball flight producing a lower spin rate."
Aldila is offering two unique profiles under the Tour name in the Green and Blue, and both are available in a number of weights and flexes that will surely fit a large variety of golfers.
Tour Blue Specs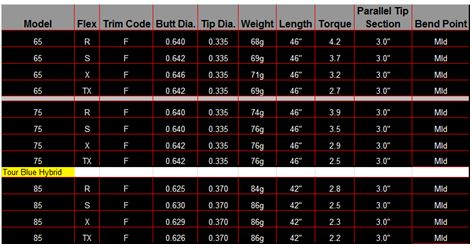 Tour Green Specs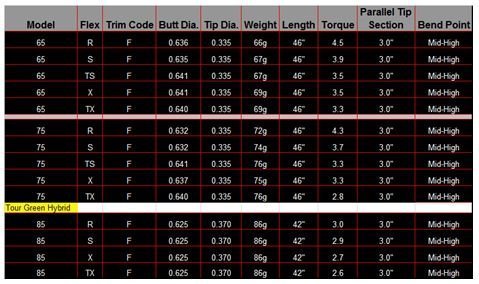 Key Technology
Engineered with the latest materials and manufacturing technology, the Tour Blue/Green shafts are designed to maximize the power of your individual golf swing. The constant taper shaft profile provides exceptional feel and a smooth, controlled release. Both shafts are made with Aldila's Next Generation Micro Laminate Technology™ (MLT). Combined with ultra-thin, ultra strong materials allows the construction of a shaft with outstanding performance and unparalleled consistency.
Next Generation Micro Laminate Technology
Aldila's Next Generation Micro Laminate Technology™ is the next step in the evolution of its highly successful technology that made the NV™ the most popular shaft in the company's history.
"Next Generation MLT is comprised of ultra-thin layers of premium, low resin aerospace grade materials, Oldenburg said. "This design evolution eliminates inconsistent shaft performance caused by material variability. Redesigned tooling also raises the shaft balance point, making this the perfect upgrade for today's modern club head designs."
Next Generation MLT is designed to offer four things:
Optimum Feel

No Shaft Dead Zones

Better Shot Control

Maximize Golf Swing Power
Aesthetics and Feel
The 2014 Tour series features a vast improvement in aesthetics compared to its predecessors. Both the Tour Blue and Tour Green are conveniently named with the colors they feature. Gone are the dull tones of the NV, and in their place are bright and vibrant colors, along with some very unique and industrial graphics.
The Tour Blue is very smooth to the touch and features a rich blue color at the top, which slowly fades into a circuit board pattern and finally into a dark gray lower half. The graphics are certainly aggressive and a good reminder that the shaft is full of the latest technology.

For a higher launching shaft, the Tour Blue feels quite true to flex and lacks some of the 'whippiness' that is often characteristic of shafts with a softer tip section. While it certainly feels looser in the waggle than something with a truly stiff tip section, it didn't strike me, or other golfers that tried it out, as soft. It had a unique feel, both during the swing and at impact. It can be best described as nimble or responsive, while I felt like my gamer shaft, the Matrix 6×3 White Tie, was somewhat mushy. It was quite responsive and offered plenty of feedback up into the hands. At impact there was an evident kick that I grew to enjoy quite a bit as time went on.
Performance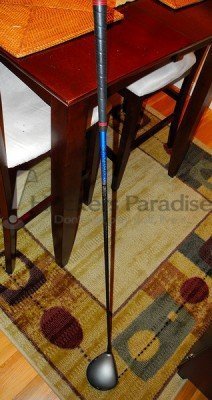 For this review, Aldila supplied the Tour Blue 65 in stiff flex. Raw weight was 67g, and the shaft was butt trimmed and installed into an 11.5° Callaway X-Hot driver in the O setting, playing to 44.75 inches. Testing took place on the driving range, the golf course, and while using a Vector X launch monitor. As a player, I typically launch the ball high and produce low to very low backspin rates with the driver; with swing speeds right around 100mph.
While the Tour Blue has a softer tip section than the Tour Green, it's not exactly your typical low kick-point shaft. In reality, it's advertised with a mid bend-point, which should produce moderately higher launch and spin (among the two offerings in the series), but it's not necessarily a true "high launch" shaft. Vector testing showed that I obtained very middle of the road launch and spin numbers, which were both quite welcome for my needs. Coming from over a year playing true high-launch shafts, I was able to slightly lower my trajectory without losing carry distance.

The profile of the Tour Blue makes it a popular choice, especially on Tour, as a fairway wood shaft, though it's also in use as a driver shaft among professionals. Those looking for a fairway wood shaft that promotes a slightly higher launch with good stability could find it very suitable for that purpose.
Dispersion was typical of what I'd normally see and obviously dependent on the day's swing. Good strikes were quite consistent in trajectory and shot shape, and as a general rule, I was able to anticipate my normal shot shape with most swings. I did have the ability to swing harder without any unexpected results that I could blame on the shaft. In all, it provided more than adequate stability for the swing that I offered it.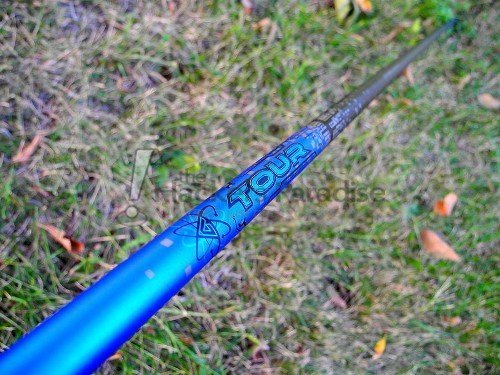 Carry distance was spot on with what I'd expect from this driver head, though as mentioned earlier, trajectory was a shade lower (in the 90 foot range), and I was able to shallow out my landing angle for what appeared to be more roll. On the course I saw some hints of above average total distance due to this, but there weren't any huge differences to speak of.
Final Thoughts
With such dominance in the professional ranks, Aldila is obviously doing something right with their graphite shaft technology. Admittedly (and somewhat embarrassingly), I have spent very little time with their products until reviewing the Tour Blue. I found the shaft to be a welcome surprise. While it will certainly get billed as the high launching member of the Tour series, it proved to be a bit different than some of the other premium high launching shafts on the market today. It offered great feel and stability that should be well-liked by golfers of many different skill levels. As noted earlier, it will undoubtedly be a popular fairway wood choice, though it should offer plenty of value as a driver shaft for those looking to get a little more spin and slightly higher launch. For more information, including retailer that carry the Tour Blue in your area, head to www.aldila.com.