The Alphard Duo Cart, which will be released for sale in early 2013, is a new and interesting concept in push cart design. I had a chance to review it and came away quite impressed. It offers a few very unique ideas and features that are sure to please.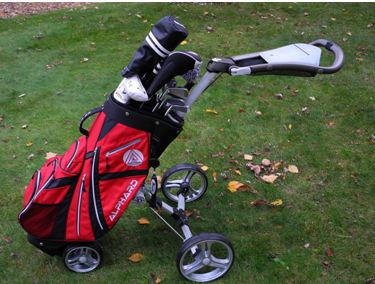 About Alphard Golf
While Alphard is a new name to the golf industry, the company has been manufacturing push carts in some capacity for over a decade.
Great design begins with vision, builds with passion and succeeds with teamwork; our passion in golf and solid manufacturing experience in producing the market's first golf push cart since year 1999 enabled us to bring our vision for a better way to walk the course into a reality.
In the design and development of the Alphard ® Duo Golf Cart – from the drawing board, to selection of materials, to production technologies and techniques, we persistently asked ourselves "What makes a well designed product?" We believe well designed products should be problem solving, easy to use, durable, ergonomic, and practical.
 A New Take on the Push Cart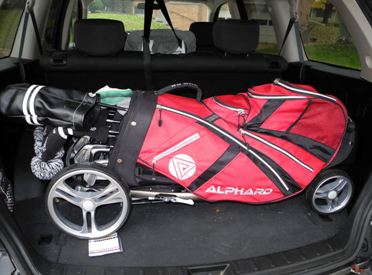 In a fairly crowded market, the Duo Cart offers something that I've never seen. It's a combination push cart and cart bag all in one. It offers some very distinct advantages for the golfer that uses a push cart regularly.
The Duo Cart reduces the room needed for storage or transport of both a golf bag and a cart. I've seen push carts that are quite small when folded up, but when combined with a bag, they still take more storage space than a single, consolidated unit. Set-up and take-down was extremely fast; as in, less than 30 seconds fast. I grew to really appreciate that over the course of the review.  Another thing I liked quite a bit was the problem of matching a bag to a push cart wasn't present. For example, some bags tilt to one side if they don't fit a cart perfectly and some wider bags rub against the front wheels. As a single unit, the bag on the Duo Cart sat perfectly still at all times.
Setting-up the Duo Cart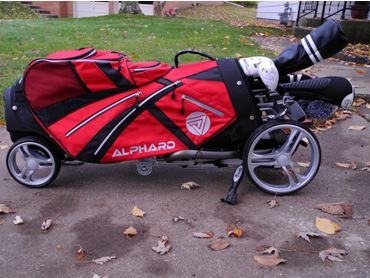 Setting up a push cart the first time is always a little confusing. There's always an uncomfortable moment when I think, "What am I supposed to do with this thing?" Fortunately, the Duo Cart did come with simple instructions and I quickly figured out the process. The first step involves moving a knob (positioned underneath the "H" in Alphard in the picture above) on the undercarriage to a certain position and then pulling upward until the cart assembly locks into place. At that point, the handle and accessory tray can be raised to the user's desired height and angle. That's all there is to it. After a few repetitions, I found that I could have the cart ready for use within a matter of seconds, which was quite amazing. Folding the cart back to its storage position was just as easy. After folding down the handle, the knob underneath is moved back to its original position and the cart can be pushed down to a folded state.
Here is a short video showing the process.
Customization
Alphard has come up with a unique way to customize the Duo Cart. They've made the outer part of the bag – the red portion in the pictures – replaceable and called it the 'skin'. There will be a number of different color options and configurations available for sale, including waterproof skins, skins with an external putter well, and designs for lady golfers. I was sent two skins in different colors and found that switching between the two was extremely easy. This video from Alphard demonstrates the process.
On Course Performance

There are a few qualities I look for in a push cart. Stability, convenience, and durability are among the most important. I'm going to break down my thoughts about the Duo Cart's performance into those three categories. While maneuverability is also vital, my general belief is that most high-end push carts on the market are quite maneuverable, including the Duo Cart.
Stability
I'm a fan of the stability that four-wheel carts offer, so the Duo Cart immediately scored points there. I didn't have any occasions where it tipped over while playing, which isn't exactly a given at my course that is both hilly and built on uneven terrain. I sent the cart down a few fairly steep hills by itself and it stayed upright the entire way down each time. I did notice that the cart would slide backwards if it was parked directly parallel with the slope on a steep hill, even when the brakes were locked. I spoke to the company about this and they informed me that was a by-product of the placement of the wheels, which are integral to the Duo Cart's small profile. That's an understandable trade-off in my mind. The solution I came up with was to park the cart at a slight angle to the hill, which worked well each time.
Convenience

The fact that its handle and accessory tray were fully adjustable meant that the Duo Cart was extremely convenient to use. One of my push-cart pet peeves is an inconvenient accessory tray. I was able to pick both the height and angle that the tray sat, which was extremely gratifying. The tray itself has a soft-sided inner compartment that is large enough to hold multiple small accessories. What it lacks in organization due to the soft structure, it gains back in size and placement. The scorecard and pencil holders worked fine, though there wasn't anything exceptional about them. I also noticed that the small net underneath the accessory tray was a handy spot for items that I grabbed often.
The Duo Cart has a unique advantage in that the bag was designed primarily to be used on the push cart. Because of this, the 14-way club divider system was a tremendous improvement over my other cart bag. The dividers not only held the clubs securely, they were placed far enough apart and aligned in a manner that made everything reasonably easy to access.  I would have liked to see the skin that included a putter well on the outside of the bag, but in all honesty, the way that the bag is organized made it extremely easy to store a putter with a head cover among the other clubs. There is also an integrated umbrella holder that sits underneath the divider section and it is easily the best I've ever seen. To its left sits a small ball pocket with a partially open top. It held about six balls in spot that made them extremely easy to access.

The pockets on the outer bag are all positioned nicely. None of them are in inconvenient spots and I was able to put each one to some sort of use, which is something I can't say about my old bag. The cooler pocket is quite large and should easily accommodate a few cold beverages. There is plenty of room in the pockets to hold accessories (an adjustable drink holder, an umbrella holder, and a GPS mount) for storage.
When it comes to convenience, I'd rate the Duo Cart as an industry leader.
Durability
While I included durability as an important quality for a push cart to have, I am limited in what I can determine in a few short weeks of testing. This is something I'll keep an eye on as time progresses and I'll update the review accordingly. I will say that nothing broke or showed early signs of wear during the review process and the unit seems to be well built. The wheels are a durable looking plastic, which should hold up well over time. I felt like the zippers were a little less ample than I would prefer, but the company has informed me that they will be upgraded when full production begins. As I noted, the outer portion of the bag, or as Alphard calls it, the skin, is fully replaceable. In essence, buying an extra skin or two could lengthen the lifetime of the Due Cart for years.
Portability and Conversion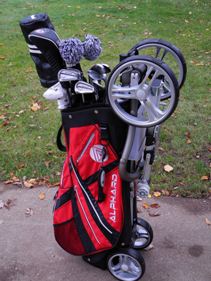 There's no denying that the Duo Cart is heavy. It weighs in at around twenty pounds on its own, and adding clubs, balls, etc, to it only increases that number. While it's not markedly heavier than any other fully loaded bag on a push cart, we rarely have to lift both at the same time. However, the weight is certainly manageable and in no way detracted from my opinion of the product. I was able to easily move it from my vehicle to the ground without any undue strain. Truthfully, I can't think of way to avoid this issue when consolidating two components into one, so it's a reasonable trade-off.
One concern I had with using a consolidated cart and bag was how it would work for practice sessions. I don't really have a desire to unfold the cart when practicing and I definitely don't want to take the time to pull the wheel assembly off. Fortunately, I found that the bag sits firmly in an upright position when the cart is folded away. In fact, I found that it was less prone to tipping over in an upright position than my old cart bag. Also, there is a handy little strap that I was able to use to wheel the bag around; very much like I'd wheel around a travel bag. That tiny feature alone increased the Duo Cart's portability by a large margin. Whoever thought of it deserves a pat on the back.
The process to convert the Duo Cart to a bag that is compatible with a riding cart is fairly simple. The wheels come off easily with a push of a button and the folding wheel assembly is removed by loosening two nuts and sliding it off. The only portion of the cart that doesn't come off is the accessory tray. It can be locked into a vertical position if the straps on the riding cart are too short to get around the entire bag.
Final Thoughts
It's rare that I review a product I feel is truly groundbreaking, but I'm inclined to put the Duo Cart on that list. The product was designed with convenience in mind and it truly delivers.  Its smaller footprint made storage in both my vehicle and my garage much easier than the separate cart and bag I'd previously used. In addition, the product's color is fully customizable due to interchangeable outer skins. Better yet, this unique feature could increase the life cycle of the product. While not everybody will find value in a consolidated bag and cart like this, I know a great number of golfers that will. The Alphard Duo Cart is slated to be released for sale in early 2013 and I think we'll be hearing quite a bit about it as more people get a chance to see it for themselves. For more information, including updates on its availability, head to www.alphardgolf.com.