A couple of months ago we featured a deep dive review on the Alphard Club Booster V2 with a beta version of their coming soon follow feature. Not only did the device impress us, it led us down the path of wanting to learn more and why this company has not been wildly adopted by millions of walking golfers.
Alphard Golf as a brand did not pop out of thin air, but rather spent time innovating both for themselves and others in a space that was growing rapidly in the game. To better understand, we asked Alex Tse, Founder of Alphard Golf to explain the origins.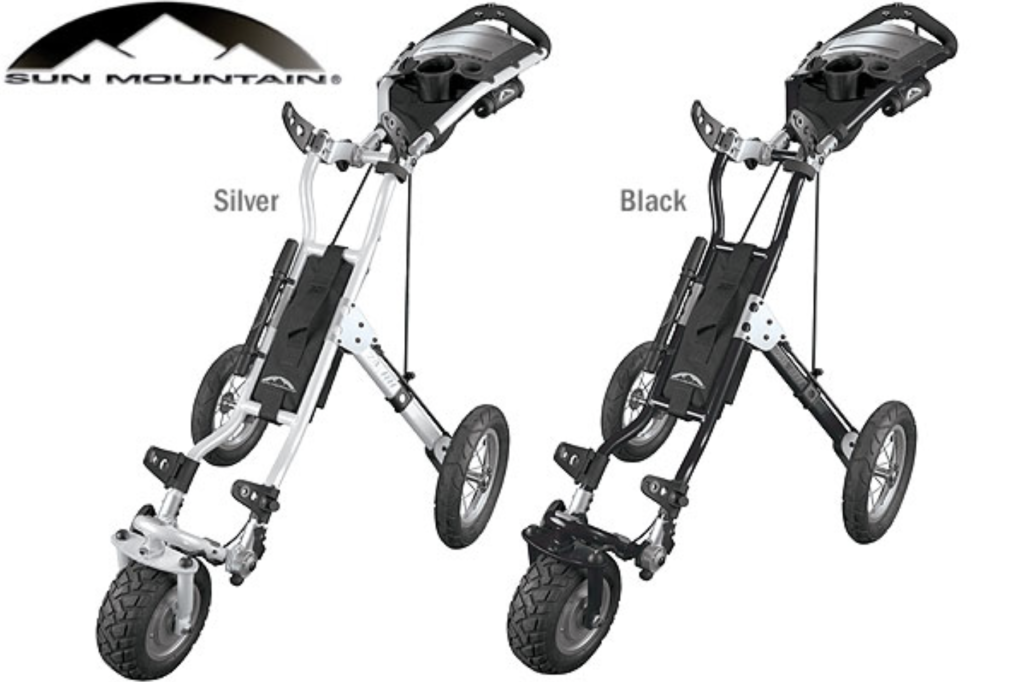 "Before Alphard Golf, we were the manufacturer for Sun Mountain's carts back in the late 90s. In the span of a 10 years relationship, we did the Speed Cart, Micro Cart, and the Speed-E-cart. We developed the electronics and firmware for the Speed-E-cart since they had very little knowledge, and that allowed us to have an idea of what an electric cart should do. We didn't sell that many due to limitations in technology 15 years ago."
In 2012, Alex and his father founded Alphard Golf and introduced a pretty innovative product called the Duo Cart. We actually reviewed that on this website at the time here. The Duo Cart was a bag and cart in a single item concept, but unfortunately it didn't get a lot of traction and the company had to shut it down in about a year. Alex Tse had this to say about it.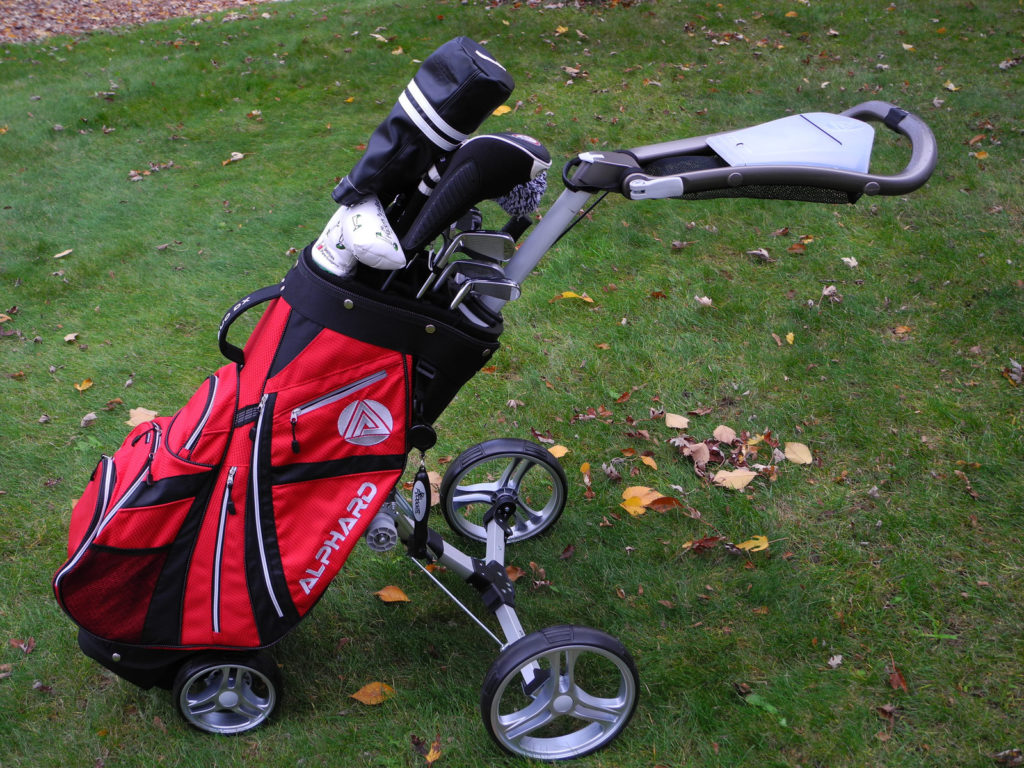 "I still think it's a great product, but it's a niche product in a very niche market. It took us a few years to regroup and come up with the next idea, and it turned out to be the Club Booster."
Club Booster in a lot of ways was a game changer for both the world of golf and the company. While still fairly niche in concept and execution, the Alphard Golf was onto something. How did the early prototypes turn into a viable product? Alex Tse expands on that.
"The emergence of hoverboard brought the costs of hub motor and lithium battery down and made the idea of the Club Booster possible. The hub motor is the perfect motor for golf caddies. It's efficient, quiet, maintenance free, and water tight. The weights are in the wheels so it makes the caddy extremely stable from side to side. And since it has no gears, it rolls effortlessly when the power is out. However, we had a difficult time finding the right motor manufacturer because everyone was making them for hoverboards. They made tens of thousands of motors each day, and at that moment we had no idea if the product was going to sell or not. Moreover, we couldn't just use an existing hoverboard motor because the speed, torque, output are very different. It has to be custom made – strength of magnets, motor winding, stacking of the core, etc. After visiting many different factories, we finally found someone who was willing to help us. Designing the body and the firmware were the easy part because of our background. After a few iterations we put it on Kickstarter, and the rest is history."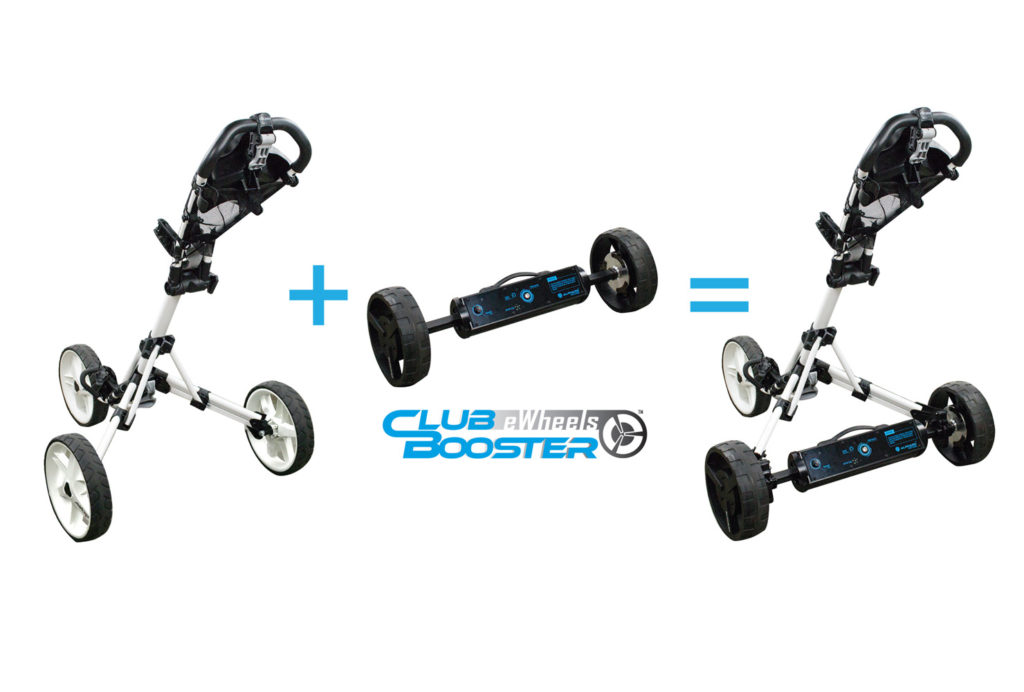 The Club Booster turned Alphard Golf from dream to reality, but it was still a small circle of rabid fans that were enjoying the product from that crowd sourcing campaign.
Then at the PGA Merchandise Show in January of 2018, notoriety began to set in. Alphard Golf officially launched the Club Booster eWheels into the US Market. The design basically took any push cart on the market and turned it into a remote controlled caddie. It didn't matter if you were using a Clicgear, Bag Boy, Sun Mountain or any other brand, the Club Booster eWheels easily converted you from pushing up and down the golf course to pressing a button and having it do the heavy lifting for you.
Fans were impressed by the latest offering. Golfers started to pay attention. Yet at the time, electric carts were still something of an enigma. Brands such as MotoCaddy had not adopted a presence in the US as of yet and having R2-D2 like device moving your bag along for you as you stroll down the course was unique to say the least. Fast forward just a few years and you see how innovative the company has been with many brands filling that space in the North American market, but let's not get ahead of ourselves quite yet.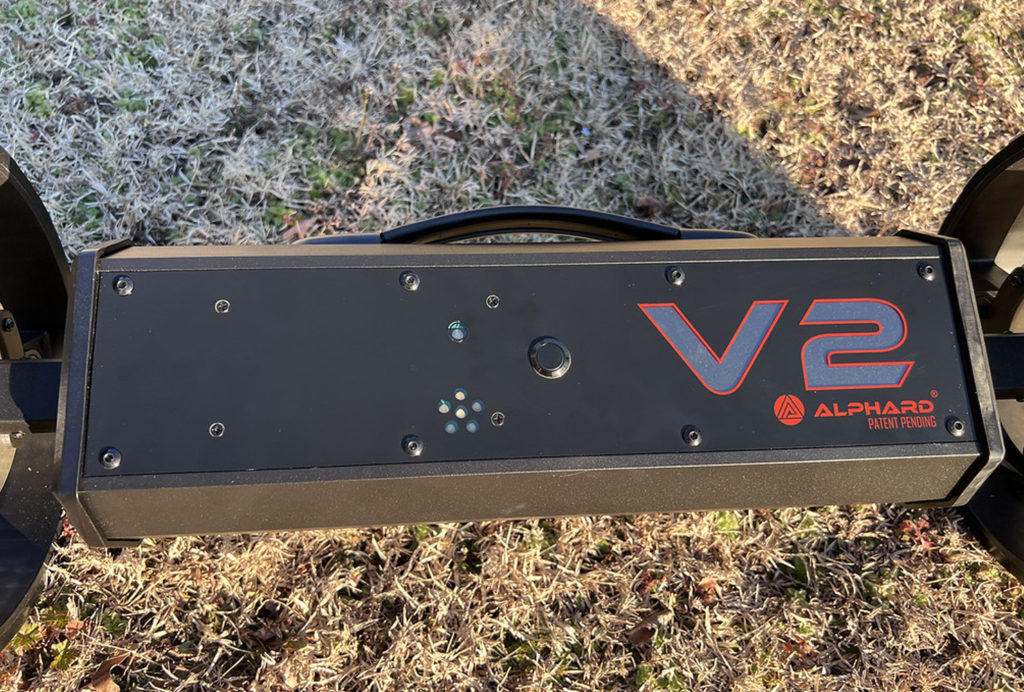 While the Club Booster eWheels gave them some attention, it wasn't until the V2 joined the fray in 2020 that business really ramped up. Perhaps it was the additions to the product or maybe it was becoming more "the norm" to see a device like this, but the eWheels V2 let Alphard Golf flex their muscles a bit and honestly that hasn't stopped. Alex Tse offers some insight.
"The biggest improvement in the V2 is the gyroscope technology. Our number one complaint on the V1 was that the caddy not tracking straight. People didn't realize how much their push carts were misaligned when they were pushing it, but once you put it on the Club Booster, it amplifies and becomes very annoying. The gyroscope completely removed that issue so rather than fuzzing with the remote trying to correct its heading, one can just walk along and think about their next shot. The second big feature is adding Bluetooth. It allows firmware updates, optional accessories like the TFS, and future expansions like the V2 Sidekick."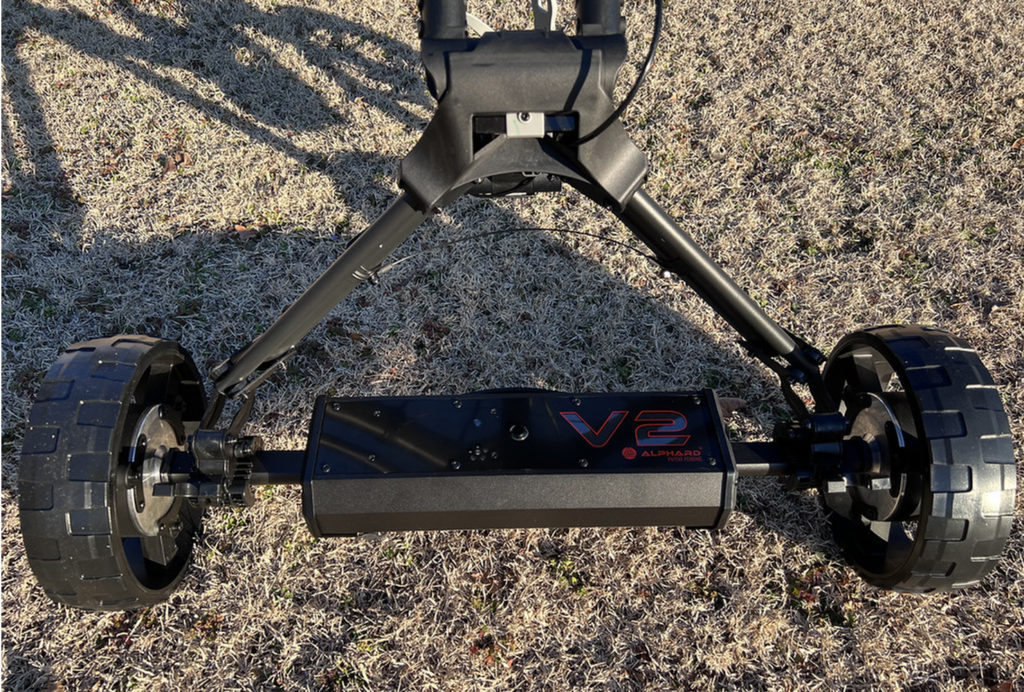 While those technologies are great, another edition was the extended battery life. Swappable plug and play lithium ion batteries were good for 27 and even 36 holes, terrain dependent. The biggest advantage was not the length of life, but rather the ability to have a second battery to switch out with the first to continue going for up to 54 holes in a single day if one wanted to, without looking for a wall to plug into.
We started this Brand Story with a link to our article that talked quite a bit about the Follow Feature in beta mode that Alphard has been working on. That is coming out very soon, but before that, TFS was brought to the market. TFS stands for Tether Follow Sensor. We agree, TFS sounds better. What this does is allow the device to follow you without a remote. It is a magnetic connection that clips on and away you go. Alex Tse is a fan of gadgets and technology and he explains how the concept came to fruition.
"I follow new gadgets closely and one day came across the concept of the TFS from a company called Omorobot based in South Korea. It was such a simple solution and it's extremely reliable. We approached the company and immediately partnered with them. The hard part was educating the consumer. Everyone thinks you're pulling the cart but it's the V2 that does all the work. The TFS is only telling the V2 how fast to go and which way to turn. So for the second crowdfunding campaign, we decided to give one out to every backer and I would say 90% of them were convinced. The rest of them just couldn't stand the tether. As a result, we started developing the V2 Sidekick. We didn't want what others have, which is following from behind. The caddy is not in sight and it might be 200 yards behind you before you know it loses signal. On tour, the human caddy walks besides the player, and this is what we wanted to achieve. We tried many different ways and after getting ran over hundreds of times, the V2 Sidekick is almost ready to go. We patented the idea and it will be the difference maker between us and our competitors. Having said that, we still think the TFS has its own place and will offer both follow solutions at different price points."
What is the most interesting aspect of this entire Brand Story is that the goals have never been altered. To make walking easier for the masses and help bring easy to use technology to the game. It hasn't been without a struggle though. Despite having products that perform as advertised, do something better than before and not break the bank, gaining traction has not been easy.
The push cart market has grown exponentially, especially during the pandemic. As the game grew, and more people were out walking, perhaps more then ever before, even finding one in a store to purchase was a struggle. Yet during that time, Alphard grew, but did not become the household name that many expected. Is this because of awareness? Could it be the investment in the push cart was new to the golfer and because of that the added cost of the unit was not in the budget? Or could it also be that despite being ahead of the curve by a number of years in the US to electric caddies in general, there are a number of all-in-one choices to make for those golfer new to walking?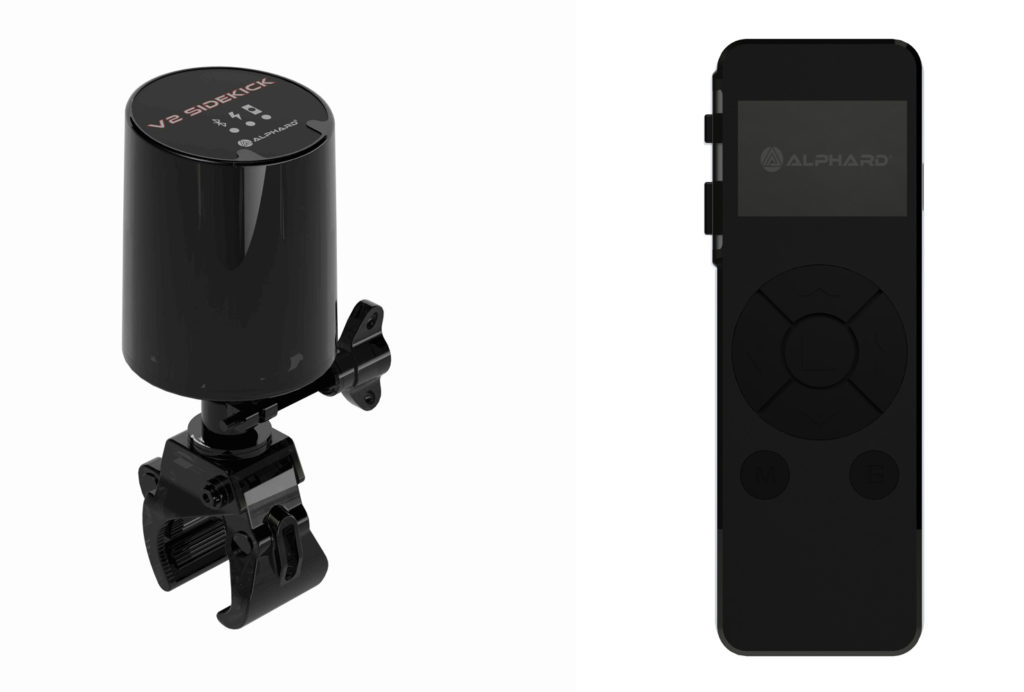 What does the future hold for the company? We asked Alex Tse for his thoughts.
"Our goal is to make walking easy for people. We do all the thinking so they can focus and enjoy the game. We also believe that electric caddy should become a norm. So we're looking to keep our prices reasonable down the road despite our costs are spiking due to inflations. We're blessed having a Facebook VIP group with 2,500 loyal customers. I personally interact with them all the time and they gave me many good suggestions. Moving forward we'll be introducing a "whole" cart for those who arrives minutes before their tee time and doesn't have time to setup at the parking lot, and a rental fleet for people to get a taste of using electric caddies. We're always thinking and when technology catches up, we might make 3PO carrying and cleaning your clubs."
Well, we now have a R2-D2 and C-3PO usage in the same Brand Story, so there is that, but let's explore. The game changer might be the follow feature. It might be awareness from articles like the one linked in the intro where we got a chance to put it to the test and came away quite impressed. Maybe it comes from concerted efforts by many brands encouraging more golfers to get out and walk. Whatever it is, brands that are forward thinking, like Alphard Golf, deserve at least a spot in the mind as you pursue your golf goals.
For more information on the company or any of their current and future products, check out their website at www.alphardgolf.com.