Antigua is a golf apparel brand that THP has been covering for years.  We have always loved their lightweight, moisture wicking material. While we always liked their designs, there wasn't anything that really 'wowed' us.  That is, until now.  We recently received some samples of the new ladies 2014 Performance line and we were blown away by their more cutting edge style.   In total, we received four items to try out – two polos, a pair of shorts, and a skort.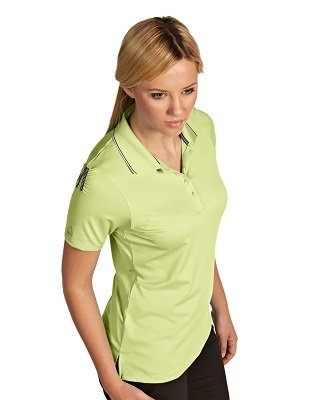 WIT Polo
Let's start with one of the polos, the WIT Polo.  The first thing that pops into my mind is, "that's yellow."  There is no hiding in this top. It is a bright sunshine yellow, making a bold, but really pretty statement.   To help tone down the color just a bit the WIT polo features black and white stripe accents on the collar, neckline, shoulders and slits at the bottom of the top.
Speaking of those slits, I am a really big fan of shirts that have them.  In my opinion, they allow the shirt to sit nicer on the hips, making it frame your body better when left un-tucked.   The accent on the shoulders offers a very feminine look, which also helps tone down the brighter color.
The WIT is a poly/spandex blend featuring Antigua's Desert Dry moisture wicking fabric, which I have been a fan of since day one.  It's super lightweight, soft, and flows with the body, making it super easy to swing a golf club.  This is one of my favorite fabrics found in golf apparel.
The WIT retails for $60, which is a great price for such a high quality piece.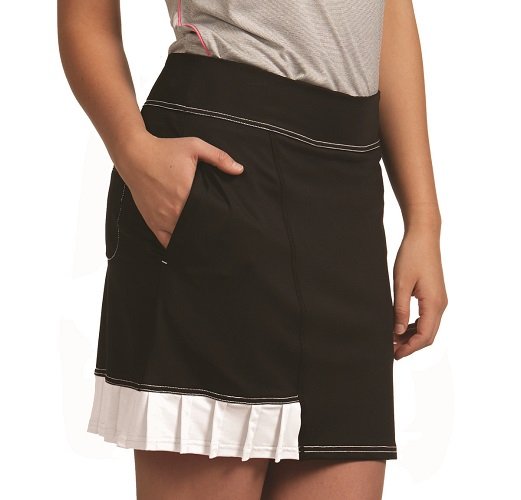 Fierce Skort
Next up is the Fierce skort in Black/Cit, which really means black with yellow accents.  This skort goes perfectly with the WIT polo from above.  It is completely black, with a beautiful yellow pleated accent at the bottom and yellow piping throughout.
Of all the pieces we sampled, this was the biggest surprise for me – in a good way.  This skort is the most cutting edge thing I have ever seen from Antigua, and if this is any indication of the direction they are headed, then they have my full attention.  Just like the polo, it's made of a poly/spandex blend, making it super comfortable, very stretchy and just a pleasure to wear out on the course.  It featured Antigua's Desert Dry Xtra-Lite fabric, taking the moisture wicking Desert Dry that I love so much from the polo above and making it even more lightweight.  It feels like you are wearing a tennis skirt to golf. 
The Fierce skort has two pockets on the sides, one in the back, and has a one zipper closure.  I really have nothing but great things to say about this skort.  If I had to be nitpicky, my only gripe is that the front pockets stick out just a bit, which I felt made me look a little bigger in the hips, but I honestly didn't care. It is seriously that comfortable, and the design is so nice.  It's such a refreshing piece to see from Antigua.
The Fierce Skort retails for $50.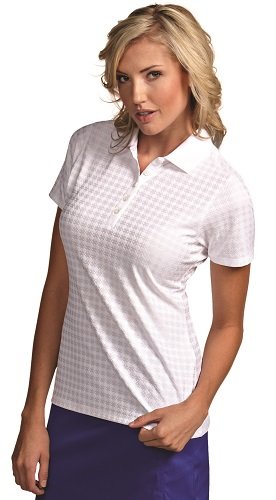 GEM Polo
The second polo that we received was the GEM polo in Cloud, which I would describe as sky blue.  Just like the WIT, the GEM is part of Antigua's Performance -72 line.  If I was a betting woman I would say GEM stands for geometric, because this shirt has a great geometric design.  It has a lovely textured feel and look to it that is quite eye catching.
Similar to the WIT polo, the GEM is a poly/spandex blend featuring Antigua's Desert Dry, moisture-wicking fabric.  It goes without saying that it is just as lightweight and free moving as the first polo.  This is another great option from Antigua that shows their growth in style.
Both polos fit very true to size, and while they still have a more American cut to them, they are by no means boxy.  The length is great, allowing it to look nice un-tucked, or giving enough length to tuck in without it coming loose after just one swing.   I found the sleeves to be the slightest bit longer than normal, which I actually really enjoyed.
The GEM polo retails for $60.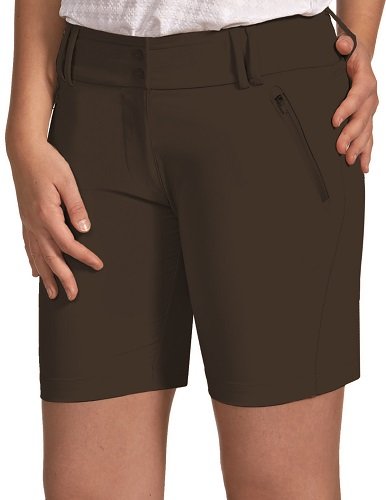 Classic Shorts
Last, but certainly not least are the Classic Shorts in black. As part of Antigua's Performance-72 line, these shorts featuring the awesome Desert Dry Xtra-Lite fabric.  So, as you probably already figured out, these are incredibly lightweight, comfortable shorts that are a true pleasure to wear on the course. 
I really liked the length of the Classic Shorts. They fell a couple of inches over my knees and have two zipper pockets on the side and two zipper pockets in the back.  I have mixed feelings on the zippers.  I like the look, but I found myself getting annoyed when I wanted to put something in my pockets and they were zipped up.  I quickly learned to just leave them unzipped.
I found both bottoms, the Fierce Skort and Classic Shorts, to run very true to size.  I also found both to be extremely durable and they held up nicely to numerous washes.
The Classic Shorts retail for $50.
Parting Thoughts
Once again, Antigua gets an 'A' from us.  In fact, the performance line, with its more cutting edge style, gets an A+.  The fabrics were just as nice as we have come to love from Antigua, and as usual their quality is top of the line.  Don't overlook Antigua because you equate them to a boxier, 'old school' looking brand.  Give it a try, because it might just surprise you.