With each passing birthday it seems my personal tastes in apparel have somewhat mellowed. While I still enjoy the bright colors and bold patterns, when it comes time to actually make a purchase I seem to pass those up for a more subdued, classic look.  That is why the new Spring 2017 Women's Golf Collection from Antigua really caught my attention, and after getting a closer look at various pieces they sent in for review, each item had the perfect combination of modern and classic to suit the masses.
From Antigua: 
"The 2017 ladies golf collection is a continuation of the simplicity that the '16 line embodied," says Danielle Dellios, Antigua women's designer. "In the new collection, fabrics and colors play a key role versus styling and silhouette. The market was calling for a fresh take on primary color, which was made possible by mixing colors together. Thus, each grouping consists of two primaries. For example, our new green color, Cypress, is mixed with a bright blue color, Cabana. There are a total of four color combos, each mixing two primary colors. Every printed, striped or colorblocked style within the collection mixes the two colors, instead of using traditional neutral accents like grey or khaki. Combining two complementary primary shades really pops. Prints are as strong as ever in the marketplace, which meant creating unique artwork that could also be used to mix colors and give new life to basic styles."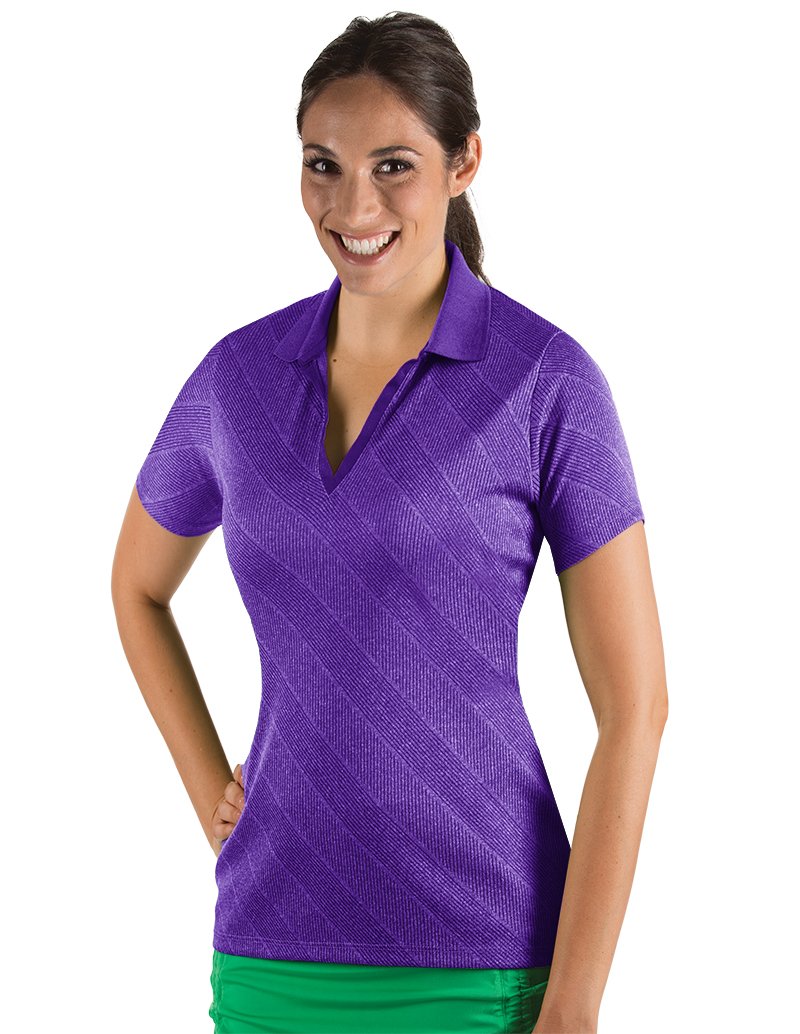 Praise Polo
100% polyester Desert DryTM moisture wicking stripe tonal jacquard pattern short sleeve polo. Open V-neck placket. Flat knit collar. Open cuff. 3D silver reflective A logo.
Because of the stripe tonal jacquard pattern, this top looks a lot like a sweater.  It has a very comfortable appearance to it, as if it will be soft and comfortable against your skin which makes you want to wear it.  The desert dry material is light weight as well as moisture wicking, and while it is 100% polyester, it has a bit of a cotton feel to it.  I especially love the V-neck's simplicity because for me there is nothing worse than fussing around with deciding how many buttons should be fastened. 
Overall, the top has a nice fit.  It's not too tight or loose in the arms, has great shape throughout the torso, and it falls to a nice length on the waist.  Someone can easily tuck this into their bottoms if they would like, but it can also be left untucked without looking unkempt.  The color we received is called Mulberry Multi, I call it purple, and being that purple is my favorite color, I really enjoyed this option.
The Praise polo is available in six different colors ranging from size S to XL, and retails for right around $65.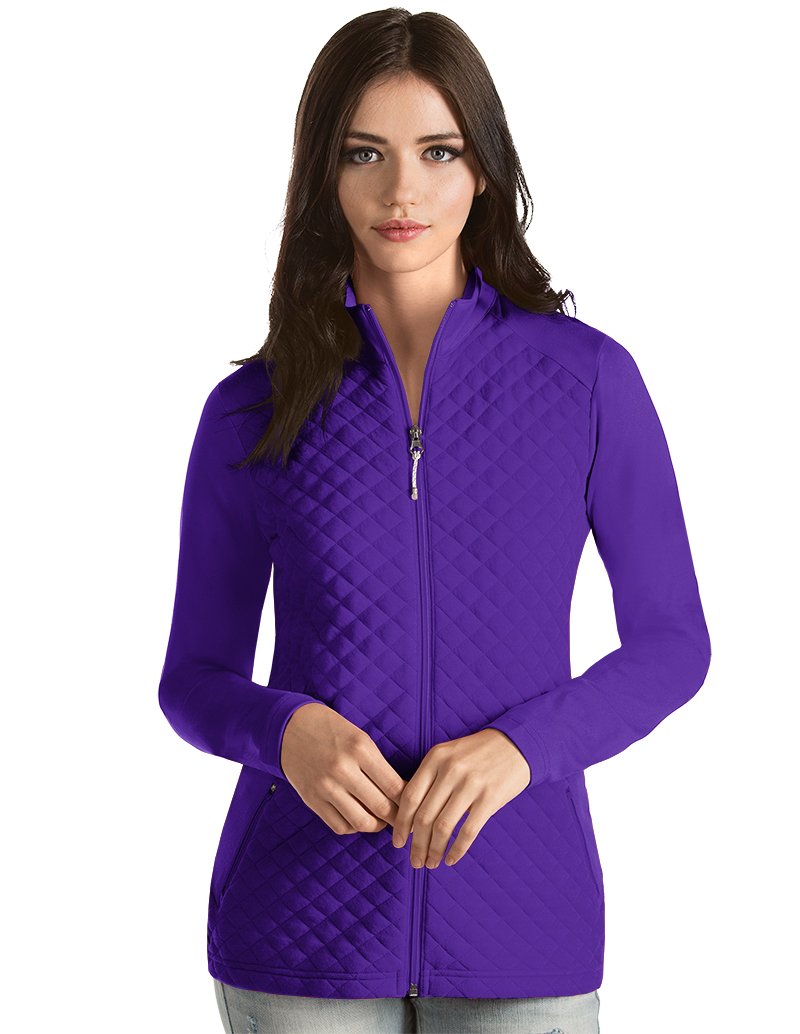 Gossamer Full Zip Jacket
95% polyester/5% spandex solid jersey knit long sleeve full zip jacket. Diamond quilted front & back panel. Zip hand pockets. Open tail bottom. 3D silicone gunmetal A logo.
Comfortable and inviting are the two words that come to mind when thinking about the Gossamer jacket.  Just picking it up and touching it makes you want to wear it as the quilted panels remind you of a warm blanket that you want to wrap around your body.
The only part of the jacket that I am not 100% sold on is the mixture of quilted and solid patterns.  The overall style is nice, I personally just have a hard time seeing the pattern change. However, after just one wear I got over much of that and just enjoyed the jacket for what it is, comfortable and inviting. 
The fit of the Gossamer is similar to the polo as it offers shape without being boxy, but it is certainly not form fitting by any means.  The sleeves were a great length, and I was pleased that it was a full zip jacket.  It seems as though ¼ zips are all the rage, but sometimes you don't want to put something over your head, and that's what makes this so perfect.
We received the Gossamer in Mulberry (purple), which is one of five colors ranging from size S-XL. It does bear mentioning that this is a limited edition item and sizes are becoming more limited.  The Gossamer retails for $83, and is worth every penny as this was my favorite item received.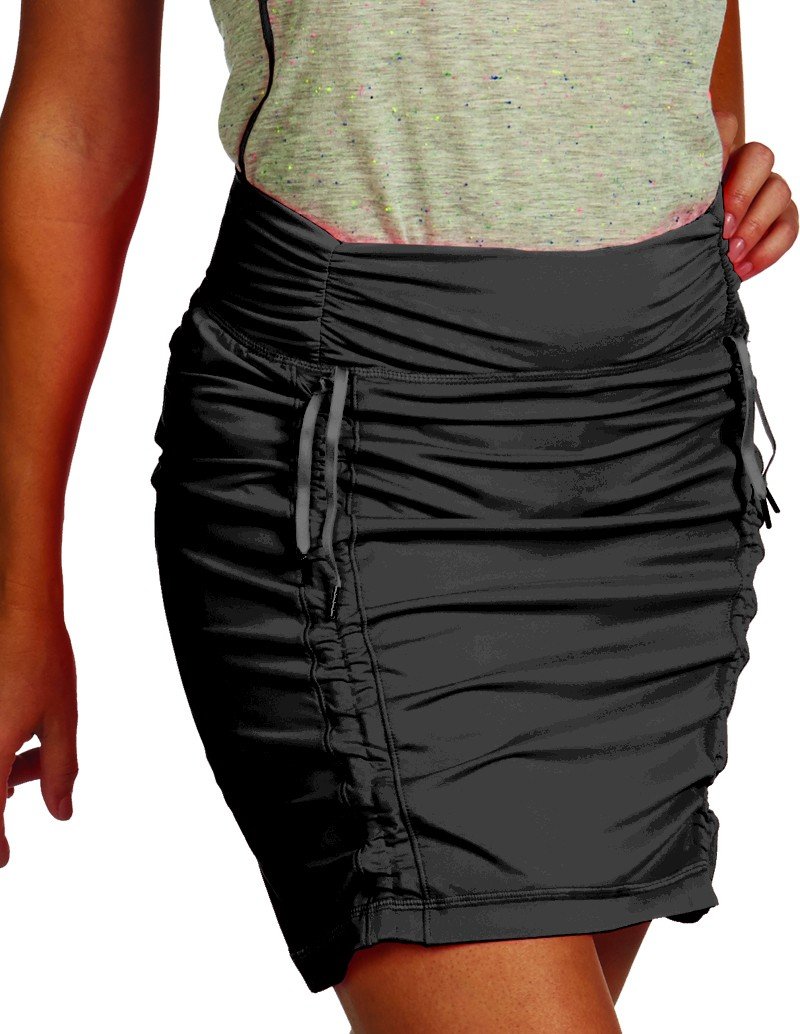 Cinch Skort
92% polyester/8% spandex Desert Dry™ Xtra-Lite D²XL moisture wicking knit jersey skort with elastic tie detail at front with cinching capability. Self fabric waistband with shirring. Stretch knit undershort. 17″ full body length.
Adorable does not even begin to describe the Cinch skort, in fact, there are at least 50 adjectives that I could use.  Simply put, the Cinch skort can be cinched up to take it from plain to party in just two seconds.  Over the years, we have talked about multi-purpose apparel that can be worn both on and off the course, and I think this skort might be the epitome of that. 
My absolute favorite feature is the elastic waistband.  No nagging zipper issues at all here, no trying to figure out orientation, if it is sticking out, why it is digging into you, thankfully none of that exists here thanks to the oh-so-comfy elastic waistband.  Additionally, the comfort of this skort was elevated even more by having looser fitting shorts underneath, so you don't feel like you are wearing Spanx that are cutting off your circulation. 
Lastly, the 17" length allows for a modest look if someone prefers, but if they do not then they can literally just cinch it up!  The Cinch skort is available in 11 different colors (we received black), ranging in size from S-XL, and retails for $70.
Overview
As usual, Antigua did not disappoint with their newest collection.  With an incredible mix of modern and classic colors, patterns, and fabrics, they continue to offer something for everyone.  One of the best features about the items we reviewed is their ability to be worn both on and off the course.  Antigua is already a reasonably priced apparel brand for the quality, and being able to get "double duty" out of them is icing on the cake. 
For more information on the items reviewed here, as well as the rest of the 2017 Spring Collection, please visit their website www.antigua.com.