Over the past 30 years anybody that has had a passion for the game of golf is well aware of the Ashworth name. Ashworth came onto the scene and instantly branded themselves as "the new look of golf", which is why partnering with Taylormade just makes sense. From the birth of Ashworth, they have strived to change how a golfer perceives one should dress on and off the golf course. In a golf apparel market that is being filled with loud and garish looks, Ashworth is trying to go with the cool and stylish looks that will look just as good off the course. The obvious goal for Ashworth is to differentiate themselves from the market while adding a contemporary flare.  Recently, THP was sent out some of their new styles for review and at first glance I was not completely sold. It wasn't until after my first round and pairing an outfit that I realized just what Ashworth was trying to accomplish with the look.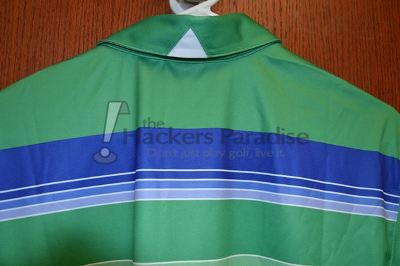 One thing is apparent about Ashworth, they are a golf company. They have always portrayed themselves as this and will continue to do so. They are very proud of their golf heritage and beginnings and will strive to continue to be an industry leader. When researching the company and trying to figure out just who they are and want to be I found this paragraph and I love the honesty and sureness behind their thoughts. "We're Golfers. Always have been. Always will be. We know that what you wear, affects how you play. It has to be comfortable. It has to fit right. And above all, it has to perform. We don't do the whole neon, skin-tight, look at me thing. Our style has always been classic and rooted in golf. Our new line of products perform with every swing. With details true golfers appreciate – as we do. We're Ashworth. ALL WE DO IS GOLF."As a golfer and one who enjoys the style aspects of the game, I truly respect their take on who they want to be as a company. They have set their goals and will strive to be an industry leader for years to come by sticking to their roots, while still adding the modern look to stick with the times.
From the Company
Majors Collection – Season Opener
Major style for major competition. Designed specifically for our Tour pros competing at Augusta National, this double-knit performance golf shirt features innovative EZ-TEC2 fabric, a modern fit and clean design. Identifiable as a tour series shirt by the contrast triangle on the back neck, you know it's authentic, tour-proven, and ready to deliver all-day comfort. 
Self-Collar

3-Button Pieced-on Placet open sleeve

Contrast insert located on back collar

Ashworth patch located on right sleeve

100% Moisture-Wicking Poly Double Knit
Performance Gradient Print
The gradient print was designed for the first major of the year, the 2013 Masters. This is very apparent when you see the styling and the colors used.  When I first received this shirt, I was not overly excited by the looks. However, I did like the idea and design behind it. What first really jumped out to me is the fact that the green fades into the white in a very subtle way with no lines. You cannot tell where the green ends and the white begins, as the green slowly gets lighter until it is white. At first glance it was not something very impressive, but the design idea and details behind it are wonderful. Also, I spent quite a bit of time trying to figure out what to pair it with. This is the great part about the shirt. The color combos for bottoms are fairly limitless. This shirt gives you the ability to pair it with a multitude of colors for trousers and I have found it's hard to go wrong.  I saw some of the tour pros pairing it with khaki, but have found that a lot of people find khaki to be boring. One of my favorite color combos with this shirt is navy blue. That color combo adds a hint of flare to the outfit, but also has a very clean and defined look.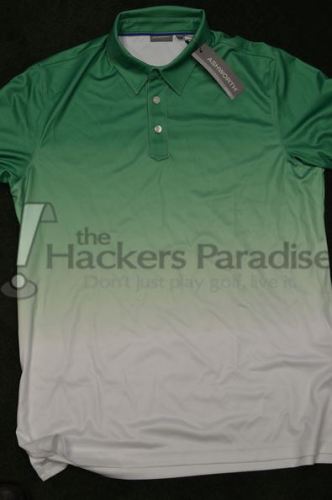 Performance Engineered Print Stripe
This is another style released by Ashworth that is along the same lines as the Gradient. It was designed for the Masters and the color combo showed this.  The color combo and style really popped out to me. The shirt looked to be contemporary, but also kept with the classy style they were going for. This shirt looks excellent on a golf course, but also looks wonderful everywhere else. This is a great feature, because it gives you the ability to get your money out of the shirt. It is a lot of fun to show your style on a golf course, but once you leave, people who don't pay attention to golf or understand style don't get some new designs by other companies. The design of the shirt is very minimal, but Ashworth found a way to add some color in a very subtle way. I did spend quite a bit of time trying to figure out exactly what shade of blue that really is. Out in the sunlight it looks like a royal blue, but in the shade or a dark room it has hints of purple. Not to mention the fact that the bottom line at the chest looks to be a very light purplish blue. After asking the opinion of about ten people, we all came to the conclusion that it is blue. I quite like the color, as it gives you some options for bottoms, but I did find that it can be difficult to pair it with some things. While the navy blue bottoms looked great with the Gradient, this almost seemed to clash with them. I found the best combo was a white or khaki bottom.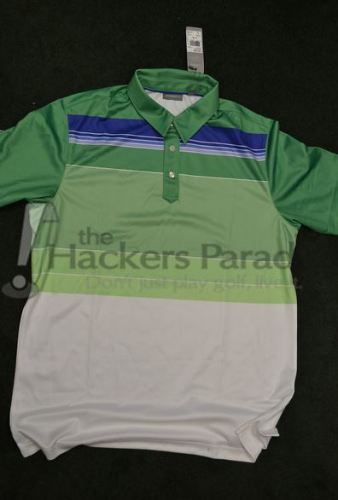 A problem I have with performance shirts is that some companies go a little too far with how light they make the fabric. I do understand that a good golf shirt in hot weather is a light fabric shirt. However, I do feel that a company can accomplish the idea of a performance shirt without losing too much fabric. I think Ashworth did a wonderful job accomplishing this with the shirts.  Upon opening the package, one of the first things I noticed was the fact that they were a "heavier" performance fabric. This is great, because you still have the feeling as if you are wearing a shirt on those hot days, but not that feeling that you're wearing a shirt made of tissue paper. I also found that although these are a heavier performance fabric, it is the perfect amount for any day. You would be able to wear this shirt on a hot day, without having to add a layer when it's cooler.
Both shirts are equipped with a "self-collar", which simply means that it will take care of itself. At least that's what I found in my testing. Upon receiving them, both collars were in great shape, with no curls or wrinkles. This is especially nice in a golf shirt, because most men would rather not have to iron. In my rounds I had no noticeable curling and when I would wash the shirt, the collar just seemed to look great without any special care.
Both shirts also are equipped with 3-button pieced on placket, open sleeves, contrast inserts on back collar, and the Ashworth patch on the right sleeves. I really enjoyed the look of the 3-buttons on the placket. The placket is the piece of fabric that makes the collar sturdy and gives it the clean look of a polo. I like the distance on the buttons as well. Most of us unbutton the top button and in doing so you do not reveal too much of that manly chest to the cart girls. The open sleeves are great for a free swing. There is no catch on the back swing, which allows you to not worry about your apparel before you hit that awesome golf shot.
These shirts are also equipped with the modern fit. This type of design can scare off those golfers who like to partake in a night of drinks or enjoy the dinners that don't come on salad plates. The design on this modern fit is actually very subtle and not what you think of when you think modern fit. Yes, the shirt is a little smaller towards the waist, but not enough to scare most golfers from buying it. There is plenty of room in the belly region for you to buy this shirt without fear.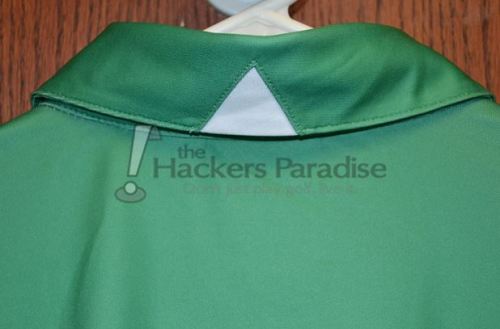 Final Thoughts
Ashworth has done a great thing by staying true to who they are as a company -keeping the classic golf designs without the flare that you're seeing from some other companies. Overall, I came away quite impressed with all of the designs and features in the shirts. They fit very true to size. I wear a large and they fit how I expect a large to fit. The shoulders were the right size as the seams didn't hang off my shoulders and I had room to make a worry free golf swing. I really like how clean the shirts look on and off the golf course; although I did find that the print stripe shirt was limited to what it can be paired with. One aspect of the shirt that threw me off a little was the stitching, which I captured in the picture above. From afar it is not something that is noticeable, but up close the stitching almost gave off the perception of being somewhat cheap. This just is not the case, but sometimes first impressions can knock you out of the running. I really like the direction Ashworth is going as a company and will continue to support their golf style by picking up some more shirt offerings from them in the future.
Right now Ashworth has a great deal going. When you buy bottoms from them, you get polo half off the retail price. To me, if you're in the market for some new golf outfits this is a deal that is hard to pass up.
MSRP on both shirts is $75.00
You can find out more at http://taylormadegolf.com/ashworth/