Although the journey back hasn't always been a smooth one, Ben Hogan Golf seems to have finally found their footing not just in balancing the task of being a direct to consumer manufacturer, but living up to the expectations of the Ben Hogan name itself. So, with the decision to bring blended iron sets to their consumers, the need came to also update their utility irons to offer full flexibility for golfers.
After the new UiHi was introduced, THP was soon able to get one in hand for a full rundown of just what Ben Hogan Golf has brought to the table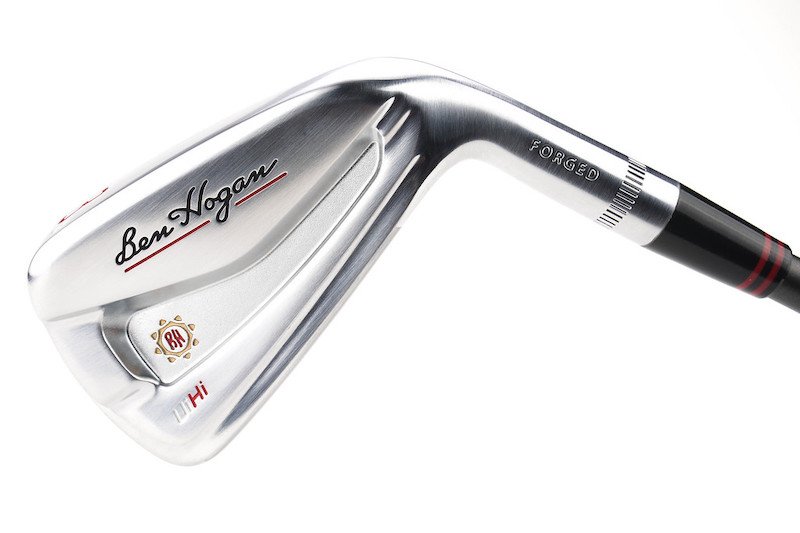 Quick Take
As is the case with the rest of the Ben Hogan Golf offerings right now, the bang for your buck out of the new UiHi clubs is unmatched. A design that is aesthetically classy and in line with the Hogan name, while offering a utility design that isn't so hung up on distance it loses its playability and ability to blend into an iron set.
The Ben Hogan Golf UiHi
While this isn't the first utility we have seen from Ben Hogan Golf since its return to the industry, it was definitely beyond time for a refresh. Not only did the company set out to offer a club which will aesthetically fit better with their current iron offerings, but they wanted to bring in more modern technology while keeping the bang for the buck.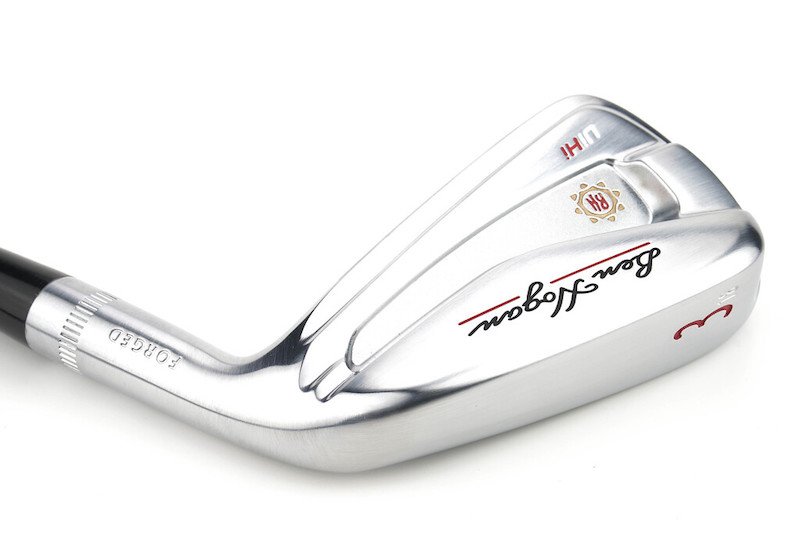 Internally, the UiHi (pronounced you-eye-high) is a design which utilizes the blending of a 1020 carbon steel frame with a MS300 steel face laser welded into place. Why different materials for the face? Well, the MS300 can be made much thinner to allow more of the weight to be shifted in the design while also offering more speed. Two other design features stand out with the UiHi and that is both an internal hollow cavity low in the head as well as an external cavity back cutout in the upper rear flange of the club. What does this mean? It means more weight to the perimeters while also keeping a look that isn't cumbersome or oversized like most utilities out there.
Aesthetic Acrobatics
I have to admit, what Ben Hogan Golf has done here aesthetically with the UiHi within the pricing framework of their direct-to-consumer business infrastructure is above and beyond what one would expect. Yes, the Ben Hogan name stands for something, but the current iteration of the company is ever changing and digging in to find their way of balancing that with the demand of the modern golfer for not sacrificing performance for name and price. I really believe after working with the UiHi that they've found their niche.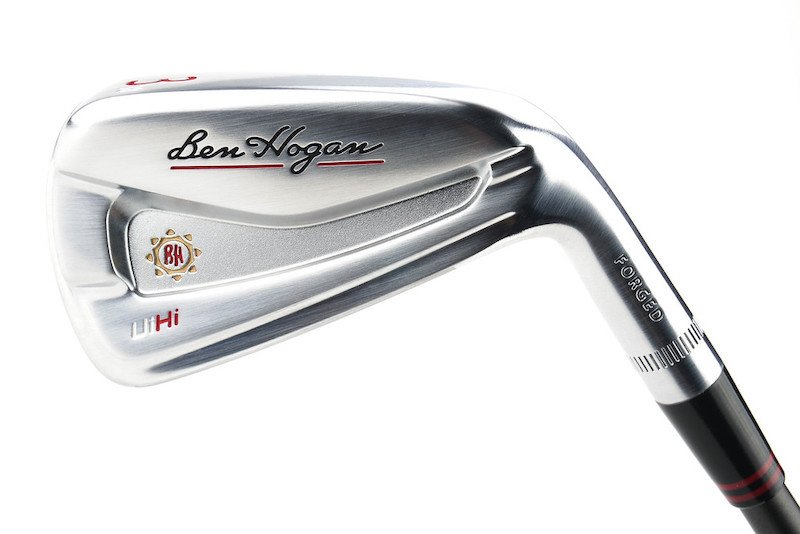 As a self-admitted utility iron addict who tends to get around a bit, there isn't anything out there in that segment that looks like this. What I mean there is two-fold in overall footprint and general design. There was clearly a lot of attention paid to the flow of the UiHi in terms of making sure it's a look that blends into irons. It has got a lot less width in the sole as well as junk in the trunk compared to almost all of the other utility irons out there. The thinner sole has the benefit of the V-Sole design to keep it amply functional for a variety of swings. Also, the dual-cavity like design of the hollow inner and more traditional looking upper cavity makes for a look that at address doesn't show the entire rear of the club like other utilities do.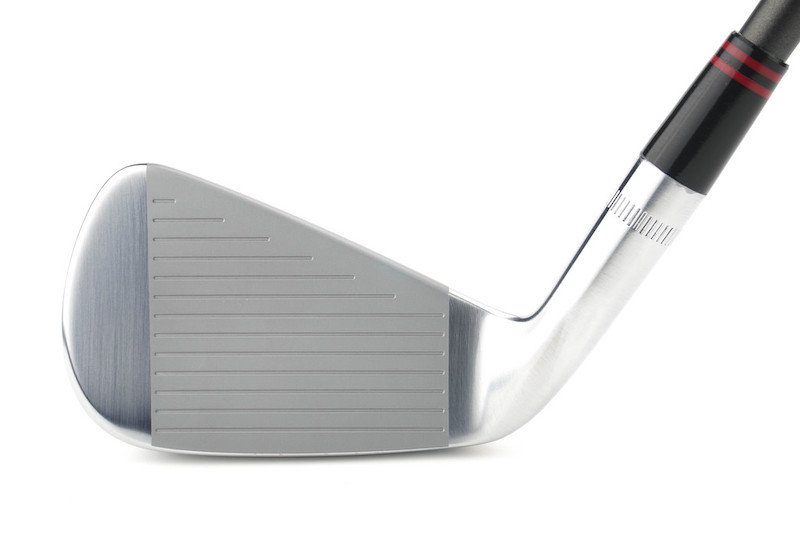 Add in the classic satin finish (with rumors of a dark finish later in the year) and general branding being so well done with the bold Ben Hogan script and BH crest on display it's just a gorgeous golf club. Personally, I also like that they put the number of the club on the sole as well as the loft, some might call that too much, but its common in utilities and was done quite tastefully here.
Function that Blends
I have no issues admitting that when the 18° 3U showed up, I hadn't really allowed myself to think the lowest loft could be the one I would be working with. You see, the UiHi's are being offered in three lofts, 18° (3U), 22° (4U), and 26° (5U) and are meant to plug and play into Hogan irons sets as well as others. My mental takeback came from the fact that historically I've not had the most consistent success with irons or utilities below 20°, the UiHi kind of blew that out of the water.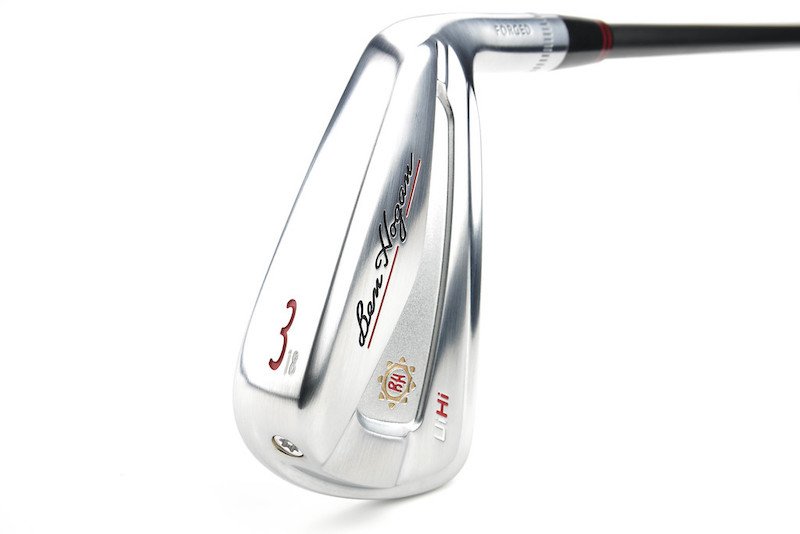 Foremost, I want to get into the sound/feel with the UiHi. Utilities in terms of sound are usually in a realm of their own, sound is feel and most tend to come off more firm/sharp than their iron counterparts. Naturally, there are some who get it absolutely right generating a sensation that blends seamlessly and based on the lineage of the Ben Hogan name and the pride they take in it, it should be no wonder that they nailed it with these. At impact on solid and even quasi-solid strikes there is a plush nature to the sound that is spot on with that of a top end forged iron level of feedback. Many times, I found myself chuckling at how pleasing the experience was in terms of feel, kudos to Hogan for not sacrificing that.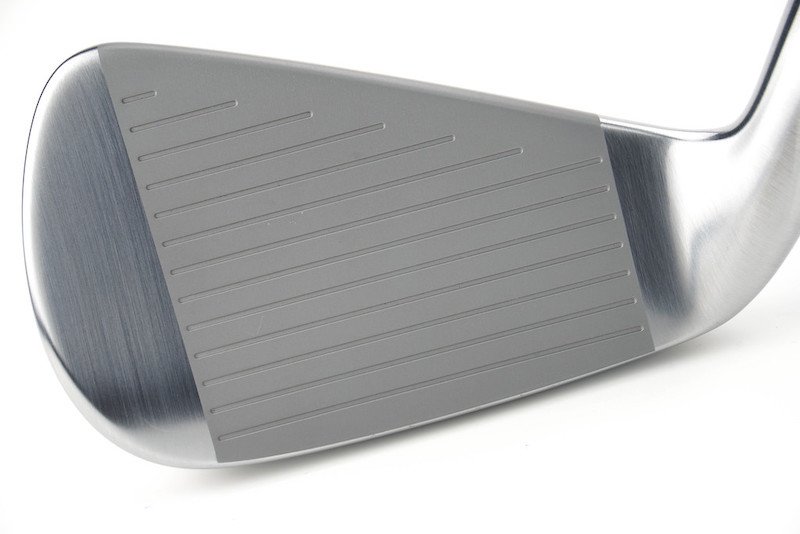 While sound/feel are make or break for many of us, the flight when dealing with an iron of this loft is going to be the biggest key to the puzzle. For me, at 18° even paired with the UST Mamiya SmacWrap 780 F4 shaft, I feared too flat and low of a trajectory. To see exactly what was happening with the 3 UiHi, the Foresight GC2 launch monitor was utilized and that data set will follow this section. What you see below is that the flight I got here was pretty stellar. As a higher swing speed player, the 11.6° average launch and 31-yard peak from the 3 UiHi was eye opening. I'll be real, the first sessions on course with it, I had a feeling it was hitting a really good window, but it wasn't until seeing the data over a sample size that I realized just how good. Not only that, the descent angle proved it's a club I can hit into greens and hold them pretty well, countering the reason I have historically always gone hybrid or fairway in this slot.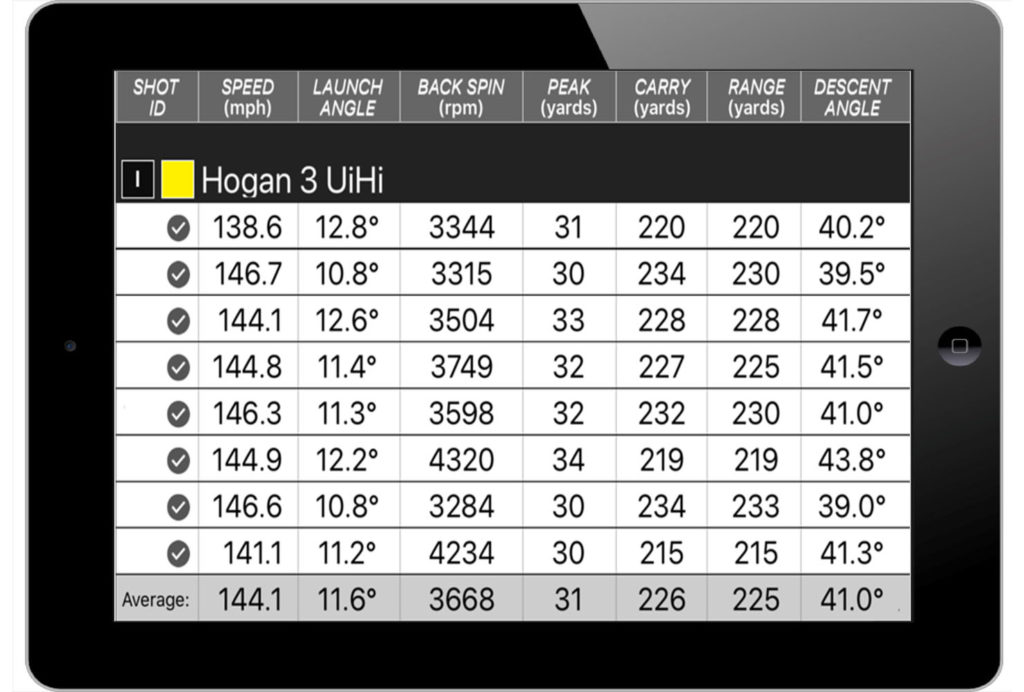 I know some are all about the distance, and you can see above a 226-yard average from a utility doesn't leave a lot to pick apart. Hitting ball speeds in the mid 140's with an 18° iron also made me laugh…a lot, because it wasn't at all expected, not based on skill or swing speed, but the fact that the profile here is so much smaller than some of the other utilities where I have hit those speeds in the past. That is a nod to the design and face materials, for me it was definitely doing what it was designed to. Will it replace a 5-wood for me distance wise? Probably not. How about a hybrid in that loft? Maybe. But what it offers most comparatively is versatility and flow.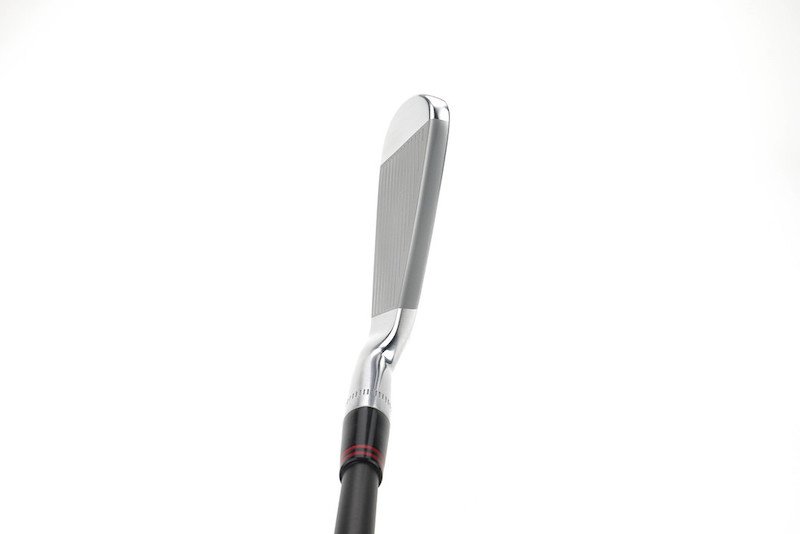 The fact that my average spin rate here was 3,668 with some creeping into the 4,000's lent the UiHi to offering a lot of flexibility in the bag. Not only was it useable from the tee, but the deck also, although when working with a 3U, it isn't going to be a fit there for all players, hybrids are still the friends of many. What cemented the designs ability to be hit from a variety of places though was me also acquiring the 22° 4 UiHi and seeing the same things, but with expectedly even easier to get performance.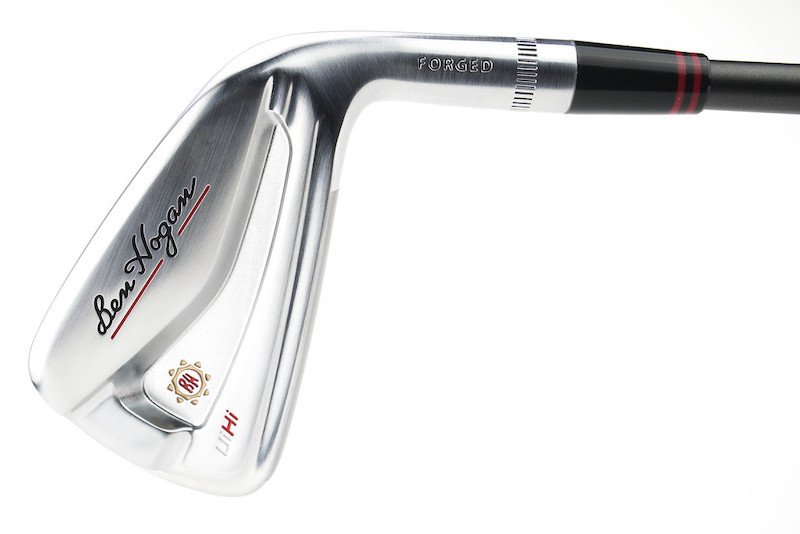 Are these the most forgiving clubs out there? Of course not, but they do provide a legitimate and more forgiving option than a traditional iron in those lofts while still being entirely workable and flightable depending on your skill level. That was the biggest takeaway for me here with this review, the UiHi's really do just seamlessly flow into an iron set, they're not distance monsters with no spin, instead they are incredibly well-balanced clubs that will go toe to toe with other utilities on the market, but at a $110.00 price tag that should turn heads.
The Details
Availability: Now
Where: www.BenHoganGolf.com
Price: $110.00
Dexterity: RH
Options: 3U (18°), 4U (22°), 5U (26°)