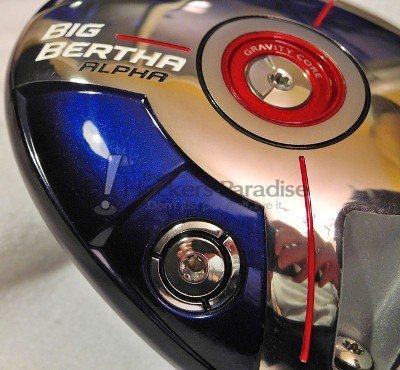 As the pinnacle of Callaway's 2014 line of drivers, the Big Bertha Alpha has garnered a huge amount of interest since being introduced a month ago. With the reintroduction of the Big Bertha name, Callaway is claiming that the Alpha represents the most technologically advanced driver they've ever produced.
Big Bertha Alpha
Where do we begin? Big Bertha Alpha is the first driver to enable independent adjustments of four significant performance characteristics, optimizing trajectory, control and distance for individual golfers. The four independent variables are loft, lie, CG (draw) bias, and most innovatively (and for the first time ever), CG height.
The Big Bertha Alpha represents the most advanced engineering Callaway has ever commercialized in a driver, and the Company's most flexible and comprehensive fitting platform ever.
The goal of driver design at Callaway is to individualize performance optimization for every golfer, giving them the best chance to optimize driving distance. And the innovative Big Bertha Alpha Driver is the ultimate representation of this philosophy.
Specifications

Available February 14, 2014
MSRP: $499
Key Technology
Gravity Core
"For the first time ever, the Big Bertha Alpha's Gravity Core lets golfers adjust spin independently of launch angle, a natural (and dramatic) extension to loft adjustability in a driver head. This adjustability breaks the fixed relationship between launch angle and backspin for the first time, providing a major asset in the fitting process to find optimal distance for a wide range of players' abilities."
It's hard to imagine, but this tiny piece of metal is really the centerpiece of the Alpha's multifaceted approach to adjustability. Adjustments are simple and use the same torque wrench that most golfers are already familiar with. Simply unscrew the cover and place the Gravity Core inside with the heavy tip up or down. The reason that such a small change is so groundbreaking is that it allows golfers to alter spin rates without affecting launch angles.
Many will ask why that it is important and the answer may be somewhat complicated for many casual golfers. Still, it's something that can be explained with a little effort. In a general sense, loft has always been intrinsically tied to backspin. With a driver, too little or too much backspin can affect how far you hit the ball.
The easiest way to see how loft and spin work together is to think about it in the broadest and most general way possible – your driver versus your 9 iron. The driver has around 10° of loft and the 9 iron has around 40-42°. The driver should produce spin rates in the 2,000's and the 9 iron may go all the way up into the 8,000's. Again, this is much generalized, but it shows the correlation.
With driver fitting, the key is often to find that sweet spot where launch and spin combine to produce the longest carrying ball that still lands at the right angle to provide the maximum possible rollout for each individual swing.
By altering the center of gravity inside the Alpha, the Gravity Core allows the player to tweak the spin rates without changing launch angle, so it disconnects those two things that have always been connected. If everything else is perfect (i.e. launch angle), but spin is just a little too high, the Gravity Core allows the user to adjust it exclusively.
Launch monitor testing by THP on both Trackman and Vector X showed changes in back spin that ranged anywhere from 250 to 450rpms (depending on the player) without significant changes in launch angle.  For some players, this resulted in substantial difference in ball flight and distance when used in concert with the other features the Alpha offers.
Advanced Adjustable Hosel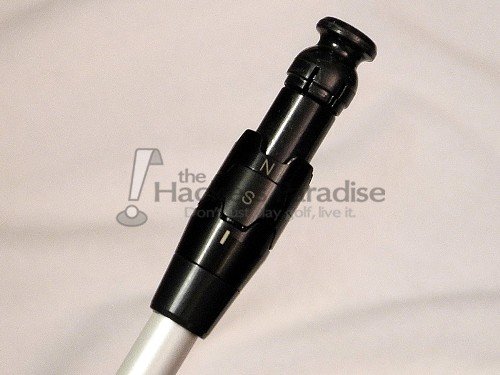 "Big Bertha enables golfers to independently adjust loft and lie angle to help translate the added ball speed into more distance. Golfers can chose from four different lofts (from -1 to +2) to optimize launch angle and backspin and two different lies, denoted by 'D' for Draw and 'N' for Neutral, to optimize the directional bias. Together, these provide eight unique combinations that help golfers optimize their distance and dispersion. Callaway's proprietary hosel technology is also the only adjustable hosel to achieve changes in loft and/or lie without having to rotate the shaft (and graphics) on its axis between settings."
CG Bias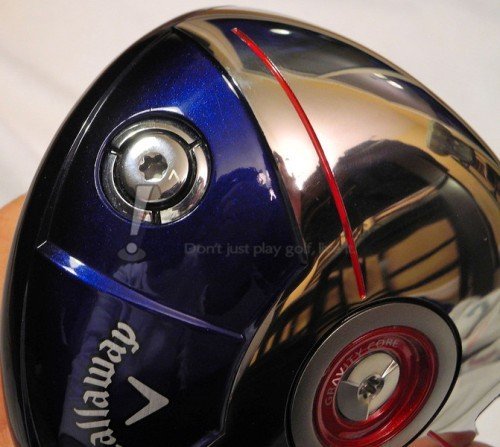 "Big Bertha Alpha also enables golfers to make adjustments to CG bias, which helps influence the shot shape. Big Bertha Alpha has a screw port in the heel and toe of the body and comes with 4 interchangeable weights: 1g, 3g, 5g, and 7g. This gives golfers a ton of flexibility in controlling both the shot shape and overall head weight. See, we weren't kidding when we told you this was the most comprehensive fitting platform ever."
Forged Composite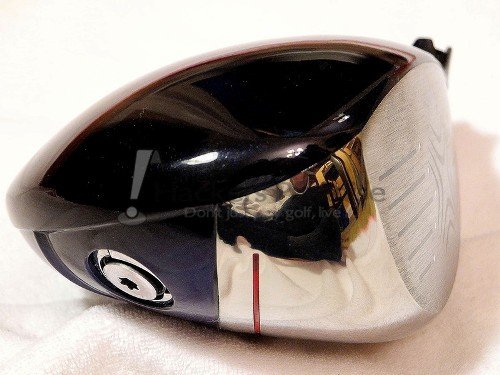 'A critical competitive advantage for Callaway, Big Bertha Alpha's crown is made of this high strength, lightweight material, which allows Callaway to offer three forms of adjustability while maintaining a very playable D3 swing weight.'
Forged composite is a piece of Callaway technology that has been around for years now, but it is a very important element in the Alpha. Adjustable drivers typically have more components, and that means more weight, whether it's in the hosel or in the Alpha's case – the center. By reducing crown weight with the ultralight forged composite, the Alpha avoids becoming an unwieldy, heavy driver even though it offers the most robust amount of adjustability seen in a driver to date.
Aesthetics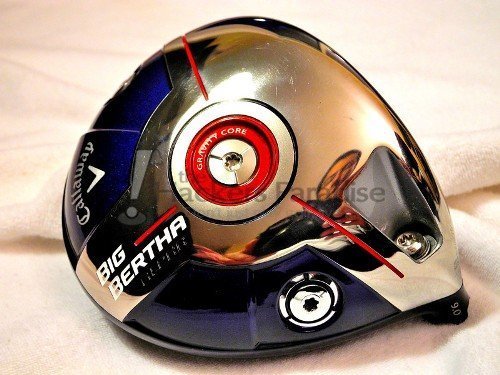 The Alpha presents a contrasting look that blends some modern qualities suited for advanced technology with the clean look that many better players demand at address.
The sole's high polish is almost mirror-like, with three red lines that serve to immediately draw the eyes to the Gravity Core's port. Surrounding this is a metal-flake paint job that fades from deep blue to almost black.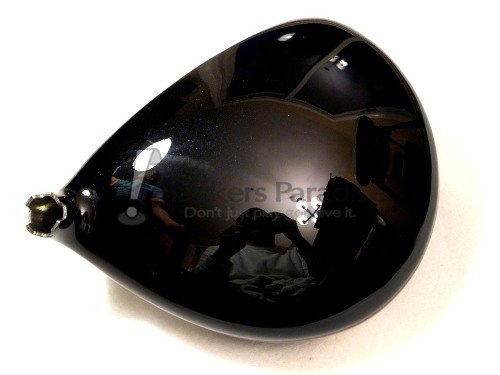 Turning the club over reveals the crown, which is a very traditional pear shape devoid of any markings. The face is on the deeper side, though nothing out of this world, and the metal finish contrasts nicely with the dark crown.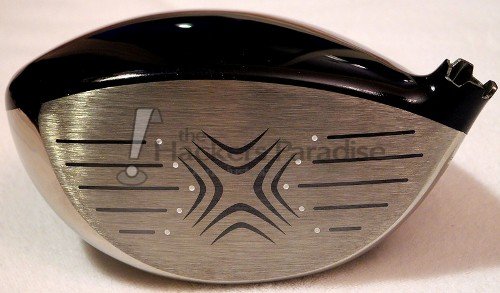 Callaway chose the Mitsubishi Rayon Fubuki Zeta Tour shaft as the stock pairing with the Alpha and gripped it with a navy/white Golf Pride New Decade Mulitcompound Whiteout. The Zeta Tour is a tip-stiff shaft that should offer lower spin, along with a higher balance point that is becoming increasingly popular with both amateurs and professionals.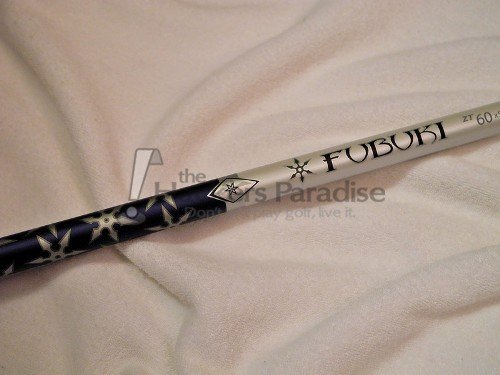 Performance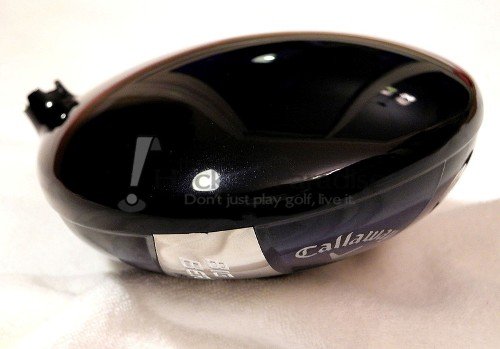 The Big Bertha Alpha was tested on the driving range using a variety of launch monitors. In addition, during a recent event called TheGrandaddy, eight members of the THP Forum were fit by Callaway using the Alpha at the Ely Callaway Performance Center in Carlsbad, CA.
What became apparent as time went on was that the Alpha was many drivers for many different swings, which makes it rather difficult to classify it inside normal narrow boundaries. Changes to the Gravity Core, perimeter weights, hosel settings, or the shaft gave distinct, and at times, dramatic changes to launch conditions and distance.
In general, the Alpha was a lower spin driver with moderate forgiveness, which will appeal to the better player, but even that is almost too narrow of a description, as THP observed a number of different skill levels and swing speeds that found success with it. Still, this driver is probably most suited for the advanced player that is looking to get his launch conditions perfect. The key theme was optimization through fitting and THP suggests that consumers utilize a fitter if considering a purchase. With so many potential configurations available, it would border on ridiculous to not have a trained eye with a launch monitor assisting.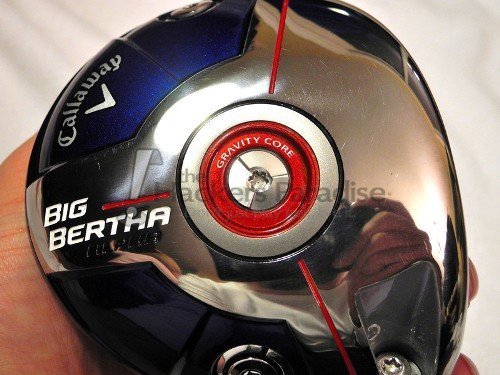 In terms of forgiveness, the Alpha proved to be kinder to misses up and down the face, though lateral misses weren't punished nearly as much when it came to ball speed and dispersion as what has been seen with another company's low-spin driver. Interestingly, the Gravity Core not only produced changes to spin rates, it also allowed the user to match the center of gravity with where he normally strikes the ball on the driver face. For example, a number of players that typically missed higher on the face were able to produce better results with the Gravity Core inserted heavy side up (essentially moving the sweet spot higher on the face).
As noted earlier, most testers saw between 300 and 400 rpm's difference in backspin through adjustments to the gravity core. One player reduced spin 600rpm compared to his TaylorMade R1, another driver featuring advanced adjustability. Through fitting he gained over 10 yards of carry distance, while decreasing dispersion by 12 yards. Another player was able to adjust the Gravity Core to react better to his normal 'high face' contact, with the end result being, higher launch, lower spin, and a gain of 15 yards carry distance over the Big Bertha, even with 3mph less ball speed.
Final Thoughts
As previously stated, ranking the Big Bertha Alpha on the typical linear scale so often seen in golf equipment reviews is virtually impossible. It offers a range of adjustments that was previously not available, and as such, can become a very different driver very quickly. That alone is its greatest achievement and makes it stand out among its many competitors. At its core, the Alpha is probably best suited for the advanced player, as it is among the lesser forgiving models in the 2014 Callaway line, but as noted, that too can be adjusted for the right player. At $499, it should be a crime to purchase the Alpha without a proper fitting. With all that potential, it just makes no sense to skip such an integral part of getting the most of out the driver. More information on the Big Bertha Alpha can be found on Callaway's website, www.callawaygolf.com