Last year we had the opportunity to test out and review the latest from BIG MAX with their Dri Lite Hybrid and Dri Lite Sport golf bags. We came away impressed and while they might not be best known in North America as of yet, they are Europe's #1 golf bag brand.
Two new bags are hitting the market with the BIG MAX Dri Lite Hybrid Tour and Dri Lite Seven and we have had a chance to take a closer look and give them a spin on the course.
As soon as you take these out of the box, you realize that BIG MAX didn't stray too far, which is a good thing. Their water resistant Dri Lite material is one of the best we have used and it is well done on both of these bags. Colors that pop, and pocket placement that seems ideal are first impressions and we were impressed before trying it out.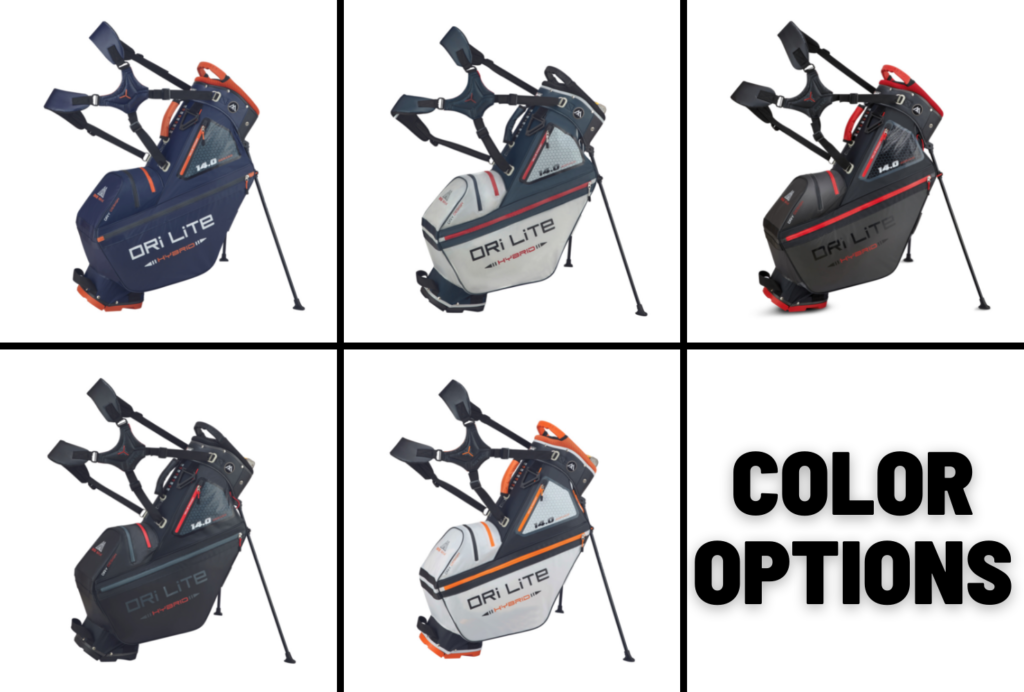 "There isn't a huge variation in the golf bag market and that's fine for a lot of golfers, but at BIG MAX we want to stand out from the crowd," commented Ralf Niesing, Head of Bag Design at BIG MAX. "For practical innovation alone, the Dri Lite Hybrid Tour is the match of anything on the market and in the Dri Lite Seven I'd say we have the best lightweight stand bag in this price category. But when it comes to style, I really don't think there is anything that comes close. With the Hybrid Tour we use 90° and 45° angles as they harmonise together and combine perfectly with the angle of a bag on a push cart. We then took the best modern color combinations and ended up with something that pops in a different way to any other bag I've seen. The Dri Lite Seven has a more subtle palette with bold accent colors, but at a single glance you can tell that this is a BIG MAX bag that has both style and substance."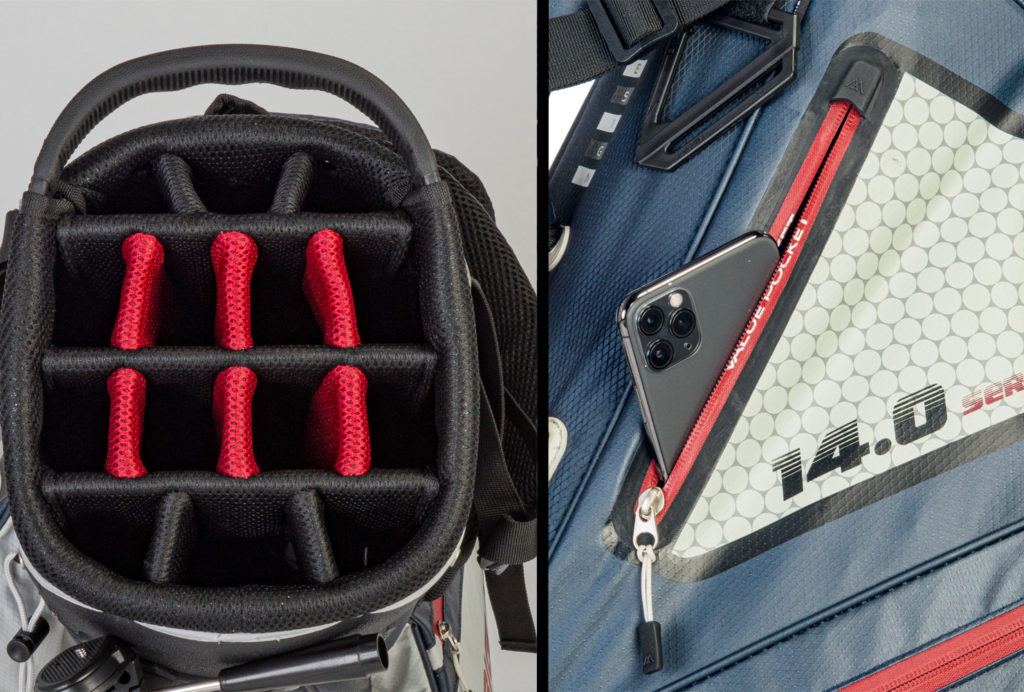 The Dri Lite Hybrid Tour is the next generation of the Dri Lite Hybrid that we reviewed last year. Think of it as a modern day cart bag with legs, but while that might sound a bit clunky, this is anything but. It sits well on a push cart, stands well on a riding cart and while we prefer pushing to carrying, it comes in at about 4.5 lbs, so with the padded straps, it doesn't represent much of an issue. The pockets are well done and feature some of what you would expect such as a spacious cooler pocket as well as a 100% waterproof valuables pouch, that in our testing was deep enough to hold wallet, keys and phone. The 14-way divider is a nice touch for the golfer that prefers his stuff neat and tidy at the top, but for those looking for a 4-way top, they haven't forgot about you (next bag). Available color options are Black, Charcoal/Black/Red, Silver/Blueberry/Merlot, Steel Blue/Black/Rust, White/Black/Orange and the Dri Lite Hybrid Tour comes with a MSRP of $259.99.
The BIG MAX Dri Lite Seven is a pretty unique offering in the golf bag space. Let's start with the obvious size and weight, which is tiny. This is a very compact bag and comes in at barely over 3.5 lbs for you carry golfers. 4 way divider top that measures at 8.5″, but honestly felt a bit more spacious. The Dri Lite Seven is a super compact bag, that will definitely hold 14 clubs in it without tangling (we took 16 and still had no issues). With that said, if you are a two driver person or 3 fairway woods and a couple of hybrids person, it might be a bit of a tight fit. Four well placed pockets including a cooler pocket that held a couple of bottles of water just fine and while you can pack on the poundage with balls and accessories, for a light weight offering, this felt pretty darn good. It is available in Black/Red, Navy/Orange, White/Navy/Red and with a MSRP of $179.99.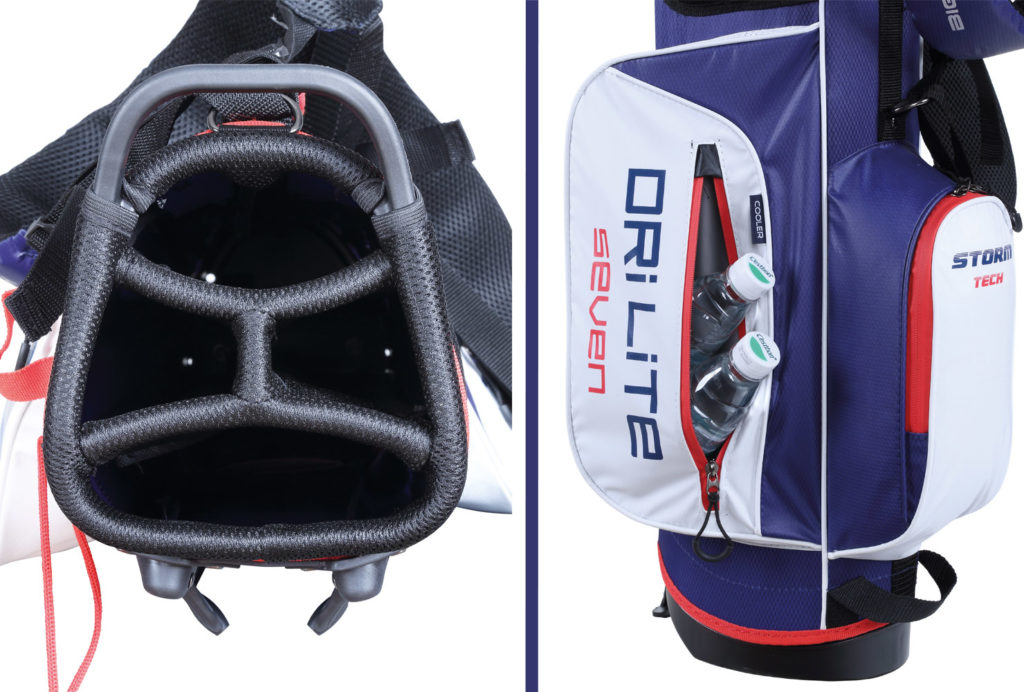 As the brand continues to grow in the North American market, you will see more and more of their items on the course. While most non-equipment company golf bags share a more traditional look, BIG MAX has bold colors and well done placement of pockets with some real innovation in the space. For more information on these two bags or to order one up today, check out their US website at https://us.bigmaxgolf.com.