Last season, THP was able to spend quite a bit of time using a Blast Motion sensor as a way to help practice with a purpose. What I found was that it was an efficient way of identifying some flaws within my putting stroke. After working on correcting those issues, there was a noticeable improvement on the greens, which produced a much more successful putting season than had been achieved in previous years. There has always been the thought that the fastest way to improve one's scores is to make improvements within the short game. While the last generation of Blast Motion focused mostly on putting and full-swing analytics, the newest update to both the sensor and software unlocks golfers to take that same deep dive into dialing in their short game.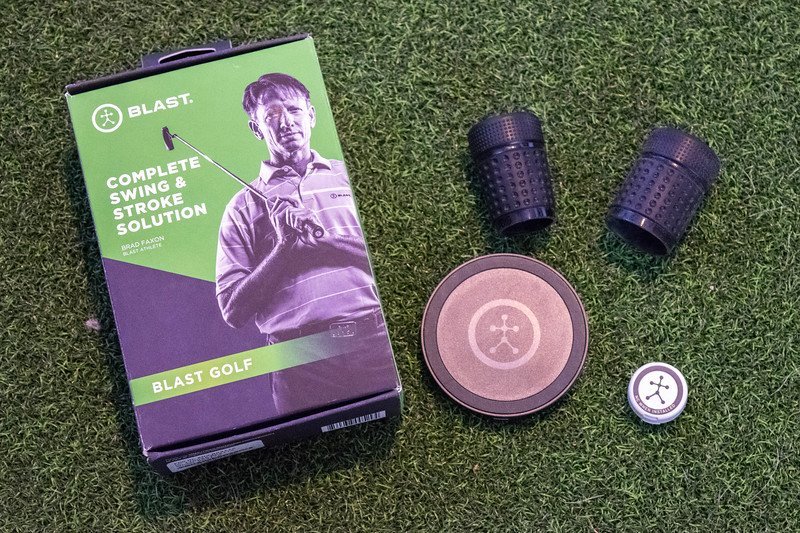 When it comes to app setup, this one is relatively straight forward. Whether you are a new or current user, all that needs to be done is to download the app (unless you already have it), sign in, and connect the sensor on the 'My Sensors' screen. Once the pairing is complete, there is an audible chime that signifies a successful connection. Users will get accustomed to that tone because it also signals that a shot has been captured. As far as the app availability goes, it can be found in both the Google Play Store and the App Store for iOS devices. Here is where things get a little tricky.
On the surface, these apps look as if they perform identically. They both connect easily enough, and while the iOS app looks more appealing, they both offer a friendly dashboard that allows users to view their data. However, one of the significant improvements that this generation of Blast offers is to analyze a golfer's angle of attack. Which if a golfer is looking to dial in their technique with a driver, iron, or wedge, angle of attack can be quite valuable. If you look at the screenshots below, you will notice that this reading, as well as peak hand speed, is missing from the Android version. This absence is a disappointing omission that hopefully will get rectified when the Android app receives an update. Due to that compatibility issue, testing was mostly done on an iPhone.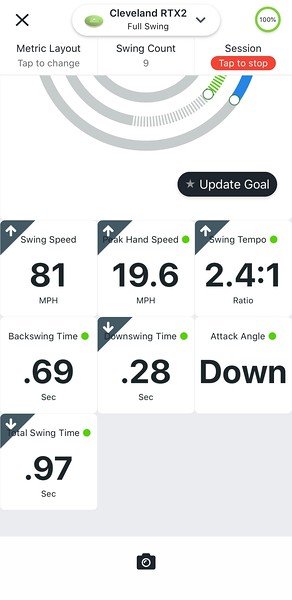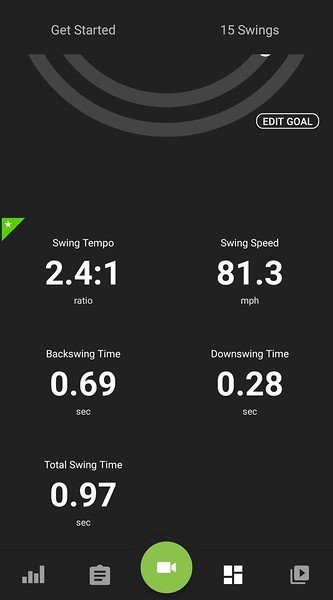 Blast not only made this upgraded sensor 40% smaller than the previous iteration, but they also gave it the ability to catch more data in conjunction with their latest software experience. When in full swing and short game mode, Blast can obtain seven different data points to help golfers practice with a purpose. After hitting a shot, users will get readouts in Swing Tempo, Backswing Time, Downswing Time, Total Swing Time, Swing Speed, Peak Hand Speed, and Attack Angle. Peak hand speed and attack angle are metrics that were not measurable on the previous release, or the aforementioned Android version. We did witness some outliers when it came to peak hand speeds, but for the most part, the measurements appeared to be reasonably consistent.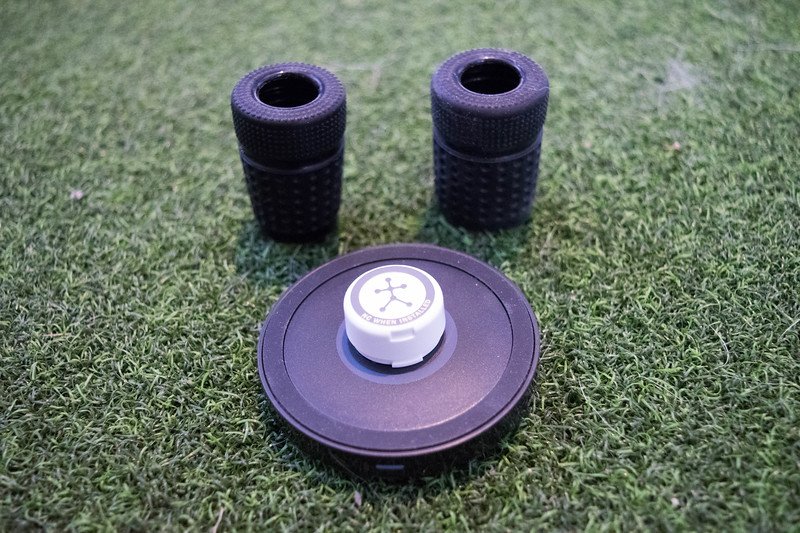 All of those new full swing metrics also work now for shots under 75 yards, which includes pitches, chips, and bunker play. None of that was achievable with the older system. For my game, this is going to be valuable both on pitch shots and in the sand. Unfortunately, thanks to the current state of the word, I was unable to test in a bunker. However, I can see from the readouts achieved on the other short game shots that it will come in handy. Are you someone who rushes your swing when you are in the bunker? Blast will not only point that out to you but get you to focus more on finding a better tempo that works for your game. Just like what was experienced with the putter, find a consistent rhythm and good things will happen. Deeper inside the short game section of the app, users can also find some helpful tips from Brad Faxon, which can help set a specific focus for each session.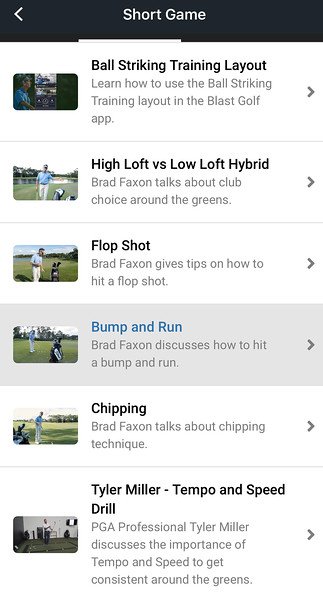 Total short game control also includes the ability to improve your putting. Without completely rehashing last year's review(which can be read here), the experience of using Blast for putting analytics will provide the most immediate improvement. While the experience might vary from person to person, having the ability to use this device in the house gives it an edge over its full and partial shot capacity. One thing that did get tweaked in the putting department is that players can now choose what aspect of putting they are working on before they hit their first putt. Therefore, if you are working on your Speed Control, getting those instant readouts of tempo, backstroke time, and forward stroke time become more important than hearing about your face angle at impact. Face angle at impact and rotational information takes precedent when in the directional training category.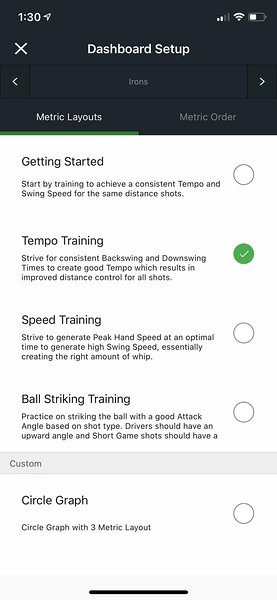 For anyone who has previously tinkered with Blast Motion, one thing that is for sure is that the data that is captured can be invaluable. It doesn't matter if you are practicing your putting stroke, driver swing, or now shots inside 75 yards, Blast can help you gain more consistency in your stoke/swing. At the time of this review, golfers who have the older sensor and are looking to upgrade to take advantage of the Enhanced Full Swing or Short Game modes can do so for only $75, which is a discount of 50%. Also, at this time, Blast is offering a Training at Home program, which will allow new users to get the latest Gen 3 sensor for the same 50% discount. If you are someone who has an iOS device, at that current price, it is easy to recommend. For Android users, all I can say is keep an eye out to see when/if these additional features head your way.
Details:
Availability: Now
Price: Regularly $150
Training at Home Promotional price $75
Upgrade Price $75