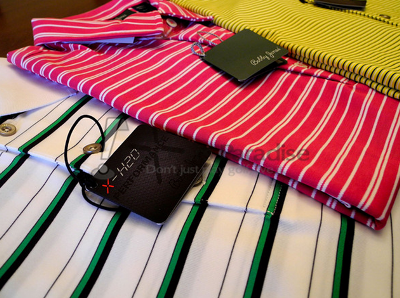 2014 is a big year for the Bobby Jones Company. They are celebrating 25 years of producing high-end golf and leisure apparel, they kicked off a newly revamped website, and with the help of Jesse Ortiz, released some exciting and buzz-worthy equipment offerings.  As a brand long known for staying true to their namesake's classic sense of style, they've managed to build a line of apparel that incorporates class and modern technology.
About Bobby Jones

We believe longevity is a function of character, integrity, respect, consistency and an unwavering pursuit of excellence.  These are very often the words used to describe Bobby Jones, the man, and we are fortunate to have him as our inspiration.  These are also the words we challenge ourselves with every day, in each endeavor, no matter how big or small.   These are the words that we believe will carry us for another 25 years.
As part of the celebration of our 25th anniversary, we've taken great care to bring to you an inspired collection of products.  These products capitalize on technology to deliver a modern and relevant point of view while honoring the legacy of Bobby Jones and delivering on the promise of enduring style.   Our team will work hard to earn your respect, earn your trust, earn your business and just as important, earn your friendship.
Spring 2014
With a complete apparel selection for both men and women, the Bobby Jones Spring 2014 line places an emphasis on colors, textures, layering that should appeal to a wide range of fashion senses.
Watson Stripe Supreme Cotton Polo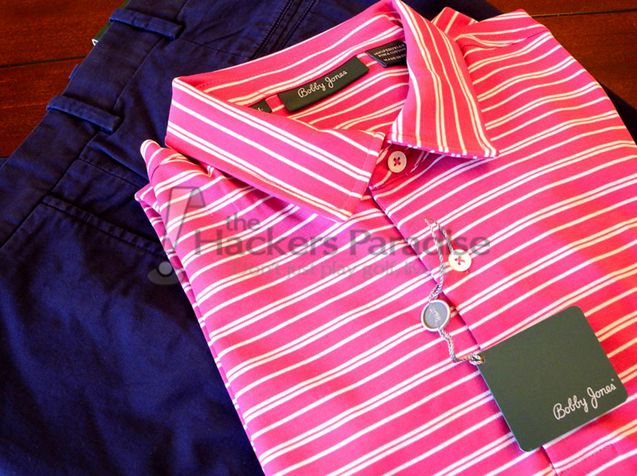 The Watson Stripe is part of our new Supreme Cotton collection.  Made in Peru from the very best long staple pima cotton, Supreme Cotton uses 120's 2 ply yarn knit in an interlock stitch.  This combination of ultra fine yarn and durable construction creates the ultimate cotton polo shirt.  The Watson Stripe is a classic model with three button placket, open sleeves and tonal player embroidery in the placket.  The collar is cut and sewn from the body fabric for a tailored appearance.
A fine Pima cotton shirt should be a staple in every man's closet, and slipping on the Watson Stripe (retail price $89.50) drives that point home immediately. Though some will say otherwise, cotton shirts are most certainly not created equally, and the difference is huge between run-of-the-mill offerings and something like Bobby Jones is offering here.
An almost jersey-like softness to the fabric makes this a shirt that begs to be worn, both casually and on the golf course. The finishing process creates a sheen that makes the color pop, but with a softness and that can really only be appreciated in person. By constructing the collar from the same material as the shirt, the Watson gives the appearance and feel of something that can be worn in a variety of settings, both casual and dressy.
Sizing is your typical American cut, with the sleeve length above the elbows, a solid fit in the chest and shoulders, and a bit more room in the midsection. A wash/dry cycle really made the fit perfect and the Watson was able to be worn both tucked and un-tucked. For a cotton shirt, there was little care needed in the way of ironing and the collar's build helped it retain its shape very well.
XH20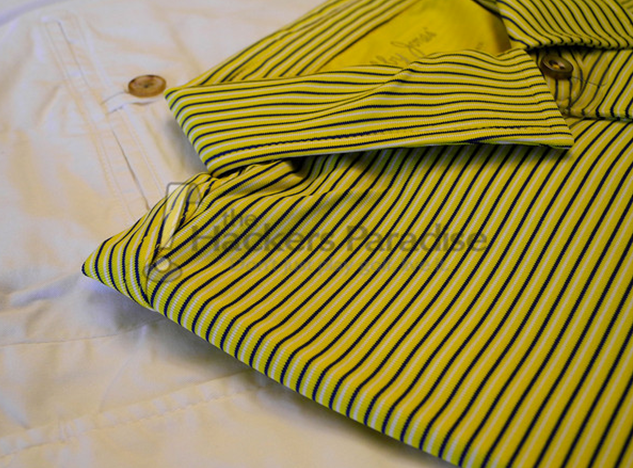 Imagination.  Precision.  Performance.  Bobby Jones XH2O merges performance and style flawlessly.  Our XH2O Micro Stripe Polo is made from a blend of 92% polyester and 8% spandex.  Designed to move, wick moisture, dry fast and above all, be easy to care for!  Style details include cut and sewn tailored collar, open sleeves and a three button placket….but not just any buttons.  Electroplated buttons that capture the ground color of the shirt and mimic the pattern of the golf ball.
Bobby Jones' XH20 polos (retail $79.50 to $85.00) open up the brand to the portion of the market that prefers synthetic fabrics for their moisture-wicking properties. Fortunately, the same classic styling and high quality seen in the the rest of the line remains in the XH20 selections.
Synthetic fabric is obviously popular for good reason, but in many cases it can give off the appearance of being cheap. Details and weaves can change that, and Bobby Jones has managed to do so successfully with XH2O. Though light and airy, the fabrics aren't so sheer that they become almost see-through. In addition, the unpleasant and clingy spandex feeling that some synthetics provide isn't an issue. These are shirts that can be worn both on the course, at the office, or casually.
After sampling both the Micro Stripe and Hook Stripe shirts, it was observed that they also feature an American cut that gives plenty of room to move while golfing. While true to size, those people that are slimmer end of their size range or prefer a form fitting garment may consider sizing down once. For most people however, your normal size will be perfect. Worth noting is that these shirts are made to be tucked in and the length helps avoid those embarrassing situations where a portion of the shirt sneaks out of the waistband.
Small details like the buttons and player embroidery on the placket make the XH20 line something worth talking about.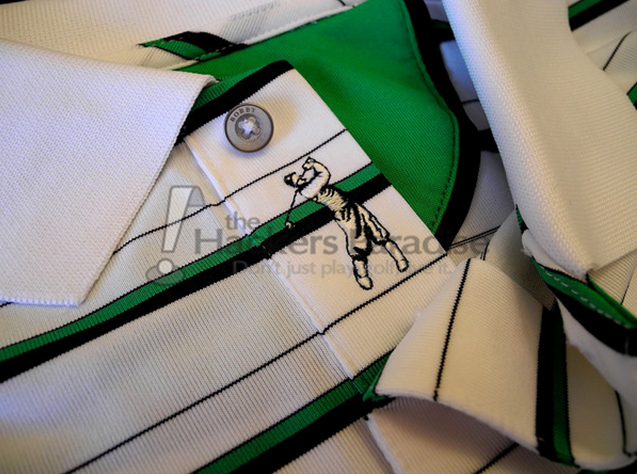 In addition to the polos, there are also layering choices available in the XH20 line, and the Performance ¼ Zip Pullover (retail price $145.00) is a great example.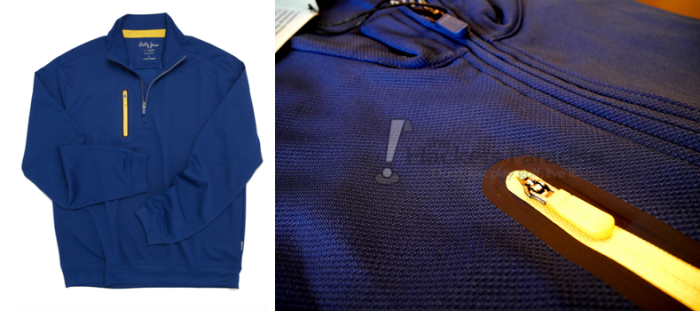 This pullover is absolutely a multifunctional piece of clothing that fits in with a number of situations other than the golf course. However, as a golfing pullover it excelled. Again, details are often the difference between good and great, and the Performance ¼ Zip oozes details. The room in the shoulders allows exceptional range of motion and the lightweight fabric provides surprising warmth down into the 40's without becoming heavy or cumbersome. Elastic sleeve bands keep the sleeves from interfering with the golf swing, and actually allow the user to pull them up without immediately stretching. A zipped chest pocket is the only one on the pullover, and inside is a small cloth for cleaning eye-glasses that is attached to interior of the pocket. For layering purposes, it may be worth sizing up with this pullover, as it allows more room without appearing overly large.
Stretch Cotton Flat Front Short

Available in 12 colors, the Flat Front Short ($95.00) presents a wide variety of options for matching with the bright colors featured in the Bobby Jones 2014 Spring line of polo shirts. With a stretchy and clingy (to keep shirts tucked in) waistband that will be adored by many, these shorts fit very true to size around the waist and hang directly above the knee. A sturdy and heavier construction, the shorts maintain a relaxed look and will last a great deal of time with proper care.
Final Thoughts
With a satisfying blend of luxurious fabrics, eye-catching colors, technology, and classic designs, the Bobby Jones 2014 Spring Line has something that just about anybody can enjoy. As a celebration of their 25th year, this line shows that some styles never get old, though technology and materials continue to evolve. For more information on Bobby Jones apparel, be sure to check out their new website at www.bobbyjones.com.