In the last couple of years we have seen a very committed push from Bobby Jones to become a much more rounded apparel company both by expanding their offerings as well as their general presence within the market. Thus far they have really walked the line of evolving while keeping true to their roots impeccably well, and 2015 is no different.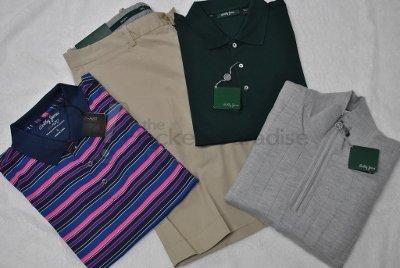 About Bobby Jones:

We believe longevity is a function of character, integrity, respect, consistency and an unwavering pursuit of excellence.  These are very often the words used to describe Bobby Jones, the man, and we are fortunate to have him as our inspiration.  These are also the words we challenge ourselves with every day, in each endeavor, no matter how big or small.   These are the words that we believe will carry us for another 25 years.
As part of the celebration of our 25th anniversary, we've taken great care to bring to you an inspired collection of products.  These products capitalize on technology to deliver a modern and relevant point of view while honoring the legacy of Bobby Jones and delivering on the promise of enduring style.   Our team will work hard to earn your respect, earn your trust, earn your business and just as important, earn your friendship.
XH2O Bunker Stripe Polo:
"The 2015 XH2O performance polo lineup offers a variety unique styles all delivering ultimate water management capabilities and comfortable stretch-knit design to ensure peak performance on the course. Every piece features a blend of Polyester and Spandex for quick drying, UV protection (UPF 15) and an anti-microbial shield. In order to complement golfers' athletic movement during their swing motion, Bobby Jones precisely tailors into the shirts' construction shoulder-to-shoulder stretch taping and incredibly durable performance yarn designed to allow golfers to swing more freely."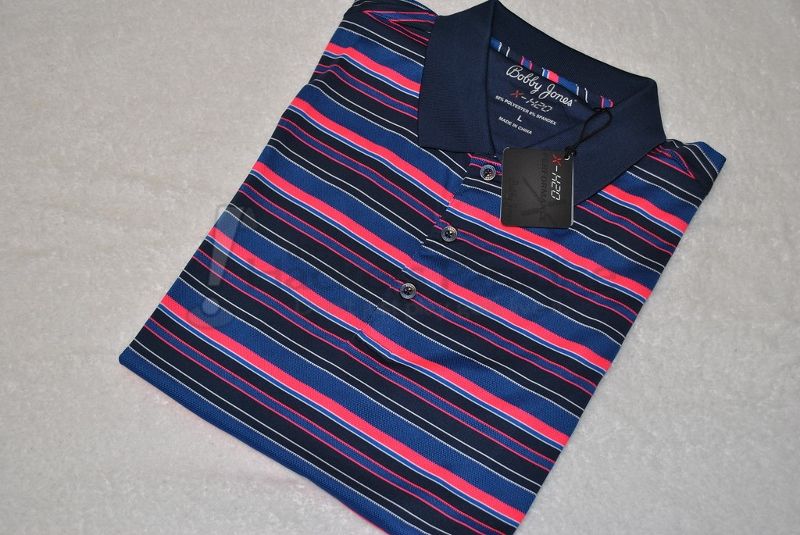 The XH2O offerings from Bobby Jones are definitely more "modern" looking in terms of materials and patterns. The Bunker stripe shirt that THP received is definitely one of their brighter options, but it still works really well both on/off the course and with a lot of different short/pant options. The three button placket fits well with the design and the solid color collar contrasts the body of the shirt quite well by breaking up the brightness just enough.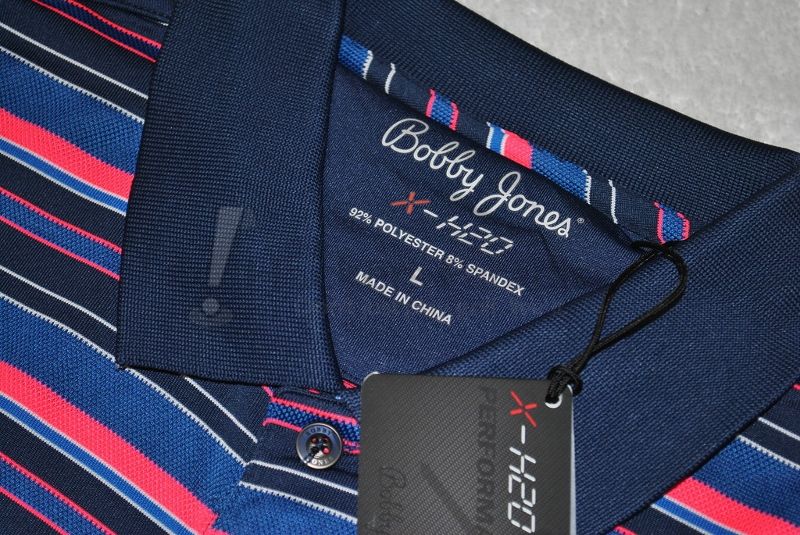 From a fit standpoint, the XH2O Bunker Stripe has an "American" style fit that is true to size but really shines in the shoulders where it lets the shirt sits nicely, making it effective and comfortable throughout the swing. The material is clearly what stands out, as the combination of polyester and spandex do a great job at wicking away the sweat, but more importantly it breathed really well in the high heat and humidity for this reviewer.  As one would expect with Bobby Jones, all of the stitching is excellent quality and the shirt has had no washing issues.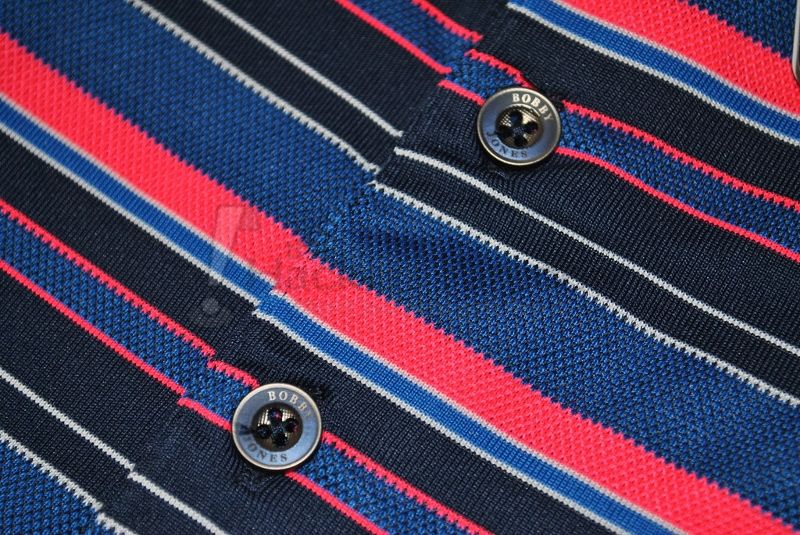 The XH2O Bunker Stripe shirt has a price of $89.00
Solid Supreme Cotton Polo:
"Rethink cotton! Our Supreme Cotton has a soft silky finish, brilliant luster, breathes and washes beautifully. Made in Peru, from 120s 2-ply yarns with embroidered Bobby Jones Player icon in placket. 100% cotton. Pure joy for those who love cotton, comfort and easy care. A Bobby Jones Signature item."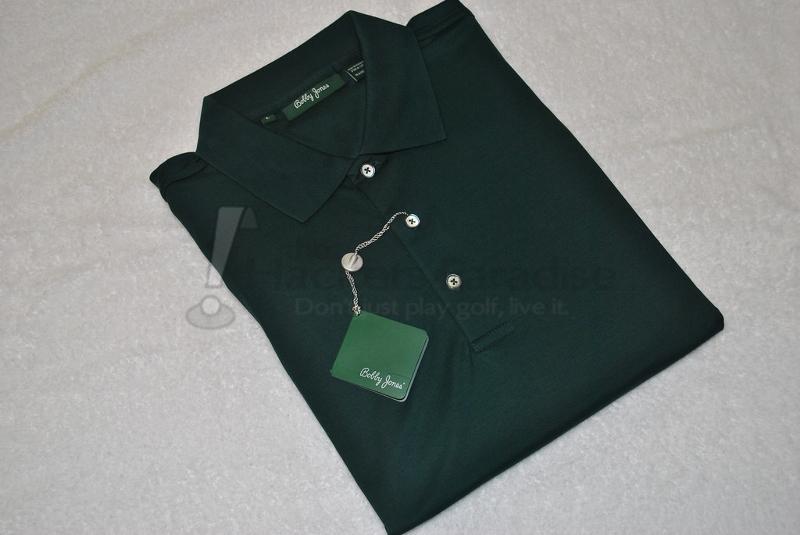 The Pima cotton used in this shirt is a staple for Bobby Jones as an apparel company and really a material that every golfer should have in their closet if for no other reason than its massive versatility. The 120s 2-ply that the company is using in this design is noticeable from the second that it goes on as it offers a really nice balance of weight and comfort. One of the real standout aesthetic traits of the shirt  is that it has a very nice "sheen" to it which lets even the deepest of colors (like the "Pine" color that THP received) stand out to the eye both up close and from a distance. Both on the course and off of it, there is literally nothing about the Solid Supreme Cotton polo's that doesn't scream high quality.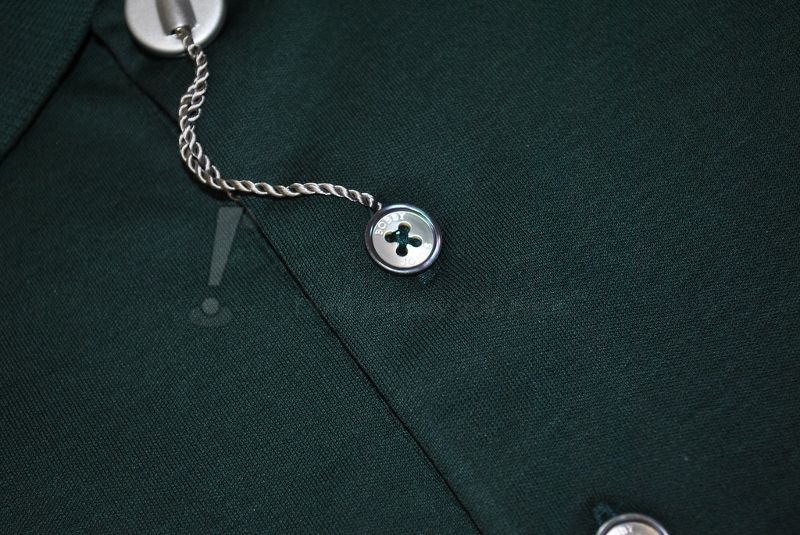 Like other Bobby Jones offerings this is decidedly an "American" style fit without the significant taper that you see in more "Euro" style offerings on the market. Because this one is 100% cotton, keep in mind that it will change in fit/size after washing and drying it, even still the shirt fits true to its size and honestly more comfortably through the shoulders afterwards. Much like with the XH2O offering above, the stitching quality really allows for the shirt to show a lot of durability through wear and washing.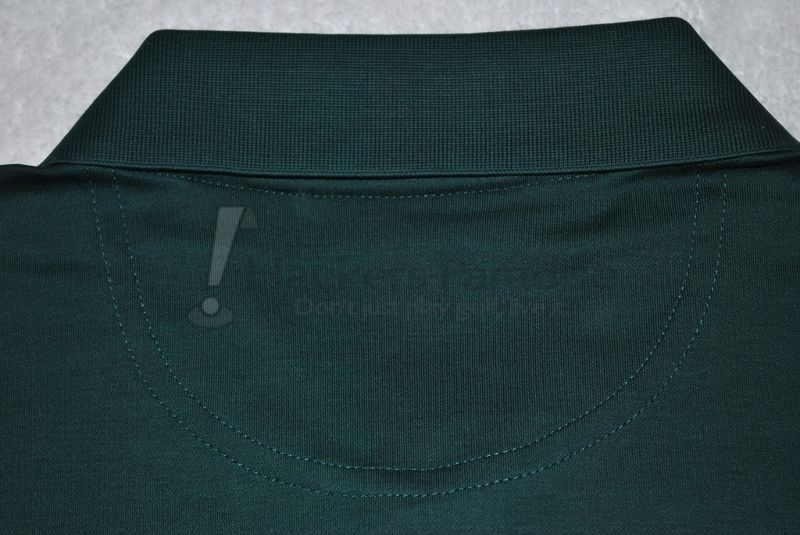 The Solid Supreme Cotton Polo has a price of $85.00
Stretch Plain-Front Short:
"A Bobby Jones signature item. Cotton twill blended for a comfort stretch providing ease of movement and relaxed fit. Garment dyed and washed for a superior, smooth finish. 9 3/4″ inseam."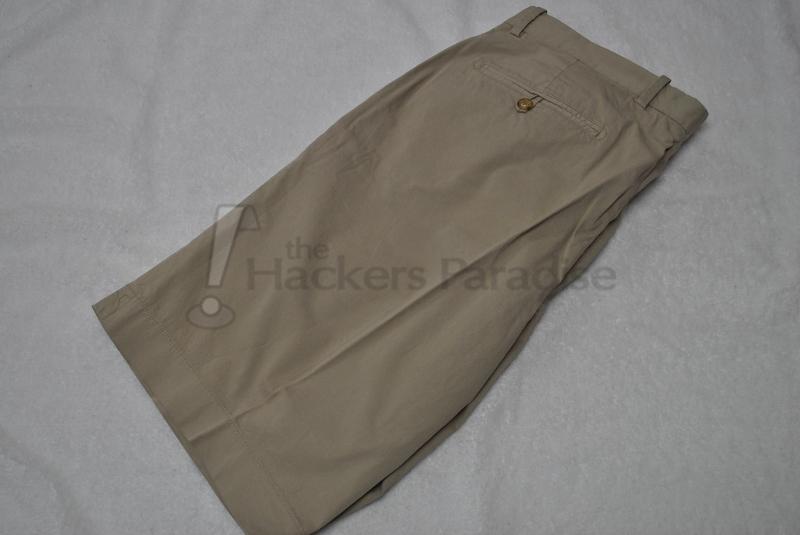 Just like the Solid Supreme Cotton shirt, the Plain-Front shorts are another staple of the Bobby Jones apparel company's line year in and year out and is actually available in 18 different color options which make them a viable option with a plethora of different shirt choices. Two very cool features of the shorts are that they have a waistband which stretches a bit for fit and also does a great job and keeping the shirt tucked in. The overall look is very relaxed with these and it is worth mentioning the somewhat shorter inseam (9 ¾") which is more of a retro fit than the more modern (longer) lengths we are seeing from many companies right now.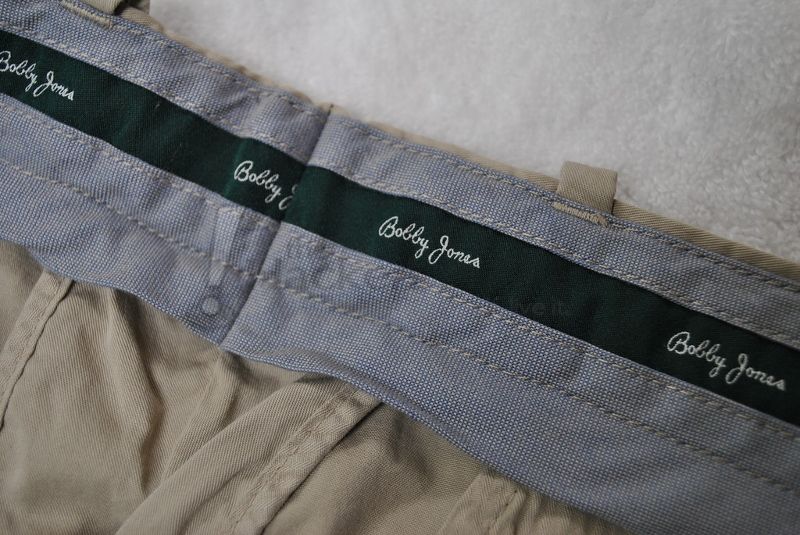 The Stretch Plain-Front Shorts have a price of $95.00
Merino Quarter-Zip Windsweater:
"A 2015 Bobby Jones Signature item in a handsome and functional 1/4 Zip pullover. Lightweight, breathable yet durable merino wool with a drop needle stitch design. Quiet lining inside protects from wind and adds a little extra layering. You'll take it everywhere. Available in a vest model also."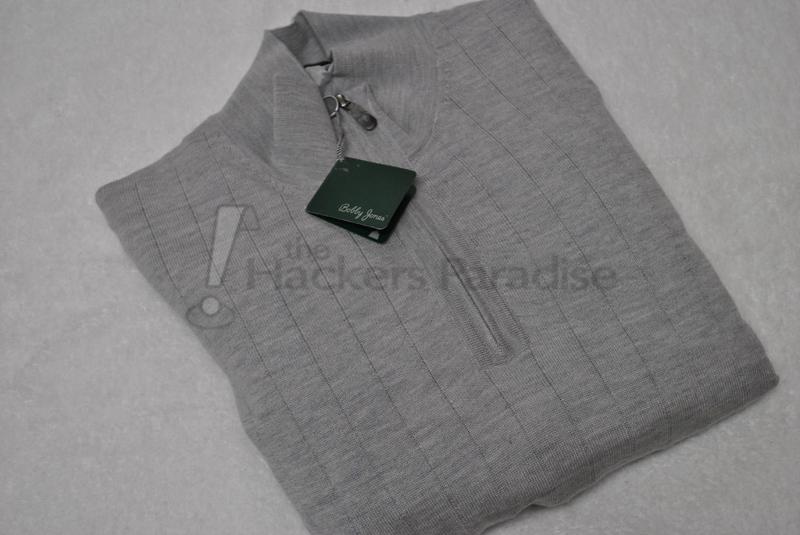 One of the most versatile clothing articles for on and off the course wear as the seasons start to change is a 1/4 zip pullover and this Merino wool offering from the 2015 line of Bobby Jones is truly impressive. The actual material walks a fine line of being lightweight but still providing protection from the cooler winds that we are beginning to see this time of year thanks to the silky and extremely comfortable inner lining of the sweater. The simple drop-stitch striped design really helps this become an article that will go with a plethora of things in terms of pants and shirts.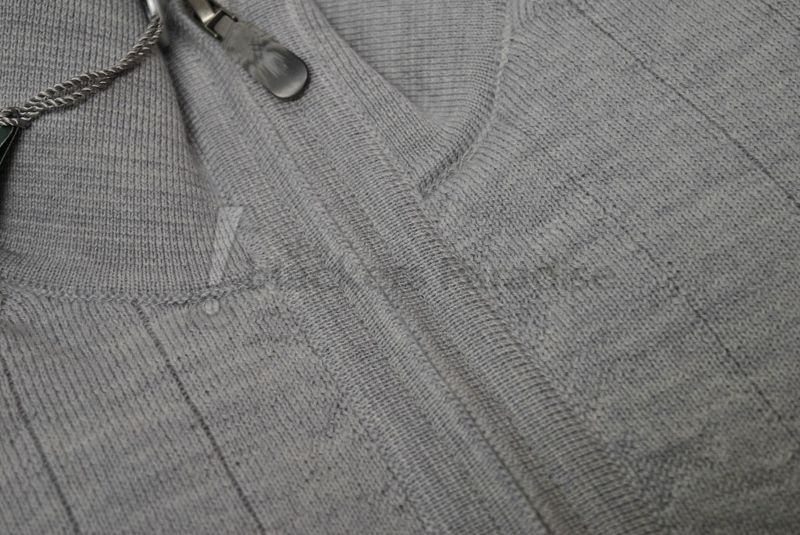 The windsweater fits in an "American" style as with the rest of Bobby Jones offerings, but it does have a bit more "fit" to it through the chest and midsection. The lining is advertised as being quiet and it is definitely that. It did a really solid job of cutting the wind while also not being cumbersome or restricting the swing while on the course. Possibly the most important thing to take into consideration here though is that this is definitely an article which will require a much more delicate touch when it comes to washing, though it's a small price to pay for the look and comfort that you are getting.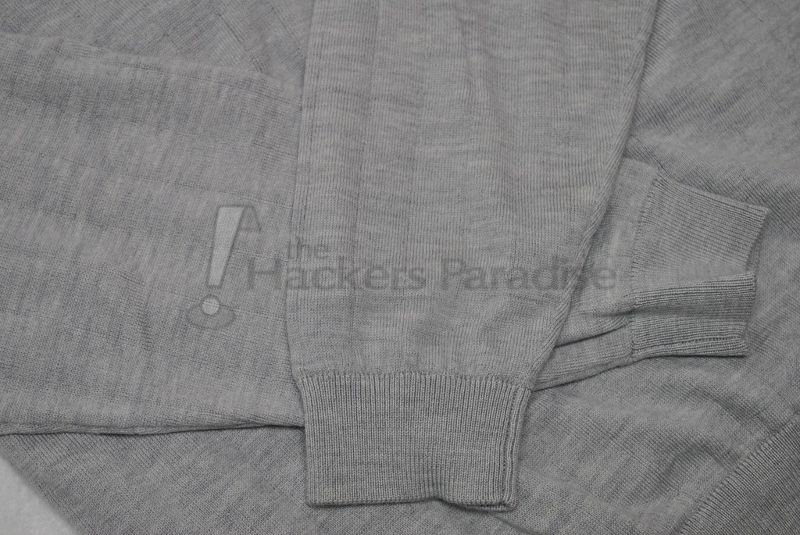 The Merino Quarter-Zip windsweater offering from Bobby Jones has a price of $195.00
Parting Thoughts:
Bobby Jones continues to put out some of the classiest and highest quality designs out there in the apparel market. They continue to walk the line of being classic while still showing the willingness to broaden their horizons with more technical materials and applications. The Fall 2015 lineup definitely has something for everyone and is well worth a look for those looking to expand their closet with high quality articles of clothing that work just as well on and off the course.
For more information on this portion of the Fall 2015 line of apparel as well as all of the other Bobby Jones apparel offerings, check out their website at www.BobbyJones.com.