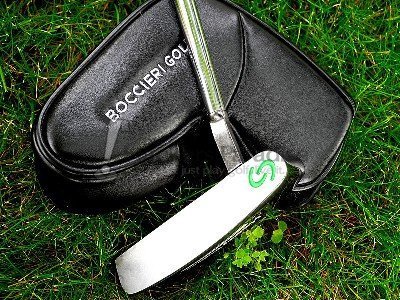 As we see a number of companies offer alternatives to anchored putters in 2013, a small company quietly goes about business as usual. As of a few years ago, Boccieri Golf was really the only company out there actively producing and marketing golf equipment that featured a strong emphasis on back weighting and counter balance. Both of these concepts were not new to the company, but Boccieri certainly embraced them and made a brand around them. I've been reviewing two new Boccieri offerings over the last month, the EL Series putter and the Secret Putter grip. Today I'll highlight the technology these items feature and how they worked for me.
EL (Extended Length) Series Putter
By now, many of you should be familiar with the concept of longer, heavier, counterbalanced putters. We've certainly seen a good number of them hit the market since the announcement that anchoring would be banned in 2016. Boccieri has jumped into the game with their EL Series, which bears some similarities and marked differences to what we've already seen this year.
I won't get into all the specifics of how back weighting and counterbalancing work, but there is a great deal of information available on Boccieri's website if you're interested. The short description is that added weight and a balance point closer to the body should provide stability and allow the golfer to take his or her wrists out of the equation. These are themes that made anchored strokes so popular as well.
I thought this short video by Stephen Boccieri did a great job highlight what the EL Series offers.
Benefits
Pendulum Stroke
The Heavy Putter's overall weight engages the body's larger stable muscles, resulting in a more consistent pendulum stroke.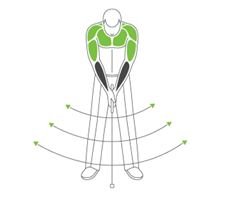 Stable Body
Core Center of Gravity: The Heavy Putter's center of gravity is closer to the human body's core CG, resulting in greater stroke stability.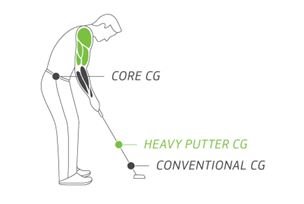 Passive Wrists
Higher Center of Gravity: The Heavy Putter's higher center of gravity reduces force on the wrists.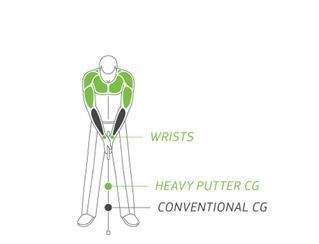 The EL Series putters come in three stock lengths – 36, 38, and 40 inches respectively. These longer than normal putters are not designed for use with an anchored stroke. Instead, they are designed to be used while choking down a few inches on the grip, which leaves a substantial amount of weight above the hands. While most companies are offering a limited number of models featuring this technology, the entire Boccieri catalogue is available, with a staggering 28 different models that vary in shape and weight. Each one comes with a 17 inch grip that allows for some variance in where the hands are placed.
K4-M EL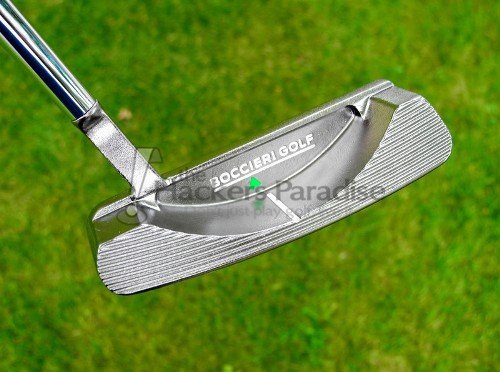 For this article, I tried out the K4-M, from the mid-weight line, at 38 inches long. As noted, this putter is available in standard lengths as well. According to Boccieri, this is "a toe droop blade with a short slant neck hosel and a half-shaft of offset. The putter is constructed of Stainless Steel and has a CNC milled face and is offered in a Black PVD or Bronze Black Nickel finish."
The variety available in the EL Series is one of its biggest assets. I was excited to see this style of head, a personal favorite of mine, incorporate this technology that is becoming increasingly popular. The face, which features subtle milling, compliments a glossy sole that I found very attractive. As seen in the picture below, the 17 inch grip certainly dominates the total appearance of the putter. This is definitely a stick that will be noticed when it's pulled out of the bag. One suggestion I have regarding the grip is for the company to design it with some sort of pattern that enables the user to easily find the same hand position every time. For me, consistency is key in putting, and this would be helpful.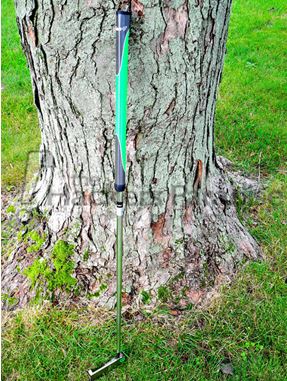 The K4-M EL was noticeably heavy in hand, especially the grip. It lacked a little of the balance that I hoped for, but it definitely had the effect of engaging the larger muscles during the putting stroke. I found distance control to be a fairly easy proposition, but I did struggle a bit with directional control and consistency of contact. It is very likely this was a fitting issue, as I don't normally have those particular struggles.
The K4-M came off as a little blunt at impact, especially off the center of the face. I'd like to try a different head shape somewhere down the line, because I had a chance to try a different offering (not from the EL series) from the company and didn't come away feeling the same way about it. Either way, it did take away from my experience with the putter in ways, so it's something I would love to see improved in the future.
Secret Putter Grip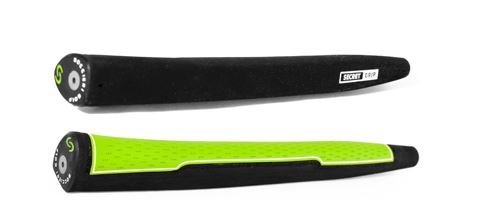 In addition to their prolific putter line, Boccieri is now offering an easy way to realize some of the benefits of back weighting in their Secret Putter Grip. The Secret Grip is oversize (what I'd consider the same as a midsize Winn), weighs 155g, and has a 17g Tungsten back weight. The texture of the grip is a medium-firm smooth rubber with some very light surface pattern on the back side.  It comes in two color options, the green/black pictured above and a gray/black version.
Much like their putters, Boccieri says the Secret Grip:
Provides more stability without anchoring.

Quiets your hands.

Gives better distance control.

Promotes a smooth pendulum stroke.
The Secret Grip is especially exciting to me. It's not only a lower cost way to take the plunge into back weighting, it's something that can be used on any putter, allowing the consumer to stick with a shape or brand that they are familiar with. I am very hesitant to switch putters, so having this type of option available to me is very attractive and I believe others will agree.
I installed the Secret Grip on two putters and tested both on the practice green and during a round of golf. One putter was heavier and the other on the lighter side. I only mention that because I felt like I saw the most favorable results with the combination of the Secret Grip and a 360g putter head. The lighter 330g putter almost seemed as if I'd lost the feeling of the head in the stroke.
I'd go as far as to say that the Secret Grip substantially improved my results with the 360g head putter. This was a flat stick that I had a love affair with visually, but only used occasionally because another one in my collection always performed better. While using the Secret Grip I noticed a marked improvement in my quality of contact, distance control, and consistency with this putter. The larger muscles are definitely called up more with this grip installed. The beauty of the Secret Grip was that I saw an increase in performance, while still being able to enjoy the looks and feel of a putter that was already part of my collection.
Final Thoughts
I'm a firm believer that more options mean happier consumers and Boccieri may be the king of options when it comes to putters. Their catalog was already quite large, and with the addition of the EL series they have essentially doubled it. While I didn't particularly love the feel of the K4-M EL and didn't have the success I'd hoped for with it, there certainly is the potential to find something suitable with such a prolific group of offerings. In addition, the Secret Grip adds an almost infinite number of options by enabling those golfers that are interested the option of exploring back weighting in a way that is both economical and comfortable. For more information on the EL Series and the Secret Putter Grip, head to Boccieri Golf's website, www.boccierigolf.com.