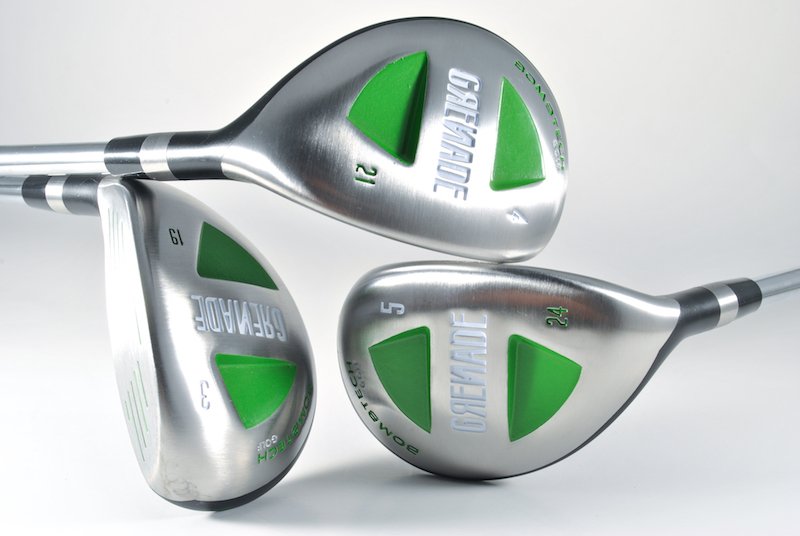 One of the most overlooked aspects of golf equipment is affordability. The problem is that often times a piece of equipment is pre-ordained by people to be inferior simply because of a lower price point, and this is why the bigger manufacturers have a fine line to walk when pricing equipment. Bombtech Golf though, doesn't care about that line. The company is known most for their Bombtech driver which was as close to a disruptor in the driver market that we have seen in some time, part of that was price point and the other their direct to consumer (D2C) approach. The company has continued however, to expand their D2C offerings and most recent is a hybrid set (19°, 21°, 24°) for $147.00, and they were willing to send a set into THP for review.
Bombtech on the GRENADE Hybrid Set:
Here's the deal…
You get 3 premium quality hybrids for less than the price of 1, backed by a 60 day guarantee. How? We only sell online. No retail and no pros means you get more for your money.

So What Do You Get??
You get a 3 hybrid, 4 hybrid, and 5 hybrid:
– 3 hybrid loft: 19°
– 4 hybrid loft: 21°
– 5 hybrid loft: 24°

The Benefits of the Dual Cavity Design
More weight positioned behind the sweet spot
Cavities increase accuracy on off center hits.
Reduction in drag leads to higher club head speeds

Material and Production Advantage
The head is vacuum heat treated to allow for a thinner yet durable face that creates higher ball speeds and better feel. Results are extremely high smash factors on pure strikes as well as mis-hits. Designed for all golfers to enjoy, from off the deck to the tee. More weight was distributed to the sole of the club to make hitting out of the rough and poor lies easier.

Grenade Club Head Specs
Hosel Depth: 34mm
Weight: 232 grams
Loft: 19, 21, 24 Degrees
Face Angle: 0.5*
Size: 140cc
Lie: 57*

Hybrid Lengths:
– 3 Hybrid: 40 inches
– 4 Hybrid: 39.5 inches
– 5 Hybrid: 39 inches
How to best describe these hybrids in-hand? Well, they look like a Grenade golf club. Now, that isn't a smart-aleck or derogatory comment, it's just the truth. The hybrids blend entirely into the same design ideology as the driver and fairway that the company offers. From the matte black crown, brushed metal sole and face, all the way to the dual "cavities" in the sole to shift weight in the design. Is it a good thing? As always, that will be up to the eye of the beholder.  The green is extremely bright and that will be hit and miss for some, but one has to give kudos to Bombtech for keeping with their aesthetic motif, everything they offer blends with everything else.
From a visual standpoint, at address the footprint is more elongated both heel/toe and front/back.  Additionally, the face is much more of a rounded look than we are seeing out there as it seems like most are moving towards that square toe look in hybrids. That face shape is something that might very much appeal to pickers of the golf ball as it lends itself to confidence in that type of attack into the ball, historically.  Also, the face angle is slightly closed which could definitely impact the user depending on if they have a tendency to miss their hybrids left.
Obviously, performance is what everyone reading wants to know about the most. Does a $149.00 set of hybrids stand up to other more mainstream/expensive options? Well, time with these clubs on the course, on the range, and on the Foresight GC2 tells us that it depends on just what you are looking for.
First things first, the Bombtech Hybrids are indeed steel shafted clubs. Now, once upon a time that was very commonplace for hybrids and some out there still swear by that concept, but the times have changed. By going steel, some things had to happen with the design. Bombtech admits, the head weights are lighter and have been adjusted because of the shaft weight, a smart and necessary move. Even with the adjustments to the head weights however, the clubs feel "all there" in hand and have some initial heft to them in the swing, and an impact sound that was surprisingly solid and absent any hollowness. It is also no surprise that this lead to some clubhead speeds that were not as high as graphite shafted counterparts, but there is something more to discuss there.
As mentioned, the clubhead speeds throughout the three clubs were lower than graphite shafted counterparts, in fact, on average it was a 2.1 MPH difference. Some might point to the swing weights being the same, and while that might be true, the steel shaft will still be heavier in hand compared to most "stock" setups out there. Additionally, the ball speeds, launch angle and spin were a bit lower on average, leading to very flat/piercing flight that ranged from what this reviewer would consider mid-low in the 19° to a true mid in the 24°.
All that said, the Bombtech hybrids did have a performance aspect that stood out during review. Just as suspected entering the review, they proved to be quite accurate. With the overall flight, the spin rates, and the weighting placement in the design (though how much the dual cavities do here compared to the larger driver where Bombtech originated the design is up for debate) provided repeatability. The slightly closed face angle did lead to a more right to left ball flight, but it honestly might be something those seeking out the affordability of these hybrids may benefit from. Misses on the toe side didn't have the "snappiness" to them in terms of right to left gear effect, but the ball did move directionally there still. On the heel, things were the most penal, but given the face shape and amount of mass in that area, it was a bit expected. Regardless of anything else, they were consistent, and that will shake up a lot of preconceptions.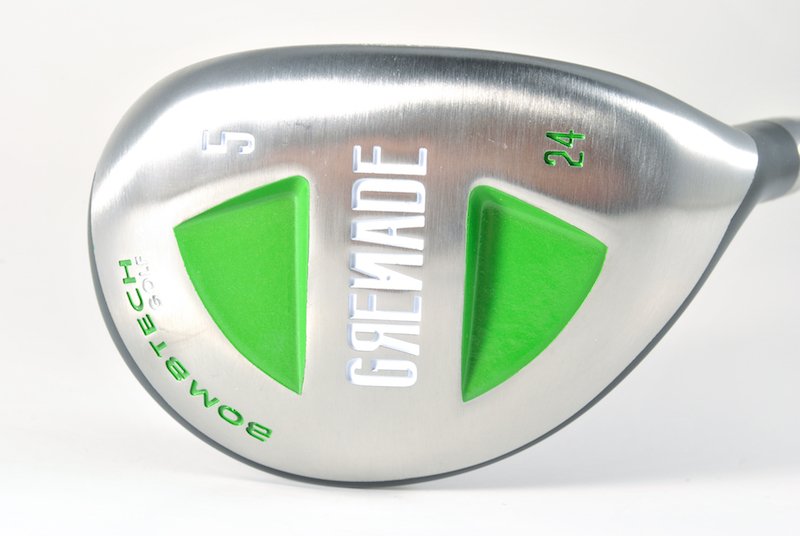 Parting Thoughts:
No, the Bombtech hybrids are not revolutionary. No, they are not the longest or the highest launching. However, that also isn't what they are trying to be. They, like all of the other direct to consumer cut out the middle man business models in the golf industry, are trying simply to produce an affordable and playable option, and that should actually be respected. Golf is expensive, and that fact turns off a lot of people, so anywhere that an option can be provided for the people who want something new that will make them enjoy their time on the course and range can be found, it's worth acknowledging.
More on Bombtech and all they offer can be found at their website, www.BombtechGolf.com.