Recently, it seems like there are many straight to consumer golf brands getting a lot of attention, although most of those companies tend to deal with the golf ball. Bombtech Golf is one that is using a similar model, only with a full line of clubs. You won't find Bombtech on the PGA Tour, or even a commercial while watching the best in the world play, but for those who frequent social media sites, Bombtech's message is passed along through those channels. Four years after the initial release of the Grenade driver, Bombtech has released the Grenade 2, and sent one in to THP for a review. Get ready folks, it's time to pull the pin!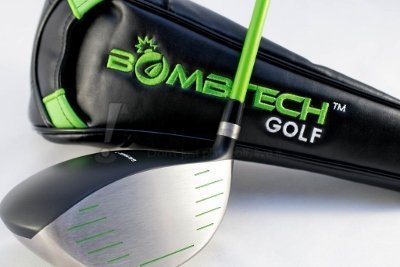 From Bombtech
After 4 years of feedback from our original Grenade driver, it is finally time to release the BEAST. Grenade 2 is here and ready to give you more confidence off the tee. The original dual cavity design was engineered with the University of Vermont capstone project in 2012-2013. This aerodynamic design was created to break up the airflow and reduce drag.  Could our new design be even more aerodynamic?  
The University of Vermont engineering students found that Grenade 2 had a 50% increase in aerodynamics over the original version. In addition, the new cavity profile positions the CG slightly deeper and lower, this will give you more vertical hitting area for launching high and low spin drives.  
| | |
| --- | --- |
| Face Material | Ti-1188 Hardened Titanium |
| Head Weight | 199 grams |
| Face Angle | 1 closed |
| Size | 450cc |
| Lie | 59 |
| Dexterity | RH Only |
Shaft Specs
| | |
| --- | --- |
| Driver Length | 45.75" |
| Launch | Mid-High |
| Torque | 3.8 |
| Kick | Mid |
| Weight | Senior 50g, Regular 52g, Stiff 54g, X-Stiff 56g |
Tech Talk       
Even though the Grenade 2 lacks a lot of visual technology that players have become accustomed to over the years, there is one design feature that certainly stands out, and that is the dual cavity sole design. According to Bombtech, this sole design offers multiple benefits to help enable this driver to deliver optimal performance. As consumers, we often hear companies talk about saving or shifting weight around in a clubhead in order to manipulate the center of gravity and alter the launch and spin. By creating two cavities on the sole, the Bombtech R&D team is able to assemble more weight in line with the center of the club face, as well as saving some for the perimeter which should help increase performance on off-center hits.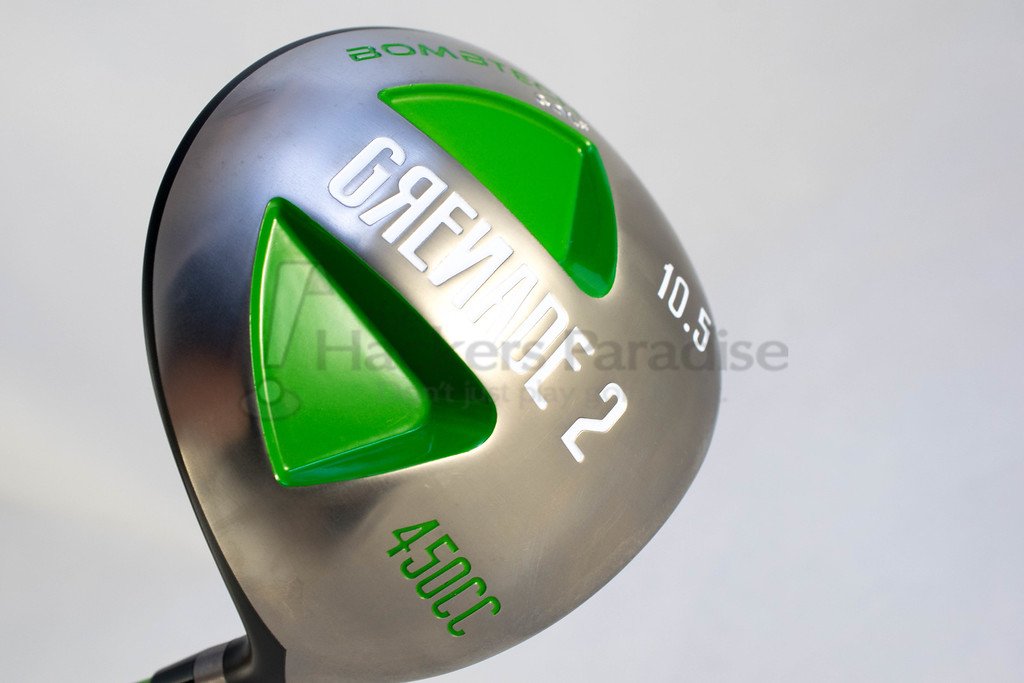 Not only does this dual cavity design work in the ways mentioned above, but it also helps with the aerodynamics of the club. According to the Univeristy of Vermont, the tweaks in the configuration of the sole and dual cavity design have made the Grenade 2 driver 50% more aerodynamic than the original Grenade driver. There is a video on the Bombtech site which shows both driver heads in a wind chamber, and the Grenade 2 is notably less shaky than the original version. On the course, it was hard to say how much this design actually effects a players swing, as testing did not show a big jump in club head speed. 
On The Course
As was expected between the shaft, head design, and loft option, the ball flight that was produced with the Grenade 2 was an overly high shot. Teeing it up with several players who have a mixed set of natural shot heights, they all saw a consistently high ball. Golfers who favor a low spin head will probably not get optimal numbers with the stock setup, as the Grenade 2 head plays more as a middle to high spin head. On the contrary, low spin players can use the assistance of such a head design, and this proved to be the case on the course as the most success came from those who did need a touch more spin and launch from their current driver.
With the Grenade 2 producing a combination of high launch and higher spin, it continuously came up a bit short when comparing yardages to other drivers. But as with every driver on the market, a player's mileage will vary depending on fit. Being that the first generation of the Grenade had a reputation for being really long off the tee, there was some curiosity to seeing how this would perform in that department. Ultimately, like a strong majority of the drives hit with it, it came up a tad short.
Finding the right shaft can, at times, seem like an endless maze, because there is no industry standard in terms of shaft flex, and shafts feel and perform differently from person to person. As part of their marketing for this driver, Bombtech has stated that this shaft is more stable, features lower torque, and can help provide more confidence while golfers are swinging hard. Unfortunately, during our testing, the shaft in the Grenade 2 became a big topic of discussion, and it wasn't necessarily for positive reasons. As was mentioned, there is no industry standard in terms of flex, and the shaft that was received for testing was labeled stiff. Every person who gave this a swing mentioned how it seemed to play weak to flex. Not only did it feel weak to flex, but when it became time to really unleash on a driver, there were many comments about how difficult it was to feel the head throughout the swing, causing some shots to go astray. Just a word to the wise, golfers who tend to play in between flexes, it might be best to go up a flex for this shaft.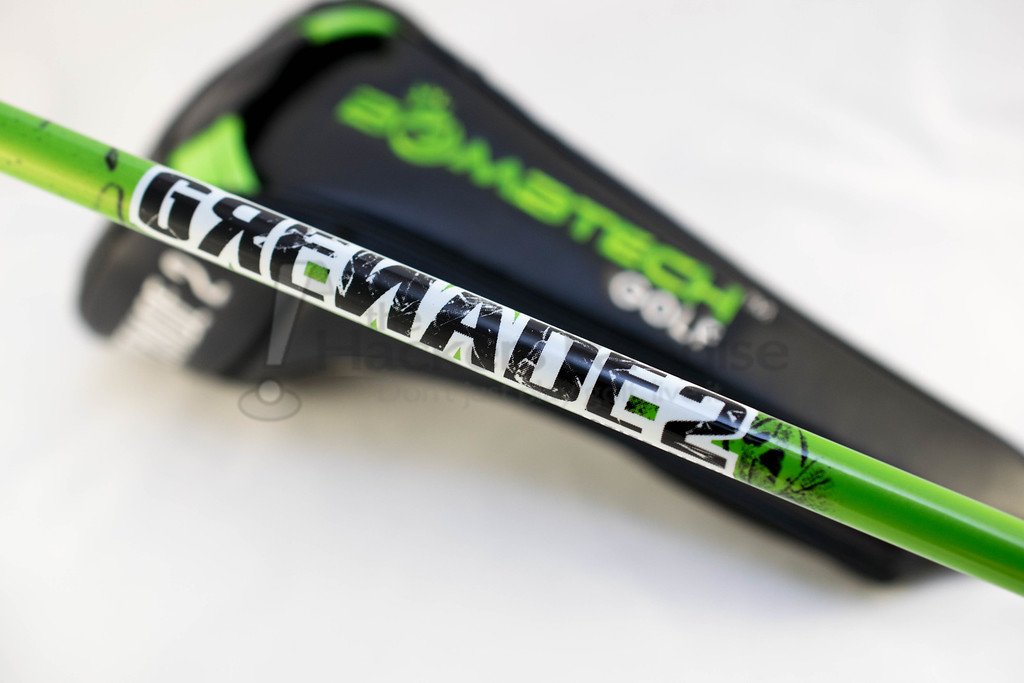 There was one area in which this driver outperformed expectations, and that is the sound. With a name like Grenade, there was a certain anticipation that it would produce an overly boisterous bang, although in reality the sound was a little less noisy, and in fact, quite pleasing. Truth be told, the sound might be the best part of the driver package, and while some might take that as a slight, just think of all the companies out there that tend to struggle to find a driver that wins the audio battle. Bombtech has done that with this, and it should be a nice moving point for the company going forward.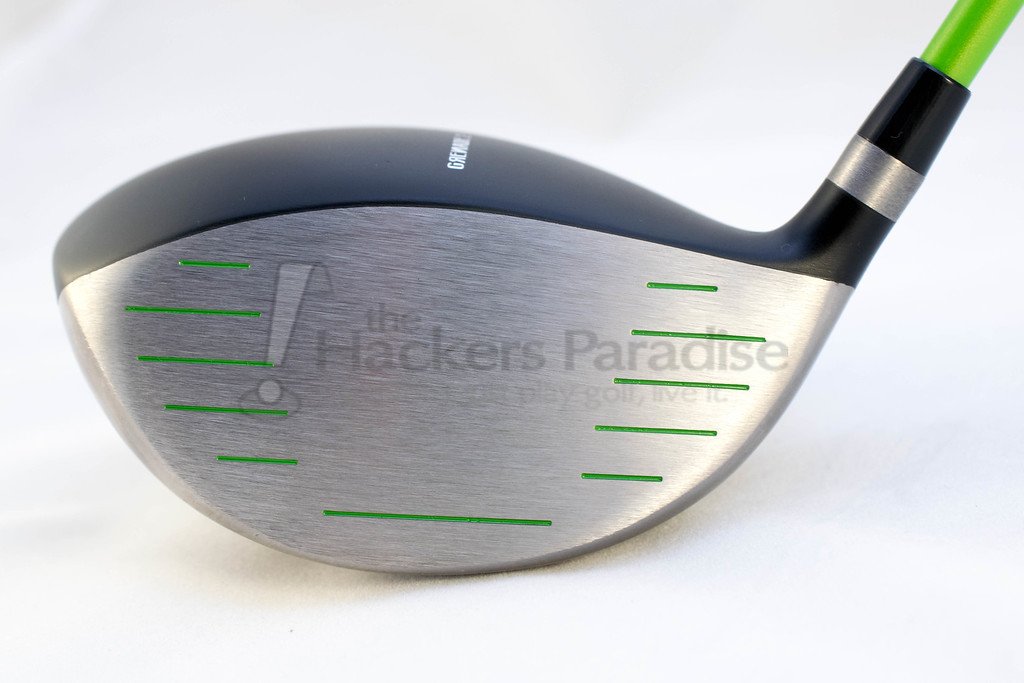 Conclusion
So after all of this, where does it leave the Grenade 2? Honestly, it might not be completely fair to compare it against the headline releases from other major manufacturers, however that is seemingly what Bombtech wants. One main take away from their website is that consumers will not find a better performing value on the market. While the performance was not necessarily there for all of our testers, the value is somewhat of an interesting point. At $297, the cost of the Grenade 2 is where driver costs were a handful of years ago, and often times if one follows Bombtech on social media, there are many deals running where an addition fairway wood is included in the price, or a coupon code that will help golfers who are searching for an economical purchase. In that respect, it does hit the cost-effective sweet spot for someone looking to get in to golf, and perhaps get two clubs for the price of one. Backed by a 60-day guarantee, Bombtech hopes that golfers are willing to take a low risk chance on their products. More information on their product line, including the Grenade 2, can be found at www.bombtechgolf.com.