This is a press release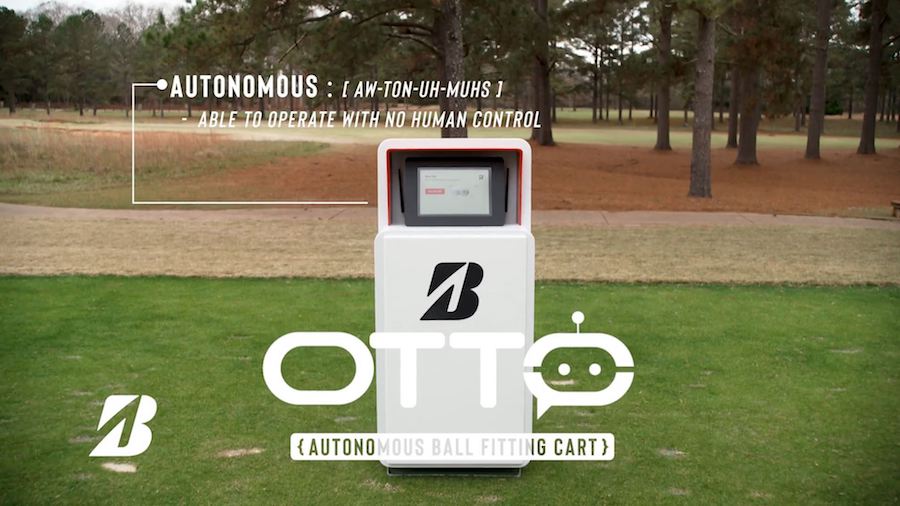 Bridgestone Golf, the #1 Ball-Fitter in Golf, today introduced OTTO (Autonomous Ball Fitting Cart), the latest in golf ball fitting technology. Designed to be both engaging and entertaining to use and informative at the same time, OTTO provides yet another easy way for players to find the right Bridgestone golf ball for their game.
"The genesis of the idea for OTTO was to bridge the gap between entertainment golf and on course golf," said Dan Murphy, President and CEO, Bridgestone Golf. "Currently there are over 25 million golfers who participate in non-traditional golf, meaning at off course entertainment venues or on simulators. As the leader in golf ball fitting, we feel a responsibility to make sure players continue to be excited and engaged while also having the ability to choose gear that best suits their game. With OTTO'S innovative design we've developed a great way to do it."
When it comes to golf ball fitting, Bridgestone has unrivaled qualifications, with over 15 years of experience in the category and over 3 million fittings on record. That experience led to the creation of OTTO, which looks and talks like a hi-tech robot but is as simple to use as a basic launch monitor. Stationed on a driving range, OTTO requires no more than a touch of the screen to get started, indicating your current gamer, and three driver swings to come up with a sound recommendation of which Bridgestone Golf ball is right for you. With each shot, OTTO provides carry and total distance, ball velocity, spin rate, and launch angle. After three shots, OTTO will audibly tell you which ball best fits your game based on your shot data. Players can feel confident with the recommendation as Bridgestone engineers utilized a wealth of ball fitting data to develop the algorithm used by OTTO, which is reliable and accurate every time.
"Bridgestone Golf took the lead in ball fitting many years ago and has consistently focused on developing processes to help all levels of golfer find the right ball for their game," said Adam Rehberg, Ball Fitting Manager, Bridgestone Golf. "We offer in-person fittings, online fittings, video fittings, and now OTTO, an autonomous fitting cart, which nobody else has even begun to develop. With so many options we feel confident we can fit anyone and do so in a way that is comfortable, convenient, and effective."
Maybe the best thing about OTTO is that it offers an alternative to one-on-one sessions with a professional fitter or an impersonal fitting on Bridgestone's website. All of these methods work but for some players an in-person fitting can be uncomfortable and for others an online fitting isn't in-depth enough. OTTO is perfect for both groups as it's simple and entertaining to use.
For more information about the new OTTO Autonomous Ball Fitting Cart, locations where it can be found, or Bridgestone's other fitting options including V-FIT, live fittings, or the self-fitting App, please visit bridgestonegolf.com.