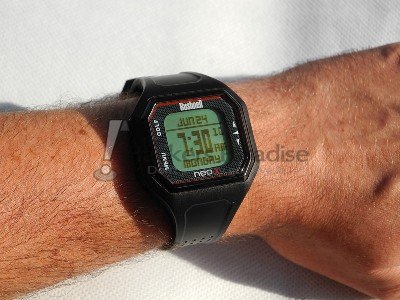 Last summer, THP reviewed Bushnell's Neo+ GPS Watch and found that it delivered on its promise of simplicity, accuracy, and long battery life.
A year later, Bushnell is introducing its most recent version of this easy-to-use device, the Neo-X GPS Watch. They have added some new features and streamlined the look. THP was asked to try it out and I'll be sharing my thoughts on it today.
Neo-X GPS Watch Product Information from Bushnell
The next generation of Distance Made Simple™golf products.
This is the lightest and thinnest Golf GPS Watch in the world.
Long battery life – 50% better than the nearest competitor.
Preloaded with over 30,000 courses. No downloads or membership fees ever.
SmartRound Score Improving Features
Auto Hole Advance
Auto Course Recogition
Preloaded Hazards
Shot Distance Calculator
Round Odometer
Additional Features
Thin, lightweight with simple to use operation
Stopwatch, Timer, Odometer
Long Battery Life – over 3 rounds between charges
Tee Time Start & Auto GPS Off
Posi-Lock Clip for easy charge or course updates
Legal for tournament play
What's New?
As mentioned above, Bushnell added a few more features to the Neo-X. Here's a brief description of some of them and how they work.
Preloaded Hazards

The addition of distances to hazards and lay-up points is an extremely valuable addition to the Neo Watch series, calling on the vast iGolf library. While simplicity is invaluable, having basic information to avoid hazards is a great help to many people.

 Lighter and Thinner

While I found the Neo+ quite comfortable and inconspicuous during the golf swing, the Nex-X is thinner and even less obtrusive.

Tee Time Start

This is a pretty cool little feature, which may help you save time on the first tee. You can program the day and time of your future tee time into the Neo-X and it will fire up the GPS seven minutes prior to the start of your round. If you are anything like me, you've probably spent a few feverish minutes trying to get your GPS set up in the morning when you could have been working on the practice green.

Auto-Off

This feature enables you to program the amount of time your round of golf should take, with the GPS deactivating at that time to preserve battery life. In the event your round is taking longer than expected, there is an option to 'snooze' the auto-off feature for 1.5 hours.

Longer Battery Life

One of the best features of the Neo+ was its excellent battery life. The Neo-X adds to that, with an astounding 15+ hours of playing time, surely enough for three rounds of golf, if not more.
Aesthetics and Set Up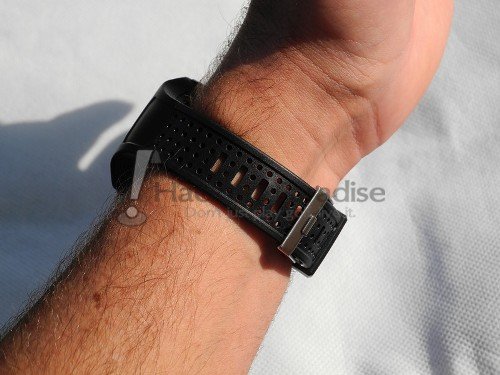 The Neo-X has a slightly smaller profile than the first generation Neo+, but for the most part they are very similar in size. The best way I could describe the size is to say that it is slightly larger than a normal wrist watch. The Neo-X is a little thinner than its predecessor and the ends have been tapered more, taking away some surface area, both being improvements that were appreciated. Another change to the Neo-X is a redesigned wristband. There are a number of holes added that will promote a little more airflow, something that came in handy during a recent round in hot, muggy weather.
I know that there are people out there that balk at the idea of wearing a watch on the golf course, but I can say that I was never distracted or uncomfortable while wearing the Neo-X. The rubber casing and wristband provide both comfort and a secure fit, while the light weight of the watch made it unnoticeable to me until I needed a yardage. Obviously, we will all be different in that regard, but I never thought of the watch while taking a golf swing.
Bushnell has made setup even easier with the Neo-X. It's truly an item that you can take from the box to the course, involving no fees or registration, though charging completely before the first use is recommended. Charging is very simple, and involves hooking up an included cord to the watch and plugging it in, either into a USB port or a cell phone charger wall adapter. I think it took around 30 minutes to top off the battery before my first use. Regardless, the only set up that needs to be done is putting the watch on your wrist and possibly adjusting the time, which can be done automatically via GPS. For updates, there is an easy to follow set of instructions that involves hooking the Neo-X up to your computer with the included cord and accessing iGolf.
Performance and Convenience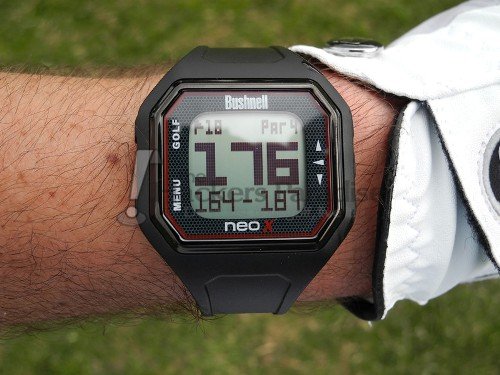 Convenience really is the key selling point of the Neo-X and it exhibits that from the moment you begin using it. When at the course, you simply press the "Golf" button to access the menu that allows you to start a round. From there, the GPS will search for nearby courses and allow you to make the proper selection. An item to note is that the GPS will take longer to lock on the first time you use the Neo-X (and if it's been a long time since you've used it), but after that it works quite fast. As an added convenience, you can set the Tee Time feature in advance, so you don't have to do anything other than strap it on and play.
From that point on, user interaction with the Neo-X is minimal. A quick look shows distances to the center of the green, along with front and back locations. As noted before, distances to and over hazards are also available now and accessed with one click of a button. Bushnell's user manual has a full list of all the different types of hazards that can be displayed and their corresponding abbreviations. This may be the best new feature of the Neo-X and I found it quite useful on the golf course. The shot distance measuring feature also appeared to work flawlessly and is easily accessed by one push of a button.  While riding in a golf cart I saw the correct distance display within seconds of stopping and didn't find any issues with inaccurate numbers, which I verified with a laser range finder. The Neo-X is backed by iGolf, which THP has found to provide accurate distances in the past.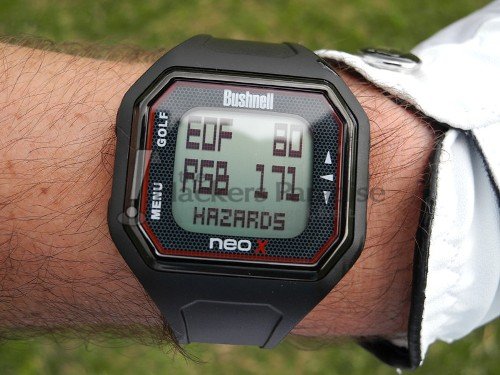 Due to auto-hole-advance capability, going to the next tee box doesn't normally require any intervention. However, if the Neo-X doesn't switch to the next hole for some reason, there is an improved manual-advance process. Rather than accessing a menu, which was the Neo+'s method, the Neo-X only requires a quick push of the arrow button on the right side of the watch to advance to the next hole. Again, a small improvement that was greatly appreciated during a round in which I skipped around the course due to some weather related hole closures.
One of my favorite things about the Neo+ was its outstanding battery life and the Neo-X follows in its footsteps. Bushnell actually says that it's slightly longer-lasting at 15 hours and I can't dispute that from my testing. I was able to play multiple rounds between charges and never once came close to draining it completely.
Final Thoughts
I think one has to experience it to believe it, but I haven't found a more convenient distance measuring device than a GPS watch, and the Neo-X is a very good one. As a golfer that walks 90%+ of my rounds, having quick, convenient and portable access to a GPS is something I greatly appreciate. While the Neo-X lacks things like a graphical interface, scorekeeping, and a touch screen, my primary need has always been a fast, accessible distance to the green. The addition of hazards, without sacrificing simplicity, really completes the package as far as providing enough information for me.
While some people may presume that a watch like the Neo-X is cumbersome for golfing purposes, I do think the majority of users would find that it's almost unnoticeable after a few moments. The comfortable materials and light weight really made it melt in the background until I needed a number.  The new features, in addition to the remarkable battery life make it a product that I could safely recommend to any of my golfing friends.
The Neo-X GPS Watch comes with a MSRP of $199.99, though it can be found for substantially less at certain retailers. For more information, you can go to www.bushnellgolf.com.