Last year Bushnell came out with the new Tour V3 rangefinder with what they called JOLT technology. It was a simple vibrating pulse letting you know you were locked on to your target. You can read the full THP review of that game changing device here.
Today Bushnell is announcing its smallest, most technically advanced golf laser rangefinder – the Tour Z6 JOLT. With its ultra-compact size and increased power, the Tour Z6 JOLT has been engineered with new JOLT Technology and 2nd Generation E.S.P. (Extreme. Speed. Precision) technologies.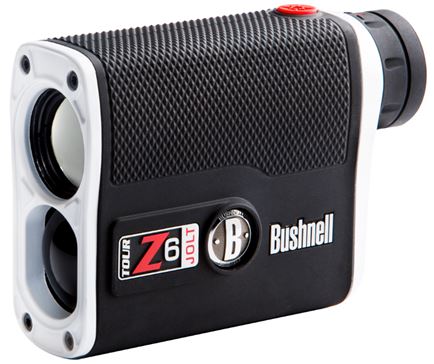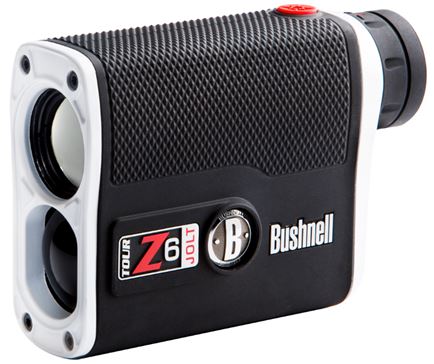 Also new to the Tour Z6 JOLT is 2nd generation E.S.P (Extreme. Speed. Precision) Technology. 2nd Generation E.S.P. provides yardages five times faster and more accurately than ever before. Not only has the acquisition speed been increased to a lightning fast level, 2nd Generation E.S.P. provides ½ yard accuracy from 5-125 yards, and the distance is displayed to 1/10th of a yard. Having more accurate laser distances enables the golfer to strategize and hit every approach shot with confidence.
The ultra-compact Tour Z6 JOLT also features Vivid Display Technology. Created specifically for Bushnell's premium rangefinders, this optical enhancement improves contrast, clarity and light transmission dramatically for enhanced use. The brightness of the digital readout information has also been increased, providing rapid and positive yardage acquisition in all lighting conditions. It is simply the best heads-up projection display on the market.
As with all Bushnell rangefinders, the Tour Z6 JOLT provides instantaneous measurements in yards and meters with incredible accuracy to any target on the course. The Tour Z6 JOLT boasts 5-1,300 yards ranging performance, including 450+ yards to the flag and is legal for tournament play (all Bushnell laser rangefinder models, except the Bushnell Pro X7 Slope and Bushnell Tour v3 Slope, are legal to use when USGA rule 14-3/.05 is in effect).
Product features include:
• PinSeeker with JOLT Technology
• Accurate to ½ Yard
• 5-1,300 yards ranging performance (450+ yards to a flag)
• Vivid Display Technology (VDT) for all lighting conditions
• 2nd Generation E.S.P. (Extreme. Speed. Precision.)
• 6x Magnification (objects appear 6 times closer)
• Premium lens coatings for superb optical quality
• Rubber armored metal housing
• Posi-Thread Battery Door
• Waterproof
• 3-Volt Battery and Premium Carry Case included
The Tour Z6 JOLT will be available at Bushnell retailers nationwide beginning in February, with a retail price of $399.