As a consumer you have to love when a company takes notice of what we want and actually uses that information to everyone's advantage. There was a time that Callaway had some of the best wedges on the market, with the original X-Forged wedges and those infamous Mack Daddy grooves, but then something happened. Along came designs which left many shaking their heads of how a company could take a favorite design and completely change it. After all, we didn't see others doing it. Last year was a solid step back to their roots with the Forged line, but for many it still wasn't quite right. So, Callaway decided to do something big. They let Roger Cleveland loose to create their latest wedge and the Mack Daddy 2 (MD2) wedges were born. Is it a step in the right direction for one of the hottest companies around? Let's take a look.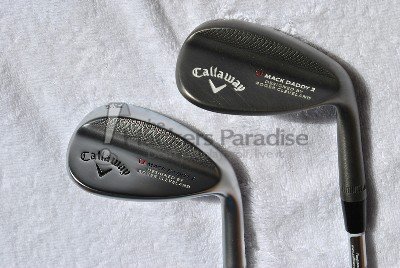 Callaway Golf on the Mack Daddy 2 Wedges
5V Groove Pattern

39% larger grooves provide more spin and control from all lies and distances
Creates 25% more spin than previous model
Micro Groove Pattern

Increased surface roughness and laser milled micro grooves provide more clubface-to-golf ball friction for higher spin out of all lies and from all distances
Pre conditions the face to add surface roughness after the micro grooves wear off
Tour-Inspired Shape

 Created by Callaway Chief Designer Roger Cleveland
Inspired by feedback from Tour, Roger Cleveland has designed a wedge with all the attributes preferred by Tour Players
Forged from 1020 carbon steel for soft feel
Custom Sole Grinds

C –Grind

-Relief is ground out of the heel and toe, which enables golfers to lay the face open while effectively reducing the bounce angle. This allows for proper contact and maximum spin and control.

U Grind

– Inspired by short game wizard Phil Mickelson. This grind increases the dynamic bounce angle (actual bounce of the club when the ball is struck) without increasing the static bounce angle.
Finish Options

Chrome produces a smoky, muted look that helps reduce glare
 Slate finish oxidizes over time for a distinctive look
The Rundown
The most noticeable thing about the Mack Daddy 2's is just that, their name. Anyone who has been around the game pre-groove change knows about the Mack Daddy grooves' ability to not only create a ton of spin, but also devour golf ball covers. Obviously, Callaway couldn't simply break out the old MD grooves thanks to rule changes, so instead they took a path to create the "next generation" of Mack Daddy, if you will. The MD2's actually do this by creating 39% larger grooves on the clubface and also a micro groove pattern that serves to pre-rough the wedge face and increase club face to ball friction.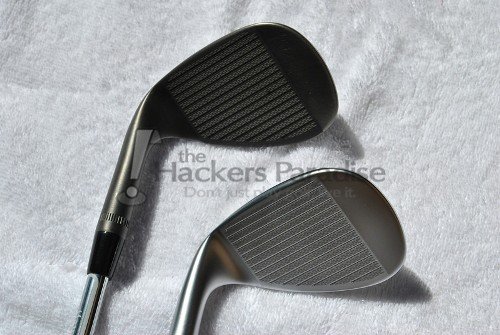 With as much R&D as went into the grooves and face of the wedges, just as much went into the rest of the club head, as Roger Cleveland and Callaway set out to create a wedge shape that would appeal to the eye of the best players in the world. By combining various "likes" by players around the world as well as providing multiple grind options (standard, classic C-Grind, Phil inspired U-Grind) Callaway has certainly come out eager to create a solid wedge offering for the masses.
For the purpose of this review I put the 56.14 Slate and 58.10 Chrome S-Grinds (Standard Grinds) into play.
Looks
Ever since Callaway dropped the first images of the MD2's there has been a lot of banter and talk about them from a looks standpoint. For me, these are the best looking wedges they have released since the original X-Forged wedges. From the finishes to the engraving to the paint-fill, the MD's provide not just flash, but also substance.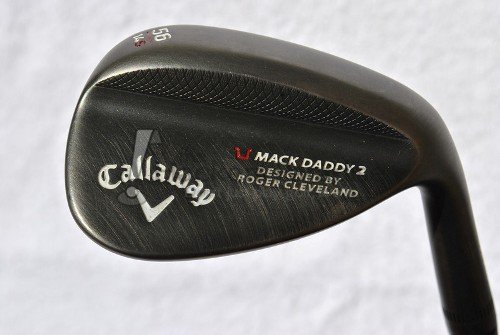 The Mack Daddy 2 wedges are available in two different finishes, each of which I was fortunate enough to get for this review. First is the vintage Callaway "slate" finish, which provides the darkest and most glare resistant option. This is a raw type of finish and it will wear over time. The slate finish presents itself with a brushed matte appearance to ensure the glare resistance many seek on the course.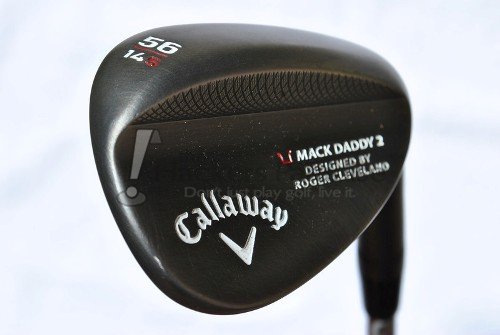 The second finish available for the MD2's is the one that concerned me the most. Chrome on wedges has traditionally been a glare disaster for me in the mid-day sun. While I expected to deal with those issues I actually saw none, which surprised me. As touted by Callaway, the chrome finish does indeed have a "smoky" tint to it. This makes the heads a beautifully subtle chrome that is muted enough to prevent those glare issues.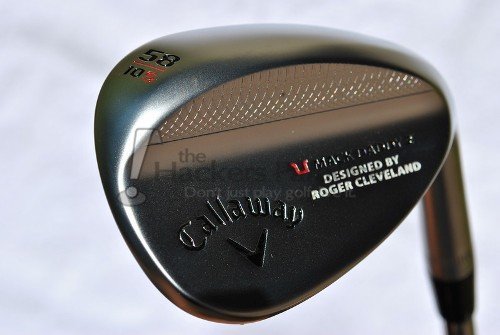 The engraving and paint-fill are enough to make it noticed without toeing into the "busy" department aesthetically. The use of black, red, and white paint-fill is right in line with Callaway's direction of the 2013 lineup and provides a subtle flair. Most notable though is the additional mill swirl's on the rear flange, which sells that "forged" aspect and provides a completely unique and different look than anything else I have seen before.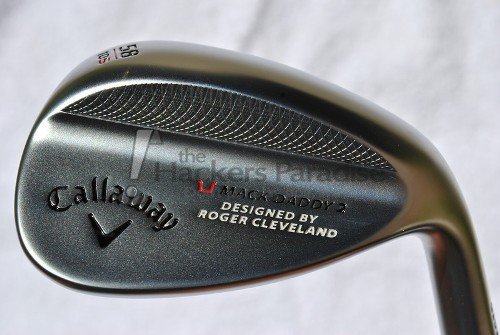 The MD2's actually feature what I consider to be an intermediate leading edge, which lends itself to creating a rounded look that sits in between others on the market. For my eye it's a very good balance in between the extremes.  There really is a lot of structural balance that can be seen when holding this design in hand.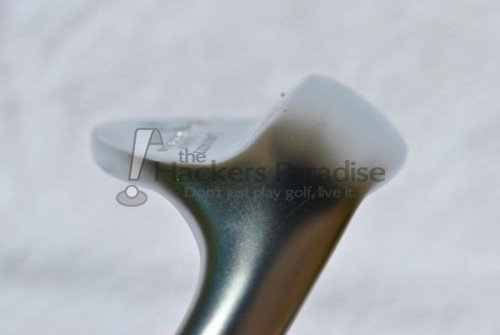 One other visible feature is on the face of the club with the additional laser etching, a new feature for Callaway. The laser milled micro grooves may be designed to increase surface roughness as they wear over time, but frankly they make the MD2 stand out the most from a looks standpoint. We have seen micro grooves before, but not like this. While they might be too busy for some at address, they are most definitely an attention grabber.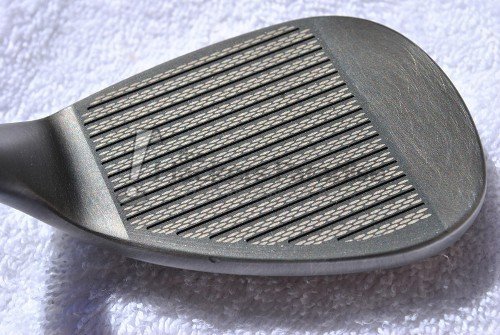 Durability
All of the grooves, finishes, and paint are nice, but being that wedges are a golfers most versatile clubs they have to also last. I was a pessimist of a few things with these. First was finish and the micro grooving on the face. It turns out that even after having these wedges in all sorts of different environments that may have been a bit of an overreaction. The slate finish on the 56.14 does in fact show a bit of wear, but no rust so far and nothing that I wouldn't expect from a raw finish. One thing to note is that while the face etching with the chrome still looks practically new, the etching on the slate finish is showing a little more wear near the leading edge, but that is to be expected in a raw finish.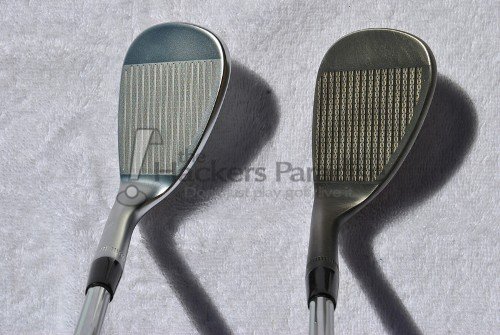 My other area to watch with the MD2's was with them being 1020 Carbon Steel. The goal here for Callaway was to provide a softer wedge, but when dealing with softer metals wear and tear can become an issue. Despite carrying, riding, and everything in between with the MD2's, they have minimal chatter marks so far. Clearly, any forged wedge is going to be subject to some marks and wear, but with as much as I have played them what I've seen so far is promising for their potential longevity.
Performance
When it comes to an extremely versatile club like a wedge there are multiple angles to view performance from. Because we all demand different things out of our wedges I believe it is necessary to break down the performance into different sections of the wedge game.
For me, any wedge is a full swing club, so the 56.14 and 58.10 certainly got put through their paces there. On full swings the head in coordination with the DG shaft selection got me the high launching and soft landing ball flight that I expect time and time again. Obviously, being a blade wedge they aren't packed full of forgiveness like some, but they also weren't difficult to hit solidly. I was able to easily play the ball in different positions of my stance to alter the trajectory and spin depending on the shot I was seeking. The MD2's generated enough spin for me that dropping and stopping was not an issue and neither was playing for release. Another nice thing, the new MD grooves don't rip golf balls to shreds – I like that.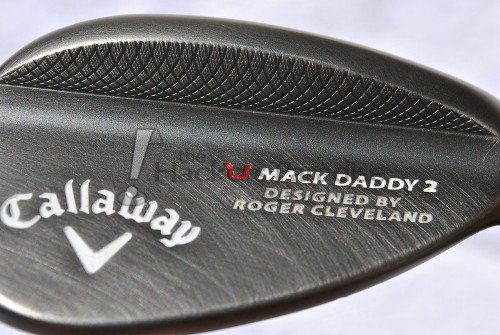 Another thing to touch on here with full swings is Callaway's claim that the 1020 Carbon Steel material that the heads are forged from produces a softer wedge. Being a proponent of sound is feel in golf clubs I can say that the 1020 CS provided a lower audible feedback compared to my other wedges. Essentially the Mack Daddy 2's do not give off as loud of a "click" on full swings as I get from most other wedges, which leads to that softer feel they are touting.
For me a partial swing with a wedge is considered a ½ to ¾ swing. The biggest thing that I look for here with any wedge is the variety of shots you can pull off. With the MD2's I wanted to see if I could play the low grabbing puncher all the way to a simple normal trajectory ½ swing. In each of these areas I was able to manipulate the MD2's without issue. In fact, I became a big fan of playing the 56.14 back in my stance for that grabbing punch shot. From a spin standpoint I was still able to drop and stop the ball when I wanted, as well as playing release. The MD2's definitely showed me some beneficial traits on partial swings.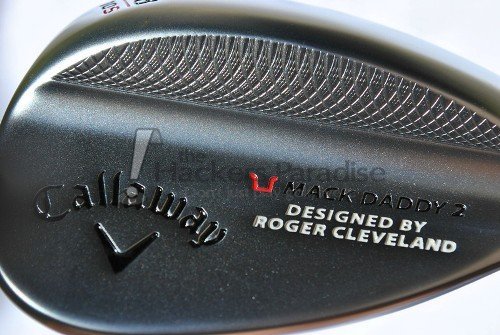 With both the 56.14 as well as the 58.10 I played a plethora of different little touch shots around the green and really didn't have any issues. As a lower spin player when it comes to wedges, the closer I get to the green I typically lose more spin, so most everything here is a run-out shot for me.  While I played the wedges that way, from short side pins to cross green pitches/chips I could still control how much run-out I was trying to see. It was never an issue to pitch it up high or to keep it low on a little punch.
Most impressive for me though was the versatility of the wedge in flop and pop up scenarios, despite having the standard grind versions. In fact, it was so surprising I actually caught myself trying these shots when I didn't need to. Despite not having the C-Grind to aid in opening the wedge and keeping the leading edge to the ground I was able to crank the wedges all the way open and swing away in hard, fluffy, and sandy conditions. I really did not ever expect to see that versatility in a standard grind.
Parting thoughts
To the point, Callaway is firmly back on the right path as far as wanting to become a legitimate player in the wedge market once again. I found Mr. Cleveland's design on the Mack Daddy 2's to be versatile and effective from a variety of lies while still providing solid feedback and spin. By listening and studying, they have developed a wedge that will be an incredibly solid option for a lot of golfers out there in just its standard form. Add in the grind options and you have versatility galore.
The Mack Daddy 2 wedges have an MSRP of 119.00 and more information can be found at www.callawaygolf.com.