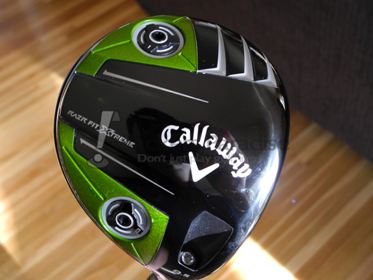 Following up on the highly regarded RAZR Fit, Callaway recently introduced the latest generation of the RAZR family of drivers – the RAZR Fit Xtreme. Callaway seems to have a renewed sense of optimism with their 2013 line and the Fit Xtreme was announced with much fanfare in an energetic campaign they called "Tweet to Unleash".  THP had the opportunity to test this driver over the last month or so in a couple different configurations and I'll be sharing our findings here today, along with some discussion on the new technology the Fit Xtreme is bringing to the table.
Aesthetics and Options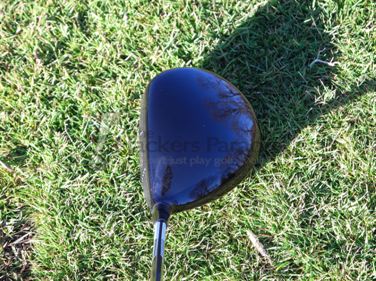 The Fit Xtreme has elements of both classic and modern design. For this review, I was given a 9.5° head with the Aldila Trinity shaft.  At 440cc, the head I tested is a little smaller than many drivers on the market and presents a somewhat compact look at address. The profile from the top is a classic pear shape with a glossy black finish that is void of alignment aids. The face features a black finish, a personal favorite of mine, and has the ever-present "X" right over the sweet spot. I'd characterize the face-depth as right in the middle between shallow and deep. Certainly deeper than something like the RAZR X Black, but not as much as some of the extremely tall faces we've seen on some other drivers in recent years.
Turning the driver over reveals more of the modern design elements that the Fit Xtreme offers. The simple color scheme from 2012's RAZR Fit has been replaced with an in-your-face black and sparkle-green design that is hard to miss. In addition, the toe side of the sole has some white-filled cutaways that almost resemble shark fins. Looks are always subjective, but if I'm being picky, I'd like to see a different color than the green. I'm guilty of being a little boring though. Luckily, Callaway will be releasing this driver in other color options for folks like me, using the Udesign system that was offered with the original RAZR Fit. Better yet, users will be able to design their driver with custom laser engraving when this system is rolled out in January 2013.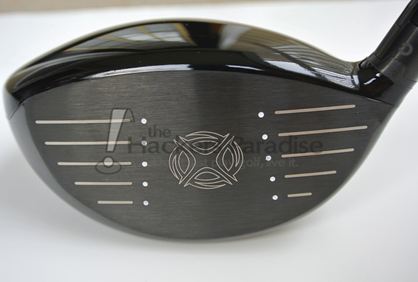 The RAZR Fit Xtreme is available in different configurations, depending on the needs of each individual.
Lofts ranging from 8.5 to 13.5°

Lower lofts have a face angle that sits 1° open at the stock setting.

Higher lofts (11.5° and 13.5°) are 460cc heads and the face angle is square.

Two stock shaft offerings:

Aldila Trinity – This is likely the shaft that most people will gravitate towards. It features weights in the 60 gram range (depending on flex) and should offer a higher launch than the other stock option.

Matrix Black Tie 7M3 – This shaft will come in around the 70 gram weight range and should offer lower launch and spin for those that desire it.
Every Fit Xtreme is outfitted with Callaway's Opti-Fit hosel, which has three settings that change both loft and face angle. According to Callaway R&D, "When moved into the "O" position, the face angle opens by about 2.5 degrees and loft decreases by 1 degree. When moved into the "C" position, the face angle closes by about 1.5 degrees and the loft increases by 1 degree."  In addition, there are two weight ports that can further assist in altering ball flight. Purchased drivers come with both a 13 gram and 1 gram weight that can be moved around. I'll talk more about that later on in the review.
The last thing I'd like to address from an aesthetic standpoint is the way the Fit Xtreme sounds at impact. A number of THP's readers have had a chance to hit the driver and a common sentiment was that it sounds like a driver should sound. Neither too muted, nor ear piercing, it seems to offer enough of a pop that you know when you hit it well without being obnoxious.
Forged Composite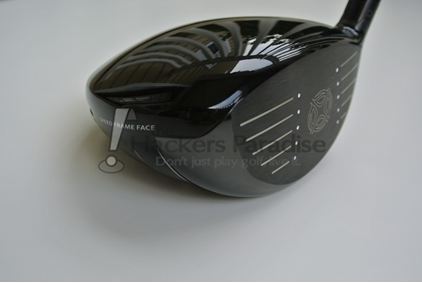 Callaway introduced their forged composite prior to the RAZR Hawk line of drivers. This material, produced in conjunction with Lamborghini, has some benefits other than just sounding cool. It's lighter and stronger than titanium, which allowed Callaway to change the way that they build drivers. With the Fit Xtreme in particular, they were able to produce a crown that weighs in at only 12 grams. This enabled them to move more weight lower on the head, with the goal of producing less spin and higher ball speeds.
During testing performed by THP's publisher Josh Babbitt, the Fit Xtreme delivered 290 rpms less back spin than the RAZR Fit, both with 10.5° heads in the stock set up. While I wasn't able to compare the Xtreme to the RAZR Fit, I will say that I was extremely impressed with the spin numbers I was seeing. Keep in mind that spin numbers rely on many factors, from your swing to the driver's shaft, so your results may vary. As always, a fitting will be the best way to dial yourself in.
Speed Frame Face Technology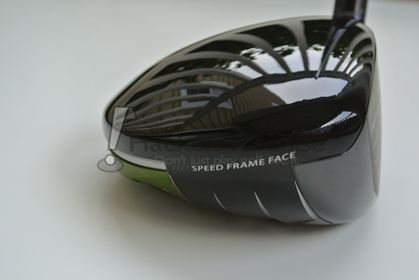 Here's what Callaway says about this new technology:
"Speed Frame Face Technology is a combination of VFT® and Hyperbolic Face™ Technology, resulting in stress distribution across the titanium face for a larger, more consistent sweet spot and increased ball speed. The Speed Frame Face also saves weight that is redistributed in the clubhead to improve the CG position and maximize MOI, which leads to optimized ball flight and forgiveness. Additionally, the Speed Frame Face on the RAZR Fit Xtreme Driver features a tighter bulge radius than the RAZR Fit Driver for a more preferred look at address, along with more consistent sidespin and dispersion."
That's certainly a mouthful of technical jargon, so I'll summarize it a little simpler. Changes to the face were designed to increase ball speed and forgiveness.
During testing I noticed acceptable forgiveness in shots that were hit on the toe area of the Fit Xtreme, both in terms of distance and ball flight. This tends to be my most common miss and I did appreciate that the head stayed stable enough to avoid any twisting, which kept me in or close to the fairway. Very early on in testing I went through a short period when I hit a number of balls on the heel-side of the face. I'll attribute that to the fact that the stock length was around 1.5 inches longer than I normally play my driver. Fortunately, this issue worked itself out in time, though I do believe I'd be happier with a shorter stock shaft option. Heel shots seemed just about as unpleasant as they are with any other driver for me.
When it came to ball speed, I can't say that I saw any notable increases while using the Fit Xtreme.  My numbers were certainly comparable to what I'm used to, but there were no big jumps. Though I didn't see ball speed increases, I did see a fairly high launch and lower spin than I'm accustomed to; both being qualities that many will appreciate in a driver.
Opti-Fit Adjustability

Callaway's Opti-Fit system provides a pretty staggering number of options when you factor in the various lofts and face angles that are available.
Here's what Callaway has to say about their system and its benefits:
"Two OptiFit® Technology elements make up the RAZR Fit Xtreme's improved adjustability: the OptiFit Hosel and OptiFit Weights. The hosel adjusts the face angle to Open, Square or Closed positions to improve accuracy and trajectory while allowing golfers to dial in their preferred look at address. The 13- and 1-gram OptiFit Weights shift the clubhead's center of gravity to promote noticeable Draw or Neutral ball flights.(Higher lofts have more draw bias than lower lofts.)
Callaway's RAZR Fit Xtreme Driver comes in more lofts that incorporate a greater range of face angle options, CG bias options and CG height differences than the RAZR Fit Driver. Callaway has optimized the performance in each loft to suit the needs of the players that will use it. For example, the 8.5-, 9.5- and 10.5-degree clubheads are 440cc (versus 460cc for other lofts) and feature a more open face angle."
Again, that's quite the mouthful, but there is some pretty interesting stuff there if you look closely. Changing the face angle of the club will increase (closed face) or decrease (open face) the loft of the club. Digging deeper, we see that the lower loft heads (8.5° – 10.5°) feature a slightly open face in the neutral setting. Because of this, increasing the loft of the 9.5° driver will only leave the face .5° closed – something many players may find attractive. On the flip side, lowering the loft on an 11.5° would give you the same loft with an open face.  In essence, all of the various options should facilitate a very thorough fitting process in which loft, weighting, and preference in face angle are all optimized to great detail. The two stock shaft options should also help narrow down launch conditions for each individual, though the greedy golfer in me wishes there were a couple more to choose from.
After a little tinkering I found a set up that I liked quite a bit. By increasing the loft and putting more weight in the heel I was able to produce launch conditions that I haven't seen in some time.
Additional Information on the Aldila Trinity Shaft
I'm adding a little more on this shaft primarily due to a lack of information available on the internet at this time. I was able to get some info from Callaway R&D, along with a description of its properties. From a looks standpoint, its green color scheme certainly matches the theme of the Fit Xtreme, but I was more curious about what it's designed to offer in terms of performance.
The Trinity is in the 65 gram weight range – with stiffer flexes a few grams heavier and vise-versa. It "combines Aldila's three patented design technologies (RIP, S-Core, Micro Laminate) into a single shaft design." In the simplest terms, these three technologies are designed to create a more stable shaft without sacrificing feel or adding weight. According to Callaway R&D, they characterize it as mid-spin and mid-launch. In addition to that, I was told, "One of the biggest differences between this shaft and the one previously used in RAZR Fit is the stiff flex has a lower torque and higher stiffness. There is also the addition of an X-Stiff flex to the offering."
Prior to knowing that information, I felt like I was dealing with a shaft that was true to flex. Please remember that I'm not a fast swinger (usually right below or at 100 mph), but my feeling was that this shaft wasn't the stereotypical 'noodle' that many people are concerned about. It certainly seemed to play firmer than my gamer shaft, which is quite soft in the tip section. Of course, that's all perception, but it is how I felt after a month of testing. The launch and spin numbers I saw were quite good as well. As always, your results may vary, but I was pleasantly surprised with what I saw.
Final Thoughts
I'm not going to tell you to run out and replace that driver you love with the RAZR Fit Xtreme. However, I am going to tell you a few reasons that you should give it some swings if you are in the market. The myriad of options from a fitting standpoint make it a club that a good fitter should be able to dial in for some great results. While the adjustments are quite rudimentary in a relative sense, the variety of lofts and face angles, the Opti-Fit weights (which can be supplanted by an aftermarket kit), and two quality shaft options present a number of different configurations to choose from that should help many golfers maximize their distance off the tee. This truly is a driver that will lend itself to a proper fitting, so I suggest taking advantage of one if it's available to you. Aside from that, Callaway has produced something that is both sleek looking and great sounding.  In summary, it's a complete package that should appeal to a broad audience. The RAZR Fit Xtreme will be available for purchase on January 18, 2013, along with full customization through Udesign.