Just when you thought that with the Mavrik lineup and its three unique driver profiles Callaway might have totally nailed down the breadth of options for golfers, they hit you with something you never saw coming.
The return of the Big Bertha in the form of the B21 driver isn't what is surprising, what is surprising however, is what is going on internally here. This is one that Callaway believes is totally unique to the market design-wise with its ability to mix a forgiving design with a low and forward CG. Yes, you read that right.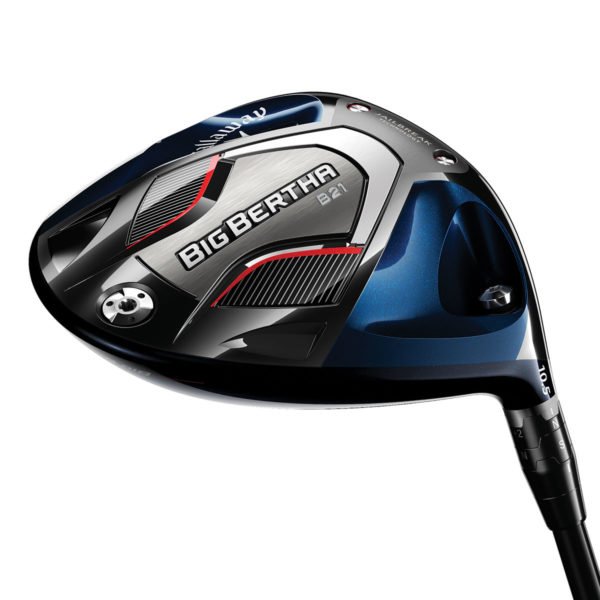 This article is going to focus on the release of the B21 driver, however for the first time in a long while Callaway is bringing a complete Big Bertha lineup to market, and there will be a subsequent piece up on THP pertaining to the fairways, hybrids, and irons.
Return of the Callaway RCH
Worth mentioning before we get into anything else is a bit of a shift for Callaway, not to anything new, but more back to their Big Bertha roots with the return of the RCH graphite shafts as a stock option for the entire B21 lineup.
Some of you have immediately hit that "huh?" face, so let me explain. In the 1990's to the early 2000's Callaway did a lot of in-house shaft R&D, and I mean a lot. The goal was creating the perfect shafts to compliment exactly what they wanted in their club designs, and while present day companies work with shaft manufacturers to either find a good fit from their catalogues or maybe make some tweaks here and there, the RCH was created by and for Callaway clubs. Some today will be screaming "made-for!" and you are right, literally made for their designs. Once upon a time there wasn't the clamoring for after-market options like there is today, nor were shafts designed specifically for clubs frowned upon. Heck, those "made-for" RCH shafts were even used and won on Tour.
Why bring this back in an all new design? Simply put, Callaway wanted very specific things for the shafts in the B21 clubs, particularly the ability to have an active tip flex that would help achieve the dynamic lofts they wanted while also not feeling weak in the swing. For Callaway, the RCH is about being developed and not just picked. That said, for those of you wondering, yes, there will be a significant amount of no upcharge options available still.
Callaway B21 Driver
Price: $499.99
Lofts: 9°, 10.5°, 12.5° w/ Callaway OptiFit Adjustability
Shaft Options: Callaway RCH 45/55/65
Release Date: 9/10/2020
The B21 driver is being presented under the slogan, "Distance any way you swing it", and based on the tech of the new Big Bertha driver, it should easily back that up. The B21 driver was designed around the reality that most golfers struggle through things like erratic impact locations, an open face angle at impact, and even swinging across the target line while also being steep into the ball. These are traditionally among the most demoralizing things in golf which result in a shot that is usually a weak high and right (for RH golfers) miss which can practically ruin the game for golfers of all skill levels. The goal of the B21 is to pack all of the technology Callaway has into a design that offers distance, forgiveness, and consistency no matter how you swing it.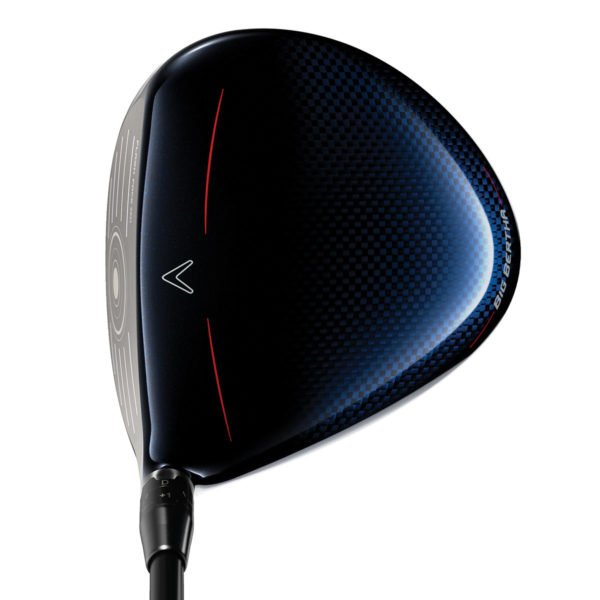 The major preliminary focus was based around design features that would mitigate the issues so many golfers face with the driver given their swing faults. The reality is most who fit into the aforementioned faults often see significantly higher backspin averages creeping into the 3,000 to 4,000 RPM's which not only affects control but also hampers ball and swing speed potential as the golfer falls into the trap of steering the ball. There has long been a search for the holy grail of slice reduction in drivers, but Callaway is taking the direction of countering each of these specific tendencies with design features that should free golfers up to enjoy the game more.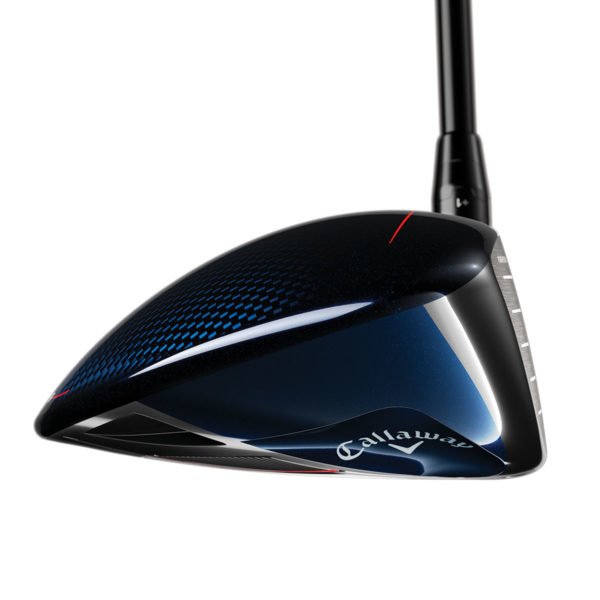 First thing first, the A.I. Flash Face is alive and present, not only that, it is by far the engine that is making this unicorn of a design possible. Flash Face with the Mavrik in particular allowed Callaway to see that they could move the CG of a driver low and forward to decrease spin while keeping forgiveness and ball speed through the A.I. face generation program. Usually going low and forward though is only for better players, kiss that idea goodbye.
The B21 is unique to the market in that it is using a low-forward CG in coordination with a huge face, a sub 10g T2C crown, and high-moi head shape which is longer and more triangular to protect ball speeds with impacts across the face. How this is possible though is solely because of A.I., the Flash Face SS21. Any time a new shape is created, a new Flash Face has to be generated that is optimized to just that face, so don't think that this is the Mavrik's pasted into the B21. In order to make the design which A.I. came up with work, a special heat treatment had to be used on the face to get it to be durable enough, combined with Jailbreak the internals of this club are pretty staggering and seeks to create a driver that offers low spin and draw bias.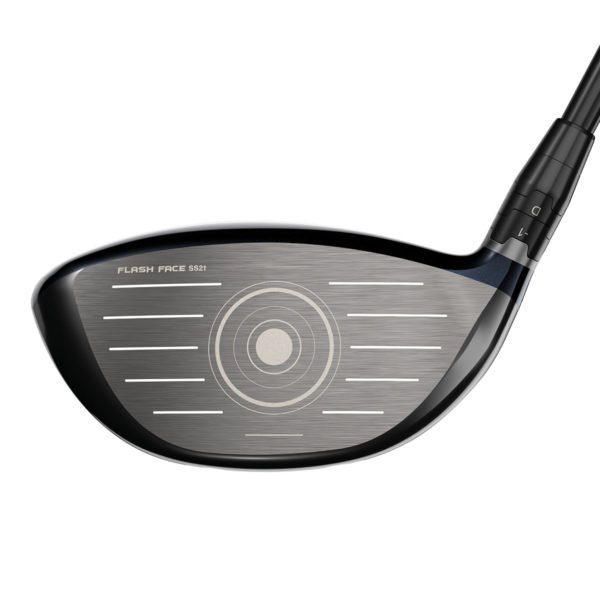 That draw bias is being created through a few different methods. Externally, it is created through the reduced face progression which is the distance from the leading edge of the face and shaft axis. Fancy words to say that the hosel to head connection helps to create a flight that starts left without using the massive offset that is present in the rest of the B21 lineup. Internally, there is also weight placed in the heel to help cut down that spin that comes from an open face at impact.
Design wise, this is a bit of a head scratcher because it meshes things together which we never thought could be blended. There is a weight low and back in the head to increase the MOI even more with the triangular shape, but there is much more weight forward in the design to decrease spin and keep consistency. These are things that have historically been entirely contradictory in club design, but with the application of Flash Face SS21 the speed and forgiveness that previously had to be generated primarily with the shape and weight can now be done with the face.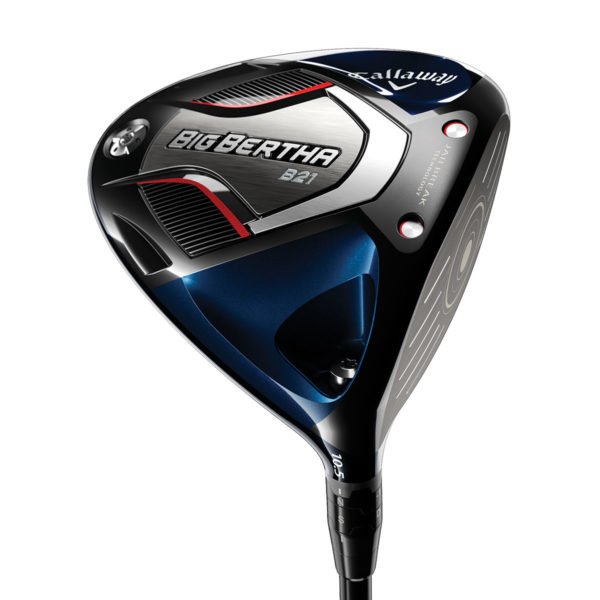 The B21 driver is not going to be a driver that the golfer seeking the lowest spinning option from Callaway runs out and grabs. The reality is it won't be as low spin as a Sub-Zero, nor should it be, but it will offer lower spin potential than other designs while still having draw bias, a middle-ground so-to-speak. While some will be curious of the comparisons to the Mavrik Max, this has potentially lower spin while having increased draw bias and both drivers can easily coexist in the market.
The Callaway Big Bertha B21 driver is looking to set a new standard when it comes to correcting the biggest miss in golf. What are your initial thoughts and reactions? Do you plan on giving one a swing? Be sure to jump into the conversation both here as well as the THP forum and let your voice be heard!