Each year more and more features are packed into devices that are put out to help the golfer move their way around the golf course. Distance measuring devices are truly an invaluable tool that can help speed up play, as well as for players to be more efficient in their club selection and hone their abilities in course management. THP has reviewed countless devices and while most of them are good at what they are designed to do, a few units stand tall among the rest when combining features and user interface. The latest offering from Callaway is hoping to enter that list and move towards the top of a market with their newest offering.
Product Description
Callaway's upro mx+ golf GPS device, new for 2012, will help golfers see more and know more this season.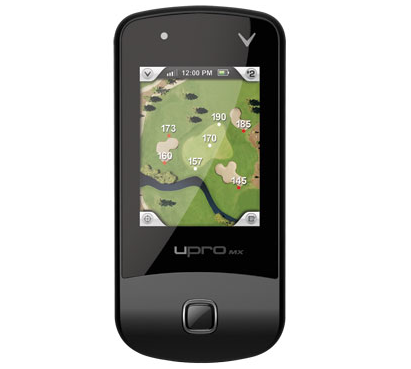 The only golf GPS device with ProMode, the Callaway upro mx+ features actual aerial imagery and aerial video flyover of golf courses in a compact and easy to use device. With the most realistic view of each hole, golfers are also able to determine precise yardage to the target, green or hazard with the swipe of a finger yielding smarter decisions and more confident play.
Featuring next-generation software for ease of use, the upro mx+ also offers a full-color, multi-gesture touch screen; an omni-directional antenna to help maintain GPS lock even in adverse conditions; and no annual fees or subscriptions. Callaway's uxploreTM website completes the golf GPS experience, helping golfers to manage their devices and upload, track and analyze scores and statistics for each round played, and even compare them against the online community.
Features
• Proprietary mapping process allows Callaway to map thousands of points on every golf hole on each course for more measurements than competing products.
• Preloaded with more than 25,000 courses from Callaway's global database in Basic Mode and GoMode for out-of-the-box playability.
• ProMode offers actual aerial photography and video fly-overs providing a realistic view of each hole.
• AnyPoint Technology helps golfers plan their next shot, providing yardage to any target selected, as well as yardage remaining from their target to the green.
• Digital scorecard allows for the tracking of scores and basic golf stats like fairways, greens and putts during each round.
• uxplore.com allows golfers to download courses,preview course layouts, upload and track their scores, view their performance statistics, and analyze their game.
• Unlimited Pro Mode course downloads are available with no annual fees.
Battery Life
One of the biggest questions THP gets about GPS devices is whether or not the battery life will hold up. Callaway has the UPRO MX+ listed at 10-12 hours of battery life and some on our forums had listed that they were not getting that kind of time. Clearly, most battery life listed for devices is in optimal settings, but during the testing of this device, THP had no issue getting two full rounds of golf out of the full charge and still having some left over. The key to GPS units and battery life is the ability to get the full second round for days of 36 holes or for times when charging is forgotten after a single round. The UPRO MX+ did both without issues and not only did it play 36 holes without issue, it also finished another 9 holes the following day before showing any issues.
Accuracy
What good would a distance measuring device be if it was not giving out accurate measurements? During the THP review process, the device was compared to both another GPS unit as well as a laser rangefinder and on all accounts the distances stacked up well. Not only was the UPRO MX+ great at giving proper readings, it did so quickly and was actually faster to get to the number than both a stand alone GPS attached to the cart at the golf course and the IPhone GPS that was used as well for comparison. The unit has a very good user interface that allows the golfer to get distances to just about anything on the golf course and during our playing, it was quite accurate with the readings it gave to both greens as well as objects throughout the course.
User Interface & Responsiveness
This is a purely subjective aspect of the review and one that is hard to put into words. The UI [user interface] was quite liked by the golfers that got a chance to try this unit out during the review process. Easy to navigate and quick to respond in terms of gathering distances and moving from one section to the next. The touchscreen is very intuitive and combines easy to use instructions with a great looking screen and vibrant colors. The only issue that anybody seemed to have was the zooming in and out feature.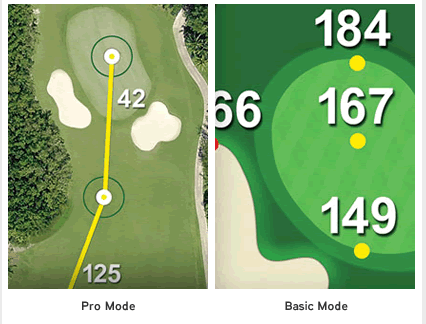 Now let me preface this by saying that the feature worked as advertised and most had no problem with the interface here, but a couple of golfers struggled with the "swipe" that is needed to have the device zoom in and out and due to that had some frustration. For the most part, the UI and complete experience with this device was a joy, especially when comparing the unit to others on the market that share the same features and price point.
Features
The UPRO MX+ is loaded with features and the best part of each of the items listed above, is that they worked as advertised. The scorecard worked perfectly for us, moving around the hole worked extremely well too and we were able to find distances to just about any object or place on the course that was needed. The touch screen can have a slight learning curve when it comes to their AnyPoint Technology, but once you get used to it, the feature is a breeze to work with and one that did very well in our testing of the GPS. The Pro Mode of the GPS experience is one that is incredibly well done and executed even better. Hooking the device up to the computer was as easy as can be and downloading your favorite courses' Pro Mode made the UPRO MX+ come to life with aerial photography and flyovers of each hole. There is no added cost for this feature and while you have to sync up to the computer to use it, once you have the course of choice on the GPS, it takes a good unit and makes it exceptional.
Overall
Accuracy, battery life and usability are all parts that make a distance measuring device succeed and the UPRO MX+ GPS does so quite well. Add in the form factor that was loved in its previous version and still the same here and you have a winner on your hands. Callaway has brought to market a GPS that has all the features necessary to make a great unit to enjoy for years to come. With a retail price of $249, THP believes that with the feature packed unit, the MX+ is a very solid offering. Just like any device in this class, THP strongly recommends being able to give it a test drive at a store and make sure you like the user interface before purchasing. For more information on this or any other Callaway Golf product, check out their website at www.CallawayGolf.com.
Till Next Time
Josh B.