Unless you've been living under a rock you've seen the new ads by now.   Like me, you've probably noticed a difference in the attitude of Callaway Golf in these new ads.  The New Callaway is what they're calling it and they are ready to take on the world.  They're not making any bones about it – they're aware that they needed to step it up and they're here ready for the fight of their lives.  These new ads are bold and they're very direct in what the New Callaway is going after.  They want to be number 1 again and these guys will not stop until they are there.
The ads and the new attitude are both great, but let's be honest here –  if the gear isn't great, then there's going to be a short end to this "5 year war" they're embarking on.  THP has received a set of the new 2013 X Forged irons for an up close and personal look at just how big their guns are for this battle.  Prior to this review I've enjoyed seeing the new attitude from Callaway.  Deep down I'm hoping that the gear backs up the claims, because when I was growing up, Callaway was always the big dog on the block.  Being an unbiased fan of golf equipment, I just want to see a good fight.  Let's take a closer look at the new X Forged irons.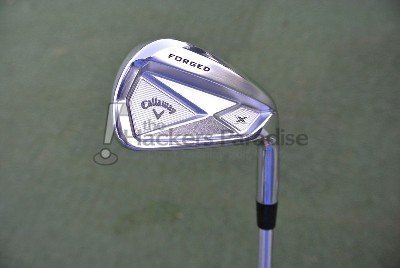 The X Forged is a tour-inspired forged cavity back iron crafted by design-chief Roger Cleveland with direct input from Callaway's Tour players.  We're not dealing with a muscleback, but the X Forged is definitely a smaller and sleeker looking iron.  The X Forged iron will appeal to lower handicap players who are looking for feedback and workability more so than distance and forgiveness. 
The set I reviewed came as a 4-PW set with the stock Project X PXi shaft in 6.0 (stiff) flex.  From the word go I'm happy. Call me old fashioned, but I like…no, I need a 4 iron!  It seems like standard sets of 5-PW are becoming too common for my liking.  So right out of the shoot we're off to a good start.  In fact, sets are available in 3-PW configurations as well.  I've grown up playing forged players irons and I am a firm believer in playing an iron set that you enjoy the looks of.  I don't care how good I hit the irons – if they're ugly or clunky I won't enjoy playing them as much.  So let me get this out there before I even go any further.  The X Forged irons are GORGEOUS!  There, I said it. 
The bright chrome finish of the X Forged immediately catches your eye.  The smooth lines and simply stated graphic in the cavity of the iron combine for an overall great look that would stack up very well next to any iron on the market in a beauty contest.  The shape and flow of the iron creates a very appealing look at address as well, which I personally put a lot of stock in.  Size-wise, the X Forged seem to fit perfectly between a muscleback and a cavity back iron. At address you're looking down at an iron that heel-to-toe gives the impression of having a little meat behind the ball and that inspires a good level of confidence before even starting the swing.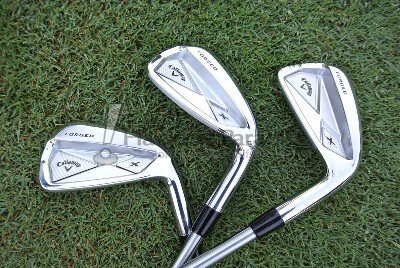 The X Forged also feature V Grooves. According to Callaway, V Grooves are the most precise grooves ever put in an iron of this type.  They're designed to deliver more control and shot-shaping for pinpoint accuracy.  Hitting balls with the X Forged, you immediately feel the benefits of the V Grooves. It's almost like you can feel the ball stay on the face for a split second longer.  Speaking of feel, as expected the X Forged irons feel amazing when struck solidly.  A smooth swing results in solid contact and what usually came next was a gorgeous high and piercing ball flight.  The Triple Net Forging process used on the X Forged irons is designed for more aggressive grooves and extreme precision to add to the great forged feel and high performance.  
The X Forged irons feature CG (Center of Gravity) Height Progression.  What this means is the center of gravity is lower in the long irons for a higher ball flight.  It also places the CG higher in the short irons for a flatter trajectory and easier to manage ball flights in the scoring irons.  This is actually opposite of Callaway's previous forged cavity back irons, the RAZR X Forged, where the center of gravity was actually the lowest in the short irons.  It doesn't take long to see the advantages of CG Height Progression. There's nothing like seeing a towering 5 iron that gets up in the air and stays there longer than what you're used to.  Definitely not something I immediately expected with this iron set.
I knew a couple things going into this review. First, I knew that I loved the look, and second, I knew that they'd feel great and perform when struck solidly.  What I didn't know and what had to be answered was how they work when the shots aren't crisp and everything's not hit flush.  As a 7 handicap, I have my days when I'm just not clicking on my iron shots, and for me to have the confidence to play a set of irons, I need them to be there for me on these days.  I'm not asking them to bail me out when I miss the sweet spot by 3 inches. I'm just looking for a little help when I miss a groove or two high or low on the face.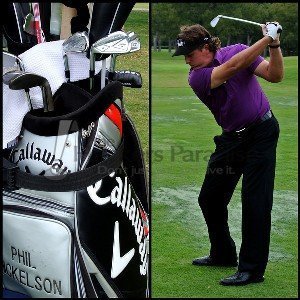 In my testing I had a little bit of both. I had days where I was hitting most shots flush and basically walked around the course looking like a love struck teenager. I also had a couple of those rounds were I just wasn't quite there.  I can say that in my testing, the best score I shot with the X Forged irons in the bag came on a day where I didn't have it. I wasn't hitting everything pure, but the X Forged offered me just enough of an assist that I was still able to get around the course with a respectable score.  Every miss-hit is different, so I can't put an exact number on the yards lost, but I can say that you don't have to carry a + handicap index to be able to enjoy the game with the X Forged in the bag. 
The X Forged come equipped with the new Project X PXi shaft.  According to Project X, "The PXi incorporates the hallmarks of the Project X brand (tour-caliber spin, control and tip stability) in a lighter weight shaft producing greater distance and improved feel through an optimized butt to tip stiffness calibration."  I felt the shaft was a perfect pairing in this iron set. Regardless of the type of shot I played, I felt as if the shaft was more than up to the task of delivering on solid feel and excellent performance.
Another area that I was pleased with was the distance I saw with these irons.  I can't say that distance was one of the top 2 or 3 things I was really expecting, but I was more than happy with it.  The lofts of the 2013 X Forged are 1 degree stronger than last year's Razr X Forged (6 iron is 30 degrees), so that can explain part of it, but I also feel that the CG Height Progression lends a hand here as well.  The X Forged irons are definitely a half club longer than any other forged cavity back iron I've played recently.  This added punch will surprise some people when they start testing them against other similar irons on the market.
A lot of the early comments I heard from THP Forum members talked about how nice looking these irons are, and there is no doubt about that.  I also heard a few people mention how much they like them, but how they didn't think they had the game to be able to play them.  After playing for a few weeks with them in the bag, I can say that the X Forged irons aren't for every skill set, but I believe that they offer more playability than a lot of people expect.  If you're relying on a Super Game Improvement iron to help you get the ball in the air I might suggest looking at a set of X Hot or even X Hot Pro until you get a little better.  If you're a decent ball striker, I would definitely suggest adding these to the demo list this year. 
The 2013 X Forged irons are available now for $875 (4-PW).  The X Forged are one set in the wide array of iron offerings from Callaway Golf in 2013. I've personally demoed them all and highly recommend you do the same. 
The New Callaway has a plan and we are the ones that are going to benefit from this '5 Year War' more than anyone.  Something about being a consumer in a market where all the biggest companies are exchanging blows with great new products gets me very excited.  Now that I've begun seeing what Callaway is arming themselves with, I can't help but wonder what will come next. What can another company counter with?  We'll definitely see, but one thing is certain – Callaway won't stop and this fight has just begun.  Sit back, relax, and enjoy the benefits of being a golfer right now, because we've got it good. Real good!