With the ever-growing popularity of utility irons out on the PGA Tour, it was only a matter of time before they become a more common purchase for amateur golfers. At least, that is what Callaway is hoping for by introducing their new X Forged UT irons. These irons are aimed at the more accomplished ball strikers, however Callaway has a few tricks up their sleeve to make them more playable for everyone.
From Callaway
Tour inspired for performance and versatility off the tee. The X Forged UT is a forged design with a 360 Face Cup. Its accuracy and control gives better players the ultimate confidence to hit the fairway or the green.
Specs
| | | | | | | |
| --- | --- | --- | --- | --- | --- | --- |
| Club | Loft | Length | Lie | Offset | Swing Weight | Availability |
| 2 | 18° | 39.5" | 59.5° | .140 | D2 | RH & LH |
| 3 | 21° | 39" | 60° | .140 | D2 | RH & LH |
| 4 | 24° | 38.5" | 60.5° | .135 | D2 | RH Only |
| 5 | 27° | 38" | 61° | .130 | D2 | RH Only |
| 6 | 30° | 37.5" | 61.5° | .125 | D2 | RH Only  |
| | | | | |
| --- | --- | --- | --- | --- |
| Manufacturer | Flex | Shaft Weight | Torque | Kickpoint |
| Project X | 5.5 | 115 | Low | High |
| Project X | 6.0 | 120 | Low | High |
 Tech Center
Callaway has been pushing the boundaries of club technology for some time now, and that doesn't stop with the X Forged UT. No, it does not incorporate their trademark Jailbreak Technology that is seen in the Epic and now Rogue line of woods. But what we do see is some familiarity with their 360 Face Cup technology that has proven to be very effective at keeping ball speeds up on contact made away from the center of the face. Face Cup Technology has seen its usage move throughout Callaway's metalwood and iron lineup, so the presence of it here should come as no surprise.
Being that this utility iron is built around the premise of being a club that will provide the ultimate control, the next two pieces of the puzzle follow suit with what one might expect. A reason some struggle with a hybrid is because the CG (center of gravity) location tends to creep towards the heel, introducing a draw bias. With the X Forged UT, the CG has been positioned more in line with the center of the face, which helps give consistent results for those who make contact in that area. Having this centered location also helps make this club more workable for the best players in the game, and overall lend a helping hand in terms of consistency.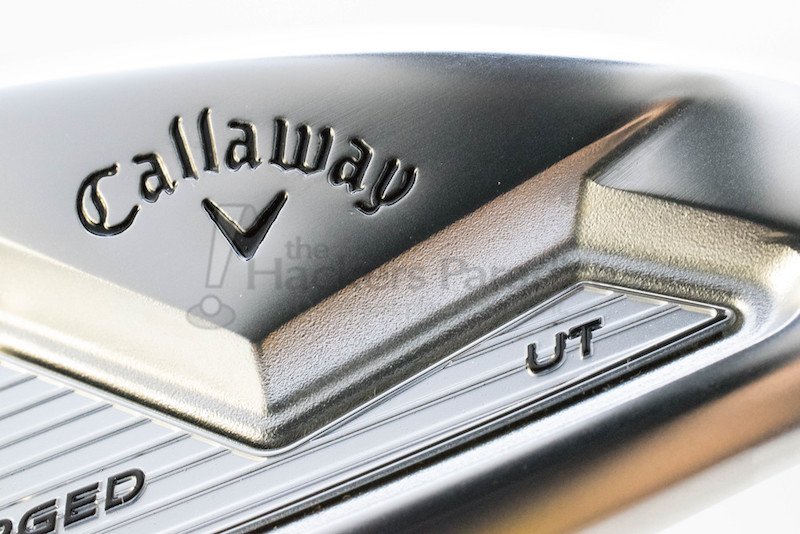 Inside this hollow construction, there is a tungsten infused insert which will help increase the MOI (moment of inertia), as well as helping to provide more consistent launch. One thing that Callaway noticed with the previous version of the Apex Utility was that players had some issues achieving consistent launch, and the belief is that the inclusion of this insert will help in that area. With the combination of all these elements, Callaway is saying that the X Forged UT will provide longer average distance, because not only will the ball speed stay consistent, but the ball flight will stay straighter, which is also a big part of that distance equation.
Performance
Being aimed at the better player means that the profile of the X Forged UT is more on the slender side. Not so much that a middle handicapper would be scared away, but more in line with the X Forged irons. Even though they are aimed at the more accomplished golfer, there are some design elements that will make this UT a more comfortable option for any skill level, especially with the addition of the two higher lofts, 27 and 30 degrees. Sporting a medium to thin topline, these utilities set up to be a perfect complement to the aforementioned iron set. Also, the sole of these present enough help to make sure they don't get stuck in the ground, while still maintaining their visual integrity so they are not an eyesore at address.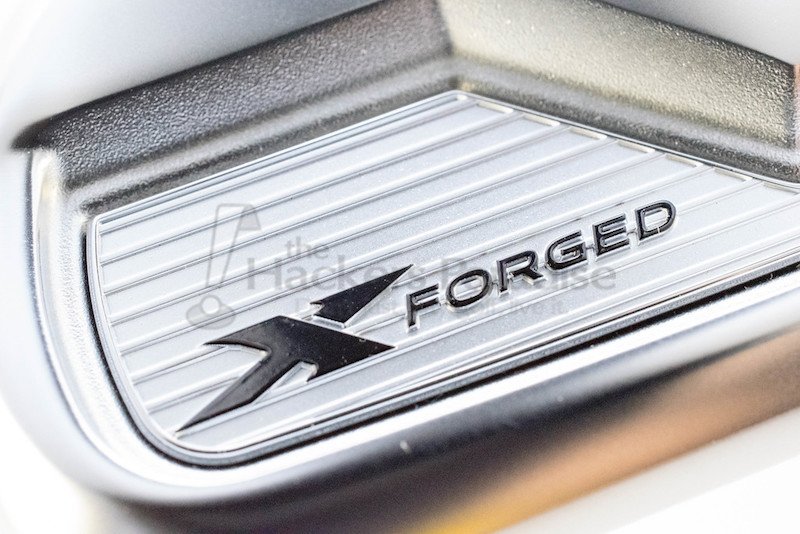 When it comes to the decision of adding a utility iron to the bag, there are several reasons as to why one might choose to go this route as opposed to adding a hybrid. This topic comes up quite often when talking about hybrids because there are some who really struggle with hitting them consistently. Some golfers out there just don't know if they should be trying to sweep the ball as if they were hitting a fairway wood, or hit down on it like an iron. Those thoughts tend to lead to some less than stellar results. Also, with the way many hybrids have been designed, the common miss becomes a hook, which can become really troublesome for those who aren't playing for that shot. This utility takes a lot of the guesswork out of play, as it looks exactly like a long iron, but as one can see from the above tech section, there is a little more help built in to this one versus a players long iron. For testing purposes, THP received the 27° model, which comfortably falls into that 5 or 6-iron range.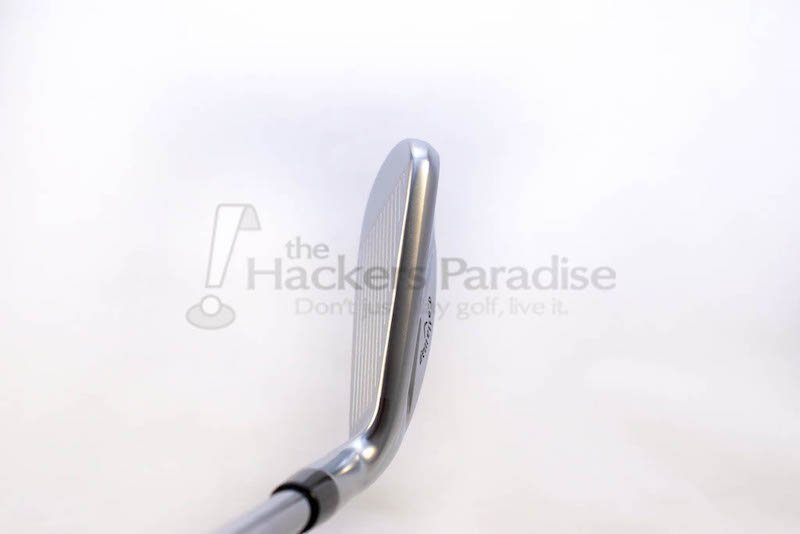 Sitting firmly in that middle iron range, the curiosity was going to be about the height of the ball flight. In their marketing material, Callaway talks about how this club should produce a more boring flight, for a more controllable shot. Carrying that much loft, it was hard to really see that flat ball, however according to our numbers collected with Foresight, the peak height sat just slightly lower than a similarly lofted slender iron. As the loft on the club drops, it's easy to expect the ball flight to sit in that middle range, which would be perfect for those looking to add one of these as a driving iron. When it comes to accuracy, shots showed an uncanny ability to stay on target. As always, a bad swing and poor contact will always reign supreme, but there were not any of those big misses to the left that sometimes creep in when hitting hybrids. For someone who does not produce a lot of swing speed, hitting these in the higher lofted options make them much more gameable than the lower lofted utilities would be. Now, depending on which iron set these get blended with, the forgiveness factor will come in to play. These are pretty forgiving for their profile, but don't go crazy thinking they will cover every miss possible.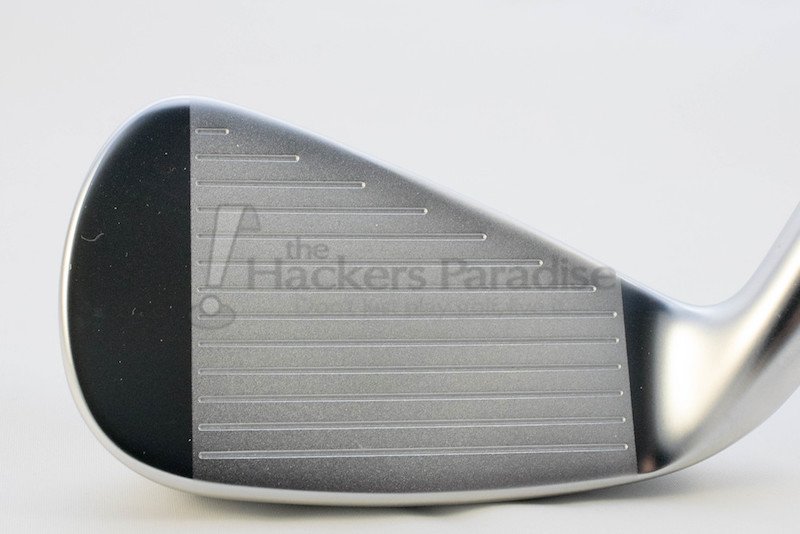 In recent years, companies have furthered the evolution of hollow-bodied designs so that it just does not include those bloated heads that are meant to be in that super game improvement class. Nowadays, the market is getting its fill of more compact hollow designs in an effort to maximize more speed and forgiveness in a small frame. Even though the performance benefits were present in the larger clubhead, there was always one characteristic that effected a way a player looked at the club, and that was sound. Throughout their own history, Callaway has produced some hollow clubs that just sounded different. Generally speaking, the audio profile of a club doesn't mean the same to players on a different level. Higher handicap players tend to be more welcoming of a club that sounds different, as long as it produces shots that help them improve. On the other side of the spectrum, the more accomplished player often looks at the sound and feel of a club as a trait that ranks higher on the totem pole. With all of that in mind, Callaway has done a nice job of making the X Forged UT a club that will blend in nicely with different players irons on the market. The only real exception to this is when contact strays horizontally away from the center, at which point a louder "clack" is produced, confirming that a mishit just occurred. Outside of those occurrences, the feel that is given with the X Forged UT is pleasantly solid.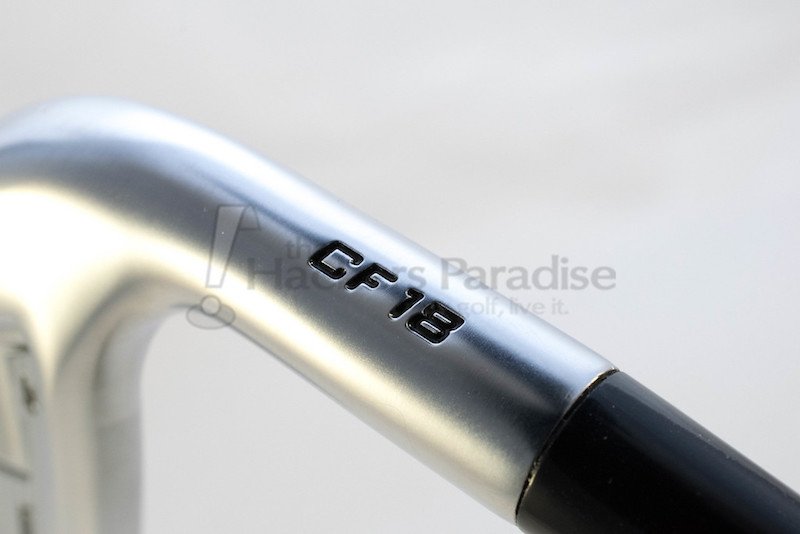 Conclusion
With the introduction of the higher lofts, Callaway is showing that X Forged Utility is more than just a driving iron. Yes, the lower lofts will serve those high swing speed players, but by bringing the 27° and 30° options to the table, it affords other golfers an alternative way to bridge the gap from fairway woods to irons. Is it an avenue that most golfers should take? Callaway has said that these are built for the better ball strikers out there, so hybrids will probably still work better for a vast majority of players. However, as was highlighted, hybrids can be very hit and miss for some, and for those golfers, having an option like the X Forged Utility is one worth exploring. Retail price for this utility iron comes in at $249, making them the same per iron price as Callaway's Epic irons. More information on the X Forged Utility iron can be found at www.callawaygolf.com.