The last in the line of X-Hot metal woods that THP has reviewed, the X-Hot hybrid seems to be a sleeper. It hasn't got the TV airtime that the fairway woods and drivers have, yet it's packed with the same technology that has equipment junkies drooling.
I've been testing the X-Hot over the last month and will be sharing my observations in this review. In addition, THP sent the hybrid to a number of our forum members and you can read their long-term thoughts here.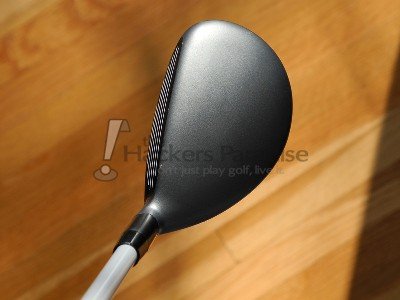 Product Features from Callaway
Fueled for Distance and Performance
Configured for Distance
The loft, length, CG height and thinner face are all designed to optimize distance and trajectory in hybrids that are longer from everywhere.
Modern Warbird Sole
The modern Warbird Sole delivers increased versatility from everywhere with an updated design that builds off one of the most versatile lines ever produced.
Speed Frame Face
The Speed Frame Face creates incredibly fast ball speeds all across the face for longer, more consistent distance. This technology helps optimize the CG and offers more forgiveness for accurate shots.
Shaft Option
X Hot Graphite
Light (60g), Regular(65g), Stiff(70g)
MSRP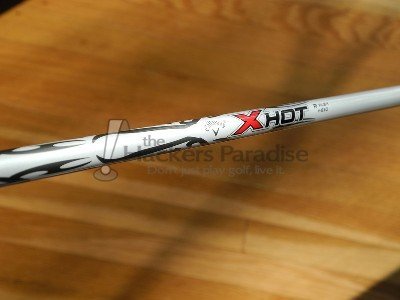 Specifications
| | | | | | |
| --- | --- | --- | --- | --- | --- |
| Club | Loft | Lie | Available In | Length | Swing Weight |
| 3H | 19° | 58° | LH/RH | 40.75 | D0 |
| 4H | 22° | 58.75° | LH/RH | 40 | D0 |
| 5H | 25° | 59.5° | LH/RH | 39.25 | D0 |
| 6H | 28° | 60.25° | RH Only | 38.5 | D0 |
It should be noted that Callaway also offers an X-Hot Pro hybrid. It comes with a Project X Velocity shaft in four lofts (16°, 18°, 20°, and 23°). In addition, it features a flatter lie angle and heavier swing weight. MSRP for the X-Hot Pro is also $179.99.
Aesthetics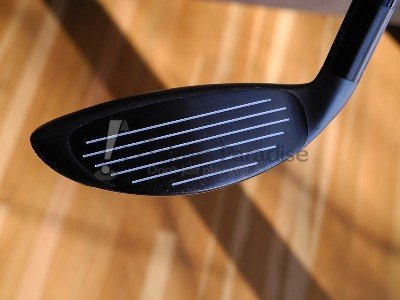 Similar to the other metal woods in the X-Hot line, the X-Hot Hybrid features a matte gray paint job on the crown. It functions to separate the line visually from other clubs in the market without standing out so much that it drives away golfers with more conservative style preferences. The black face is reminiscent of the very unique shape that was offered in the RAZR X series of hybrids – a shallow, almost elliptical profile with a rounded lower portion. It's a look that certainly takes a little time getting used to, but sometimes function beats form.
In terms of size, the X-Hot's head lies in the middle between small and large. It's a good blend that provides confidence from a number of lies. It's moderately offset, which may turn off some golfers, but I never found that to be an issue.
Moving up, the white X-Hot graphite shaft contrasts nicely with the gray club head to provide a look that is hard not to love. Some tribal-ish graphics adorn the shaft and give it a very modern look. Callaway outfitted the X-Hot Hybrid with a sock-style head cover that is easy to put on and remove. I'm a fan of the look as well as the reduced amount of real estate it takes up in the golf bag.
In all, the X-Hot is a hybrid that looks very unlike many other clubs on the market. While the shape of the face may take a little getting used to, the entire package is very sharp looking.
At impact, the X-Hot Hybrid emits a classic 'crack' that I found tremendously pleasing to my ears. It's mostly void of the high-pitched metallic sound that some hybrids produce. It was something I found myself wanting to hear over and over again during testing.
Performance
The X-Hot Hybrid was tested in the 4H (22°) R flex configuration both on the golf course and using a Vector X launch monitor.
Here are some baseline launch numbers I took from the Vector X using a Pro V1 golf ball on a grass surface. This is an average of 5 well struck balls.
| | |
| --- | --- |
| Carry | 189 yards |
| Ball Speed | 129 mph |
| Vertical Launch | 17.7° |
| Back Spin | 5,218 rpm |
| Side Spin | 200 rpm (draw) |
| Horizontal Launch | .2° (left) |
| Offline | 4 yards |
Distance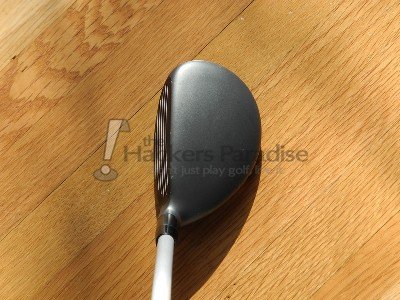 The launch monitor data that I've included above shows that the distance I saw from the X-Hot was pretty average for a 4 hybrid. I was able to carry it over the 200 mark, but 190 was a pretty reliable number for me to take to the course. Ball speeds were actually very good and gave the potential for some outstanding distance. I did lose some yardage to launch and spin, both of which were on the higher side. As noted above, I tested the R flex version of the X-Hot, and I suspect a stiffer shaft would have brought both of those numbers down while increasing my carry distance.
Those people looking for a higher ball flight to increase their carry distance would be wise to take a look at this line, as I think they could see some substantial distance with the right configuration.
Trajectory
In a word, trajectory was high. I suspect that much of that centered on the flex of the shaft (regular vs. my normal stiff), and I believe a stouter version would have brought it down a bit. Still, I saw ball height that was mostly unrivaled by any other hybrid I've tested from the 2013 crop. Launch monitor data showed ball height in the 100+ foot range and this was apparent on the course and driving range as well.
The benefits of the higher trajectory showed themselves often on the course. I found it useful for situations when I needed a soft landing shot into a green or a ball that could carry an obstacle like a tree when I got in trouble off the tee.
Forgiveness
The smaller face on the X-Hot doesn't necessarily match the amount of forgiveness that the head offers. I was surprised to see how well the club performed on off-center shots, both on the course and in launch monitor testing. Toe shots in particular were quite forgiving, with very minimal loss in ball speed and distance.
Misses high and low were penalized a bit more, which is likely related to the shallower face. Still, neither was extremely penal and the slightly rounded lower portion of the face did provide a little more surface area to pick up those thin misses.
The sole of the X-Hot added another element of forgiveness in that it glided well on heavy misses. Rather than dig into the ground and completely sap distance, it slid more into the ball. While the result was still a shorter than normal shot, it wasn't penalized as badly as it could have been.
Versatility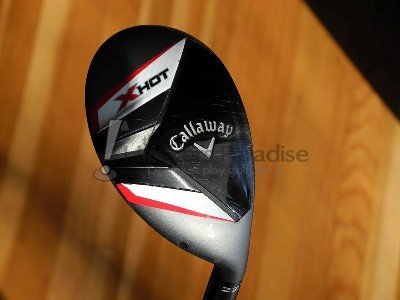 While hybrids often function as long iron replacements, they also have the unique ability to perform many other duties on the golf course. I was able to use the X-Hot everywhere, from the tee to the fairway to spots that I'd rather forget about. The Warbird sole reacted well to a variety of lies, which is exactly what many of us need a hybrid to do. The thin profile of the face was one that instilled confidence off tighter lies, but also was quite adept at penetrating deeper grass that many of us find ourselves in from time to time.
While full swings produced exceptionally high ball flight, punch shots were still quite easy to execute with the X-Hot. The results were low screaming balls that stayed well below overhanging trees.
Control
Lastly, I want to touch on the accuracy I saw with the X-hot, both on the course and during launch monitor testing. This was among the most reliably accurate hybrids I've tested this year, both on good shots and mediocre ones.
My normal miss with almost all of my clubs is a sweeping hook and the X-Hot was not immune from that. Barring that extreme miss, my impression was that it was remarkably straight on the golf course. It was a club that I looked for when I had longer distances to cover, but accuracy was at a premium. I do believe that higher ball flight and back spin I saw contributed to that fact.
Final Thoughts
Callaway hasn't ever been a hybrid company in my mind, but the X-Hot certainly changed the way I look at that segment of their line of clubs. It is certainly worth seeking out if you are looking for a balanced mixture of high flight, distance, versatility, and accuracy. In retrospect, I think I would have liked to try a version with a stiffer shaft to squeeze a few more yards out of it, but I was quite impressed with the performance nonetheless. Those of you looking for a little more heft and less offset should consider taking a look at the Pro version, as it will likely be more appealing to you. For more information on the entire X-Hot line, you can head to www.callawaygolf.com.