With the new XR lineup of clubs, Callaway is proclaiming "Outrageous Speed" and though response to such a claim will vary person to person, performance has the ability to outweigh all of that. With the XR irons, Callaway has let their R&D team loose in implementing a significant amount of technology into a cavity back style GI iron with the ultimate goal of bringing better ball speeds to players of all types.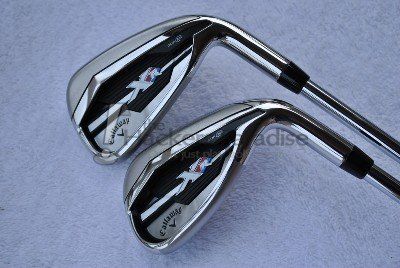 Callaway on their new XR irons:
The XR Irons are the first high speed, cavity back, cup-face iron. Our improved face cup technology provides outrageous ball speed all across the face.
Specifications:
| | | | | | |
| --- | --- | --- | --- | --- | --- |
| CLUB | LOFT | DEXTERITY | LENGTH | LIE | SW |
| 3 | 18.0° | RH/LH | 39.5" | 59.75° | D0/D2 |
| 4 | 20.5° | RH/LH | 38.875" | 60.5° | D0/D2 |
| 5 | 23.0° | RH/LH | 38.25" | 61.25° | D0/D2 |
| 6 | 26.0° | RH/LH | 37.625" | 62° | D0/D2 |
| 7 | 30.0° | RH/LH | 37" | 62.5° | D0/D2 |
| 8 | 34.5° | RH/LH | 36.5" | 63° | D0/D2 |
| 9 | 39.0° | RH/LH | 36" | 63.5° | D0/D2 |
| PW | 44.0° | RH/LH | 35.74" | 64° | D0/D2 |
| AW | 49.0° | RH/LH | 35.5" | 64° | D0/D2 |
| SW | 54.0° | RH/LH | 35.25" | 64° | D0/D2 |
| LW | 59.0° | RH | 35" | 64° | D0/D2 |
Stock Shaft Options:
True Temper Speed-Step 80 (Steel)
| | | | | |
| --- | --- | --- | --- | --- |
| MANUFACTURER | FLEX | SHAFT WEIGHT | TORQUE | KICK POINT |
| True Temper | R | 88g | Low | Low |
| True Temper | S | 89g | Low | Mid |
Project X SD (Graphite)
| | | | | |
| --- | --- | --- | --- | --- |
| MANUFACTURER | FLEX | SHAFT WEIGHT | TORQUE | KICK POINT |
| True Temper | R | 88g | Low | Low |
| True Temper | S | 89g | Low | Mid |
Additional Custom Shaft Offerings at No Upcharge:
KBS Tour V

KBS Tour 90

True Temper XP95

UST Mamiya Recoil 660/680

UST Mamiya Recoil 440
Key Technology Breakdown:
"For the first time ever, we're putting cup-faced technology into a cavity back iron. Our Cup 360 provides outrageous ball speed all across the face."
The big story of the XR line of irons is without a doubt the use of the Cup-360 design, which prior to this had only been seen in the Big Bertha irons. The fact that Callaway believes they managed to use that same tech in a standard cavity back style iron while maintaining the performance benefits is an impressive feat to say the least. The principle of the Cup-360 is that it allows the face to further act like a spring on misses, particularly lower on the face, but also in all other impact positions. This should mean higher ball speeds on all impacts, with particularly higher retention on the misses – and more ball speed means more distance.
"The Internal Standing Wave is the ultimate team player. It's refined the way that we lower CG, increased MOI and gives the face cup the freedom to provide more ball speed."
The Internal Standing Wave goes hand in hand with maximizing the performance aspects gained from the Cup-360 tech. In basic terms, it is how Callaway managed to get the mass/CG of the iron lower to impact the spin, launch, and MOI while also keeping the design stable and allowing the Cup-360 to flex.
New Construction and Shape:
"An iron built for speed needs a different level of refinement and attention, in this case a 2-piece construction that includes a dual heat treatment. It's precise, meticulous craftsmanship that XR deserves."
We saw with the Apex irons last year that Callaway is willing to go outside of the box of typical design thought in order to bring performance into a package that will aesthetically still appeal to golfers where size and shape are concerned. By using a 2-piece build they are able to get the topline and sole size that they want, while keeping the strength of the design intact.
Aesthetics:
The first thing most will notice about the XR irons is that they look at lot like the original Xhot irons did where the shape and lower rear of the club is concerned. Overall though, the XR irons are an interesting package. Yes, they are a GI style iron and with that they have a little thicker sole, bigger topline, and a bit more offset – all standard traits of irons in this class, but none are overdone. The XR irons certainly aren't what most will consider too big when they get them in hand and particularly at address. Little features like the rounded topline does well to camouflage its size, not that it's really needed in the opinion of this reviewer. No, they will not be mistaken for player's irons, but their size certainly won't turn off golfers who utilize this class of irons.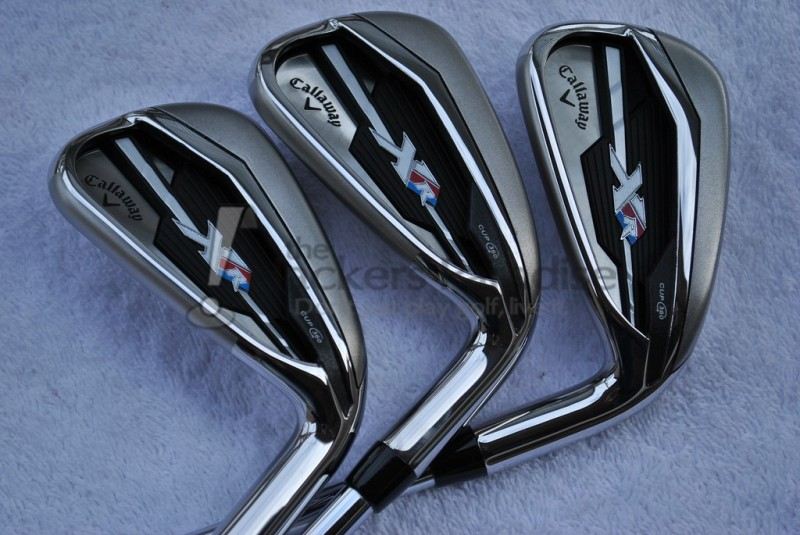 The irons are finished aesthetically in a manner that fits the current mentality of the company. They maintain angular accents and lines, particularly in the badging, and the use of blue and red colors really pop well in the cavity. It's a modern look meant to reflect the idea of "speed" that the XR line name is being built on without being too busy. The polished chrome finish on these compared to the brushed chrome of the XR Pro's will be hit and miss for some. It is done to differentiate the two irons in the line, but the wear (brushing) that the polished chrome shows may not be for everyone. Additionally, the stock "Callaway Diamond Universal" grips leave something to be desired in terms of texture and grip in various conditions. Yes it is an easy fix for most, but it bears mentioning.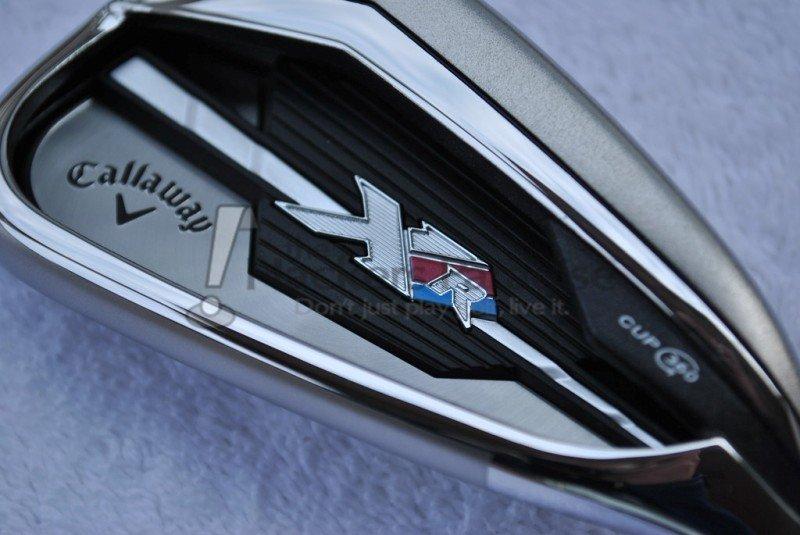 Performance:
For this review THP put the XR irons in 5-PW with the stock True Temper Speed-Step 80's into play.
Always a subjective area, but as one might imagine, with so much new tech the issue of sound/feel is one that has come up in discussion about the XR's a good bit. Overall, they are going to be considered a much firmer iron because they do have a sharper more click oriented sound at impact. It isn't anything out of the ordinary that would take away from the irons. For this reviewer it was reminiscent of the sound/feel off of many Titleist irons that live in that higher pitched click range. Another thing to note is that the feedback was definitely somewhat blurred on misses compared to center strikes and stayed pretty constant all across the face. This really isn't all that surprising for an iron in this class. It will simply come back to personal preference.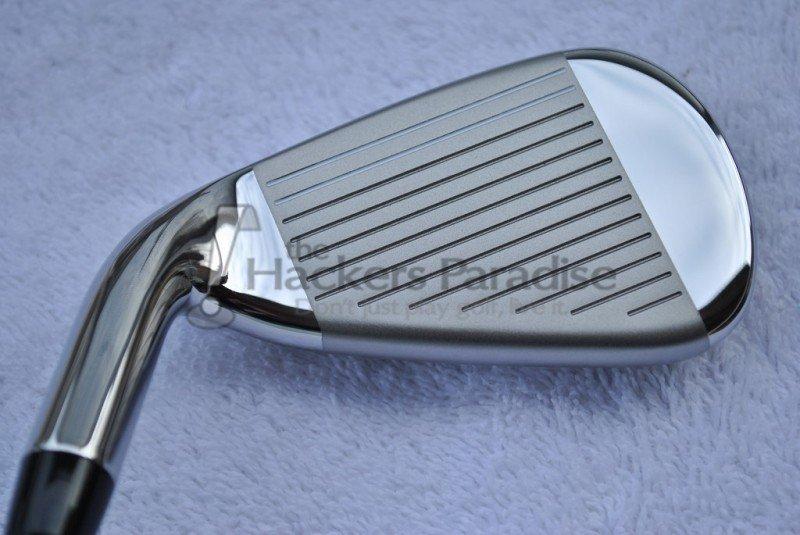 Ball Flight and Trajectory
When it comes to an iron like the XR, distance is naturally what everyone hones in on, but in order to achieve distance the ball flight also has to be maximized. The use of the Cup-360 and internal standing wave within the design has goals in not only upping the ball speed but also increasing launch and decreasing spin, and they certainly achieved that here. Simply put, the XR irons are launchers. Paired with the True Temper Speed-Step 80 shafts, testing showed a significant launch angle throughout the set. Thanks to the decrease in spin off the irons there were no issues with ballooning despite the high launch, even into some significant winds. With that there was also no issue flighting the irons down when needed. It is understandable that the decreased spin talk may scare some when it comes to holding greens, but combined with the launch there was no issue through the set. In fact, there was even a little "action" on most shots into the greens, even with the 5i.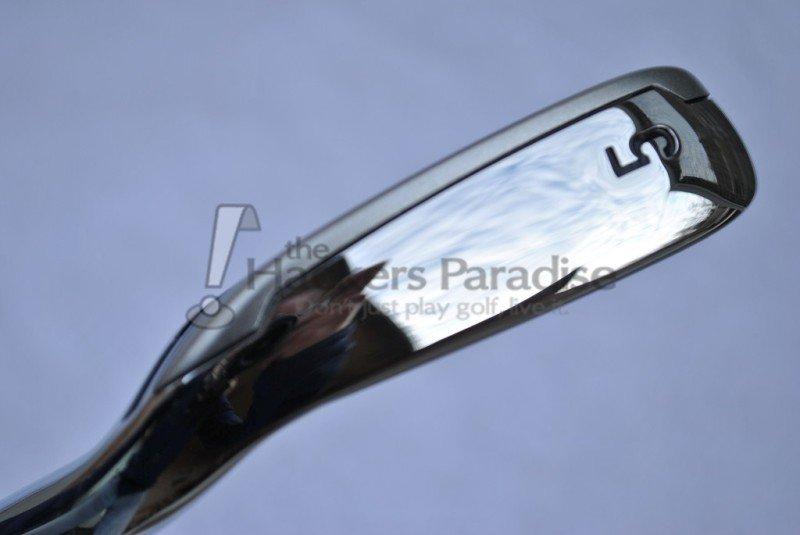 Where the stock shafts are concerned, True Temper's Speed-Step shafts held up well to this reviewer's aggressive transition and maintained a good feel through impact. The lighter weight was a non-issue, but that will definitely be a personal preference and fitting thing for some.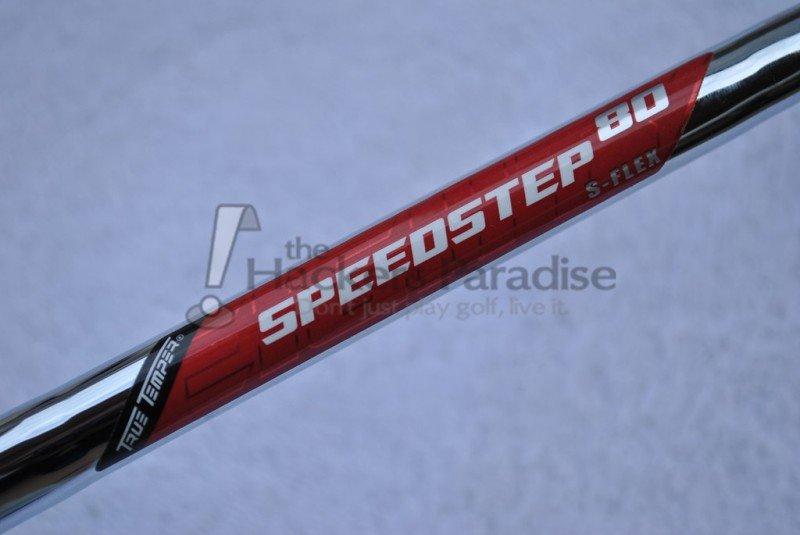 It is understood that some will associate any iron with offset as being "hook" prone, but that is honestly more a swing issue and not a design issue. The offset aids in launch and not "left" and there was no noticeable propensity for the XR to go left during testing any more than other irons this reviewer has tested. In fact, hitting a fade posed no problems. They may not be the most workable irons thanks to their profile, but shaping shots with the XR is certainly still possible. In the end, offset is definitely a mental thing and it is understandable that some have no issues acclimating mentally while others struggle. We are all different there.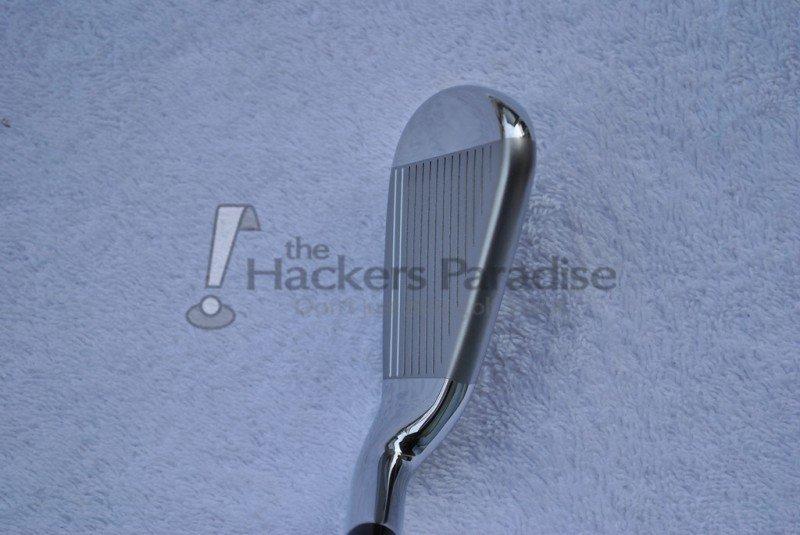 Distance and Forgiveness:
While we know that proper fitting is the key to unlocking the best setup to maximize our distances, technology in the clubs definitely plays an important role as well (as much as some may not want to admit it). With the XR irons, Callaway is all-in on the distance game and its belief of what the Cup-360 face can do. To put it bluntly, for this reviewer they delivered. Throughout the set, the XR irons were on average 5-6 yards longer when compared to the Apex irons, which were one of the longer sets the reviewer has spent time with, and outpaced all similarly profiled irons. Yes, distance will vary from user to user depending on the fit of the setup and nature of the users swing, but testing left no doubt that there is certainly something to the Cup-360 tech. The argument will be made about gaps by some and how they will flow into the wedges with so much potential distance increase. Without having the AW to test there is no certain answer that can be given, so it will be on the user to determine if it's an issue that necessitates adaptation, physically or mentally.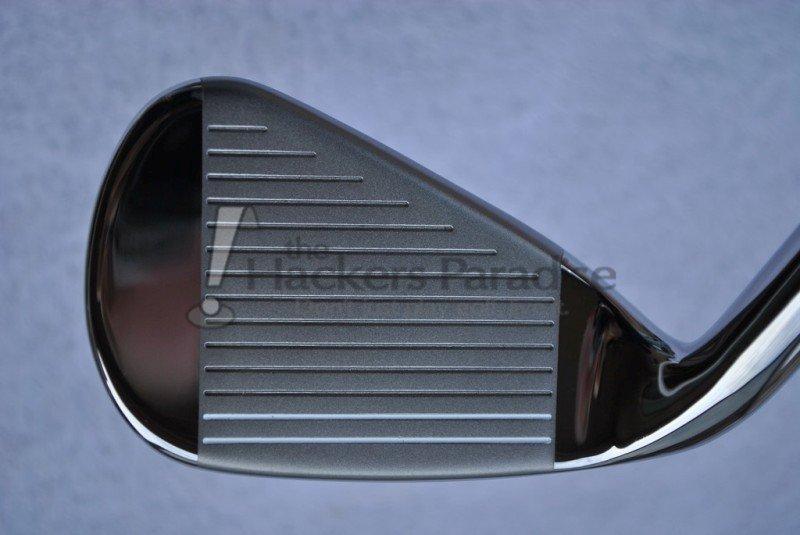 Though the distance jump is what catches the initial eye when on a driving range or golf course, the Cup-360 stood out equally when it came to forgiveness (ball speed retention all over the face). The Callaway Apex were much lauded last year for their forgiveness on toe-side misses, this reviewer's main miss, but the XR actually performed better there in the ball speed retention numbers by a fair margin (2-3 MPH) and provided a higher ball flight leading to more retained total distance. The other area of most notice was low misses. While still a lower ball flight than center contact, overall it was a lot more consistent and did get up in the air better than expected each time. Heel side misses were the most penal in speed and distance retention, but honestly with the limited surface area in that portion of the club there is only so much that can be done, and even then, the numbers were solid. Yes, there will undoubtedly be some loss of distance on misses, that is the nature of the beast, but Callaway is on to something with the Cup-360, as the XR were a significant improvement on their predecessors the XHot and X2Hot. No, they aren't Big Bertha forgiving, but for this cavity back GI style profile, it's a new level for Callaway.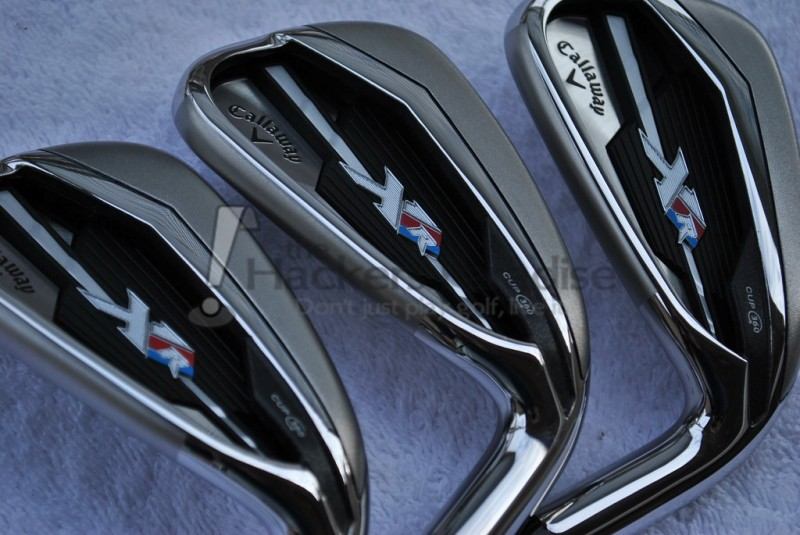 Final Thoughts:
There is always something enjoyable about seeing a company continue to push the boundries of R&D in their equipment rather than resting on their laurels, and no matter what you personally think about Callaway, what they are accomplishing there cannot be denied. The XR irons fit arguably the largest sector of golfers in terms of profile and needs, and they bring legitimate performance with them, not just talk. Though some will more than likely lean towards the XR Pro's, there is little doubt that the XR will hold their ground as a very viable iron for a lot of golfers looking for easier launch, good forgiveness, and a chance at more distance depending on the fit.
The XR irons are street priced at $599.99 for 5-PW and will vary based on the setup from there. More information on the XR irons and the rest of the XR lineup can be found at www.CallawayGolf.com.