We love talking golf equipment here at The Hackers Paradise. Stop by the forum any given day and you'll see countless conversations going on revolving around the equipment we use to play the game that we all love with a passion. Of all that equipment nothing attracts varying opinions and debate more than the driver. Equipment junkies like me and thousands of other THP members have been spoiled a bit lately. The drivers that we've been able to discuss and test here in the past 18 months or so have been so good that it seems nearly impossible to settle on just one for your game.
You can't talk golf equipment and drivers in general without Callaway Golf being one of the first couple of company names to roll off your tongue. In 2011 we witnessed Callaway completely change the game with the introduction of their forged composite drivers. They didn't set out to reinvent the technology in 2012 because they didn't need to. Still using the forged composite material that is lighter and stronger than titanium Callaway took what they learned from last year's RAZR Hawk and Diablo Octane drivers and improved the design. One of the new models in 2012 is the RAZR X Black driver. THP received this driver well ahead of the release date to put it through the paces with a full review. Check it out.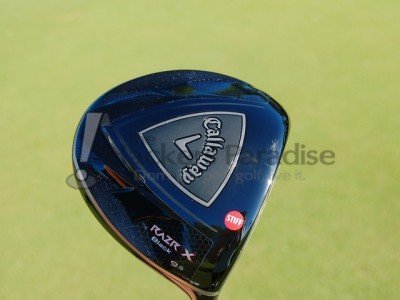 From Callaway Golf:
With the RAZR X Black Driver, Callaway has crafted a club that looks just as mean as it behaves. The new driver features Forged Composite material in the crown and Distance Trajectory Weighting that promotes premium conditions for maximum distance in a high launch, low spinning ball flight. Designed for golfers who want the ultimate in speed and accuracy off the tee, the RAZR X Black driver also incorporates a Black PVD Finish for a look that's just flat-out, head turning cool.
Looks, Sound, Feel:
Let's start with the looks. Callaway uses the word 'mean' to describe the look and while I agree with them I think I'd use the word "awesome" myself. This is one bad looking driver for sure. I love the Forged Composite visible on the crown along with just a subtle red graphic that does not distract you at all, in fact I think it ties together a great look on the crown of the RAZR X Black. The black PVD (Physical Vapor Deposition) Finish visible on the sole of the driver is equally cool to look at, this with a Callaway badge makes up the sole and really just completes a super unique look. While the Streamlined Surface Technology serves more of a purpose than just the looks it really helped achieve a very nice shape for the driver. I love the lines both around the face of the driver all the way through the entire club head. The red (fading to black) Motore F8 shaft completes what is definitely one of the better looking drivers you'll see in 2012 in my opinion.
Sound wise this driver is unique from most every other driver on the market. The only other place you'll hear anything similar is from the other Forged Composite drivers from Callaway. Not overly muted, yet not loud and tingy by any means either. If you've hit a Forged Composite driver from Callaway you can likely understand the sound I'm trying to describe. I find myself completely addicted to the sound of a well struck drive with the RAZR X Black driver.
The sound of the driver goes hand in hand with its feel. Not harsh and annoying yet not overly soft either. To say it feels very solid is probably the best way for me to describe it. In my testing I hit shots all over the face of this driver and you can certainly feel when you aren't hitting the sweet spot but with the Speed Frame Face Technology in this driver it wasn't real often that I didn't hit that sweet spot unless I was doing it intentionally. I'll get into the specifics of this face later but basically what they've done is expanded the sweet spot to increase ball speeds across the titanium face. I feel that the RAZR X Black driver brings the looks, feel and sound that I look for in a driver together very nicely.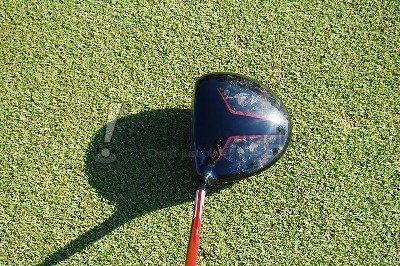 Technology:
There are a lot of factors that come together to deliver the performance Callaway is shooting for with this driver. First I'll identify what these factors are, and then I'll tell you whether or not they perform as advertised.
Forged Composite- Revolutionary material in the crown that's lighter and stronger than titanium. The driver's crown contains over 12 million turbostatic carbon fibers that reinforce 27% of the club head. Forged Composite allows Callaway engineers to precisely control thickness, resulting in a club head that's lighter but still has an extremely high MOI.
Speed Frame Face Technology- This is a combination of VFT and Hyperbolic Face technologies and what is does is allows Callaway to expand the sweet spot to increase ball speeds across the titanium face to achieve longer and more consistent distance. Something else this technology does is saves weight so they can move that to the perimeter of the driver to increase the MOI.
Distance Trajectory Weighting- Optimizes the center of gravity promoting ideal conditions for maximum distance with a high launch, low spinning ball flight. Forged Composite allows incorporation of a full length hosel while maintaining a low center of gravity for optimal performance characteristics.
Streamlined Surface Technology- Aerodynamic contours reduce energy loss from drag during the downswing by 17% compared to the Diablo Octane Driver. Streamlined Surface Technology creates higher impact speeds for added distance.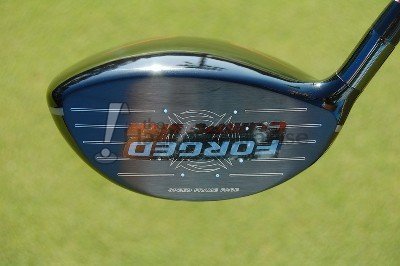 Testing:
There is certainly no shortage of technology packed in this driver. Everything above leads you to believe that you're grabbing a hold of a driver that is sure to be an absolute bomber. I couldn't wait to get started with my testing. Going in I had a couple of concerns, the first concern I had was with the shaft. Would the 60 gram Motore F8 hold up to me swinging full bore with the RAZR X Black driver? My other concern was with the launch of this driver. I am all for high launch/low spin combinations in drivers but only to a point. I didn't want to be out there hitting sky balls that didn't roll out for me. Playing in windy conditions a lot of the times has me trained to be a little apprehensive to hitting the ball too high off the tee.
Immediately my first concern was put to rest. The Motore F8 shaft not only held up just fine for me it also delivered a nice tight shot shape and complimented the driver quite nicely. I had no issues with swinging easy or with reaching back and really going after the ball with this shaft. The feel from the shaft was also a nice surprise as well. I'm not an extremely fast swinger with a swing speed right around the 105 mark but this shaft certainly held up fine for me.
Before I even focused on the distance I was getting I was checking the launch angles. The first time I tested this driver was outside on the driving range and I could tell it launched pretty close to what I'd consider perfect for my game. No sky balls and absolutely no ballooning was a very welcome site indeed. The second time I tested this driver I was able to get on a Trackman launch monitor to get some hardcore launch numbers to see just how close this thing was to my ideal launch conditions.
Here are some numbers from Trackman, these are numbers I pulled from a 10 shot average again with a swing speed right in the 103 to 105 mph range.
Ball Speed: 151.6 mph
Vert Launch: 12.1 deg
Launch Spin: 3013 rpm
Smash factor: 1.44
Carry: 246.3 yards
Total: 269.4 yards
Land angle: 37.4 deg.
I'm quite happy with the numbers here, if anything I could ask for slightly lower launch spin here but otherwise I'd take these numbers any time.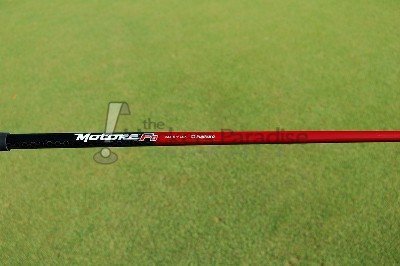 Final Thoughts:
The RAZR X Black driver I tested is a 9.5 degree head that sets up 1 degree open but you'd never really believe that. Or at least I didn't. It seems to setup a lot like a Diablo Octane and have a bit of a closed setup at address to me, not real bad mind you, but it definitely does not seem to be 1 degree open to me. My normal ball flight with just about every driver I've used lately is a fade with the occasional big push fade if my swing isn't exactly cooperating with me that day but with the RAZR X Black driver I did not hit more than just a couple balls that even looked like they might try to go left to right, everything was a nice tight baby draw with the rare pronounced hook coming in. This was actually quite a welcomed occurrence for me and I hope the trend continues on as I use this more as the season gets into full swing real soon.
The look of this driver really catches your eye and I'm happy to say that the performance keeps your attention as you continue using it. It's not a sheer bomber like you might be lead to believe based on all that wording of the technology used, but what it is for me is a steady performing driver that I know I could count on to hit the ball in the fairway with some pretty decent distance behind it. That's really what we're all after anyway isn't it? One knock on this club is the absence of any kind of adjustability, it seems that every driver out now has wrenches and manuals and adjustability on top of adjustability but the RAZR X Black has none and if you're like me, that's ok. I've seen countless golfers with adjustable drivers only to leave them at their stock setting and never go back to change it. So why pay for it if you don't need it? The RAZR X Black will be available in mid March and will be quite affordable at $250. I hope that people see this great looking driver with a really great looking price tag while they're out testing drivers in 2012 because I think a lot of golfers out there will find that it flat out performs and saves them a few bucks for a nice new putter or something to go along with it.