Each passing year there are hundreds of new products that hit the market that offer guarantees of more distance, better putting and better overall scores. Well, one brand has brought something to the market that does not promise any of that, however it has athletes and users alike raving about the benefits with each passing night. SHEEX Performance Sheets have so many people talking about them, that THP had to put them to the test to find out the details.
From the Company
Temperature and sleep quality are closely related. The human body experiences a slight drop in body temperature right before falling to sleep. Traditional sheets trap heat and can disrupt sleep. SHEEX performance fabric breathes better, allowing your body to do its job naturally. Testing conducted at the North Carolina State University Center for Research on Textile Protection and Comfort demonstrates that SHEEX performance bedding holds a proven advantage over cotton in enabling and maintaining optimum conditions for sleep. Sleeping better and longer has been shown to lead to improvements in important areas such as heart rate, mood, weight loss, energy levels and even athletic performance. A commitment to improving your sleep quality is about more than just sleep itself – it's a commitment to improving your overall health and wellness so you can perform at your peak each and every day.
Apparel to Bedding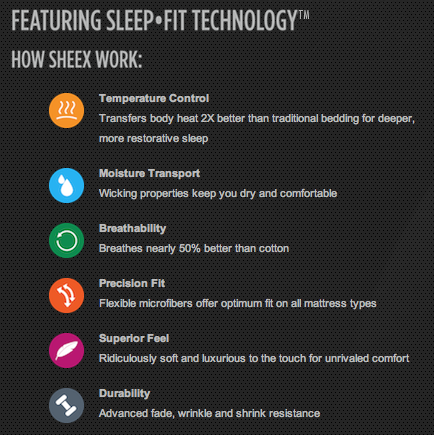 Over the last few years, we have seen the growth in technical materials in the world of golf. Gone are the days of thick knit cotton shirts and pants that give us a "Garrigus Moment". Instead they have been replaced by cooling and wicking materials that offer more comfort and capabilities on the golf course than most could have imagined. Does it make us play better golf? I am not an expert in that area, however the thought of going back to heavy apparel that retains moisture is not something I think fondly of.
If it has worked in the world of apparel and the idea of being more comfortable will make us perform better on the golf course, why would it not work in an area that is directly related to our focus, strength and overall awareness out there? I can tell you that being tired on the golf course leads me directly to poor play and if a sheet set was going to give me a better night's sleep, I could see why athletes using the product are actually traveling with them now.
Did it Work?
For 3 weeks straight, THP HQ has been bedded with the SHEEX Performance Sheets and I can tell you two things. I have shot the lowest round of my year while using them and I am more comfortable in bed at night than I ever have been before. Are the sheets responsible for my performance on the course? Who knows. I am not an expert and will not even begin to tell someone that new sheets will make them a better golfer, but what I will say is that being rested might make you a better player. Living in the warmth of Florida, one of the hardest things about sleep is staying cool. This is where the SHEEX Performance Sheets excelled for us in our testing. No more hot and restless nights of trying anything to cool down such as moving over inch by inch trying to find a colder spot in bed. With the performance sheets in place, the bed is noticeably cooler throughout the night and in turn adds comfort to the overall experience of sleeping.
Overall
SHEEX will not be the cheapest brand you encounter, but for the right person this is a must try. If you are a hot sleeper or someone that has a spouse that sleeps extremely warm and one or both of you are restless, I urge you to check them out. For more information on the SHEEX Performance Sheets and to see everything the company offers, check out their website at www.Sheex.com.
Till Next Time
Josh B.